November 8, 2011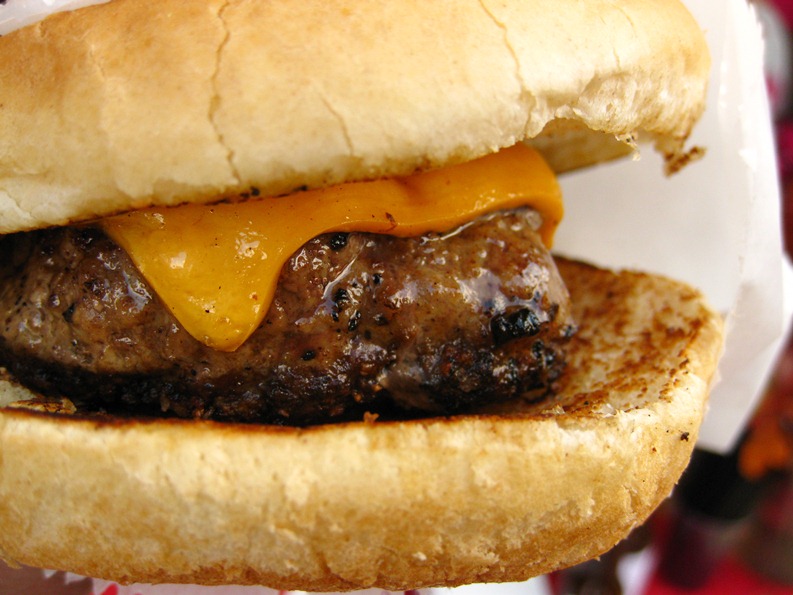 I used to hate hamburgers. Hard to believe, I know. As much as I love my mother, I sadly have to blame her. Growing up, her definition of the perfect burger was "the more burnt, the better." Mom meant well – she's a great cook, and amazingly, still getting better – but instilling burger appreciation was unlikely. The situation was so grave, it took TGI Friday's and Burger King, both with their flame-grilled patties, to convince me that a burger could taste like anything but burnt beef. As a result, I shunned any burger not cooked over fire for most of my adolescence. If it were going to be griddled, I'd smother it in toppings; anything to avoid the overwhelming flavor of beef alone.
About the time I started this website in 2007, my feelings began to change. My first review, of Manhattan's first Five Guys Burger and Fries, glowingly praised their griddled burger. It was a revelation. Liberally seasoned beef, cooked in nothing but its own fat, could become crispy outside and still remain juicy inside. "Fat" is the key word, because fat equals flavor. It's no wonder then that my favorite griddled burger today is at the Brindle Room, where the steakhouse burger features not only more fat than most, but fat from the outside of a ribeye steak, also known as the deckle.  Chef Jeremy Spector's deckle burgers are imparted with even more flavor from steak trimmings and the cast iron skillet their cooked in. Chef Spector personally likes his burger with caramelized onions – cooked in burger fat in the skillet – and American cheese.  All I need is a slice of American cheese to cut the richness, the burger is that flavorful on its own.  The squishy, griddled white bun and the skin-on fries – perfectly crisp outside and creamy inside – do the rest.  If you're harboring any doubts about your love for burgers, Brindle Room's steakhouse burger with caramelized onions and fries ($12 at brunch and lunch, $14 at dinner, no extra cost for cheese), will make you a believer.  If you still need convincing, just watch this mouth-watering video. Burger porn at its finest.
Make sure to save room for dessert, Chef Spector's Wonder City Donuts are served from breakfast until they run out (Mon-Fri starting at 7:30am, Sat-Sun at 11am).  You'd never know it from the taste, but the donuts are actually "spudnuts" which are made of potato batter.  As a result, the freshly fried donuts are especially airy and creamy inside.  Flavors range from caramel coating, Nutella frosting with almonds, or powdered sugar ($1.75 each).  There's also new flavors added daily.  You'll want to order one of each.
Brindle Room Link 227 East 10th St b/t Avenue A and 1st Ave New York, NY 10009 (212) 529-9702 Open Mon-Thurs 7am-12am, Friday 7am-1am, Sat 11am-1am, Sun 11am-11pm