March 15, 2010
With the exception of a few deli recommendations friends have passed along, Hoboken, New Jersey is uncharted territory for NYC Food Guy.  But when searching for Hoboken's best burgers on my own, Arthur's Tavern repeatedly appeared.  This massive, neon-signed bar, grill and steakhouse made my decision even easier when I saw the $7.50 price tag for a bacon cheeseburger.  Read on to find out if the burger lived up to NYC Food Guy's "delicious and affordable" M.O. …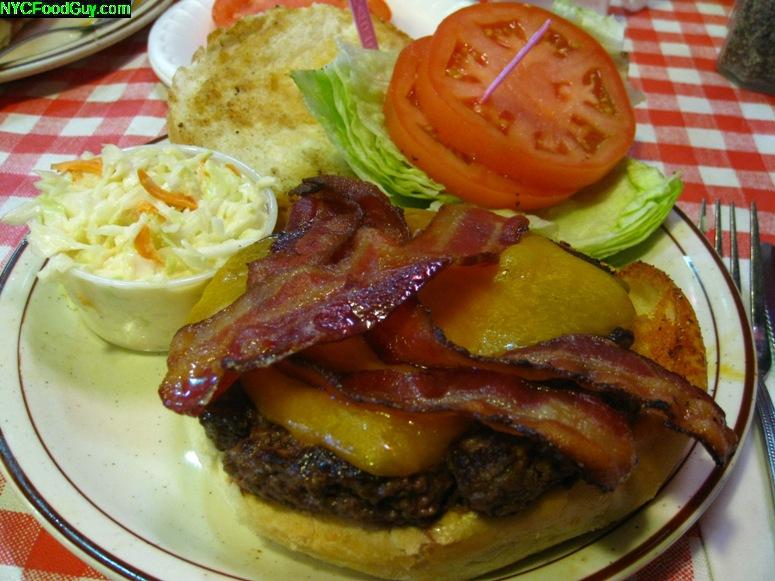 Arthur's is old school. Red-and-white checkered table cloths, wood paneling, fluorescent lighting, and pickles, cole slaw and incendiary cherry peppers served gratis upon seating.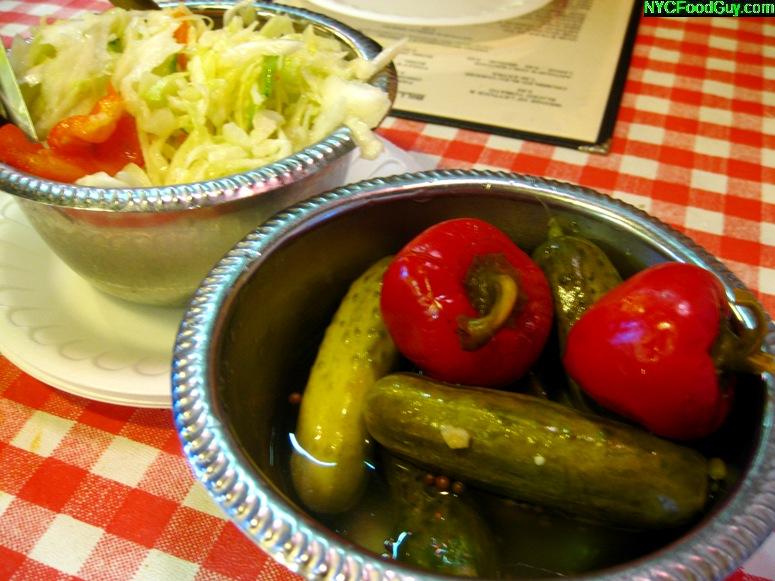 The open kitchen really caught my eye when we arrived, particularly the massive pile of "Arthur's famous potatoes" ($2.95 for a side order) overtaking the griddle. I assumed these potatoes must be transcendent for Arthur's to not even offer French fries on the menu, but unfortunately they were soft (despite my request for well done) and coated in a cloying, slightly spicy sauce that put it's "famous" namesake into question.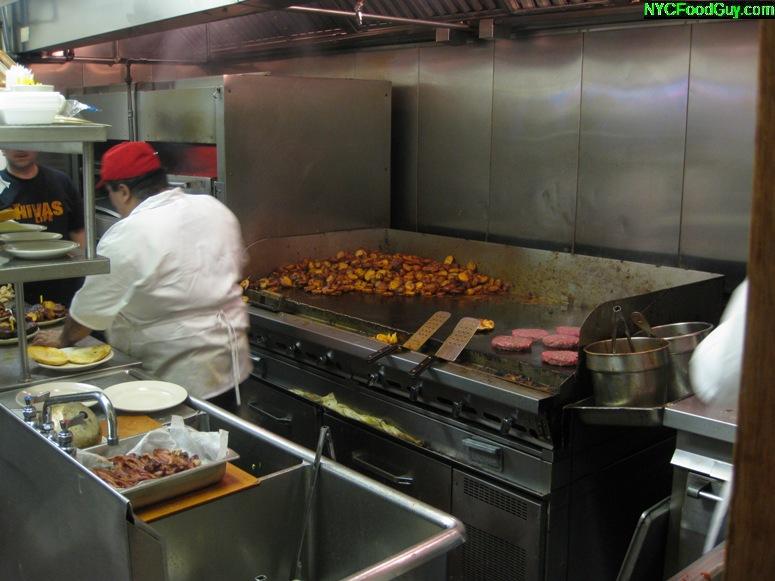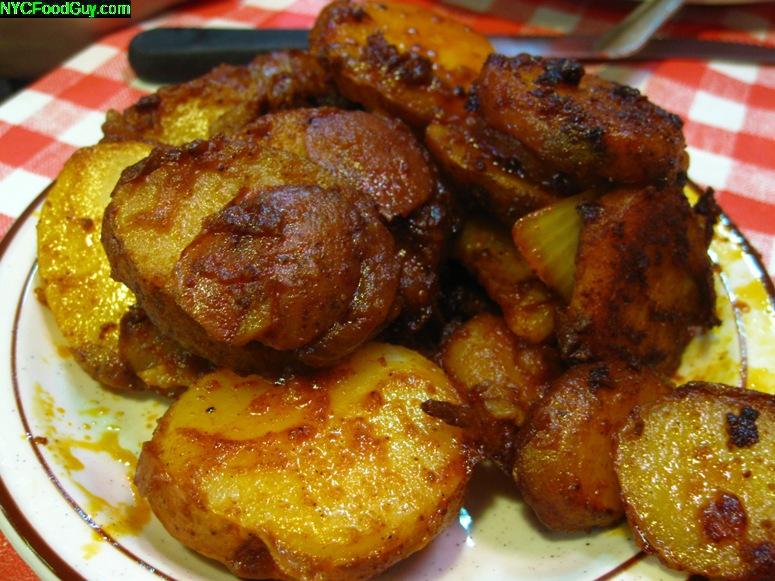 The burger arrived open face on a griddled Kaiser roll. Toasted inside, soft and chewy on the outside, it's a fittingly sturdy support system for the massive, nearly plate-sized burger. Cooked to order to a pink medium rare, the outer char from the broiler and the smokey, par-cooked bacon made up for the beef's lack of flavor. The griddled then broiled cooking process yields a juicy-inside, charred-outside burger but under-seasoning undermined.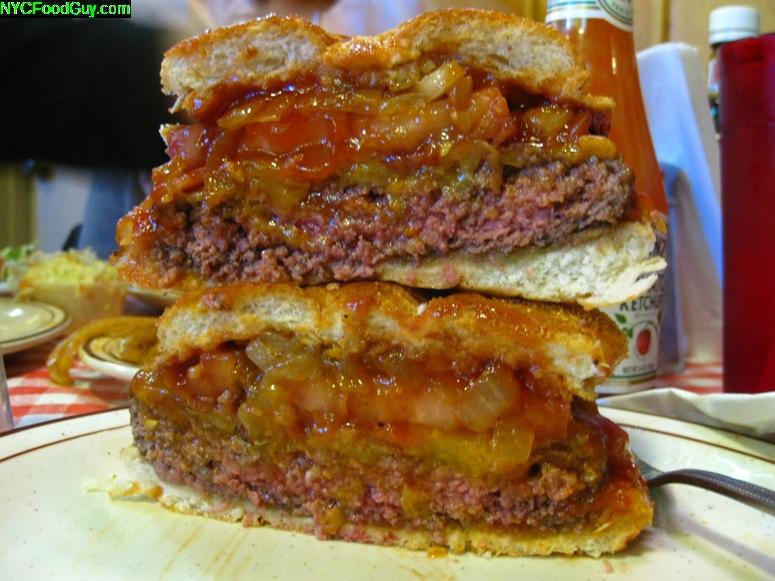 The sauteed onions (below, $1.50 for a side order) you see above the burger patty helped assuage the flavor issue but their complete lack of caramelization prevented them from elevating the burger.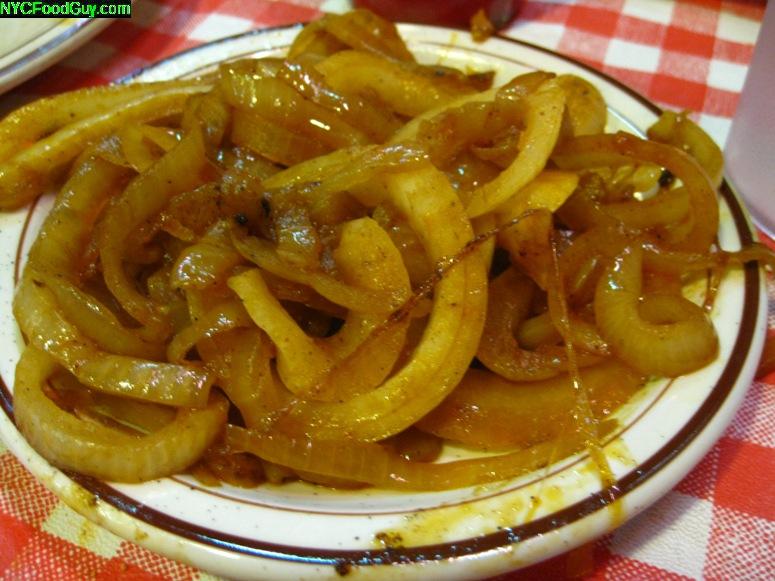 Despite my less than enthusiastic review, the burger was more "tasty and affordable" than "delicious and affordable." Arthur's provided a good starting point for NYC Food Guy's burger exploration of Hoboken but I'm looking for more recommendations for the next trip. If you have some, send them my way in the comments section.
Arthur's Tavern
237 Washington St. Hoboken, NJ 07030 201-656-5009
http://arthurstavern.com/