November 5, 2013
So apparently Pig and Khao, the newish Lower East Side restaurant from former Top Chef contestant Leah Cohen (Remember? Cute brunette who made out with Hosea? Who? Right.), is serving "Filipino-inspired" cuisine.  I guess that just means they get to serve dishes from other Asian cuisines and not have to explain why. Works for me.  Take the dish pictured above.  It's a traditional Vietnamese dish called "banh xeo" ($13) and it's a crispy, flaky, salty, sweet crepe flavored with coconut milk and loaded up with shrimp, bacon, bean sprouts, cilantro, and scallions. You rip a piece of it off to the best of your ability, wrap it in some lettuce, pour on some of the sweet and sour dipping sauce and go to town.  It's a mess but it offers some serious flavor and texture. Sadly it's only served at brunch.   Happily, it's one of the tastiest and most interactive dishes I've had recently.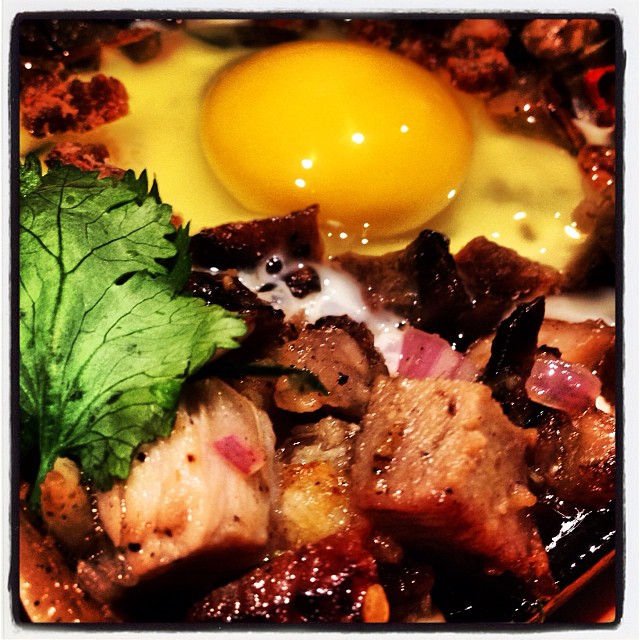 Fortunately for pork lovers, the dish above, Sizzling Sisig ($14), is served at brunch and dinner. If you've been following my last few posts, you'll know that sisig is a Filipino pork head fried rice served in a sizzling skillet. It's typically pork belly, ear, snout and cheek mixed up with an egg and some rice on a piece of hot metal that keeps everything crispy around on the edges.  It's a kind of heaven for pork lovers and it's not nearly as funky-tasting as it sounds. Mix up that egg, coat everything in runny yolk, spill on some vinegar (upon request) and enjoy the fact that you're at the top of the food chain.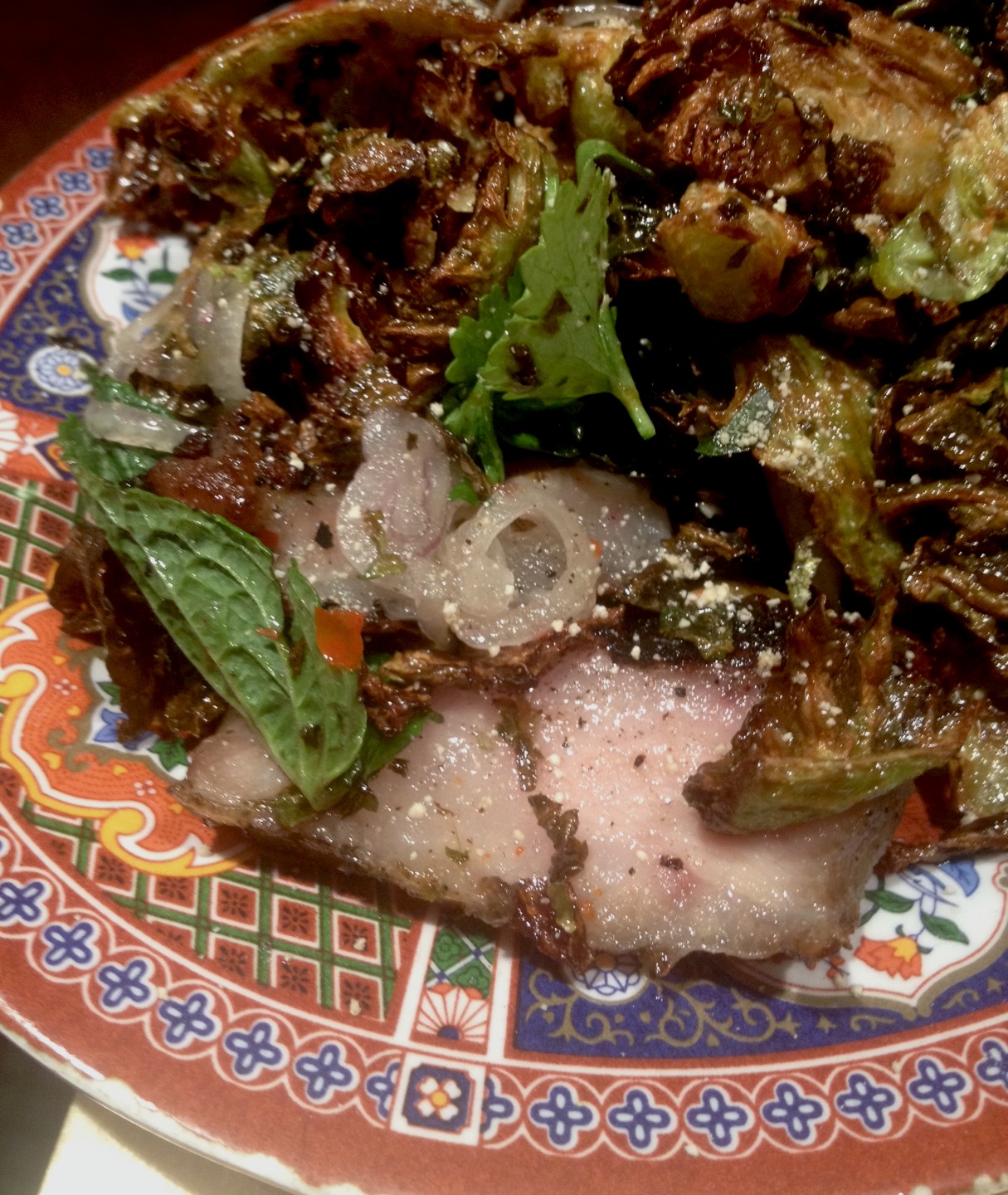 And speaking of dishes that make you happy to be alive, I strongly recommend you order the grilled pork jowl ($13) which despite being listed on the menu as being served with watermelon, fried pork skin and toasted rice, it arrived at my table covered in a pile of crispy, perfectly deep fried Brussels sprouts, leaves gnarled, burnt and frozen in delicious pain.  There was also some fried mint leaves, which refreshingly countered the fatty pork jowl and the funky lime fish sauce it's all doused in.  Get this. It will make you happy. And really, it's just that simple.
Pig and Khao 68 Clinton Street at Rivington St New York, NY 10002 212.920.4485
Brunch Sat-Sun 12-4pm Dinner starts at 6pm
Subscribe to the NYCFoodGuyDotCom YouTube Channel and follow @nycfoodguy on Instagram, Facebook and Twitter for even more sinful food porn!