March 16, 2010
NYC Food Guy is proud to present another great recipe from Homecookin' contributor Spice Jonze'n. If you'd like to contribute your recipes to the site e-mail [email protected].  Take it away Spice…
When I get my annual craving for Irish soda bread, I know St. Patrick's Day is close and it's time to bake this simple and delicious treat.  My mother has been using this recipe for as long as I can remember and it consistently comes out great (add green food coloring for an extra touch). The caraway seeds give this loaf a great flavor and the consistency of the bread makes it like a large scone. It goes great with corned beef or toasted with eggs but it's also great warm with butter.  Be aware that with all baking there is a science behind the ingredients and procedures; it is important to be exact with the measurements to produce the most delicious outcome every time.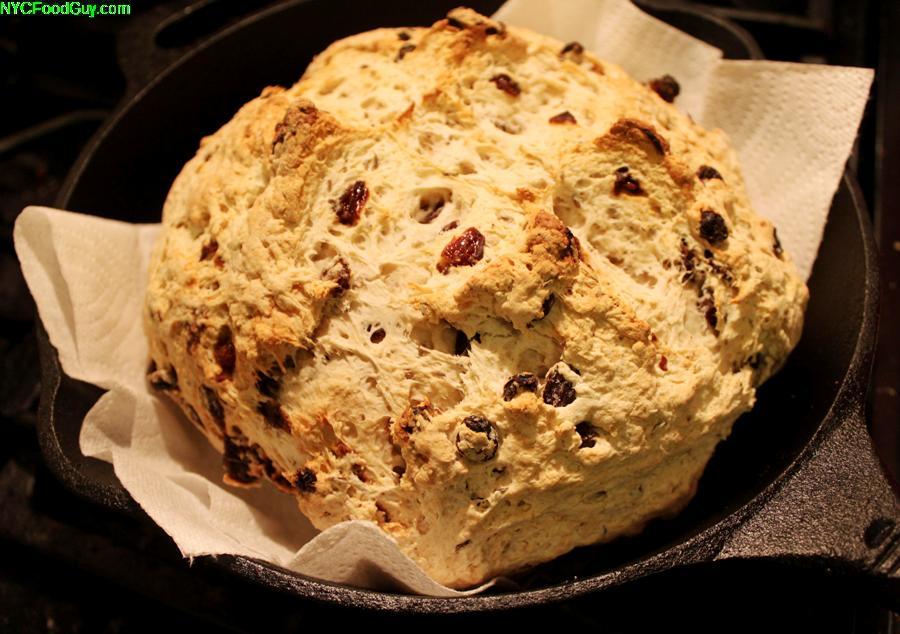 Ingredients
4 cups All Purpose Flour
½ cup sugar
4 tsp. Baking Powder
1 tsp. Salt
1 cup Raisins (Blanched in 1 cup boiling water, simmer until plump)
1 Tbls. Caraway Seeds
1 ½ cup Whole Milk or Buttermilk
The Dough
1. Preheat the oven to 450o, If you have a stone place it in the oven now.
2. Combine the dry ingredients with a whisk.
3. Add the raisins and the caraway seeds and give a quick whisk to combine.
4. Now mix in the milk and start to bring the dough together with a spoon or spatula.
5. Keep mixing until a loose dough forms and then you can use your hands to bring together and knead.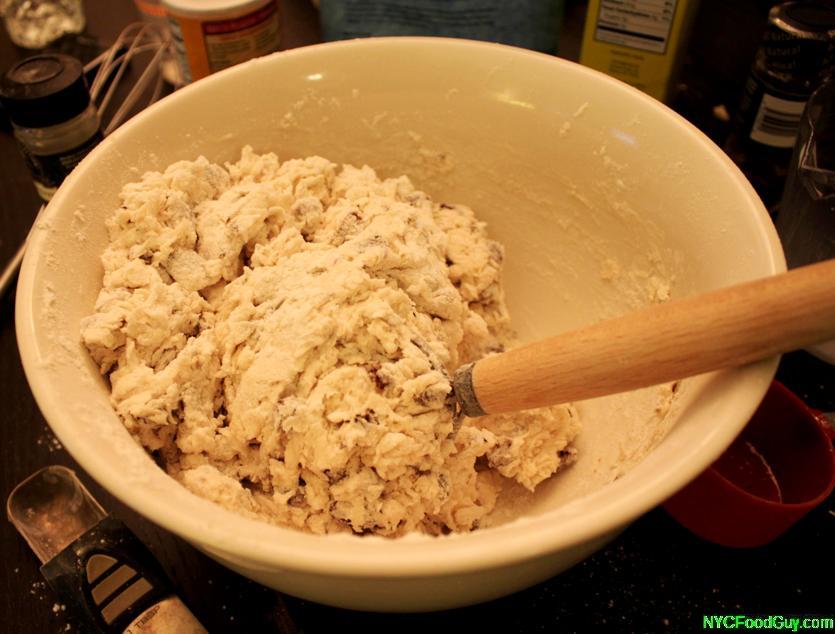 6. Keep kneading until the dough becomes smooth and you can shape it into a round.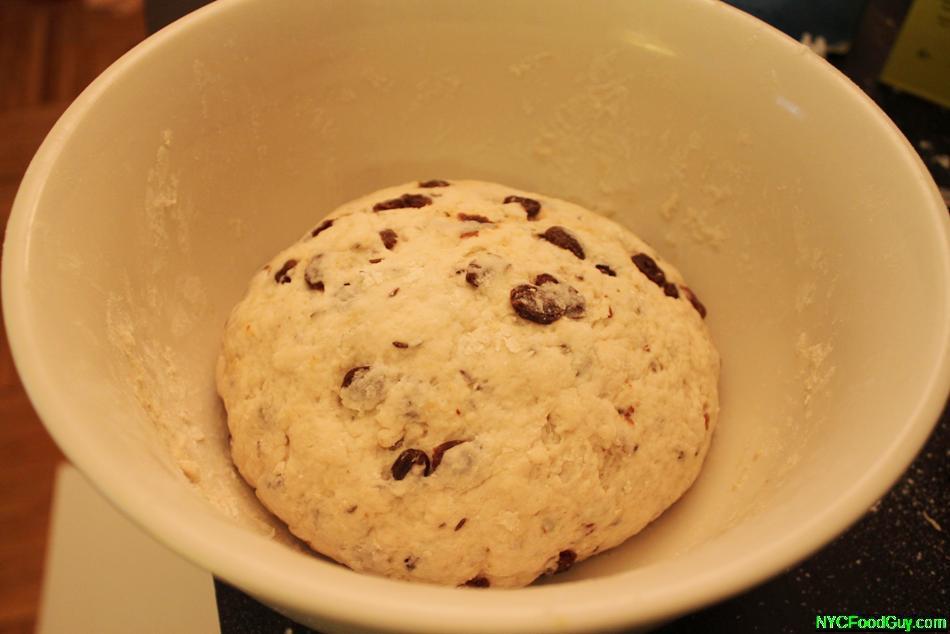 7. Reduce the oven to 350o, sprinkle a little cornmeal down on the stone, or place on a baking sheet.
8. Take a sharp knife and cut an X into the top of the loaf.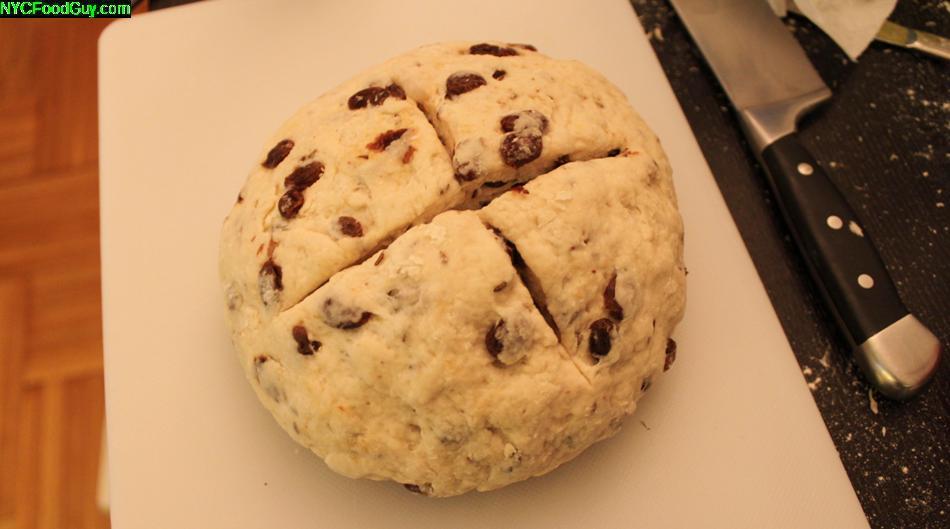 Baking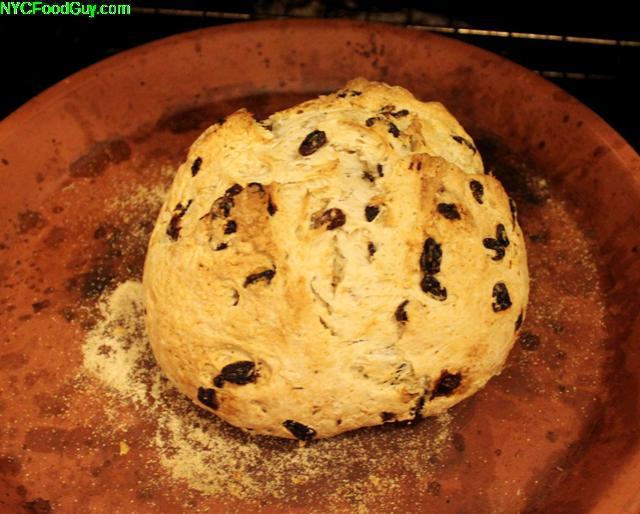 Bake the bread for 50 minutes
When you remove the bread from the oven, tap the bottom with your finger, if you hear a slightly hollow sound the bread should be finished, you want to make sure it is cooked all the way through so there is no doughy center. You may stick a longer toothpick into the center and if it comes out clean, it is finished.
Let sit for a few minutes.  Then, chow time! Slice and serve warm with butter.
Enjoy!
Bon appétit,
Spice Jonze'n