March 30, 2016
I've had an up and down love affair with food blogging over the years but one thing I've loved forever is drawing. I recently started combining this passion with my love for food by creating posters for friend's restaurants events. The inspiration for my art is a mixture of the Marvel comic books I read and cartoons I watched growing up as well as psychedelic rock and roll posters from the 1960s and 70s. If you're interested in receiving a print or want to commission new art, e-mail me [email protected].
For this poster I drew the pizza playing Eddie Van Halen's guitar (read below to see why) on the background of a 1967 Martin Sharp Jimi Hendrix poster.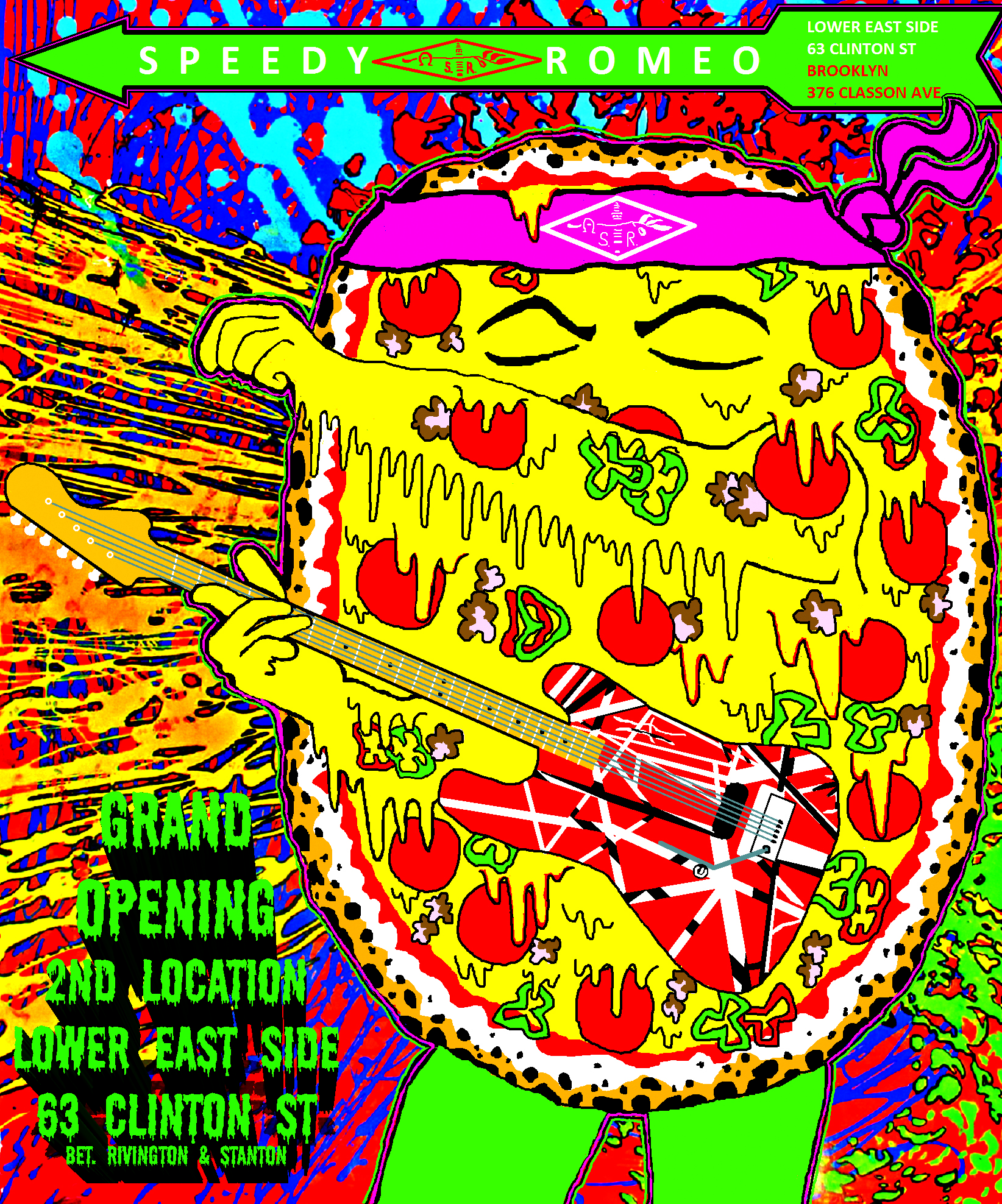 You know what Manhattan and the Lower East Side needs? Creative pizza topped with things like Katz's Pastrami, red cabbage and 1000 Island dressing on an everything bagel crust (see below). Or a pizza covered in pepperoni, sausage, pickled chiles, and melted Provel cheese (a mixture of mozzarella, provolone and cheddar native to St. Louis) that's cut party style so it's just… more… fun (see below). How about a fast food-style burger made with top notch beef on a perfectly squishy, seeded bun served wrapped in wax paper? Or flame-grilled chicken parmesan topped with melted fresh mozz and crispy bread crumbs all resting on tomato sauce and garlicky sauteed kale? And if you want something sweet, how about a S'mores dessert loaded with chocolate and marshmallow that gets hit with a branding iron straight from the wood fire before it reaches your table? This is what Speedy Romeo has been doing in Clinton Hill, Brooklyn for the last few years and as The Infatuation aptly declared "Speedy Romeo is the best restaurant you haven't been to." And like the tres Brooklyn space nestled inside a refurbished auto garage, the Manhattan space is also as comfy and cool as an old leather jacket and also cooks only with fire thanks to a bad ass grill and a wood-fired oven painted like Eddie Van Halen's guitar. Get down to the Lower East Side, ask for one of the co-owners Todd or Chef Justin, tell them the NYC Food Guy sent you and enjoy the great music and food.
Speedy Romeo
63 Clinton Street b/t Rivington St & Stanton St, New York, NY 10002 212.529.6300
Clinton Hill Brooklyn Location – 376 Classon Ave at Greene Ave, Brooklyn NY 11238 718.230.0061