October 24, 2013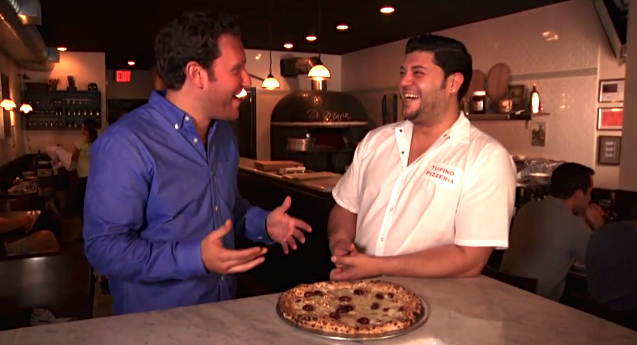 I'm finally hosting my own food TV show!
It's called "NYC Food Tour" and it airs tomorrow night (Thurs. 10/24) at 9:30pm on NYC TV.  I'm not only the host, I also produced it, wrote it and edited it!
WHAT IT IS
During each four minute episode we'll discover unique food throughout the five boroughs and get YOU excited to go out and eat!
HOW TO WATCH
"NYC TV Life" is channel 25 for most New Yorkers. It also airs in Long Island and some parts of New Jersey.  Click here to find out what channel NYC TV is near you.  Since my show is only four minutes, it won't get its own time slot on the TV Guide, but is scheduled to air at 9:30pm.
WATCH IT ONLINE RIGHT NOW!
My "Smorgasburg" episode airs tonight, but in the link below you can also watch my 2nd episode, "Astoria," which will air on NYC TV next week.
If you want the full experience, make sure to adjust the resolution to 720p HD using the little gear button at the bottom right of the YouTube video screen.  It's ok to make this change after the video begins playing.
http://www.youtube.com/watch?v=LFbiDTOFk6M&list=PLdR-dvg0I2N3qDOr-xgE1a_zfFjDTMXiV
WATCH ME IN NYC TAXIS TOO!
On all Taxi televisions there is a button at the bottom of the screen that says "Change Channel" or "TLC Channel."  Click that button to watch the NYC TV channel in your taxi and there's a good chance you'll see me.
WHAT'S IN STORE FOR THE FUTURE?
I'm currently editing two more episodes of "NYC Food Tour" as we speak and I'll be all over NYC TV for the foreseeable future.  I hope to have a full half hour show for the summer which you'll be able to DVR.
I CAN USE YOUR HELP!
I'd love to hear your thoughts, critiques and suggestions for future episodes or shows.
And if you know of any bigger shows who are looking for a host (even if it's not specifically food-related) or a food expert guest, or if you know of any websites, networks or production companies looking for food content or freelance producers, please let me know.  Your help is greatly appreciated!
WHO IS LAWRENCE WEIBMAN?
Lawrence Weibman is "The NYC Food Guy."
I'm a native New Yorker whose life is dedicated to discovering great meals wherever I go.  I'm the founder of the food blog NYCFoodGuy.com which focuses on "NYC's Most Delicious and Affordable Food" and I also eat my way around the country as a full-time field producer for a national food TV show.  When it comes to food, I will never steer you wrong.
Subscribe to the NYCFoodGuyDotCom YouTube Channel and follow @nycfoodguy on Instagram, Facebook and Twitter for even more sinful food porn!