September 23, 2013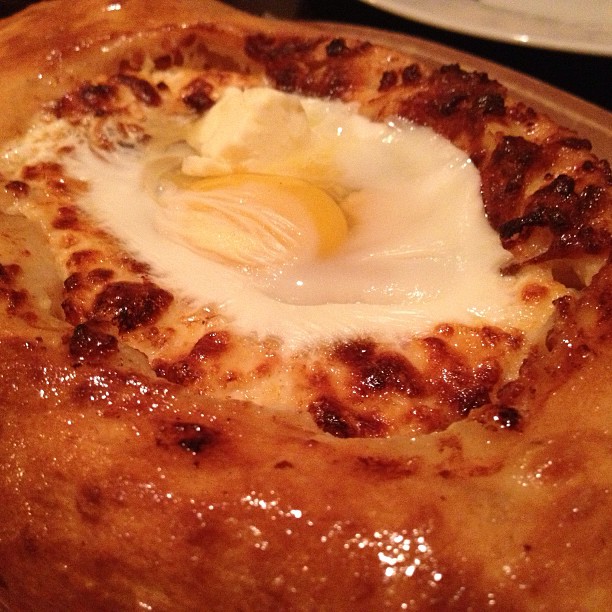 If there's two things I know, it's that first, you probably have no idea what Georgian food is, and secondly, you also don't know how to say adjaruli khachapuri (I have enough trouble spelling it).  And really, it's ok.  Because until I ate at Oda House, a Georgian restaurant on the corner of 5th Street and Avenue B, I was in the same boat.  According to Wikipedia, Georgia is "a sovereign state in the Caucasus region of Eurasia.  Located at the crossroads of Western Asia and Eastern Europe, it is bounded to the west by the Black Sea, to the north by Russia, to south by Turkey and Armenia, and to the southeast by Azerbaijan.  The captial of Georgia is Tbilisi." And "adjaruli khachapuri" is pronounced Ahd-Ja-Rule-Ee Ka-Cha-Pour-Ee.  So, there's that.
Now to the life-changing information:  khachapuri is a type of Georgian cheese bread that is buttery, deep dish and freshly baked.  At Oda House, you want the adjaruli,which is a type of khachapuri baked with loads of mozzarella and feta inside and then topped off with a fresh egg when it comes to your table.  Mix it up (as seen in the video below) and it becomes buttery, cheesy scrambled egg bread.  Slice it to the best of your ability, eat, and then die.
No. Seriously. You may eat it and realize that your life has been nothing up until this moment and it's not worth living any longer because nothing is going to taste better than this oddly-named concoction you just devoured.  Ok, maaaaaaybe it's not quite THAT serious, but you're going to be talking about adjaruli khachapuri, kinkali (beef and pork soup dumplings), lamb shish kebab, and whatever beef-stuffed bread Oda House is offering that night, for weeks to come.  Doesn't it feel good to be educated?
Oda House Website
76 Avenue B at 5th Street
New York, NY 10009
212.353.3838

The photo and video above were originally on the @nycfoodguy Instagram.
Subscribe to my mailing list or follow me on Instagram or Facebook and don't miss a moment of food porn.