September 6, 2013

Clockwise from top left: Defonte's #20, Parm Turkey Sandwich, Dram Shop Double Cheeseburger, sugarSweetSunshine Banana Pudding, Court Street Grocers "Delight," Brindle Room Steak Burger, Xe May Classic Banh Mi, Dough doughnuts at Smorgasburg, Levain Bakery Chocolate Chip Walnut Cookie
I used to love baseball season.  That was until I worked in production at the Mets TV station from 2006 to 2009 and had to literally analyze all of their heartbreaking season-ending losses.   Being a fantasy baseball addict didn't help either.  I typically managed two or three teams per season, from April to September, an endeavor which girlfriends everywhere readily admit leaves them lonely and deserted.  As a result, I essentially retired from serious baseball fandom, finding greater solace in the past over the present.  After all, with the exception of Shake Shack at Citi Field, baseball's past offers much greener grass than the artificially enhanced, fancily manicured outfields of today.   Fortunately, I still have NFL football Sundays.   It's a once-a-week (well really three times-a-week if you count Thursday & Monday) excuse to pretend you've never received a bad cholesterol report and "fried" is one of the major food groups. With that in mind, here's NYC Food Guy's list of Nine Game Day bites to eat, take out or recreate at home and ensure your NFL Week 1 kicks off in style.
SANDWICHES
Self respecting sports fans ALWAYS consider sandwiches when planning a Game Day meal.  What's great about them is that if you wanna save dough or get creative you can generally recreate a close approximation of your sandwich shop favorite at home.
Defonte's #20 Sandwich (Top row, far left) – Housemade roast beef and fresh mozzarella, fried eggplant, and gravy.  This Red Hook, Brooklyn import has been doing sandwiches right since 1922, if you haven't tried one yet, get to their Murray Hill location and make it happen.  This is a tough one to recreate because the creamy fresh mozz and thin slices of fried eggplant here are really perfect, so just keep that in mind.  Read the review and go get one.
Parm Turkey Hero (Top row, center) – House roasted turkey, lettuce, tomato, red onion, mayo, and the key to it all, spicy, house made red pepper spread.  The best turkey hero you're ever going to have and they make group sized platters with 10 rolls for $85. May sound steep but it's worth the clams. If you want to recreate this at home, here's a recipe for their spicy pepper spread or just head down to SoHo and let them work their magic.  Read the review.
Xe May Banh Mi (Bottom row, far left) – This pint-sized Vietnamese banh mi shop on St. Marks in the East Village has what I consider to be the most under-appreciated banh mi in New York City.  The "Super Cub Classic" which features BBQ pork, headcheese, pork roll, pate, carrots, cucumbers, and cilantro, is the house favorite, and despite a few weird-sounding ingredients, if you order yours with Sriracha and jalapenos, you're in for a flavor trip to Vietnam.  As any sandwich connoisseur knows, it's all about the bread, and Xe May's toasted French bread is a little sweet and perfectly chewy, a great complement to the crisp, brightly flavored ingredients inside.  They take about 10-15 minutes to prepare which says it all: FRESH, FRESH, FRESH! Check out the @nycfoodguy Instagram post for a closer look at the Super Cub Classic.
Court Street Grocers "Delight" (bottom row, far right) – I wish this place wasn't only in Carroll Gardens and Red Hook, Brooklyn. I wish it was in Manhattan, specifically right across from my house in the East Village. Why? Because their sandwiches are JUST THAT GOOD. They've got all the elements in place: House made meats, great toppings, fresh bread, and perfect sandwich construction.  The "Delight" is the first sandwich you should get here; house-corned short rib, melted Muenster cheese, house made coleslaw, sour pickles, housemade "Come-Back" sauce (a tangy Russian dressing), all on Orwasher's Wine Bread (Pumpernickel).  I'm getting happier just writing the ingredients. Check the review.
BURGERS
Dram Shop Double Bacon Cheeseburger (Top row, far right) – My love for fast food burgers all started with the Big Mac. I hated it when I was a kid but something happened when I got to college. I tasted it again and was blown away. The pickles, the chopped onion, the squishy bun, the thin patties of beef, the Thousand Island dressing. It was like art.  Then I went to In-N-Out and was like, "Oh, this is what the fast food style burger can taste like if it's done right, with good beef and veggies, and ingredients that don't make you regret walking through the Golden Arches." Then I went out to Portland, Oregon two winters ago and ate the crown jewel of fast food style burgers at Helvetia Tavern.   All the ingredients were fresh and flavorful, including the burger, which was actually the main flavor-provider along with the toppings of mustard, mayo and ketchup.  Since then, I don't want to eat any thin patty burgers on squishy white buns without that trifecta of condiments and fortunately, Dram Shop out in Park Slope provides just that. Plus their burger patties are sqaure and that's just awesome. Oh and you don't really need the bacon, this burger packs enough of a punch without it. Trust me.  Check out the review.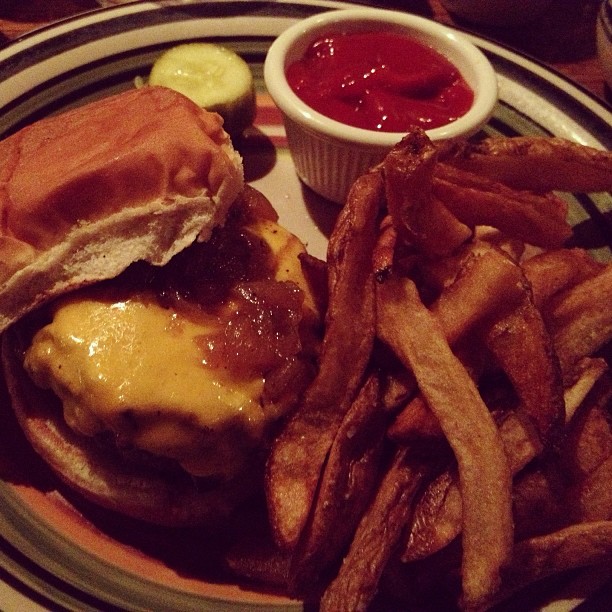 Brindle Room Steak Burger (pictured above, also bottom row, center) – It's literally made of fatty trimmings from dry-aged steak. Texturally, some of the bites actually taste like you're eating steak. It's also covered in caramelized onions cooked in the burger's grease.  As Chef Jeremy Spector likes to say, the burger coats your lips in fat and makes them stick together. Do I need to say anymore? How about the fact that the fries are also killer.  Add some smokey bacon if you're feeling decadent. Check out the review. Want to grind your own meat at home and make a crazy burger blend? This may help.
DESSERT
Dough Doughnuts (Middle row, far left) – Get them at Smorgasburg Saturday in Williamsburg, Brooklyn or Sunday in DUMBO under the Brooklyn Bridge, or get them at their store in Bed Stuy. Or get them at Gimme Coffee in SoHo (even though Dough's wholesale doughnuts are smaller than store size). Wherever you go, just get them.  They're perfectly airy and surprisingly light and all the toppings, including the citrus-tinged ones, are so flavorful and lip-smacking, your brain and mouth will give you an intervention for not bringing this pleasure to light sooner. Want to see what they look like up close?  Check out the last section of my video on Smorgasburg (around 3:04) for some serious Dough doughnut porn!
Levain Bakery Chocolate Chip Walnut Cookie (Middle row, center) – Seriously, I am not overstating when I say "these are hands down the best cookies I have ever had." It's just that simple. They're the size of softballs, well worth their $4 price tag, and since turnover is so quick, they're almost always fresh or warm.  And if you get one that's not ooey, gooey inside, you can ask them to put it back in the oven for a minute or two to warm it up.  I generally get the chocolate chip walnut cookie (pictured) because I love chocolate chip cookies and the other two chocolate variations (dark choc. choc. chip & dark. choc. peanut butter chip) are just too much for me.  Even the oatmeal raisin cookies are incredible and how often do you get to say that? More than well worth the trip to the Upper West Side. These cookies are so damn good, you can bring them to any event and you will ALWAYS be the most popular person there.  Keep in mind, one cookie is so rich it can easily feed 2-3 people, so plan accordingly. Unless you're a fatass like me, then just get as many cookies as you can carry. Click here, here, here, and here for more Levain cookie porn (seriously, I wrote about them four separate times, they're that good.)
Sugar Sweet Sunshine Banana Pudding (middle row, far right) – Since I first discovered banana pudding a few years ago, it seems like there has been a lot of chatter around the food world about this delectable treat.  That is likely a result of the fact that I continue to talk about Sugar Sweet Sunshine's Banana Pudding any chance I get. Simply put, it is knee-weakeningly delicious. I implore you to hold onto something with a solid foundation when you take your first bite. You think you know banana pudding but haven't had Sugar Sweet's? You don't know anything.  Magnolia's is fine, but Sugar Sweet's is FIIIIIIIIIIIIIIINE. There's more banana, more 'Nilla wafer and more pleasure per bite than any other banana pudding I've ever had.  Check out the review here and here.  You can also buy cupcakes at Sugar Sweet, they're pretty killer too. My favorite is the chocolate cake, chocolate almond buttercream-frosted "Ooey Gooey."