June 18, 2012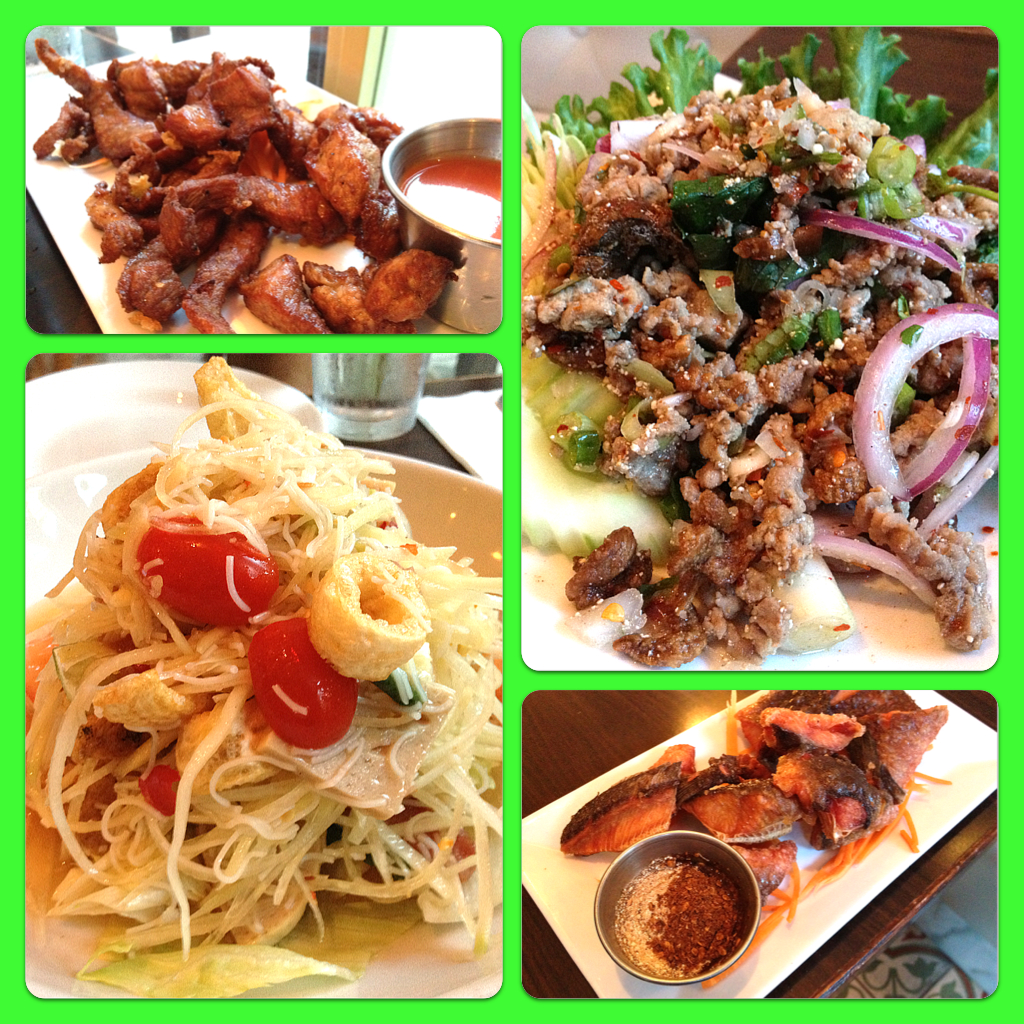 Let's get this straight right off the bat: There's no pad thai or drunken noodles or pad see ew at Zabb Elee. In fact, you won't find any dishes where noodles are the main component.  What you will find are a lot of fried and grilled fish and meat dishes with various dipping sauces and salads made of everything from ground duck and crispy duck skin to shredded papaya and shrimp. And this is a good thing, because the vibrant Thai flavors – spicy, sour and sweet – bursting from every dish, will completely reshape your view of Thai food while going very easy on your wallet.
So why did they omit American Thai food standards? Well, noodle dishes are more popular in Central Thailand and Zabb Elee's menu is all about Isaan cuisine from Northern Thailand, where neighboring Laos has influenced a lot of the cuisine.  It should come as no surprise that the violent martial art Muay Thai is really popular in Northern Thailand, because Zabb Elee's heavy hand with chilies will kick you in the mouth too.  Ask for "Thai spicy" only if you mean it.  And no matter what you order, make sure everyone has their own sticky rice, because it's the only way to calm – not extinguish – the heat. One more disclaimer: Zabb Elee, located on 2nd Ave b/t 4th & 5th St, should not be confused with Zabb City on 13th street off 2nd Ave; they're not related. Zabb City, while offering some Isaan dishes, is not as well-crafted as Zabb Elee. Also, skip the original branch of Zabb Elee in Jackson Heights, Queens.  I was very disappointed by the technique and flavor during one visit last winter.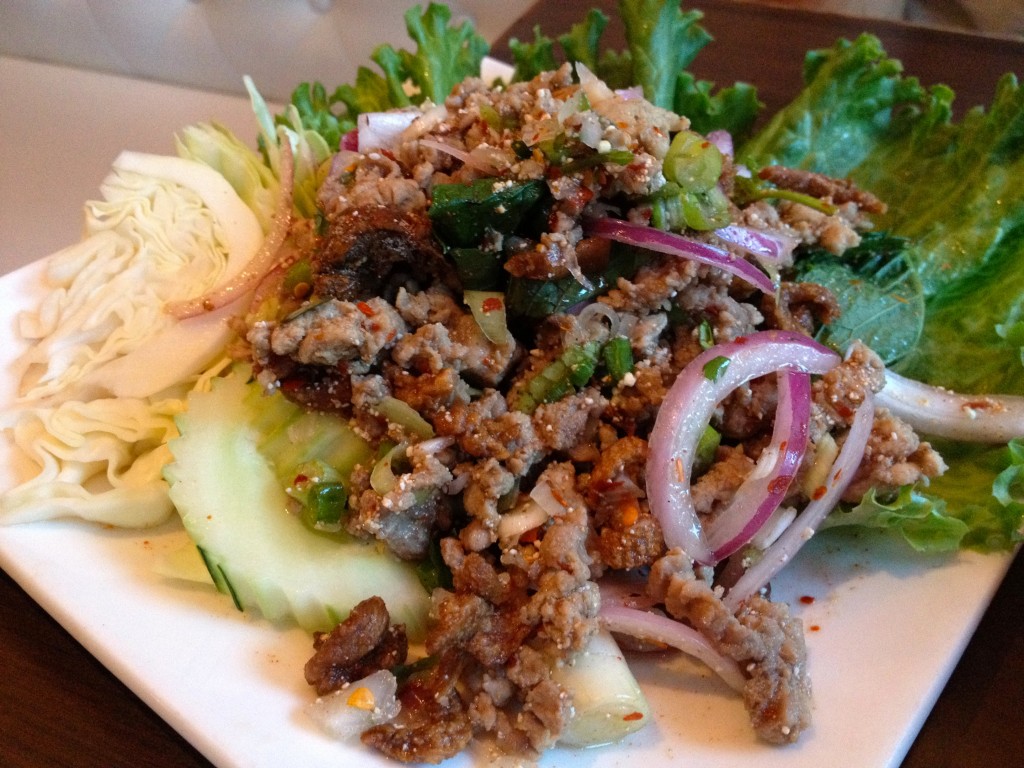 The menu leads off with larb, one of the most traditional Isaan dishes and a must order if you want the full Zabb Elee experience. Larb is to salad as Atkins is to diet, that is to say it's all about the meat.  Larb is made of the ground protein of your choice tossed with chilies, lime, Thai basil, and mint, and it's served cold with sliced cucumber and white cabbage for cooling effect.  The best seller is duck larb (larb ped, $11, above) and with good reason, the duck is always tender and the crispy bits of duck skin which are mixed in add welcome textural contrast.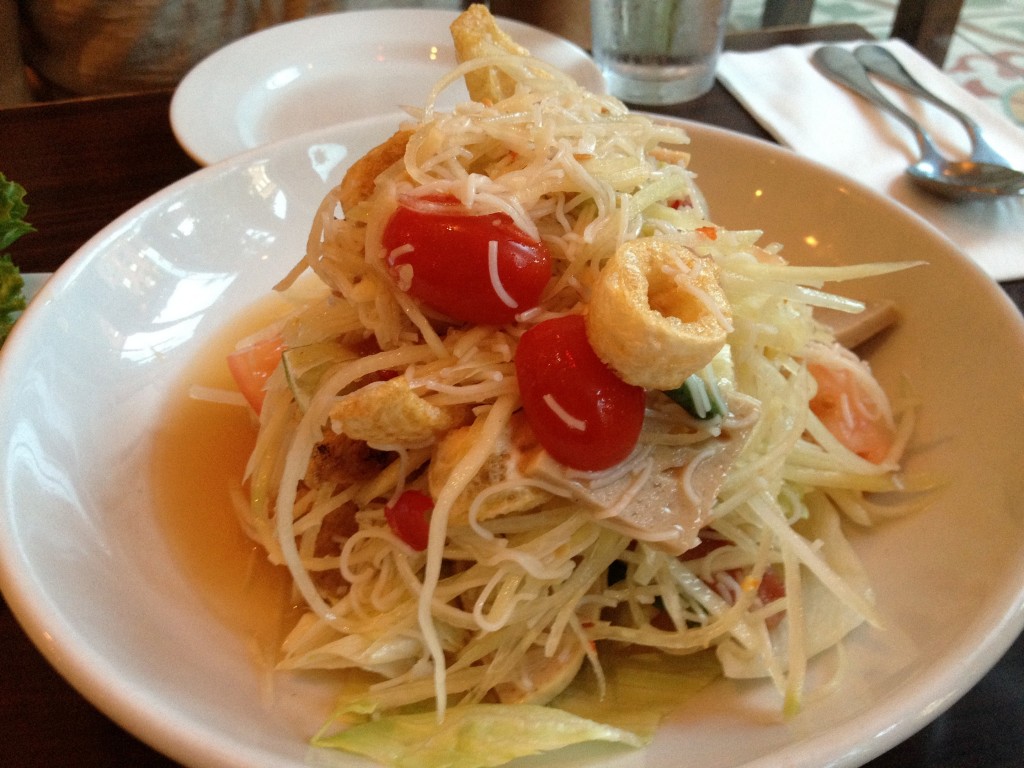 Two sections down from the larbs you'll find the som tum, another traditional Isaan dish made of shredded green papaya tossed in a chilie-lime vinaigrette and mixed with everything from glass noodles and Thai sausage to shrimp and crispy pork skin. I generally order the som tum Thai ($9) for its simplicity as it features only papaya, tomato, dried shrimp, and peanuts.  During my most recent visit, I tried the som tum Kortmuar ($10, above) featuring papaya, rice noodle, pickled cabbage, pork sausage, crispy fish, Thai egpplant, tomato and crispy pork skin.  Next time I'll stick to the som tum Thai because the combination of crunchy peanuts and papaya was better than any ingredient combination in the Kortmuar.  Still, dipping bits of sticky rice into the pool of chilie-lime vinaigrette always hits the spot.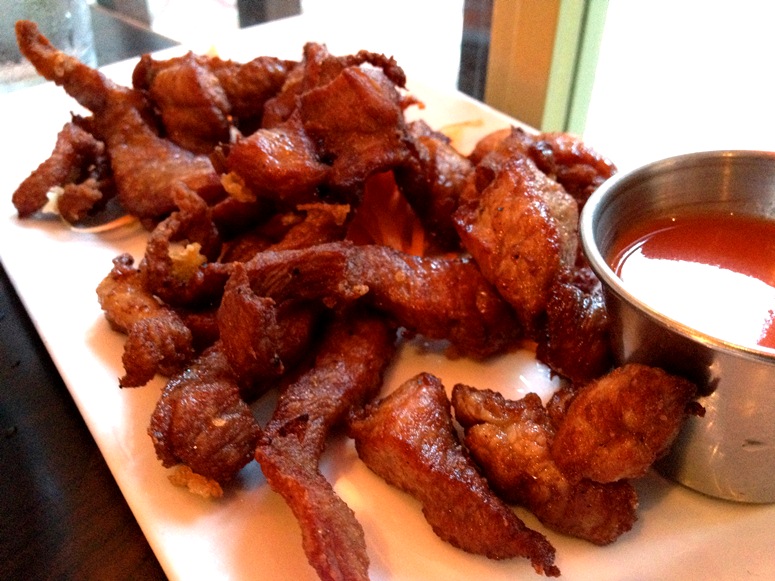 Another absolute must order is any form of fried pork.  My favorites are the kana moo krob ($10) featuring crispy chunks of fatty pork belly tossed in a wok with Chinese broccoli and moo tod kratiem ($8), tender pieces of pork deep fried with garlic and pepper until just crispy on the outside.  My friend Todd, who has lived and traveled extensively in Thailand, joined me at my most recent meal and suggested we try the moo kem tod ($9, above) or salted, deep fried pork, found in the "Tod" section of the menu. Naturally, it was delicious; not as salty as it would be in Thailand according to Todd, but still tasty enough to almost guarantee any fried pork dish at Zabb Elee will make you happy.  I'd steer clear of the chicken dishes in the "Tod" section, both the wings and the fried half chicken were good but not great.
Todd selected our last dish as well, pla dook dad deaw ($9, above), fried marinated bone-in catfish with sweet tamarind sauce topped with a smokey, spicy mix of herbs.  The catfish's thin bones are edible because they're hollow and fried, but you can peel them off pretty easily if you prefer.  Either way, it's salty, fried fish with a tasty sauce so you can't go wrong.  The sauce was so good that I found myself dipping the moo kem tod (fried salted pork) in it as well.
Notes on Spice Level & NYC Food Guy's Perfect Meal
I've now been to Zabb Elee six times and it has been more enjoyable with every visit.  The spice levels can vary from visit to visit, skewing from incendiary when I requested "regular spicy" to disappointingly mild (for an experienced palate) when I asked for "medium spice," so be prepared with sticky rice.  My perfect meal starts with duck larb and som tum thai and moves on to moo tod kratiem and kana moo krob. Four dishes is perfect for two hungry people. For three to five hungry  people, I would recommend ordering at least five or six dishes.
I always say Sripraphai in Jackson Heights, Queens is the perfect place for beginning to explore traditional Thai cuisine.  But once you conquer that, Zabb Elee would be the next stop I recommend for a true adventure in flavor and heat.
Zabb Elee 75 2nd Ave b/t 4th & 5th St New York, NY 10003 212.505.9533,212.505.9534