October 24, 2011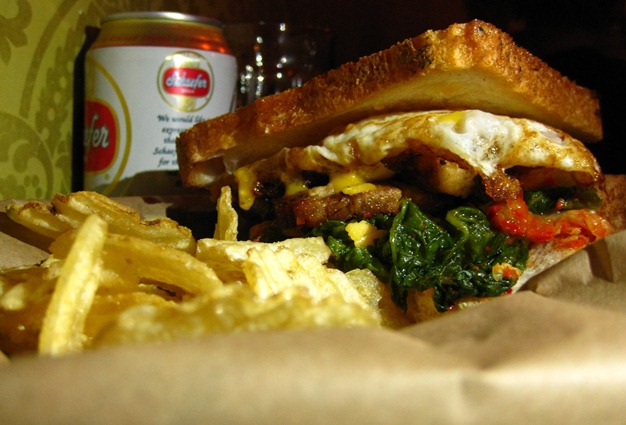 Earl's Beer and Cheese has food that would make both Spicoli and Sifton swoon. Kimchi, fried pork belly, a fried egg, and shredded New York State cheddar on grilled Grandaisy sourdough ($8, above). Potato chips, Calabro mozzarella, dill pickles, and miso mayo on a toasted Thomas' English muffin ($6, below).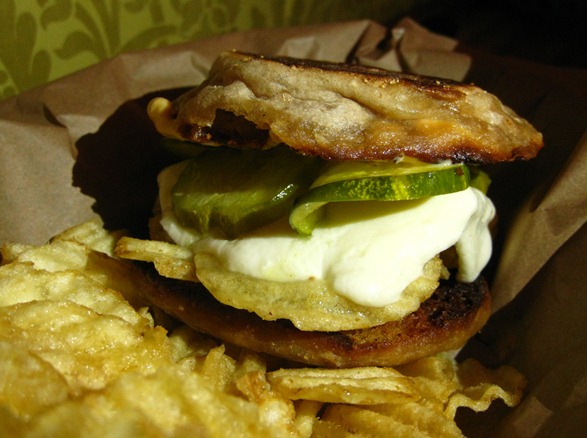 Asian gnocchi and beef ($8, below) featuring griddled Korean rice cakes, perfectly chewy and crisp, ground beef and chili garlic sauce, scallions, shredded cheddar, and potato sticks, all in a cast iron cauldron.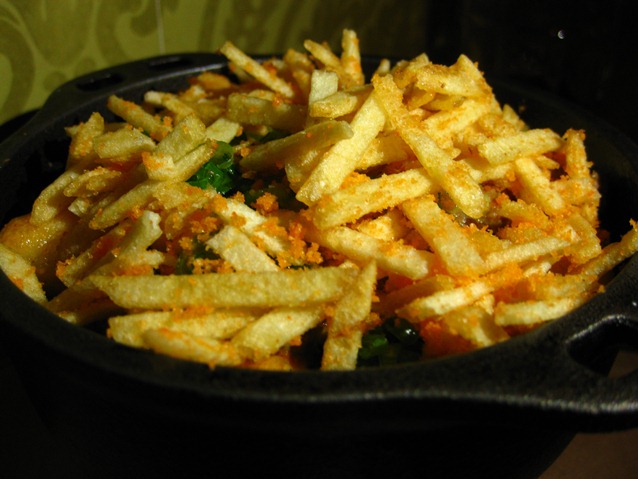 Order the bread pudding ($8, below) quickly, it goes fast. On a busy Saturday night it also took a while to appear, but it's worth the wait; a fuzzy crown of maple cotton candy crowns caramelized chunks of Grandaisy brioche soaking in a pool of sweet cream and cubes of Granny Smith apple like a French toast soup.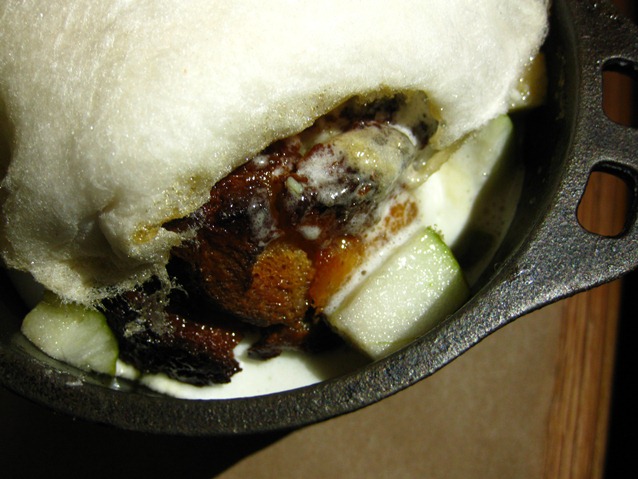 The combinations of flavors and ingredients leave you shaking your head in disbelief – how does it taste so good and how did they come up with this? Chef Corey Cova went from a cramped US Navy submarine kitchen to Momofuku Ssam Bar before arriving at the closet-sized Earl's, a path to success as unlikely as that of the menu.
Earl's Beer and Cheese Link 1259 Park Ave b/t 97th and 98th Street New York, NY 10029 (212) 289-1581 Open Mon-Wed 4pm-12am, Thurs 11am-12am, Fri-Sat 11am-2am, Sun 11am-12am, Kitchen closes 11pm nightly