September 3, 2010
One of the best things to come out of writing this website is the motivation to try new cuisines.  The huaraches and pupusas at the Red Hook Ball Fields were the first epiphany; then came dan-dan noodles and ma po tofu at Lan Sheng Szechuan Chinese food.  But one cuisine I never had was Malaysian.  So when my friend Michael mentioned catching up over dinner at Laut on 17th Street between Broadway and 5th Ave (off Union Sq.), I jumped at the opportunity.  What I didn't realize was that Michael had some friends in the kitchen who were ready to give me a crash course in the cornerstones of Malaysian cooking.  Read on for an enlightening look at some serious deliciousness…
Why is Malaysian Food So Unique?
Stop trying to figure out what exactly to expect from Malaysian food. It's a fusion of so many different cuisines – Malay, Chinese, Indian, Indonesian, Thai, Portuguese, and Middle Eastern – so all you can do is go in and let the new flavors open your mind.  How did Malaysian food become so diverse? Malaysia was a major crossroads for the ancient Eastern spice trade route and in the 19th century the British colonized Malaysia and brought with them huge numbers of Chinese and Indian workers who in turn brought their rich food traditions.  Similarly, 16th century Portuguese colonists and neighboring Indonesia and Thailand brought their own preparations to Malaysia and further fueled the fusion of cuisines that is now quintessentially Malaysian.  It shouldn't come as too much of a surprise then that the Malaysian born owners of Laut owned the Japanese restaurant Mizu Sushi (20th St b/t Park Ave & Broadway) for ten years before they opened Laut in 2008.  I put myself in the capable hands of Laut's proprietors and let them guide me.
Roti Canai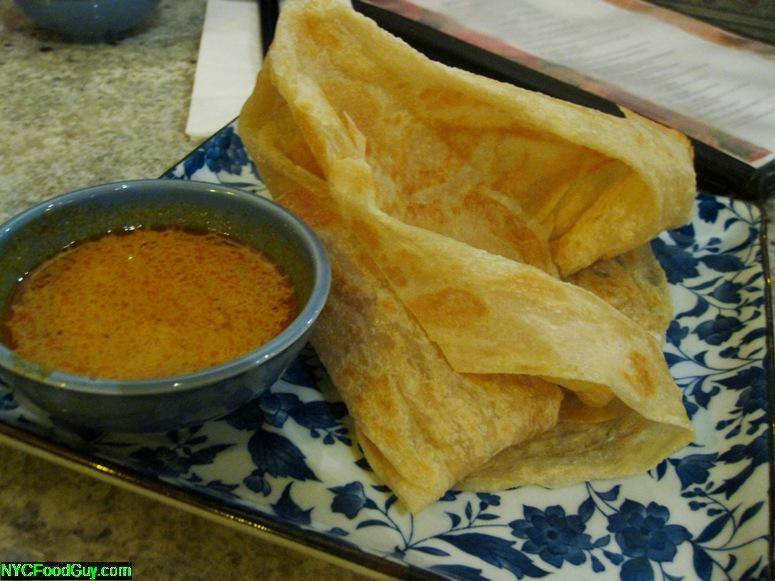 We started our meal with Roti Canai ($4), a dish so delicious I was ready for another plate before we finished our first.  Through the roti canai, an unleavened bread made of flour, water, eggs, and ghee (caramelized clarified butter) we feel the influence of the many unleavened breads found in Indian cuisine.  Served alongside a yellow curry and coconut milk-based dipping sauce infused with curry leaves for aroma, the bread was so tasty I greedily tore at each shard, dipping the greasy Indian pancake in the sweet and spicy sauce.

Click photo to enlarge
Making roti canai is an art in itself.  It starts with a hand-kneaded dough that is then flattened until paper thin by a technique called "tebar," where the dough is flattened and tossed in the air several times before being folded into itself from all four sides to form a square.  The result is a steaming bread that's slightly crisp on the outside and at once chewy and fluffy inside.  Roti canai would make another unlikely yet delicious appearance later in the meal so stay tuned…
Curry Laksa
Next came the mixed seafood Curry Laksa ($12) a steaming, faintly fishy, coconut milk-based noodle soup that is surprisingly a breakfast dish in Malaysia.  If this is breakfast, Americans are missing out; the laksa turned out to be my favorite dish of the night.  The word laksa derives from the Sanskrit lakhsa, which means "a lot," and it's an appropriate nomenclature considering the bevy of ingredients: Egg noodles and rice noodles (you can request one or both, I say go with both) float in a spicy, sinus-clearing broth alongside shrimp, scallop, squid, a fish ball, cucumber, curry leaves, string beans, daun kesum (Vietnamese mint) and a traditional tofu puff.  It's hard to believe something with so many ingredients can be so good but you'll find yourself hunkering down in front of bowl and inhaling the deliciousness before you realize it's gone.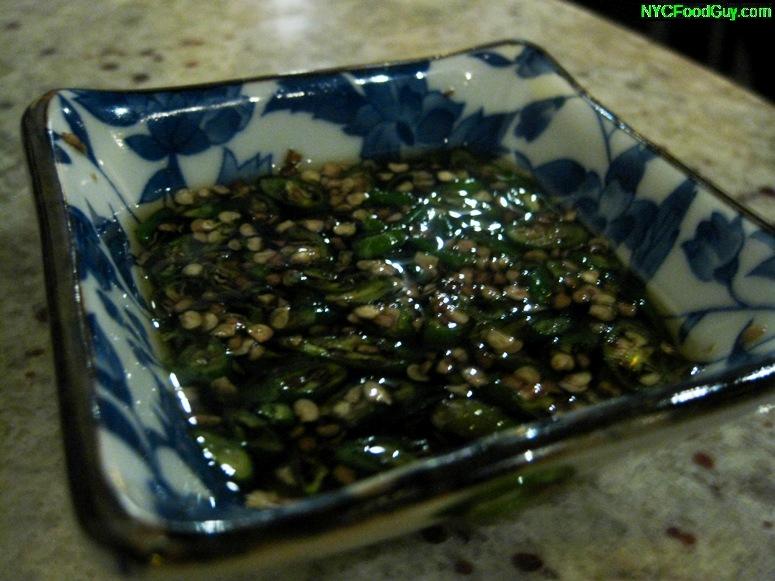 If you like your food spicy and salty, make sure to ask for some chili padi in fish sauce (above) to add to your laksa as you please.
Asam Pedas
Since I enjoyed the curry laksa so much, the kitchen sent out Asam Pedas ($11), another traditional Malaysian fish stew served in a clay pot and featuring myriad ingredients including whole red snapper, lemongrass, onion, cucumber, pineapple, duan kesam, tamarind juice, noodles, and belacan, a shrimp paste that gives the dish it's funky odor.  Fortunately, asam pedas tastes better than it smells, offering hints of sweet, sour and savory all at once.  Definitely an acquired taste.  This rustic dish from the southwestern region of Malaysia will not be a part of my next meal.
Beef Rendang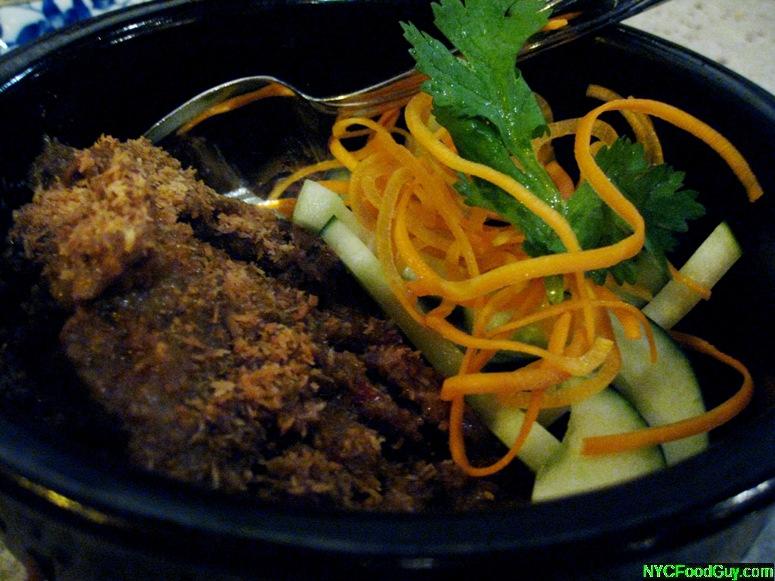 The kitchen saved the most complex and eye-opening dish for last.  If you've been overwhelmed by the multitude of ingredients in the earlier dishes, brace yourself for the fact that traditional beef rendang ($15) preparations typically include up to thirty ingredients!  When you consider the complex flavor of the dish – at once sweet, savory and fragrant – it's no wonder there is so much at play.  Coconut milk, toasted coconut and curry provide the top notes but the tender pieces of beef are simmered in cinnamon, cloves, star anise, lemongrass, sugar, galangal (an earthy, piney and less pungent cousin of ginger), ginger, kaffir lime leaves, and chilies.  Ask for a side of coconut rice and you'll be wondering if you're eating dinner or dessert.
Peanut Pancake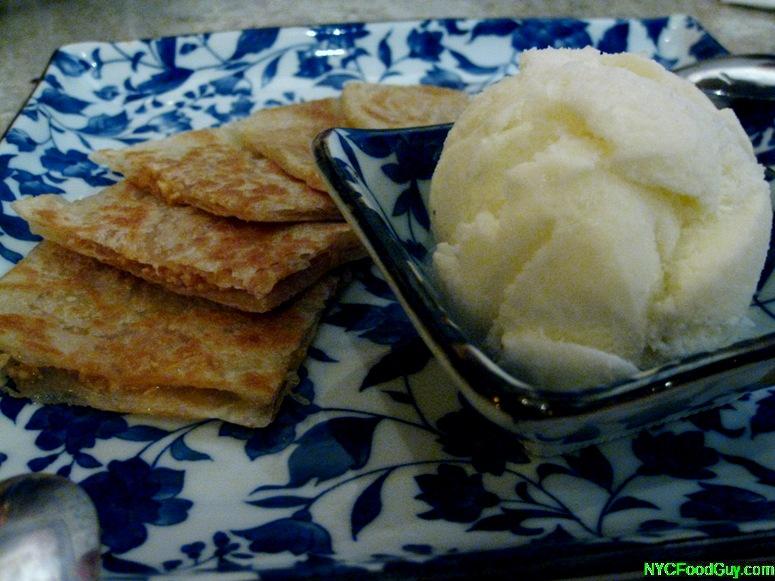 Speaking of dessert, once the kitchen found out how serious my sweet tooth was, they proudly sent out what they called "peanut pancake", roti canai folded with salt, sugar and crushed peanuts.  Wow.  The greasy pancake returns in an even more addictive form.
Malaysian Food Resources
If you want to learn more about Malaysian cuisine and find the Malaysian restaurant closest to you, check out Malaysia Kitchen for the World at malaysiakitchennyc.com.
Laut
15 East 17th Street b/t 5th Ave & Broadway New York, NY 10003
(212) 206-8989 Lunch Mon-Fri 11:30am-3:30pm, Dinner 5pm-10:30pm, Friday 5pm-11pm Saturday 1pm-11pm
Closed weekdays from 3:30pm-5pm, Closed Sunday