April 19, 2010
Puebla Mexican Food & Coffee Shop specializes in cheap, authentic Puebla Mexican food.  Appropriately, the best dish may be the $8.50 chicken mole poblano platter, which is big enough to provide dinner for two days.  But if you're willing to sacrifice atmosphere and an overt sense of cleanliness for breakfast as well as dinner, Puebla offers ample opportunity to squeeze the most out of your dollar and your appetite.
The potato I added to my chorizo breakfast tacos (2 for $5.00) proved unnecessary considering the George Costanza-wallet thickness of each taco.
The tangle of spicy, sometimes chewy Mexican chorizo, scrambled eggs, cheese, and black beans was only enhanced by the addition of Puebla's camouflage green, house made hot sauce consisting of tomatillos, cilantro and two types of chile.  The spice factor varies each visit with the chiles and cilantro alternatively taking center stage.  Do a taste test to see which hot sauce you're getting.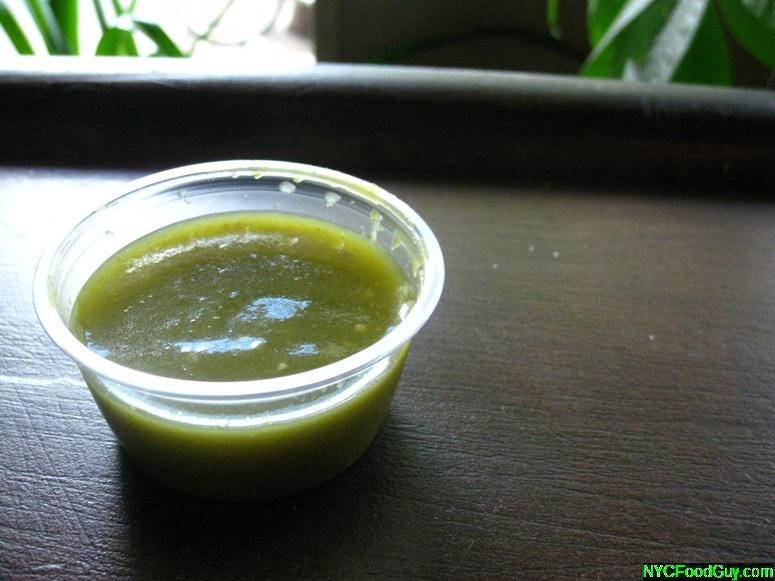 Heat also varies in the Huevos a la Mexicana ($5.50), a scramble of eggs, tomato, onion and the spice wild card, jalapenos.  The main counter man Jose admits even he doesn't know when the jalapenos will be spicy or mild.  A molten pool of black beans topped with crumbly, sharp cotija cheese and a stack of steaming tortillas accompanies the eggs.  Cheese is the only element missing from this equation, preventing a self-made egg and black bean stuffed tortilla from ascending to best bite status.  Next time, I pass on the potatoes and add cheese to my heuvos.
Related: NYC Sandwich Showdown: Puebla's Fried Chicken Torta vs Nicky's Vietnamese Banh Mi
Puebla Mexican Food & Coffee Shop
47 1st Ave near 3rd Street  New York, NY 10003 212-473-6643  $10 Minimum for Delivery Open Mon. – Fri. 7AM-11PM, Sat. 7AM-12AM, Sun. 10AM-12AM