March 3, 2010
NYC Food Guy always welcomes guest bloggers.  Today we turn the spotlight on a first-time blogger.  He's my favorite person to eat a burger with, my brother Craig, a.k.a Lil NYC Food Guy.  E-mail [email protected] if you'd like to contribute!
It's been a long time coming, but after a summer spent living in the city, it was time for my first post.  And what better food is there for me to review then my absolute favorite, burgers?  Last summer, my friend Evan worked at Bobby Flay's Mesa Grill, and has been raving about their lunchtime burgers since.  We decided it was time to finally go check them out and give them a proper NYC Food Guy review.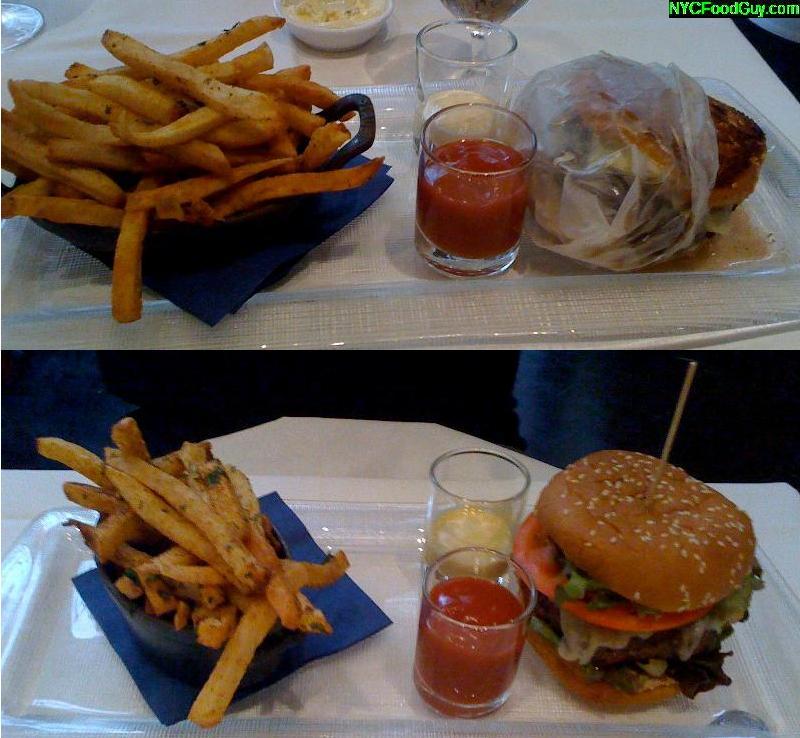 Anyone who considers themselves a foodie has definitely heard of Bobby Flay.  He appears on various Food Network shows and has 5 restaurants across the country as well as a chain of burger joints.  Two things are evident in Bobby's cooking: He loves burgers and he loves adding a southwestern twist to his food, as you'll see with both lunchtime burgers being reviewed here.
But before we dive into the burgers, it's important to talk about the fantastic bread basket that comes first.  Aside from the delicious fresh bread baked on site, the bread basket contains some of the most delicious corn muffins I've ever had. Half yellow corn and half blue corn, these rich bites are filled with real pieces of corn and pepper and are so buttery, they render the accompanying butter unnecessary.  They're a delicious and unexpected start to the meal.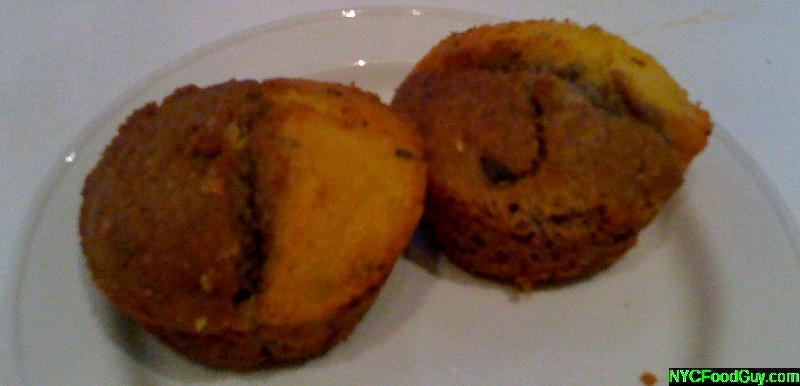 Pressed Cuban Burger with Adobo Fries ($15)
The arrangement of the plate is very simple and elegant.  Although this restaurant is considered more upscale then the ones I'm usually in, it didn't have that overly fancy feel, which I thought was great. I also love that the burger comes served in wax paper, an homage to the "Cuban" side of the burger.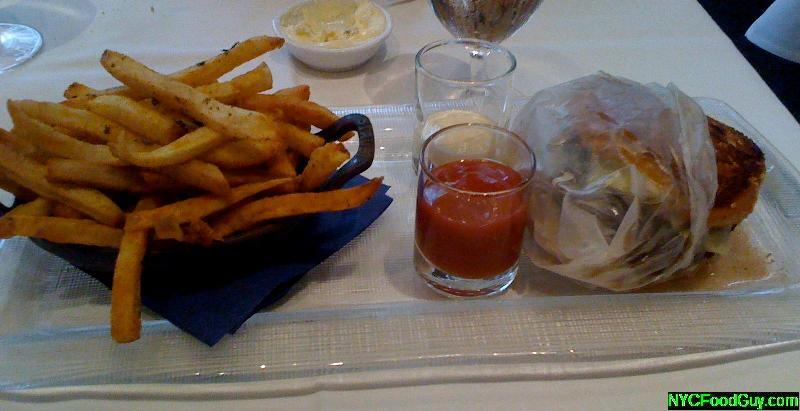 The cross-section of this burger is pretty overwhelming.  While the picture isn't great, what you're looking at below is a big mess of beef covered with thick slices of sweet, salty ham, a layer of pickles and melted Swiss cheese.  While it was definitely a bit sloppy, read on to see how each element came together to provide a crazy mixture of burger and Cuban sandwich that was certainly a tasty and interesting experience.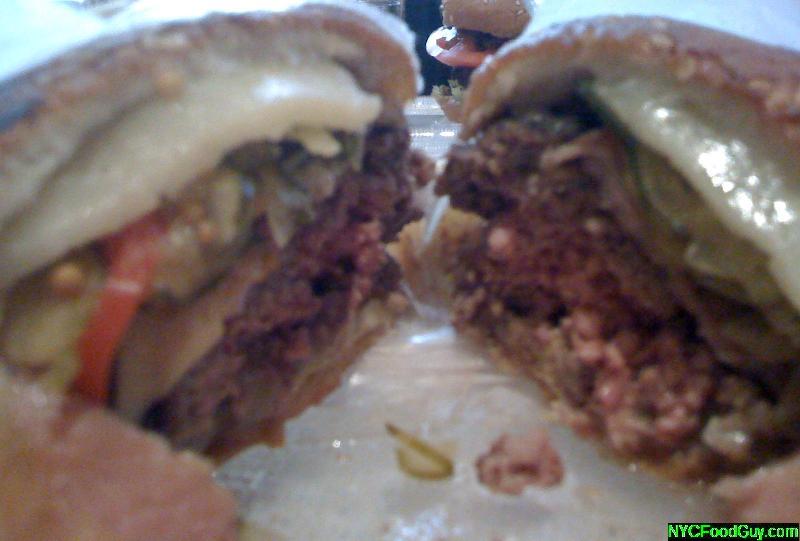 The Breakdown of the Pressed Cuban Burger:
Ground Beef: As it says in the name, the Cuban burger is pressed, which naturally takes away some of the great juicy, fluffy texture I love in my burgers.  That being said, it was still a delicious patty of fatty ground beef.  And since fat is where the flavor comes from, it's nice to see that Bobby's not afraid to use it.
Smoked Ham: Bacon is usually the pork on my burger so this was a nice change of pace.  The ham added a very sweet yet salty flavor to the burger mixing very nicely with the pickled vegetables.  My only problem with the ham was that it was slightly overpowering and in certain bites it was the only thing I tasted.  I'm going to stick to bacon from now on.
Swiss Cheese: I can't say I've ever had Swiss on a burger, but it is classic fare when talking of a Cuban sandwich.  Swiss is pretty mild cheese, therefore it didn't add much to the actual burger.  It also didn't take away much, adding a nice creaminess to the whole thing.
Pickles: A little history about me: I used to be the pickiest eater out there.  I refused to try any new foods, and ate only French fries, pizza and bagels until I was 14.  As my tastes and food selection has expanded, so has my willingness to try new foods.  To this day, I still hate pickles.  I hate when their juice soaks into my French fries and I always make sure they're not on my sandwich/burger.  With my new view on food, I've been very willing to try new things.  I trust Bobby and if he put something on his menu, I'm going to try it that way.  You can now appreciate how surprised I was to actually have liked the pickles on this burger.  They worked very well with the other ingredients and contained not only cucumbers, but jalapenos and peppers.  They didn't have too overpowering of a pickled flavor as is the case with most deli pickles.
Dijon & Garlic Mayonnaise: Also a recent mayo convert, this condiment worked very well with this burger.  As an accomplice to the King of Ketchup, I love dousing my burgers in a good amount of ketchup.  This time, I actually held off and used only this mayo that accompanied the burger.  It added a very nice, light flavor to the incredible combination of flavors already on this burger.
Bun: The weakest part of the burger, the bottom bun just didn't hold up very well to the plethora of ingredients on top of it.  While size-wise it was appropriate, it got a little too soggy from all of the juices on the burger and could have been toasted.
Adobo Fries: These fries were seasoned with turmeric, garlic, and oregano to provide a very unique flavor.  They were very hearty French fries, the kind that you can actually taste the potato.  I think they could have also been a little more well-done.  While I preferred the Southwestern fries accompanying the Mesa Burger, my dining partner Evan liked the Adobo fries better.  Both were delicious but it's obviously a matter of taste.
Bobby's Mesa Burger with Southwestern Fries ($15)
This is a delicious and more traditional burger than the Pressed Cuban Burger.  With the exception of the wax papper wrapping, its presented in the same manner as the Cuban burger.  This is more along the lines of what you would expect from an upscale Bobby Flay burger.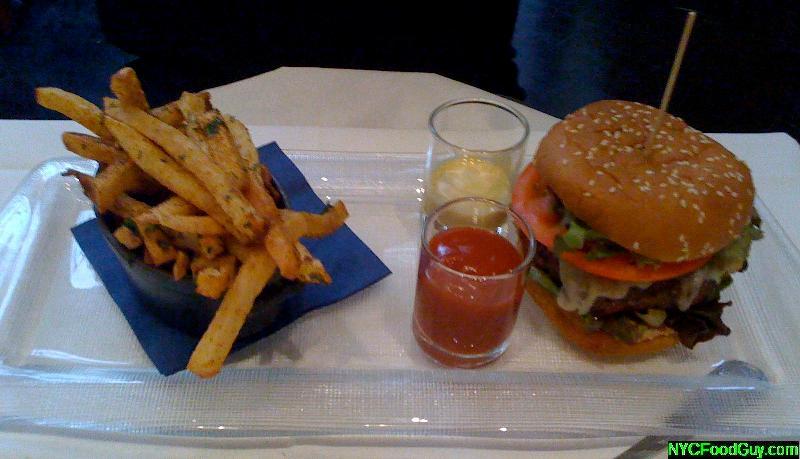 The cross section on this burger, however, actually looks like a burger.  A nice, loosely packed patty surrounded by lettuce with a thick slice of tomato and two different kinds of melted cheddar on top.  While I've definitely had bigger burgers, this one was tasty and clean.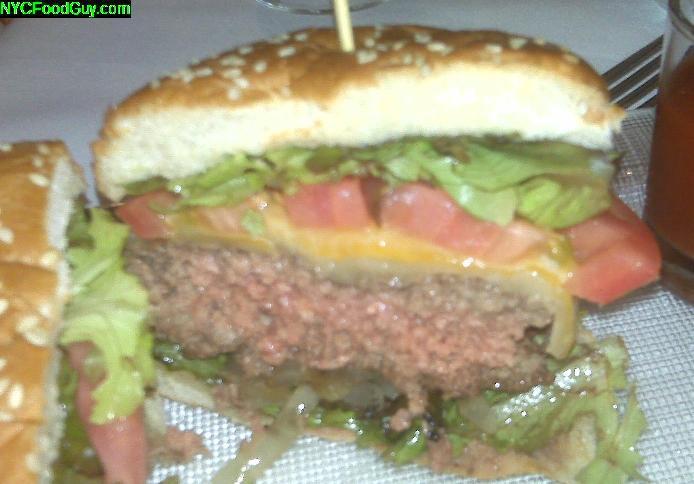 The Mesa Burger Breakdown:
Ground Beef: While it tasted as if it was the same beef as the Pressed Cuban Burger, this is more the type of patty I love: a delicious blend of beef and fat packed loosely for a great juicy taste that oozes every time you bite in.  You could tell it was a very good quality meat, as it was a clean taste that isn't going to leave you hurting hours later. It was also cooked to order perfectly and seasoned very well.
Double Cheddar Cheese: The double cheddar blend is something every burger should have.  I first tasted this at Burger Joint in Le Parker Meridian and fell in love.  It always surprised me that I never saw this elsewhere, until I came to Mesa Grill.  Nothing compliments a burger better than the double blend of cheddar.  Neither were too sharp and overpowering, also something I love in a great cheeseburger.
Grilled Vidalia Onion: Also another must-have on a burger for me, some fried or well grilled (crispy and sweet) onions need to be present.  These onions were grilled perfectly and provided a great sweet flavor complemeting the meat very well.
Horseradish Mustard: Not a fan.  I don't like horseradish sauce or mustard, and the combination certainly did not do it for me.  On the other hand, Evan, who loves both garnishes, enjoyed this condiment as a dipping sauce with the French Fries.
House Roll: I had the same problems with this roll as I did with the Cuban Burger's bun.  It got too soggy on the bottom and didn't hold the big burger that well.  A good burger bun needs to be able to soak up the excess juices of the patty and at the same time hold up all the ingredients of the burger.
Lettuce & Tomato: I don't usually leave the healthy stuff on my burger, but again I trust Bobby.  Both ingredients added a crisp, delicious taste to the burger.  However, my first bite of the burger was very leafy, something I was not looking for.  I removed the superfluous lettuce from beneath the burger, which solved the problem.  I recommend you do the same.
Southwestern Fries: These fries were seasoned well with cilantro, sea salt, oregano, and a touch of garlic and ancho-chili pepper.  As with the Adobo Fries, these were also hearty and delicious and could have used a little more crisp.  That didn't stop me from finishing the entire bowl, I loved these and couldn't stop eating them.
Conclusion
While both burgers were very tasty and flavorful, I don't think I'd go back for either.  The Pressed Cuban Burger was unlike anything I've ever tried.  Since I'm not a big fan of pickles or ham, this burger was definitely a risk for me.  I did enjoy it though and would certainly recommend trying it (and its $15 price tag) if you like Cubans sandwiches and burgers.  The Mesa Burger was a very clean, juicy burger that I definitely liked as well.  The only reason I think it was worth $15 was the hearty helping of Southwestern Fries that accompany it.  If I had to put it in a similar league with another burger, it'd be Burger Joint, but I'd take the $7.50 cheeseburger and the $3.50 fries at the Joint any day over this.  The great service, great food and corn bread will certainly bring me back, but I don't think it will be to have a burger.  Let me know if you feel the same way!
Mesa Grill
http://www.mesagrill.com/newyorkcity/
102 5th Ave (Btwn 15th & 16th St)
New York 10011
(212) 807-7400 Hours:
Lunch- Mon-Fri: 12pm-2:30pm
Dinner- Sun-Thu: 5:30pm-10:30pm, Fri: 5:30pm-11pm, Sat: 5pm-11pm
Brunch- Sat: 11:30am-2:30pm, Sun: 11am-3pm