February 25, 2010
This delicious, affordable and simple recipe comes complements of the esteemed King of Ketchup.  If you'd like to submit your recipes to the site, e-mail details and a photo to [email protected].  Happy Cooking!
Any dish made with bacon and brie is really hard to mess up.  This recipe calls for three ingredients: brie, bacon, and Pillsbury biscuit flakes, and it can be prepared and cooked in under ten minutes.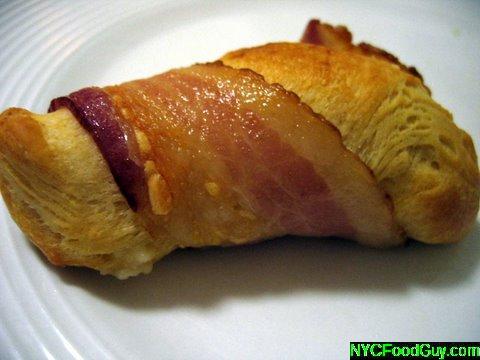 First, cut a piece of brie about 3/4 of an inch long and 1/4 inch wide.
Next, peel one or two flakes off of your Pillsbury biscuits (I prefer the flakes, but the regular crescent dough should work just as well — click the link to print out a $1 coupon) and seal your brie up in the dough.  Make sure to pinch the edges tightly so it doesn't break open in the oven.
Finally, wrap a strip of raw bacon around the outside, and pop that bad-boy in the oven at 375 or 400 degrees.  Cook 'til golden brown and enjoy.
And if you really wanna get fancy, you can beat an egg and paint some on the outside before cooking to give this sexy little hors d'oeuvre a slightly crispier, glazed finish.