November 25, 2009
The owners of Spanish tapas restaurants Sala Bowery & Sala One Nine have focused their attention stateside with the opening of Rye House, a modern bar offering craft beers, house-made rye whiskey, well-crafted cocktails and a menu of casual American fare centered around NYC's first homage to the legendary meat, cheese, french fry, and cole slaw-stuffed sandwiches at Primanti Bros. Restaurant in Pittsburgh, Pennslyvania.  Unfortunately, the two split links of smokey andouille sausage inside Rye House's admiringly-named "Pittsburgh" sandwich ($10) provide the only detectable flavor amidst bland house-made cole slaw, hearty yet under-seasoned hand cut French fries and melted mild provolone cheese inside two slices of surprisingly delicious toasted Pullman loaf.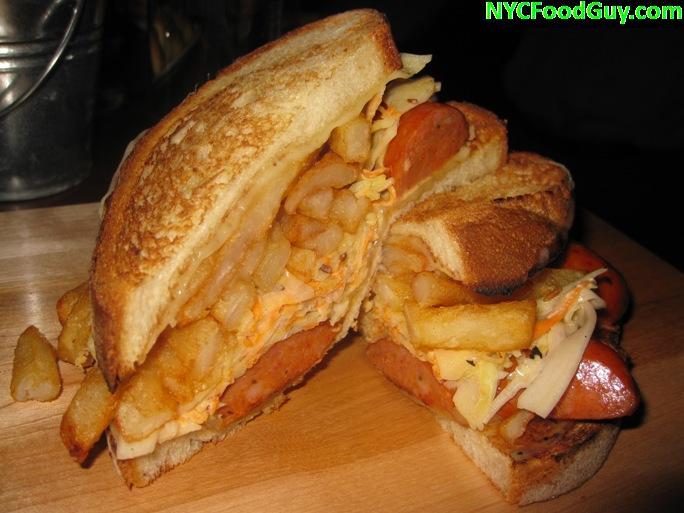 In attempting to "clean up" the real Primanti Bros. sandwich, Rye House abandoned the standard issue tomato and with it acidity that could really enhance the sandwich.  An upgrade to a more flavorful cheese and adjustments to the cole slaw's mayo base would also improve what has the potential to be a great NYC sandwich.  Rye House has been open for less than one month and I look forward to returning to give the "Pittsburgh" another try.
Read on for the full menu plus NYC Food Guy's take on some other items…
Pretension and an overwhelmed kitchen seemed to have got the best of the other food I tried.  Everything sounded intriguing and delicious but mainly fell flat.  I'll give Rye House some more time to settle in, however, before I bestow my final judgment.
A flavorless, mushy "Beef Wellington" sandwich ($12) with tender, medium rare filet mignon, messy foie gras pate and mushrooms on a fluffy brioche bun served with a side of half soggy, half crispy, fully salted house made potato chips.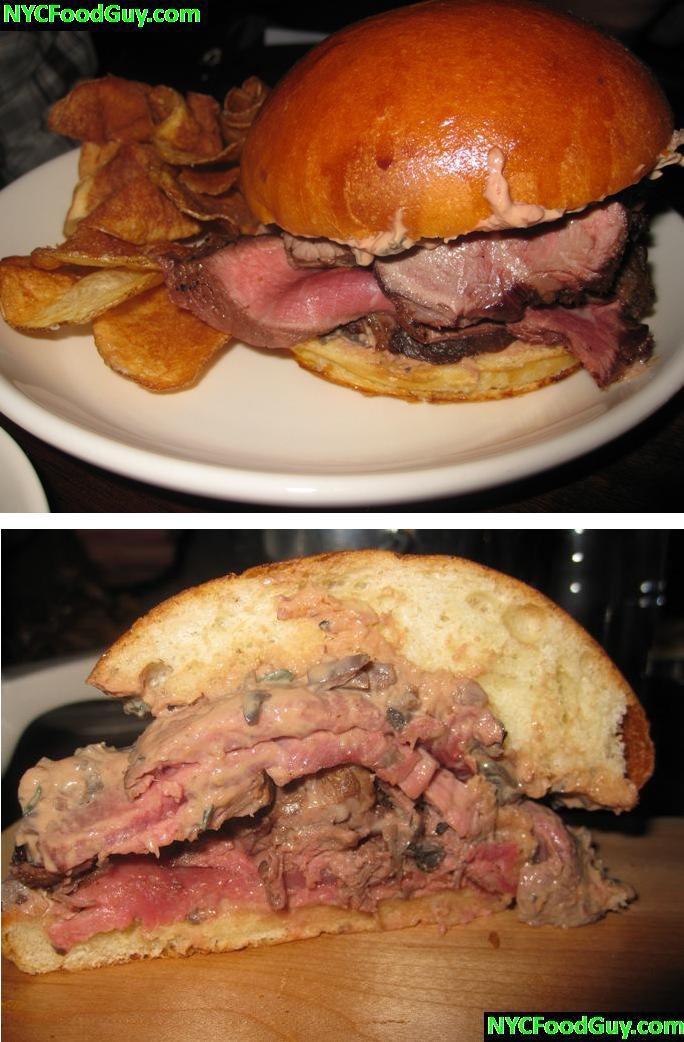 Shockingly ordinary pork belly and smoked gouda empanadas ($12).  One of my fellow diners likened the flaky exterior to "cocktail hour fare."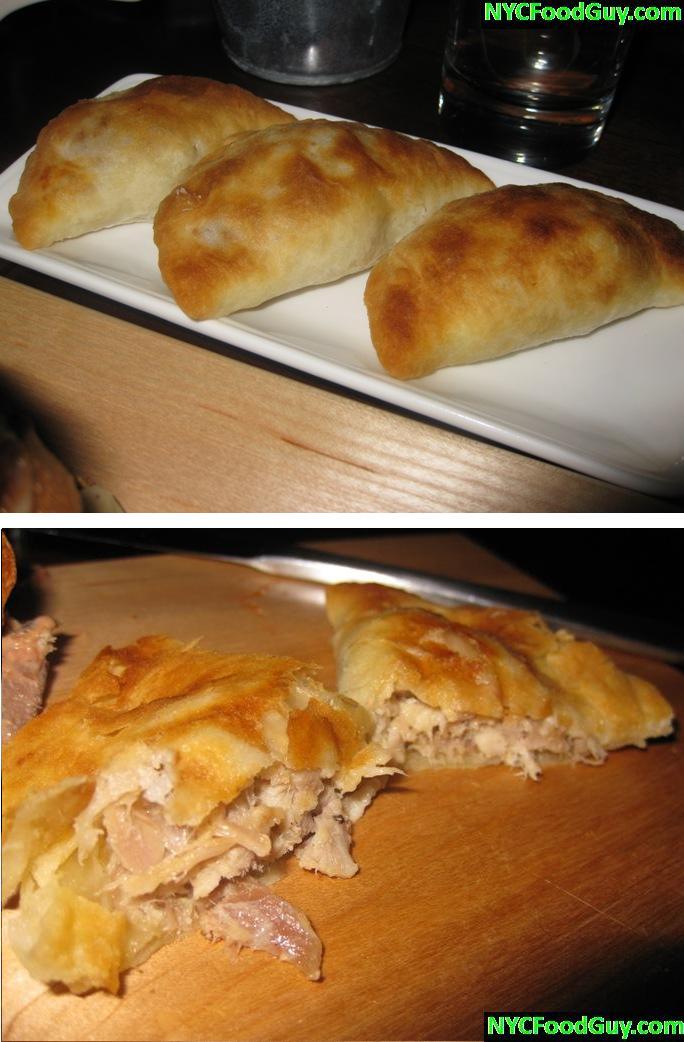 An extremely greasy and flavorless (seeing a trend?) fried quesadilla filled with duck, foie gras and duck ham ($12).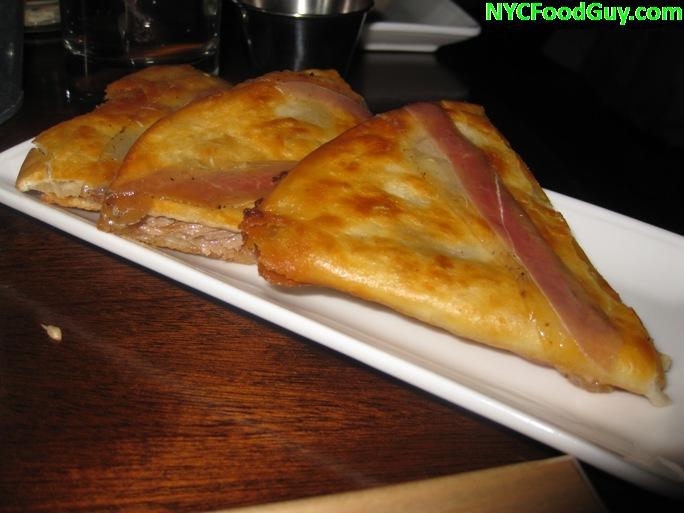 Disappointingly gooey sweetbreads inside greasy, doughy casing coated in a barely spicy house made Buffalo Sauce ($12).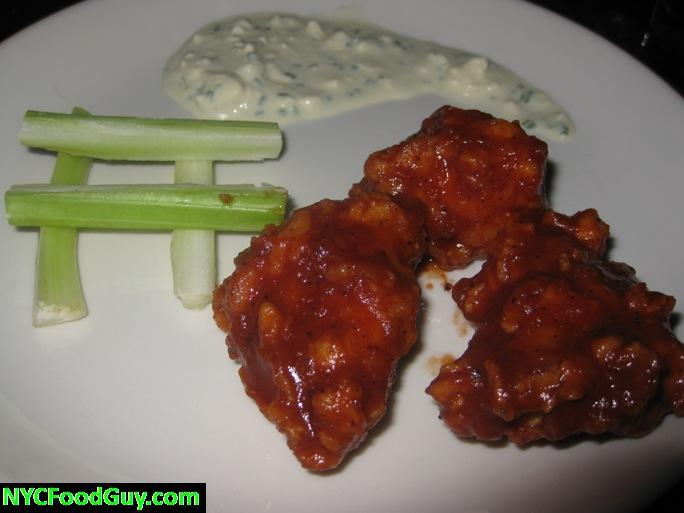 A tin bucket of steamy boiled peanuts ($6) redolent of cinnamon.  I found the flavor awkward but King of Ketchup thought these were the best part of the meal.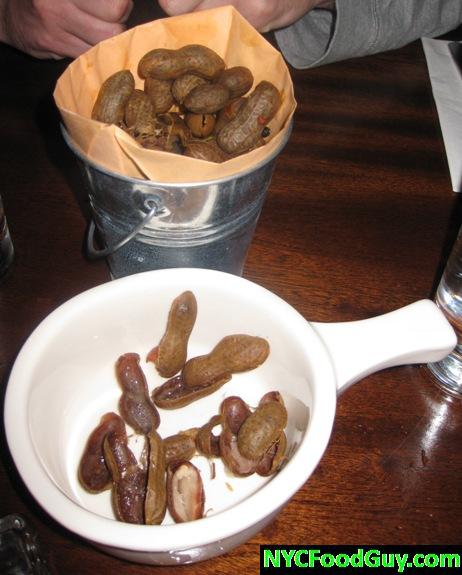 Rye House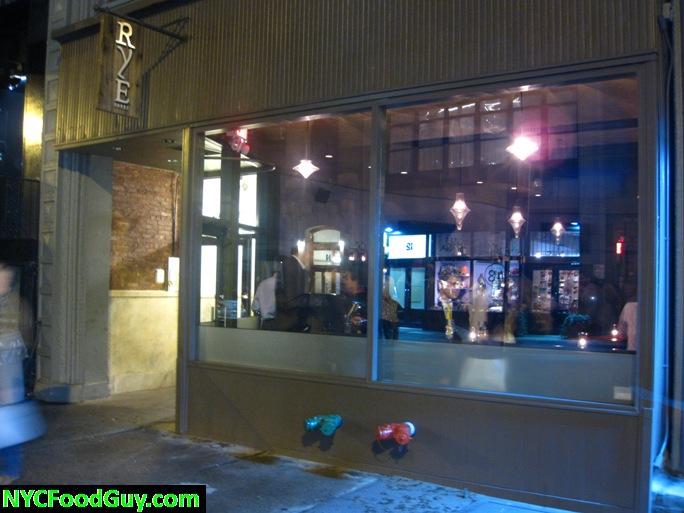 11 W. 17th St, b/t Fifth & Sixth Ave
New York, NY 10011 (Google Map)
212-255-7260
Closes at 2AM nightly
Kitchen closes at 11pm Mon. through Thursday, 12AM Fri. & Sat.