June 30, 2009
It's been a while since my first feast at S'Mac so I stopped in to try the Cheeseburger (Top – cheddar, American and ground beef, $6.25 Nosh) and the Alpine (Bottom – Swiss, gruyere and slab bacon, $7.25 Nosh), both with bread crumbs added.  Per my first encounter at S'Mac, I discovered bread crumbs add a whole new level of decadence and texture.  Read on to find out if I'll be ordering either variety on my next visit…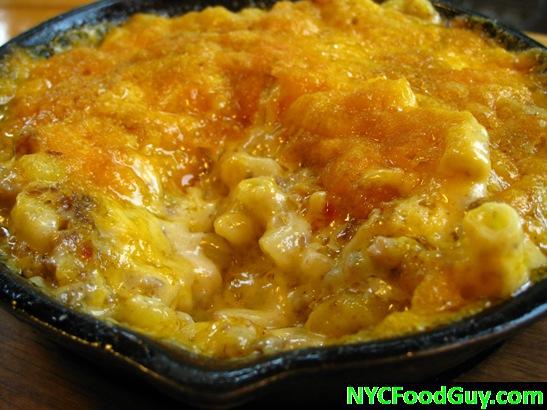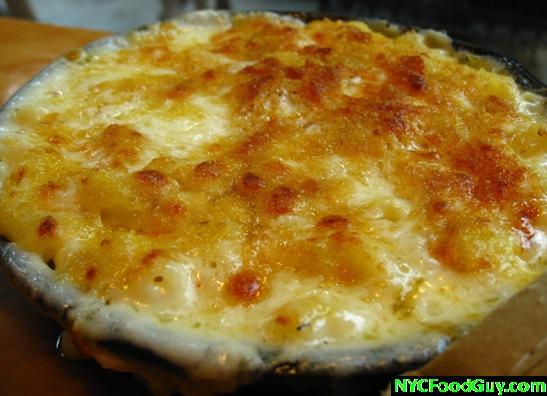 Deciding What Size to Order
For two people, two Nosh-sized orders of mac and cheese will fill you both up.  A party of three or four would be fine with either two Major Munch-sized orders or four Nosh-sized.  One Mongo could happily feed three people.  All of the mac and cheese is so rich that you should always order less and if you're still hungry go back for more. Having leftovers isn't as great an idea as it seems, the mac and cheese really loses its life on the re-heat.
Cheeseburger – Cheddar, American and ground beef, $6.25 Nosh
Definitely the tastier of the two varieties featured in this post. The crunchy, buttery bread crumbs lock in the flavors of the sharp cheddar and sweet American cheese, creating a decadent charred-cheese crust that's simply delicious.
The ground beef, as I'm noticing with all single-meat ingredients in S'Mac's mac and cheese, is too sparse to provide any real flavor or texture.  To the Cheeseburger's credit, however, the ground beef had more of a positive effect than the Alpine's nearly non-existent slab bacon.  At one point, I added a little Louisiana hot sauce to a bite but decided that it's better without.  I would definitely order the cheeseburger again and maybe add broccoli (+$1.50 Nosh).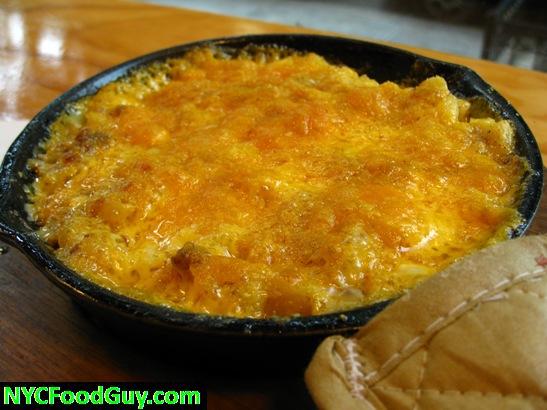 Alpine – Swiss, gruyere and slab bacon, $7.25 Nosh
This is one of the simpler offerings on the "Sarita's Recommendations" menu.  The combo of cheeses is tasty and slightly sharp, but there's really no punch.  The boost one hopes slab bacon would add never arrives, mainly because there are so few pieces of bacon in the order, there's no way it can compete with the strong-flavored Swiss and gruyere.  I wouldn't opt for the Alpine next time out, but if I did, I have a feeling some roasted tomato (+$1.50 Nosh) would be a welcome mix to cut through the sharpness of the two cheeses.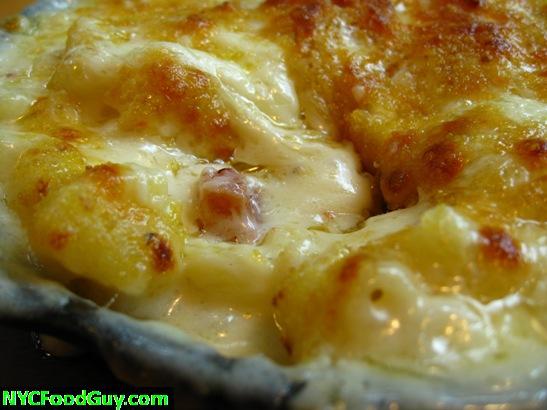 Sarita's Macaroni & Cheese
345 East 12th Street New York, NY 10003 212-358-7912
212-358-7917 Free Delivery on orders of $10 or more Take out open until 1AM Friday & Saturday