June 29, 2009
DISCLAIMER: There's nothing like eating at Shopsin's General Store and that's because most people feel awkward, uncomfortable and offended upon merely entering the vicinity of the place. One thing that holds true is that if you don't feel any of those three undesireable emotions upon arrival, or at any point during your meal, then you know you belong.  And then you're in for one hell of a meal.  In the end, Kenny Shopsin is a great dude; if he feels like being one.  If not, well then be polite, know what you want to eat ahead of time, and if Kenny curses at you, feel free to curse back.  If you go to Shopsin's and you're not prepared for this, please don't mention you found out about it from me.  Read this article by Calvin Trillin to understand what I'm talking about.

==============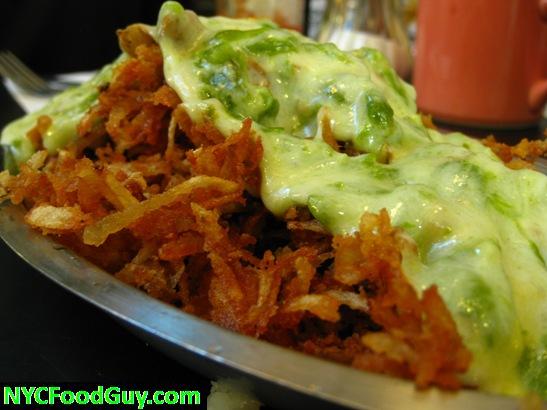 Awesome and awe-inspiring.  Both words describe the two defining characteristics of Shopsin's General Store:  its menu and its owner/chef, the inimitable Kenny Shopsin.  And with a constantly changing menu (the massive Mexican skillet combo is already gone) and equally unpredictable maker, every trip to Shopsin's provides a new opportunity for edible adventure.
This post features three dishes:
Treif: 3 Jewboy (brisket, onions, jack, Swiss) Egg Sliders ($17)
Moe II: Maple bacon French toast sandwich, eggs on top ($14)
Fried Potato Shreds with melted Jack and Hatch chile ($11)
Treif: 3 Jewboy (brisket, onions, jack, Swiss) Egg Sliders ($17)
If you've never considered combining brisket with eggs and cheese, this is a great place to start. Shopsin's brisket is tender and meaty but the real key are the sautéed onions, the greasy flavor bridge between the brisket and scrambled eggs. The airy, slightly steamed buns add a little sweetness but tend to disintegrate under the juiciness of the other ingredients.
Moe II: Maple bacon French toast sandwich, eggs on top ($14)
"Exactly what I wanted to it be. No more, no less," said my friend Veronica, a satisfied smile slowly appearing across her face. For something that looks so decadent, this is actually one of the plainer offerings on Shopsin's menu. It's nothing you couldn't get elsewhere but there's something special about having it the way it's served here, sandwiched all together. Crispy, syrup-covered bacon wedged between two slices of fluffy egg-crusted French toast, all crowned by two eggs, sunny side up. Simple yet sumptuous.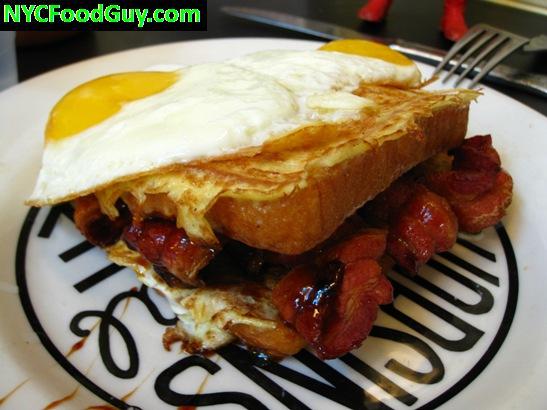 Fried Potato Shreds with melted Jack and Hatch Chile ($11)
Fried potato, a mountain of melted Jack cheese and spicy Hatch Chile from New Mexico; how could you possibly go wrong? Well, you can't, but the fried potato "shreds" were a little too thin and deep fried to provide any substance.
I try to get something different every time I go to Shopsin's, but if I ordered these again I'd go for the hash brown potatoes (deep fried chunks like in the now defunct Mexican skillet combo). With any sweet or savory main course, you may want to consider ordering a potato side with Hatch Chile and cheese. It's a welcome addition.  If you're as excited about this food as NYC Food Guy is, you can buy Kenny's book: "Eat Me: The Food & Philosophy of Kenny Shopsin" by clicking here.