June 22, 2009
Tuck Shop, the East Village's home for authentic Australian street food (meat pies, sausage rolls) and desserts (Tim Tams, vanilla slice, lamingtons), will soft open a new 2nd location this Wednesday (June 24) at 115 St. Mark's Place, just a few doors down from Crif Dogs.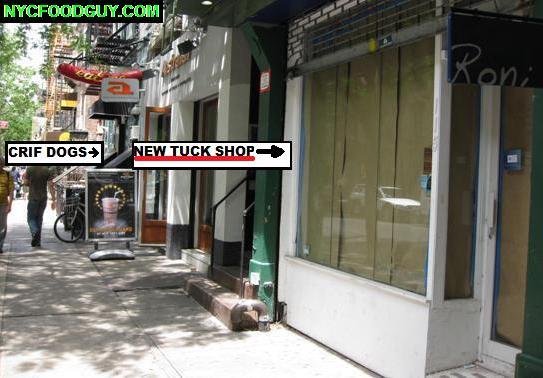 Late night eaters are in for a treat, the new location, like Tuck Shop's original location at 68 East 1st Street b/t 1st and 2nd Avenues, will be open until 5AM Friday and Saturday (an hour later than Crif Dogs) and 2AM Sunday through Thursday.  Early birds can look forward to new breakfast and coffee options and lovers of the legendary Australian cookie Tim Tams have even more reason to be excited!  Read on to find out why, plus learn about what else we can expect from one of NYC Food Guy's favorite spots…
Bigger is Better
Emeril Lagasse would be proud; the new Tuck Shop takes everything up a notch: a larger space, more pie specials, new sides and desserts, and a shiny zinc bar.  Pies (like the mac and cheese pie and my two personal favorites, beef and Thai chicken curry) will be prepared at the 1st street location and transported to the new spot to be baked fresh.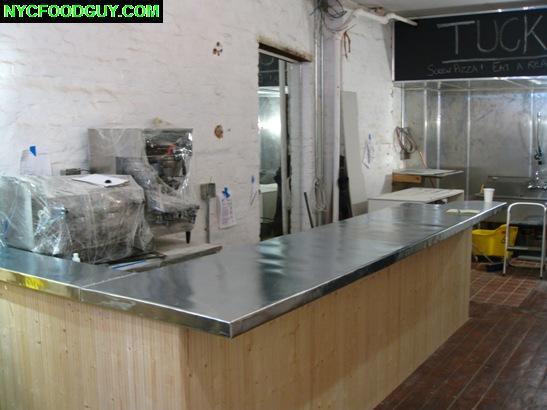 Custom Australian Coffee
The cellophane-wrapped coffee makers in the photo above will feature custom-roasted beans engineered to offer a light flavor perfect for Australian "flat whites," a cross between a latte and a cappuccino.
Australian Milkshakes
Fresh fruit and the Australian chocolate drink Milo ("a delicious chocolate malt energy drink" according to Nestle's website), will be the centerpieces of a new milkshake menu.
Tim Tam Storage Area!
To quote myself:  "Tim Tams are 'Australia's favorite biscuit.' They're also by far the best packaged cookie I've ever had and I dream about the day they appear in U.S. supermarkets." Well since that day has actually passed, the only place you can find Tam Tams now is Tuck Shop and they're so serious about this responsibility, they've dedicated an entire storage area at the back of the shop to storing Tim Tams.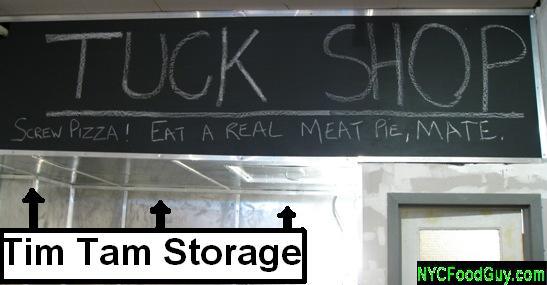 Stay tuned to NYCFoodGuy.com for further updates on Tuck Shop's new location (below) at 115 St. Mark's Place between Avenue A & 1st Avenue. There's no phone number yet but if you have questions, call the 1st street location at 212-979-5200.