May 1, 2009
Mayahuel, on 6th Street b/t 1st & 2nd Avenue is a new tequila & mezcal bar that will most likely be known more for its intimate date spot-status & cocktails created by master-mixologist Phil Ward (Death & Co.) than its soon to be introduced full menu.  Then again, if the kitchen can consistently produce pork belly as fatty & delicious as the one I tasted, David Chang may be given a run for his money.
It all starts with a sign
Albeit a really small sign. As you can see from the little while sign on Mayahuel's doorway below, there's not much that makes the bar stand out on the western end of Curry Row (6th street near 2nd Avenue).
Once you enter, however, and stroll past the bar…
…and tiny booths behind the bar…
…you'll travel to the dimly lit upstairs area where a romantic atmosphere is set by tall, welcoming banquettes and a reddish-hue emanating from the unique light fixture above a gated space which lets patrons spy on the mixologists working at the bar below.
Botanas and then booze
With the exception of two disappointing dishes, the botanas, or Mexican snack menu fulfills its goal of providing "shareable bites made to amuse and delight; sometimes fiery, never trite." Two hungry people, however, can comfortably share all of the seven small plates ($3 to $12) and still have room for dessert.  Rumor has it that this menu is a prelude to a more expansive version as the bar goes through its full opening stages. Read on for the best course of action and which dishes to avoid…

Start with the tortillas
Tortillas with guacamole, smoked tomato and salsa verde ($8) offers the best variety of fresh, vibrant flavors to start your night with.  Chunky guacamole is studded with chopped tomato.  The steaming hot smoked tomato, however, was too intensely smokey for me but the salsa verde packed the perfect punch of spicy jalapeno and bright cilantro, so much so that I was still eating it with my finger after running out of chips.
The tortilla chips accompanying the three sauces tasted house made but were very salty as you can see from the photo. Perhaps a ploy to get us to drink more? More likely a heavy salt hand as the cooks figure the menu out.
If you can't beat 'em, join 'em
The union of seared shrimp and chorizo in the Camaron y Chorizo ($10) with roasted sweet pepper is a combination I will never get tired of.  A wooden skewer wraps a salty, seared piece of juicy shrimp around a slice of slightly spicy chorizo.
Fried strips of tortilla and a drizzle of roasted sweet pepper sauce looked nice but were superfluous when it came to enhancing flavor.
Get in my belly
Pork belly, with its crispy edges hugging ribbons of melt-in-your-mouth fat and juicy meat, may be my new favorite food.  And other than Mayahuel's salsa verde, their Cochinita, braised pork belly with papaya mango mustard ($10) was by far my favorite dish of the evening.  It was everything you would want from pork belly: crispy, fatty, juicy.  And when combined with the sweet papaya mango mustard, the result is a candied slice of fatty deliciousness that elicits only a Homer Simpson "Mmmmmmmm."  Forks, or utensils of any kind, are absent so use your fingers or the unnecessary folded tortillas wedged between the slices of pork belly, to spread the mustard on the pork.
Push for pork at taco time
Here is where we get to the part of the botanas menu where I began to feel underwhelmed.  Tacos, soft tortillas with pastor (pork) or tinga (chicken), with cilantro, radishes and lime ($12) come 4 to an order.  You can mix and match any way you please but go with the juicier, more flavorful pork (left) over the dryer, blander chicken (right).  The accompanying pico de gallo and lime were welcome additions to each taco.  My strongest recommendation would be to ask for another saucer of the salsa verde to put on your tacos. That could be magical.
Pass on the popcorn
Palomitas, popped corn with lime, cotija cheese, and ancho chili ($3) was the first of the two major disappointments.  The room temperature, slightly stale popped corn left the crumbly, sharp cotija cheese grainy and dry.  The presence of the lime was welcome but sparse and the ancho chili was undetectable.  I spoke with one of the owners after the meal and he patiently digested my criticism, adding that they're still working out the kinks.  He then happily considered my suggestion of fresh-popping every order of popped corn. I won't give up on this dish just yet. Cheese covered popcorn has too much promise.
Not Quite Quesadilla
A quesadilla should be filled with gooey melted cheese, but in the case of Mayahuel's $8 version, filled with cotija cheese and topped with papaya mango salsa, the cotija cheese just didn't melt.  The unfortunate result, as my eating partner in crime Jen put it, was "feet quesadilla."  Yes, the sharp, slightly stinky cotija cheese did not taste good and neither the papaya mango salsa or the two sauces atop the quesadilla could do anything to change that.  Again, I politely voiced this displeasure to one of the owners and he acknowledged it admitting he didn't love the quesadilla recipe himself.  Keep an eye out for potential changes.
Getting thirsty?
It's all about tequlia and mezcal at Mayahuel.  According to an article by Dan Saltzstein in the NY Times, both are distilled from the core of the agave plant, but unlike tequila where the agave core, or pina, is cooked in an oven, with mezcal, the pina is cooked over earthen pits of hot rocks, giving it a distinctive, smokey flavor.  Tequila is mainly mass produced while mezcal, in whose bottle you'll sometimes find a worm, is an artisan product. Whatever, you decide to imbibe, you'll have your pick of the litter.
Mayahuel's menu offers seven full pages of tequlia and mezcal concoctions in addition to straight shots.  I went with the La Vida Rosa ($13), a sangria consisting of strawberry infused Blanco tequlia, rose wine, elderflower, and sliced fresh strawberry. The drink smells like candy and the initially tart flavor gives way to a strawberry undertone.  Eating the sliced strawberry at the end was a delicious treat.  At first glance, the value on this drink isn't very rewarding but take into consideration this isn't the Blarney Stone, your $13 is getting you the equivalent of liquid art from some of the city's top mixologists.   So drink slowly, relish each sip.  Every drink should be enjoyed like a fine wine.
The Drink Menu
Below is the entire drink menu at Mayahuel in page order.  Click on each photo to expand.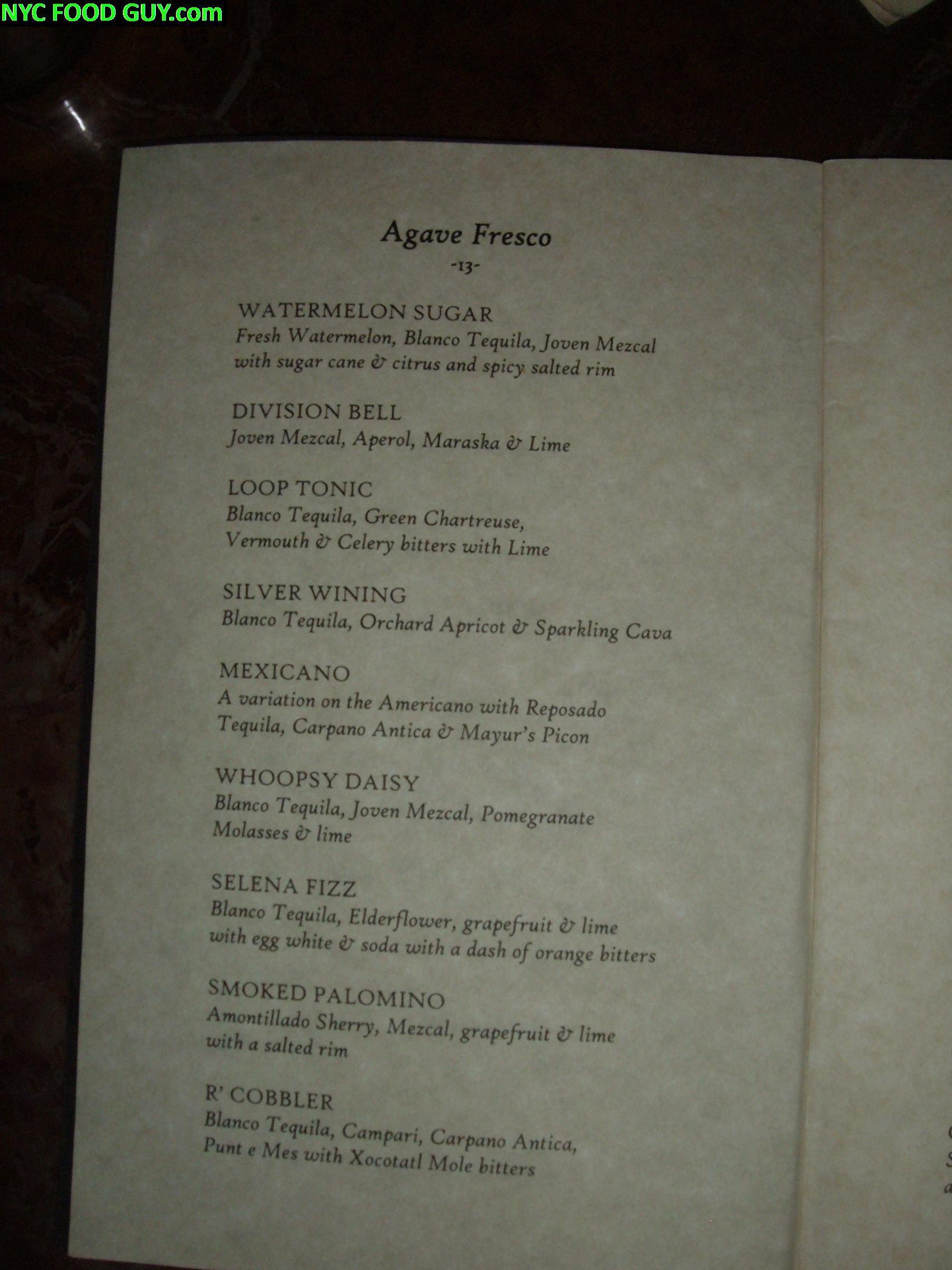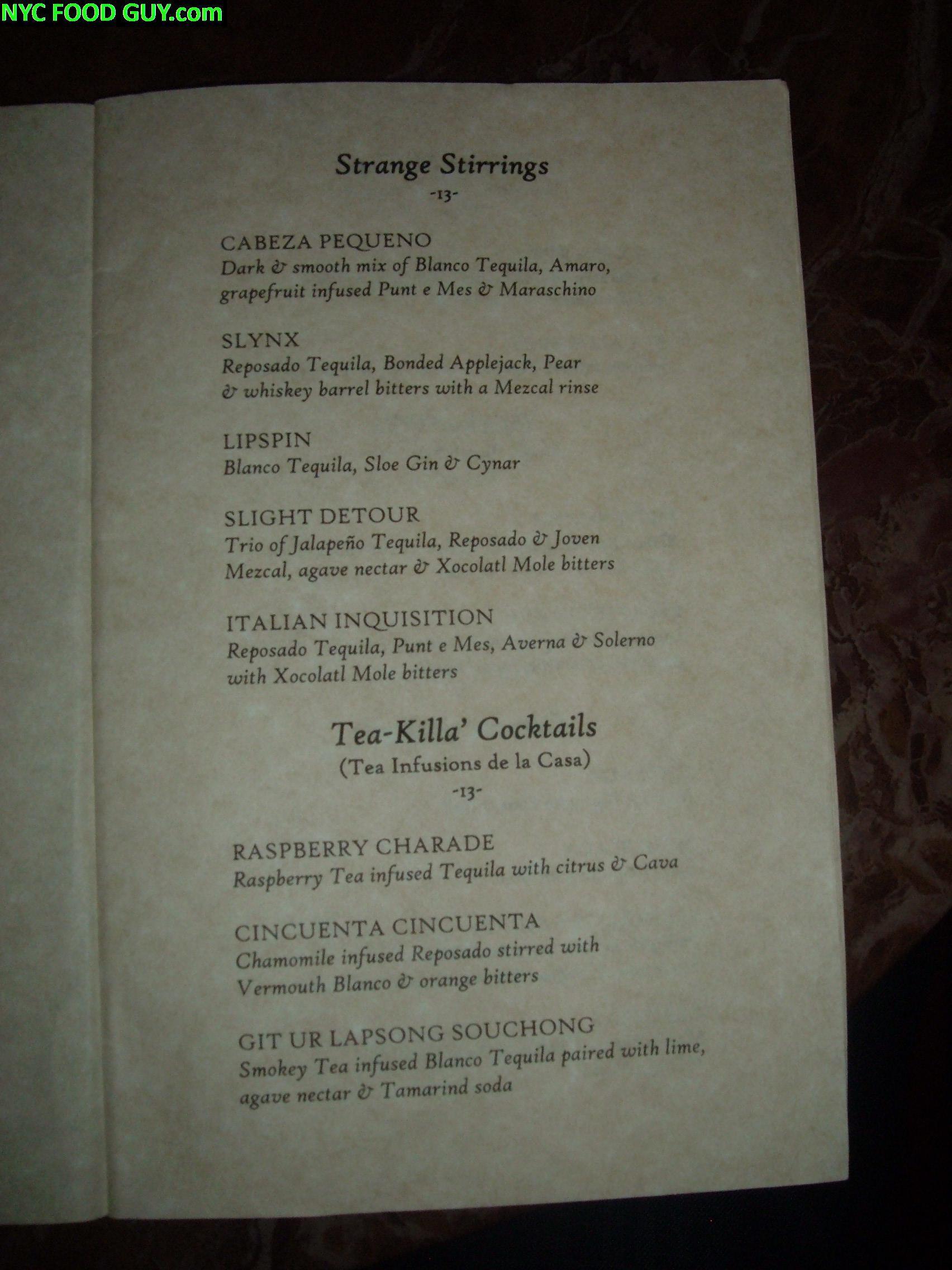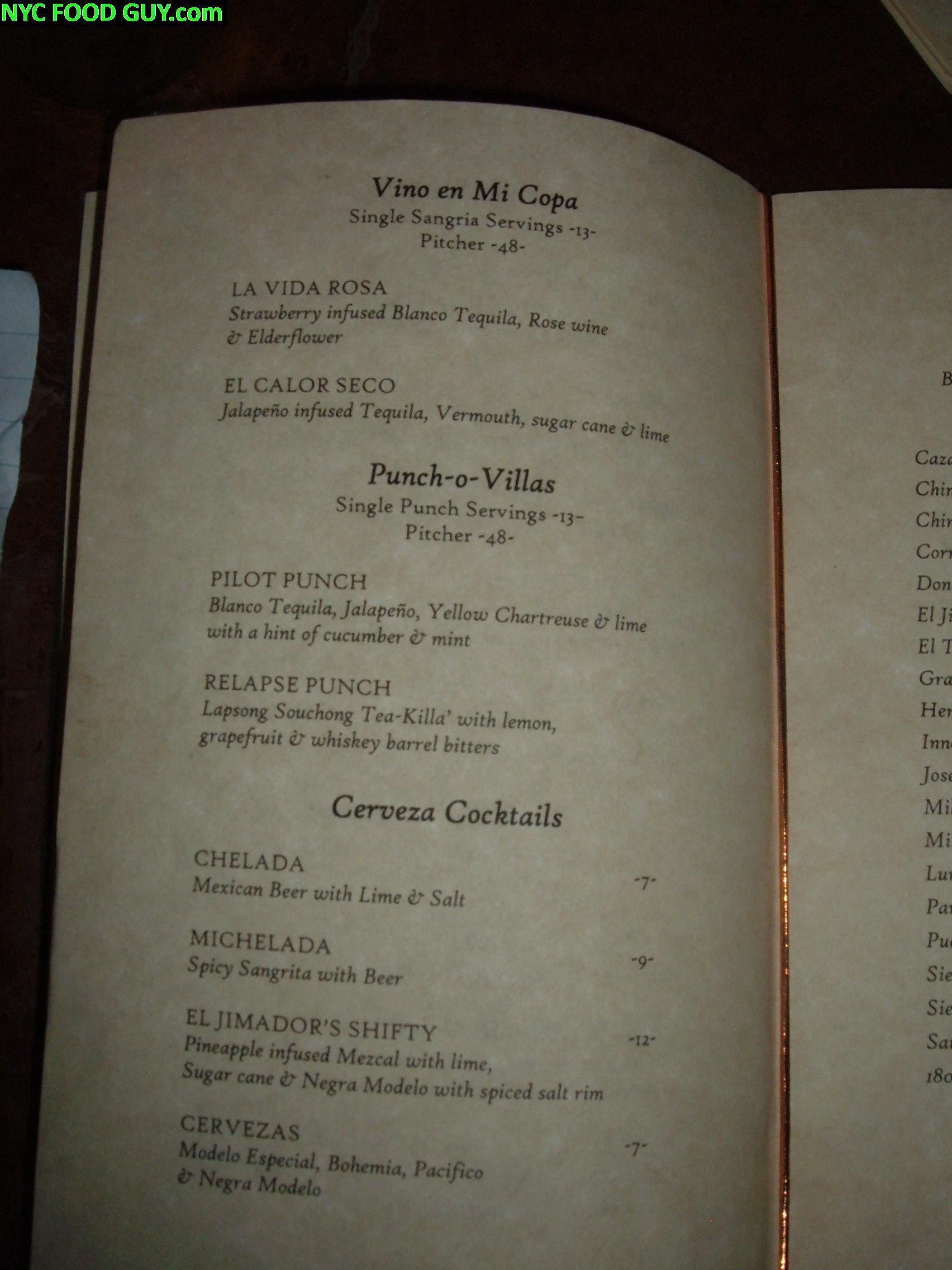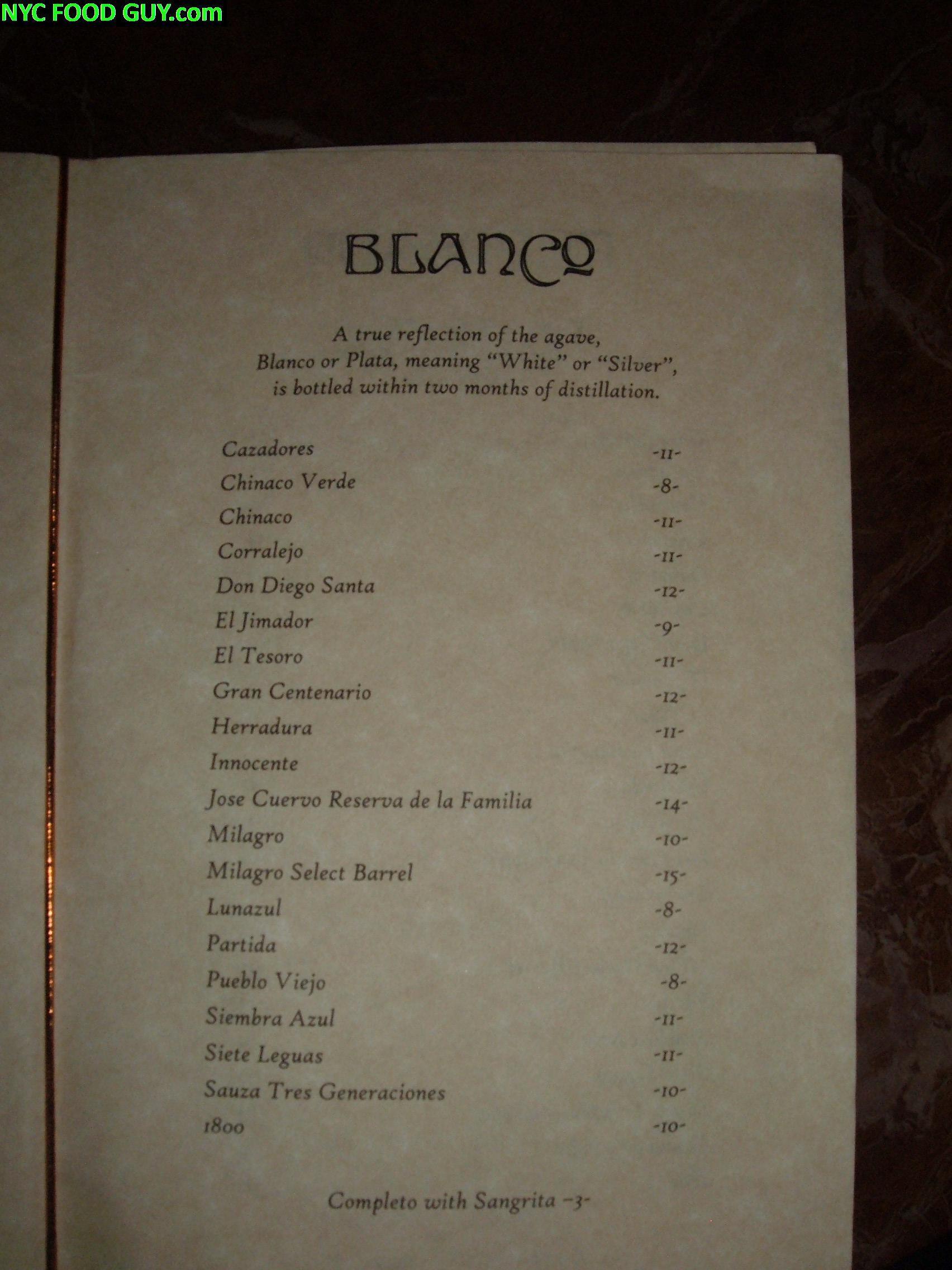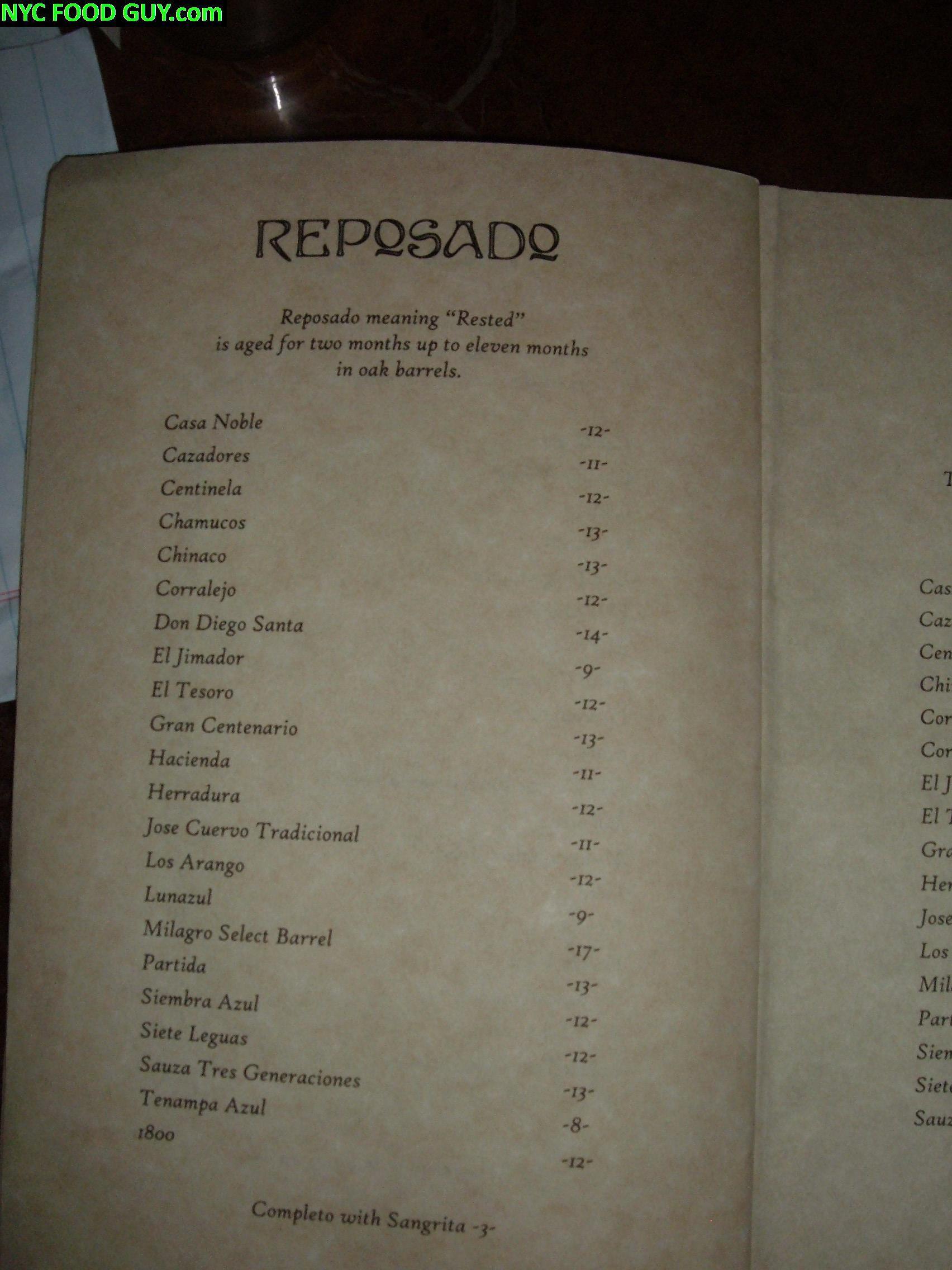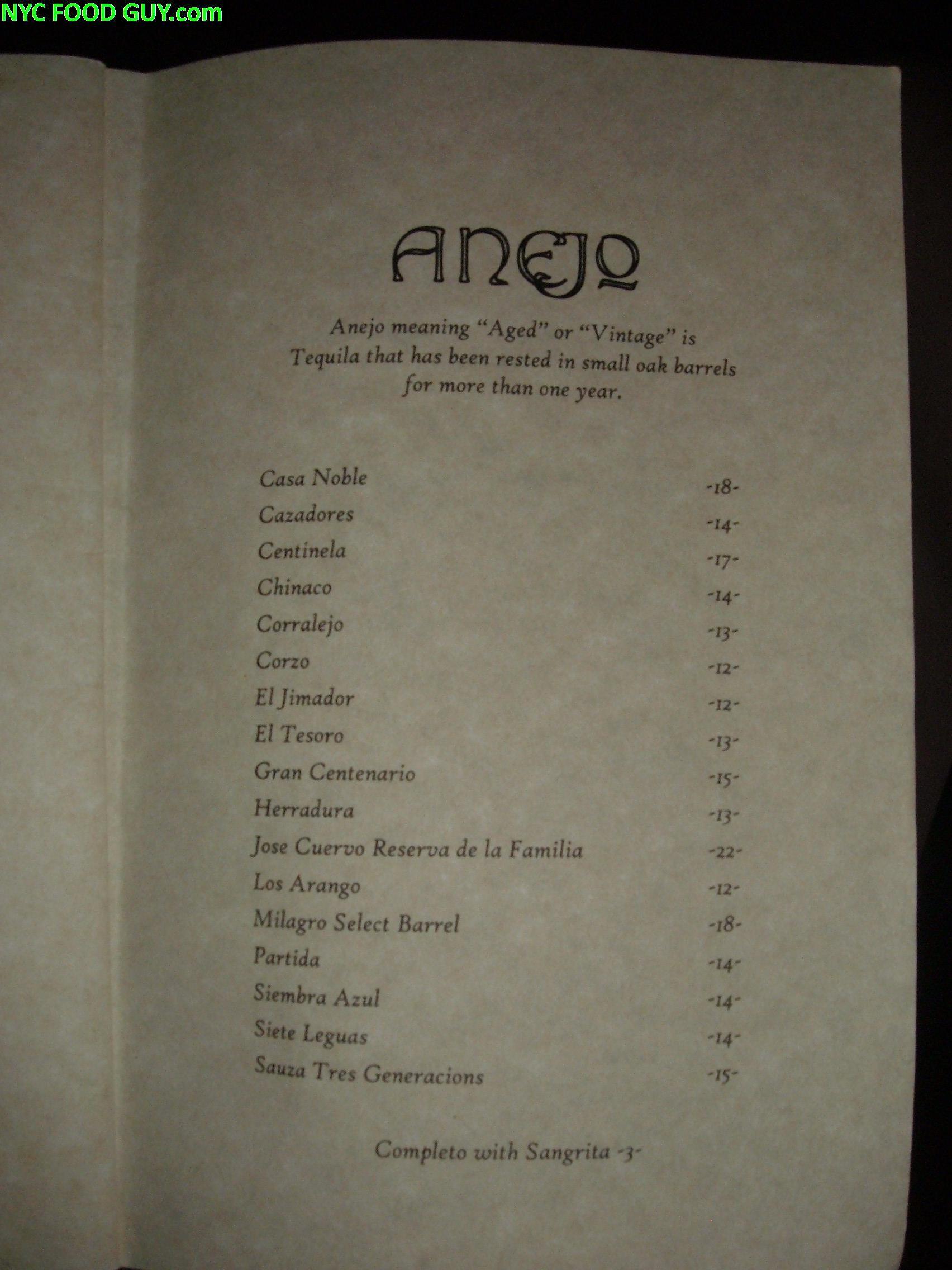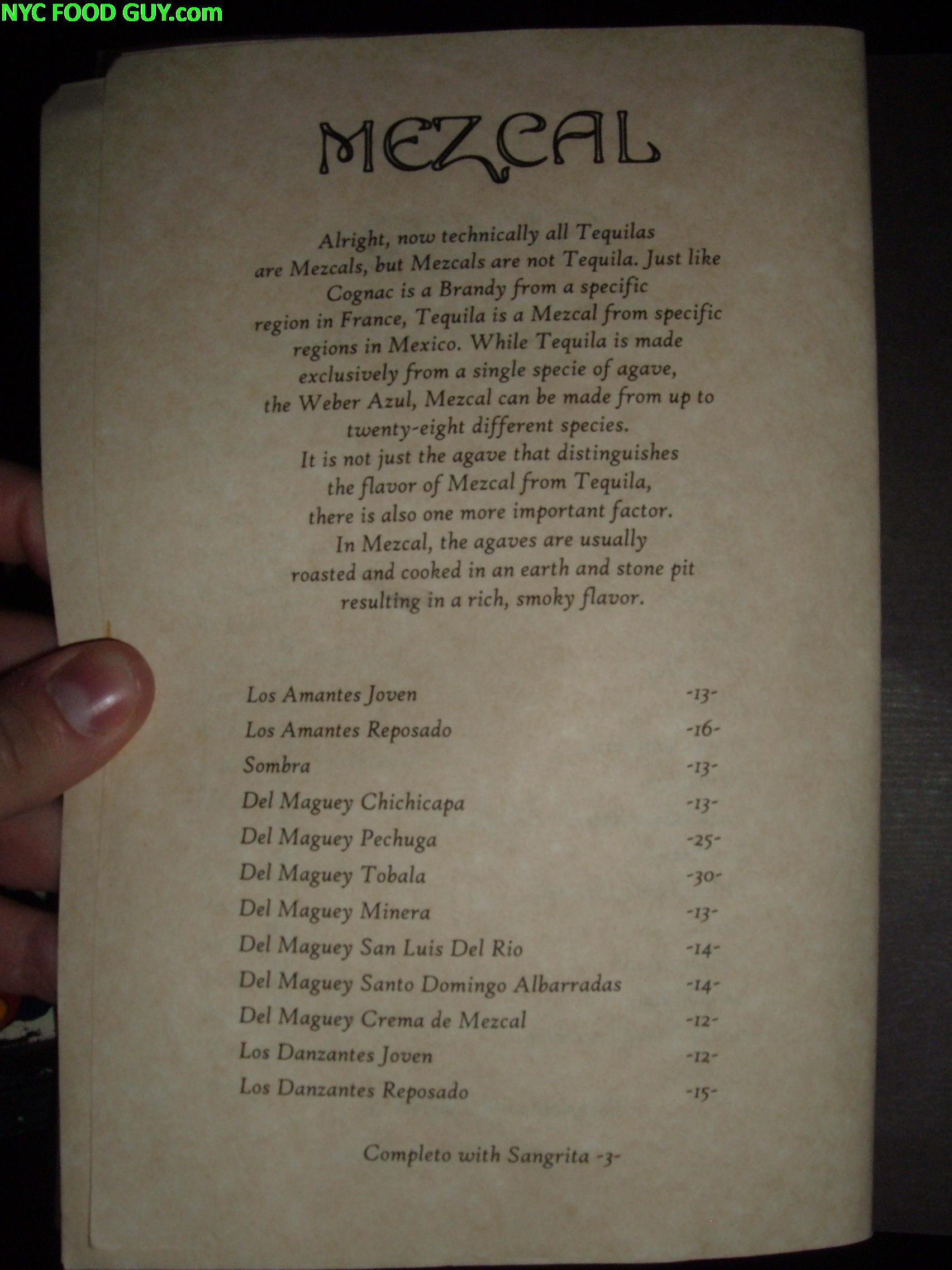 Mayahuel
304 E. 6th St b/t 1st & 2nd Ave
New York, NY 10003
No Phone Yet