November 12, 2015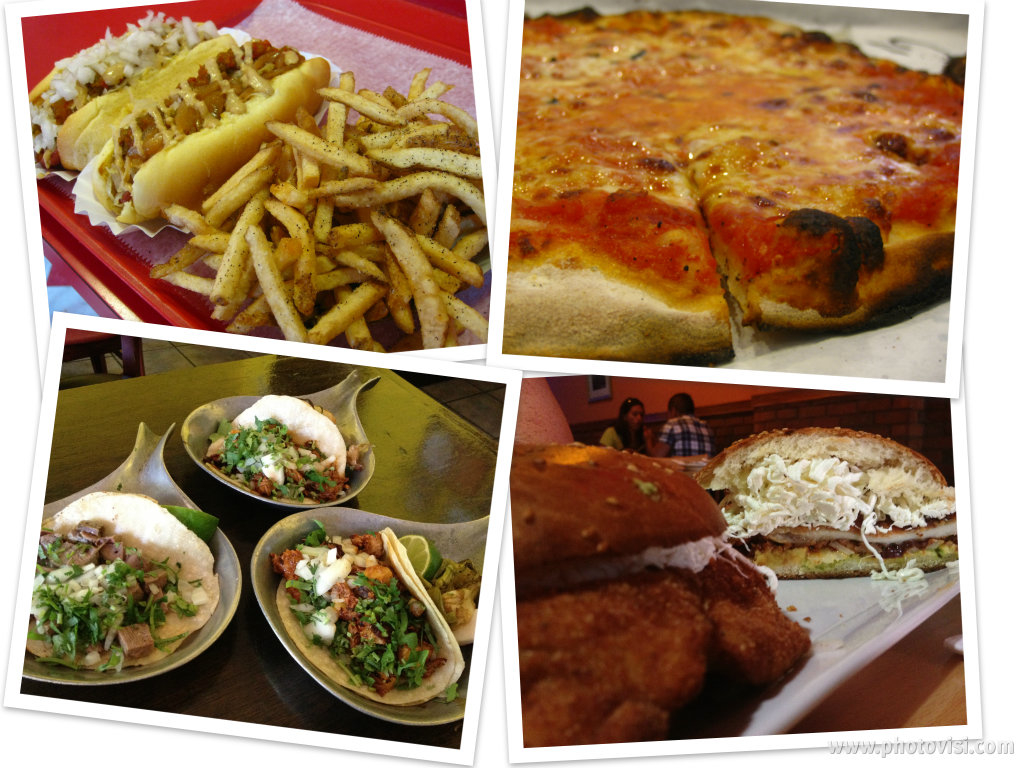 When undertaking a serious food tour, there's only two things to remember: Firstly, go big or go home. Second, bring reinforcements.  With that in mind, I called together two of my favorite co-conspirators Adeena Sussman, food writer, cookbook co-author and recipe developer, and international food and travel writer Jay Cheshes. The mission? A road trip to Frank Pepe's in New Haven, CT for some of America's oldest and most heralded pizza.  But with four other highly recommended food destinations along the way, would we even have room for pizza?  I quickly put that thought out of my mind. Failure was not an option.
The trip was easy enough: North on I-95 until we hit New Haven.  The only challenge was satisfying my esteemed eating companions.  With their well-honed palates, eating with Adeena and Jay is a double-edged sword; on the one hand, they allowed me the privilege of charting our gastronomic itinerary.  On the other hand, the pressure is on to ensure maximum gustatory pleasure.
Fortunately, I had some tricks up my sleeve to guarantee a strong start.  For our first stop in Port Chester, NY, a small town in Westchester that is lined with Central and South American restaurants, I enlisted the help of my good friend Rafi Labourdette, a Mexican food expert who believes the finest dining establishments have the fewest English-speaking employees and customers.
On Westchester Avenue we found not one, but two Mexican restaurants serving mostly Mexican customers.  Always a good sign.  And when one is on the hunt for authentic tacos, there's no better indicator of success than a restaurant that produces its own corn tortillas for wholesale and has a wall of press celebrating them.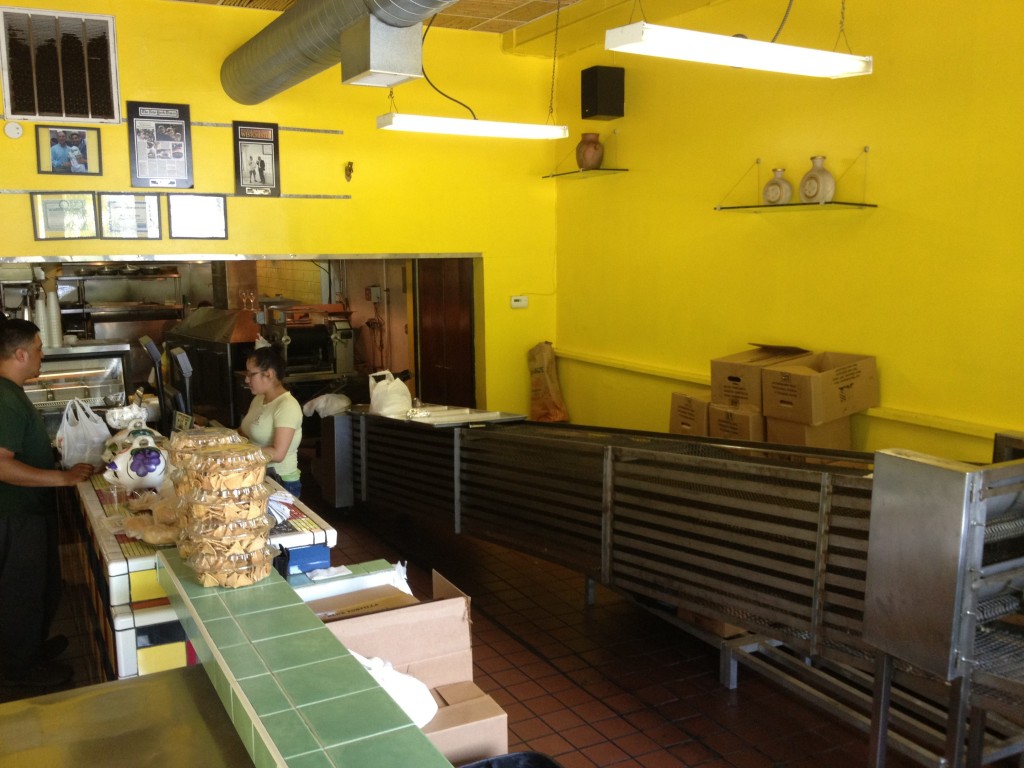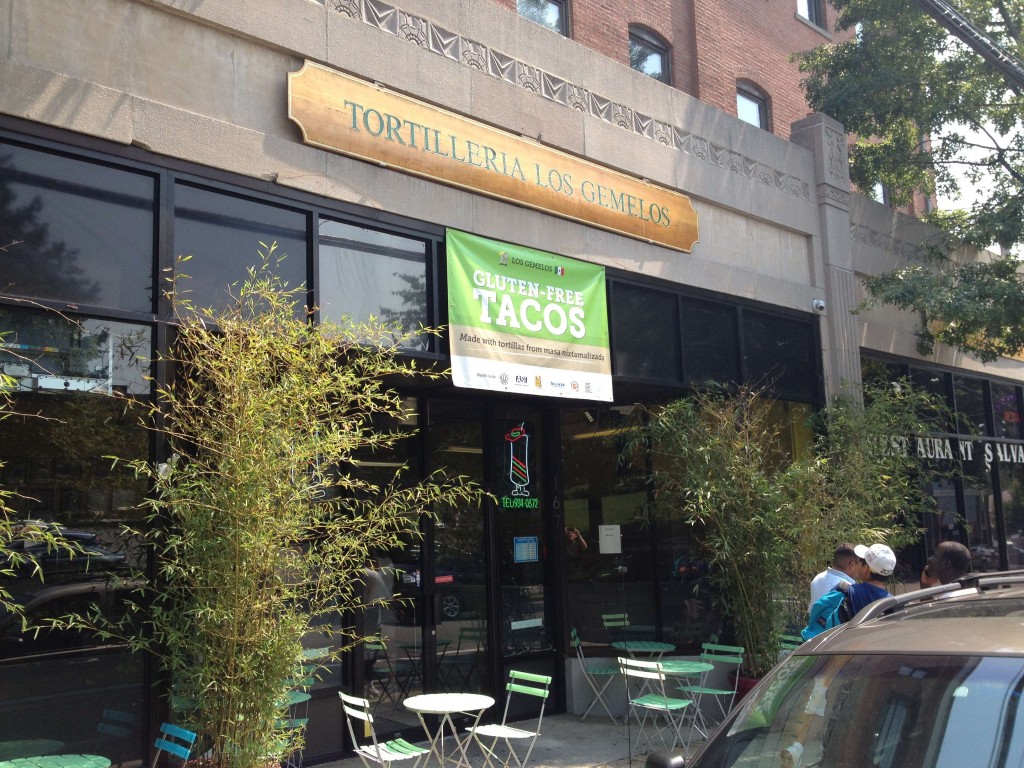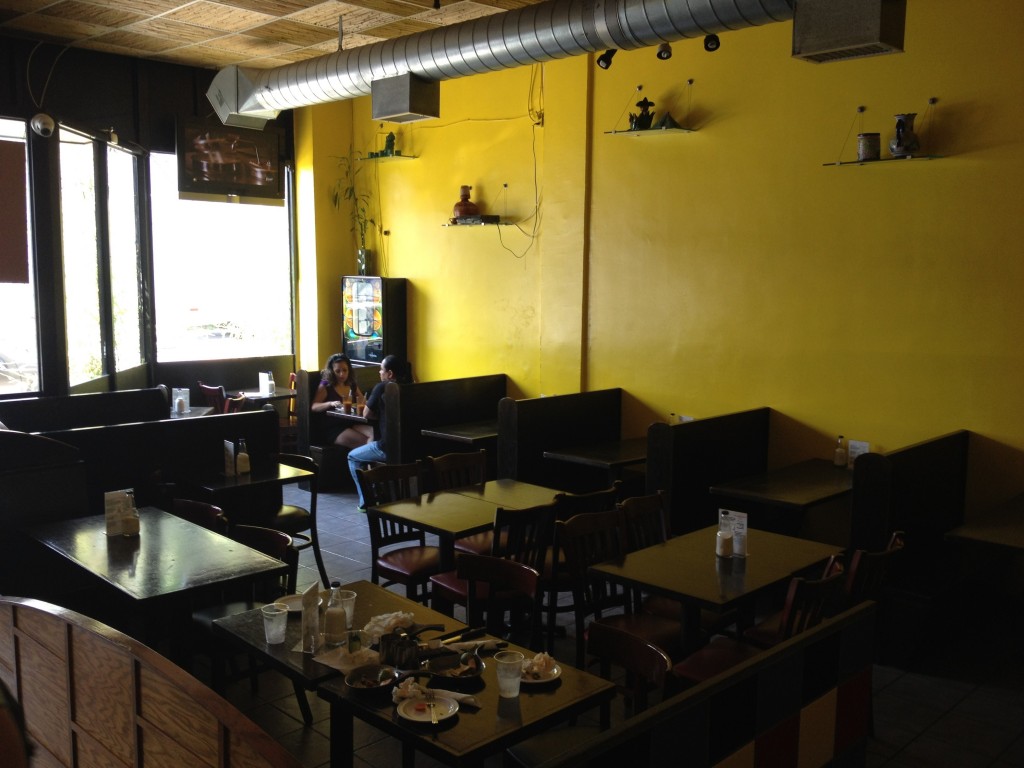 Tortilleria Los Gemelos provided just that and as we entered, a big smile crept across Jay's face. It grew as we scanned the menu and saw the variety and cheap prices.  Tripe, tongue, veal head, veal brain, and veal stew tacos for around $3 a pop? I think we were taking advantage of them.  Our three tacos arrived in individual cast iron skillets overloaded with meat and fresh onion and cilantro atop two lightly crisped corn tortillas — fresh, but not freshly pressed.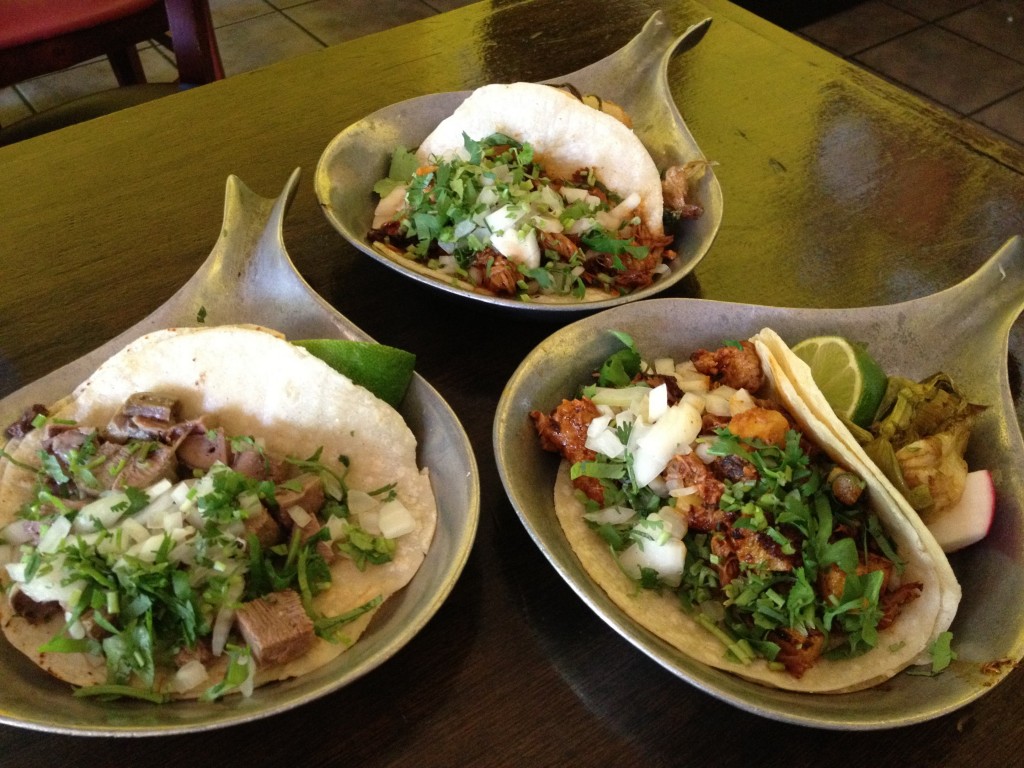 Each taco surprised more than the last; (above, clockwise from top) the birria (veal stew), al pastor and lengua were all tender, juicy and flavorful.  A squirt of lime and a touch of salsa verde went a long way.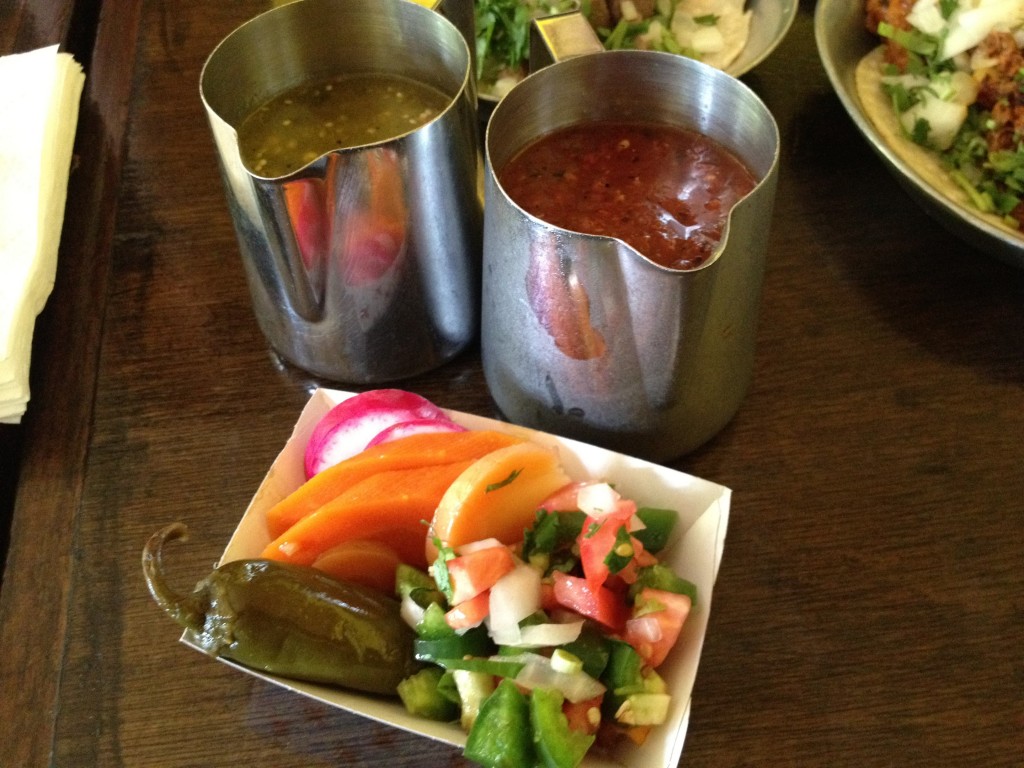 When there were only three bites remaining, we eyed each other suspiciously for a moment before a hopeful look simultaneously appeared on our faces. Should we just get more?
Wait! This was a marathon, not a sprint.  And wisely considering future bliss, Adeena bought a package of tortillas and we booked it a block west for a pollo de milanesa (fried chicken cutlet) cemita ($6.95) at Kiosko Restaurant.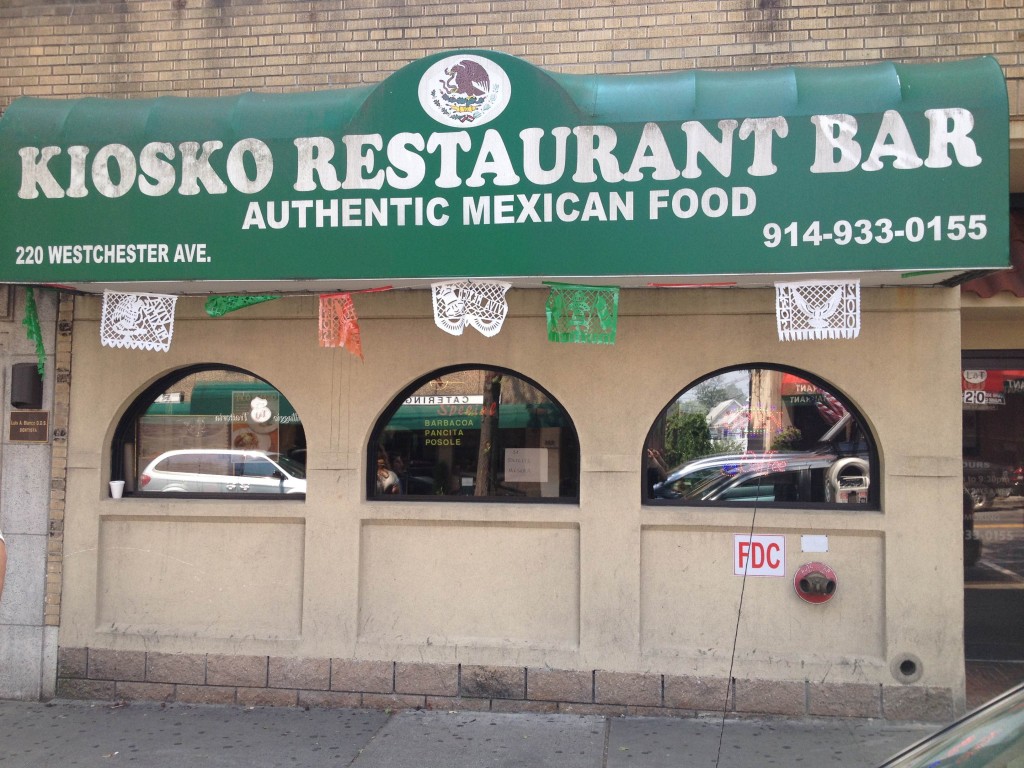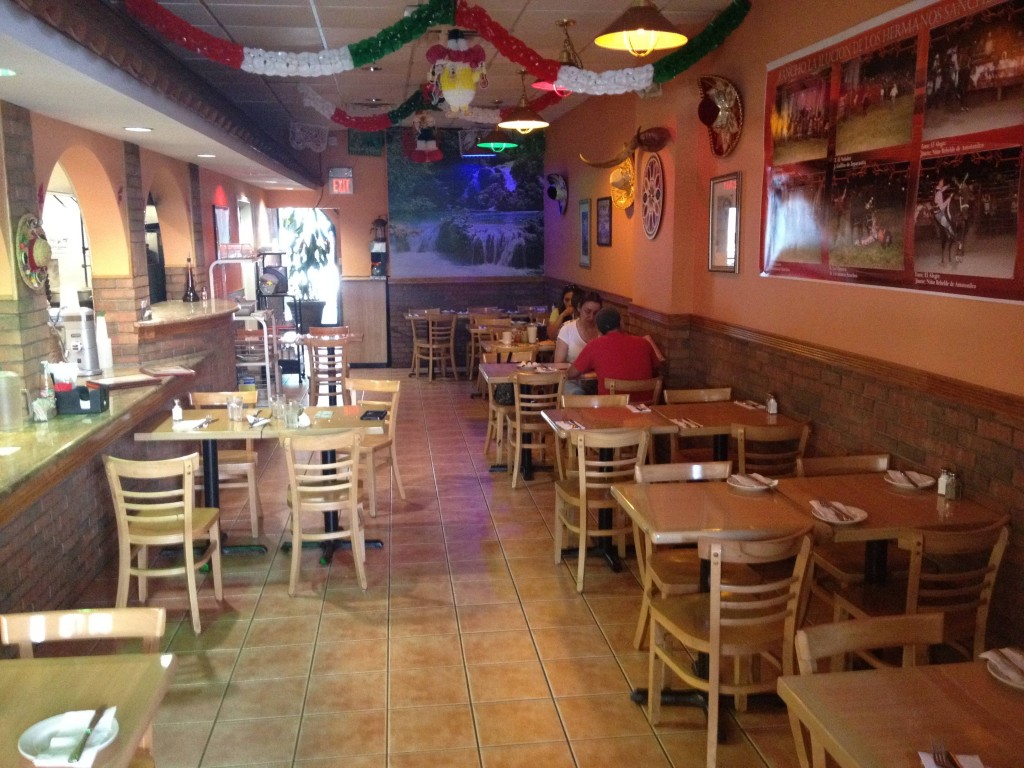 Cemitas are the more exotic versions of their Pueblan brethren, tortas.  Both are overstuffed and pressed Mexican sandwiches which generally feature the meat of your choice dressed with shredded Oaxaca cheese (also called quesillo, like fresh mozzarella but saltier), sliced avocado, refried beans cooked in animal fat, and a schmear of mayo (as they say in Mexico City). Cemitas take the flavor three steps further thanks to a seeded and slightly sweet brioche-like bun (Tortas are served on soft, white bolillos), the addition of some chipotle peppers in adobo and a handful of papalo, a Mexican herb that is cilantro's spicier, more pungent, cousin.  This would be Jay and Adeena's first cemita and the excitement was palpable. Unfortunately, the waitress didn't share our joy as she received our order.  I read the disappointed look on her face asking "One sandwich for three people?" "We are on a food tour," I told her proudly with the unbridled enthusiasm of a nursery school student at show and tell.  She nodded blankly.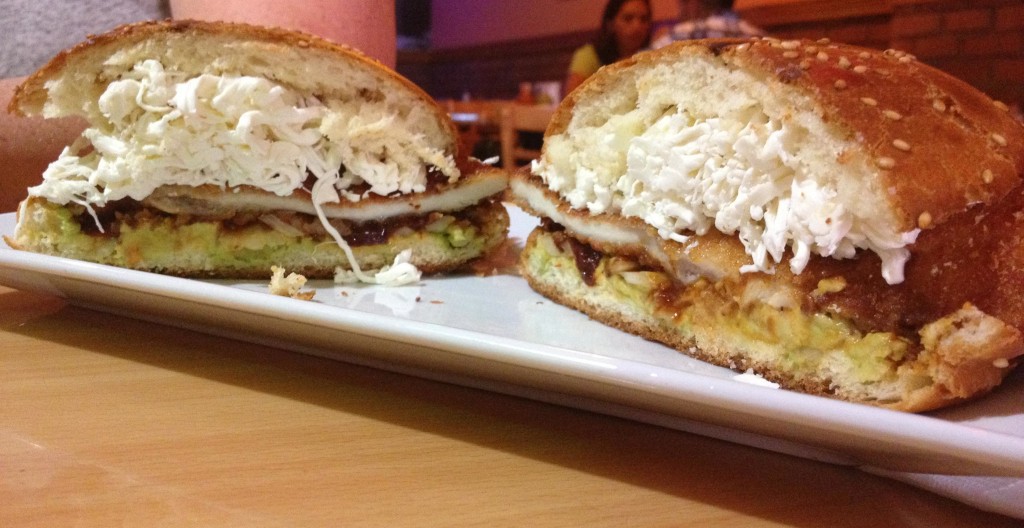 The papalo never made it on the sandwich, but we were three happy road trippers. It was impossible not to enjoy the crisp, freshly fried chicken cutlet and sweet roll.  The mild kick from the smoky chipotle peppers was complemented by the smooth avocado and the pile of Oaxaca cheese, stringy like an unspooled baseball struck by lightning.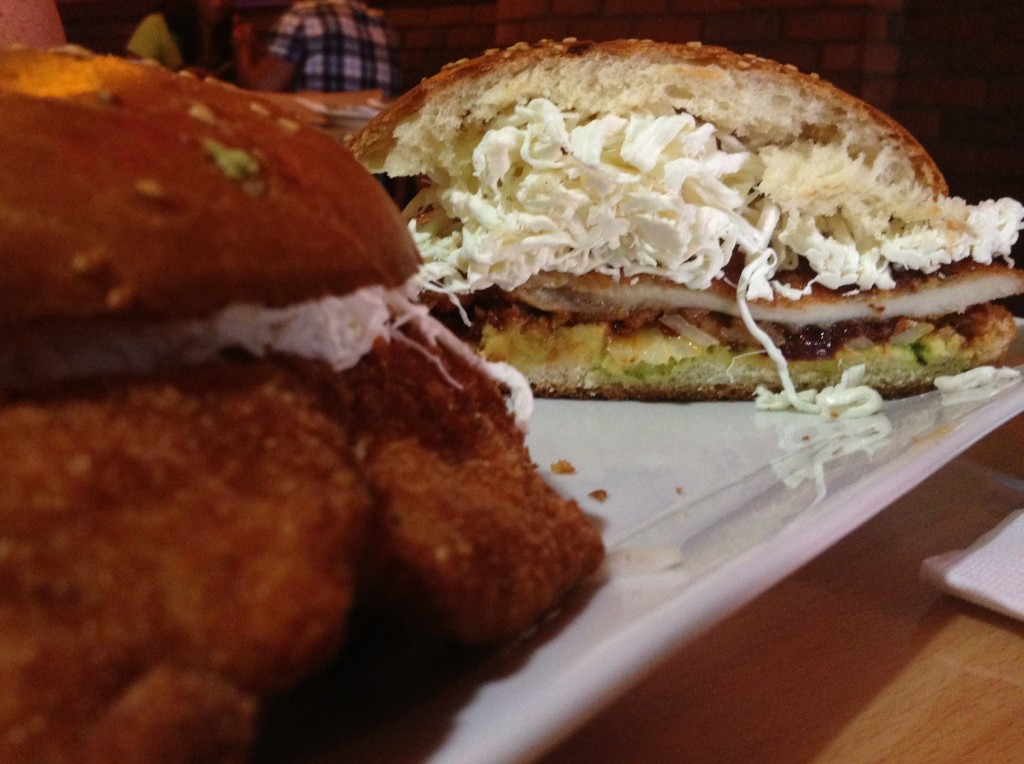 High on tortillas and fried chicken cutlets, we set off for our first stop in Connecicut – Stamford – for a three-meat torta and some highly touted, paper-thin bar pizza.   But alas we were derailed again, drawn like bees to a flower by the sight of Mario Batali and Joe Bastianch's restaurant Tarry Lodge and its neighbor Tarry Market.  The presentation inside Tarry Market is immaculate and awe-inspiring.  Think Eataly minus the crowds and confusion.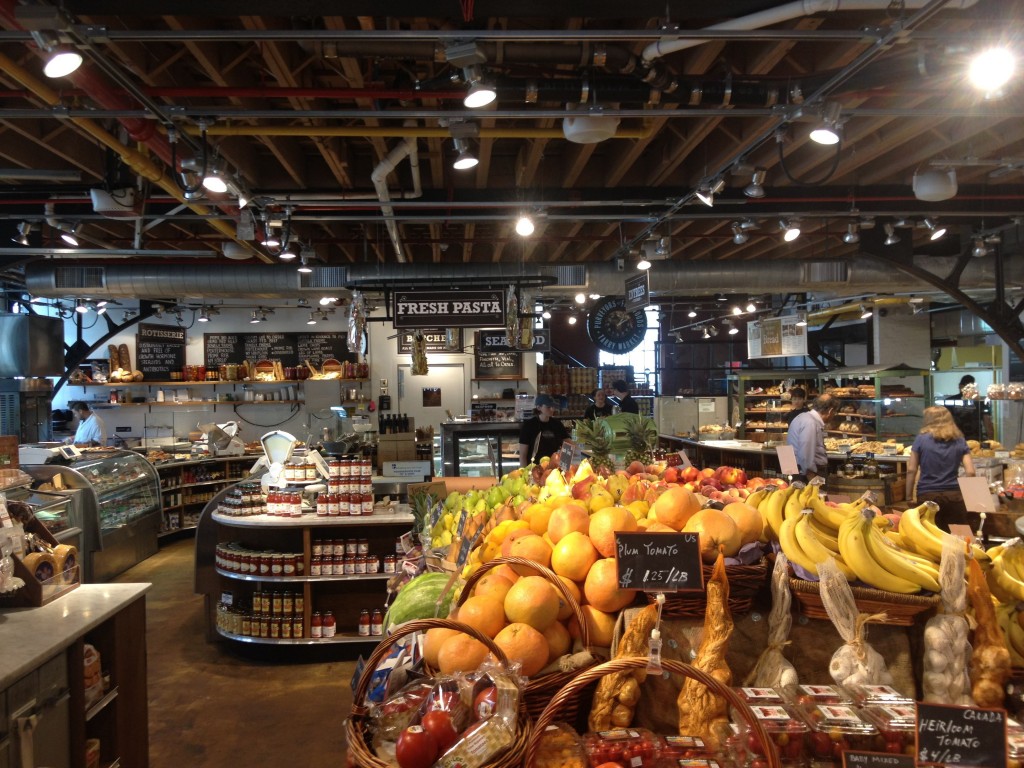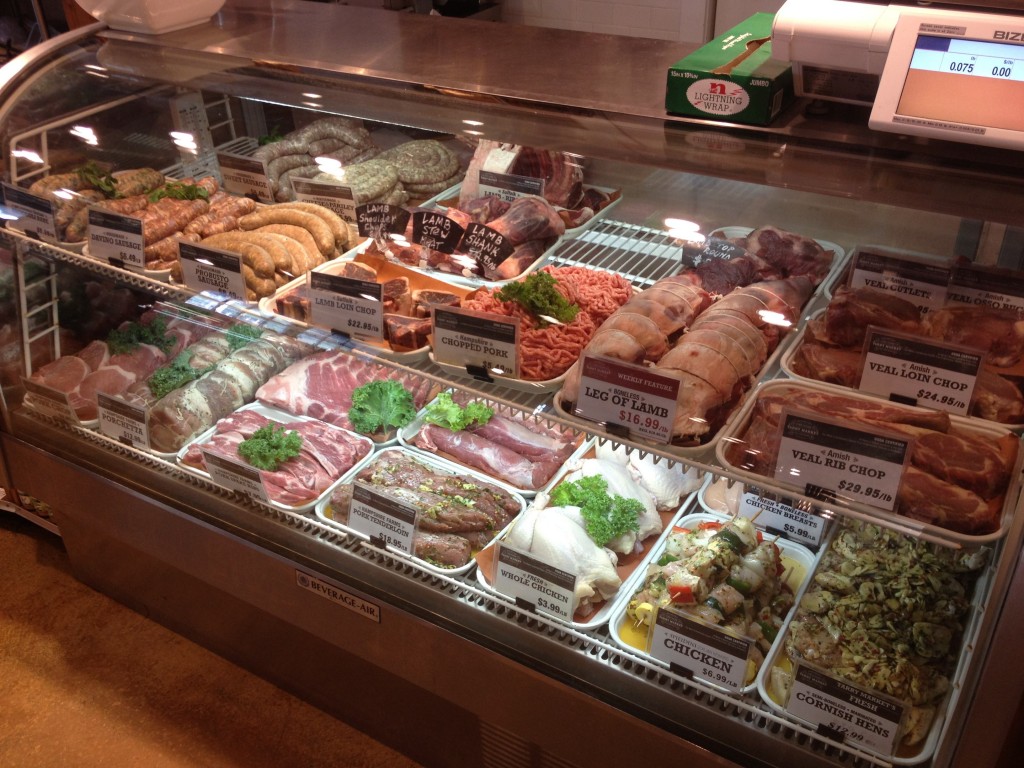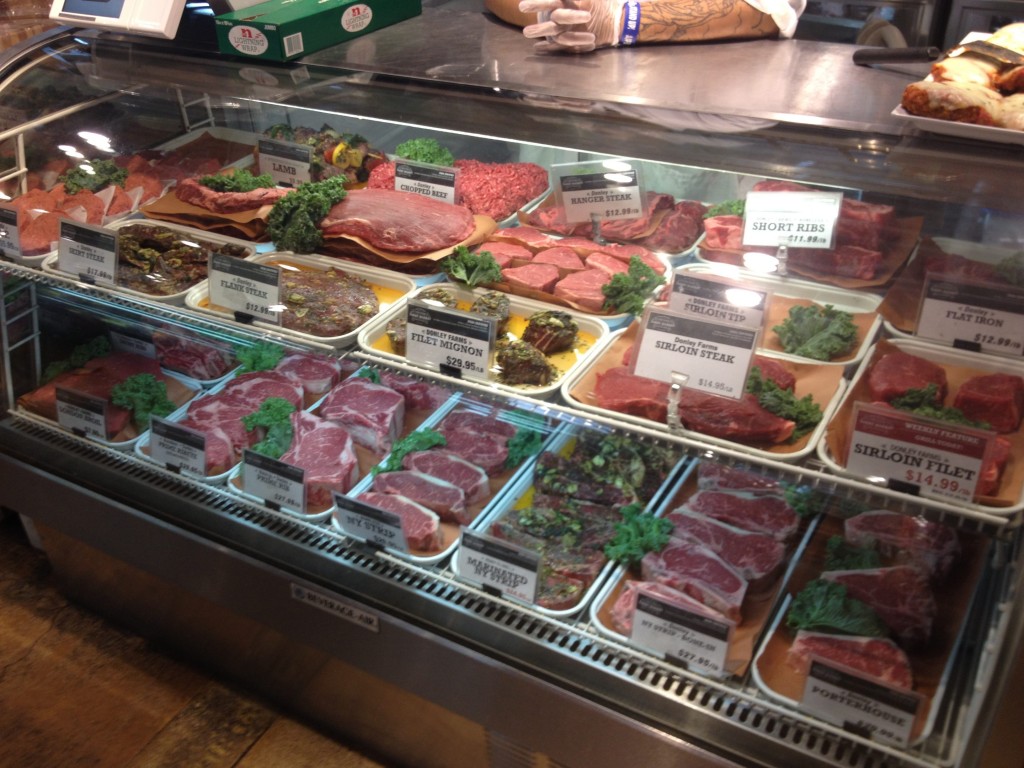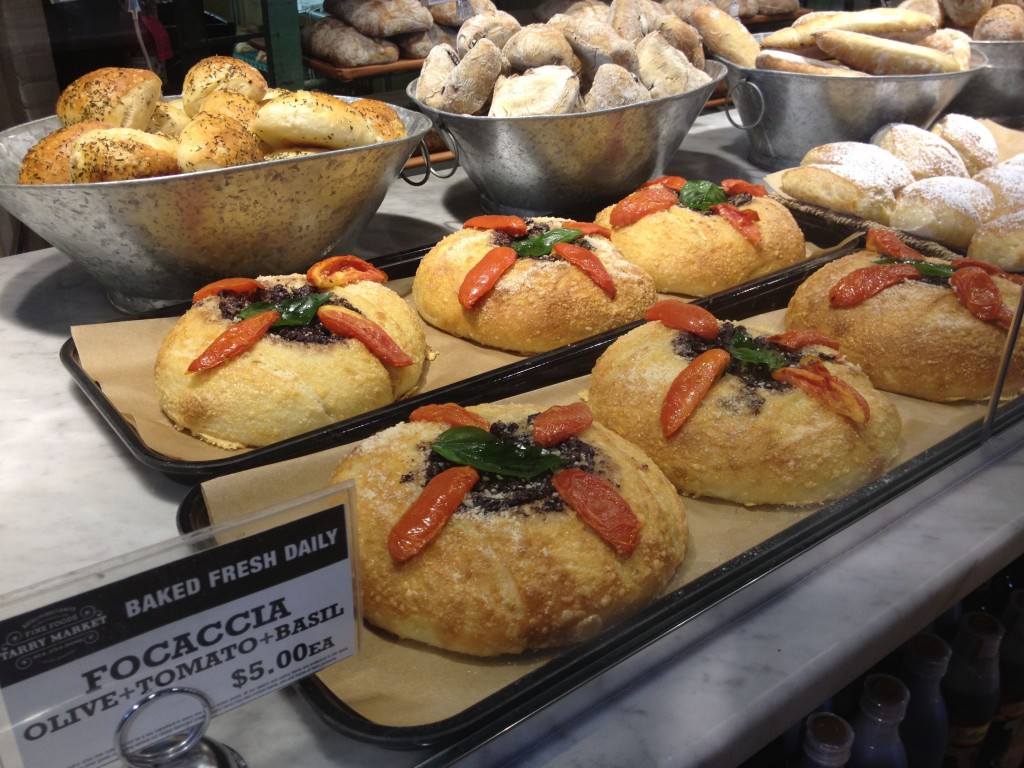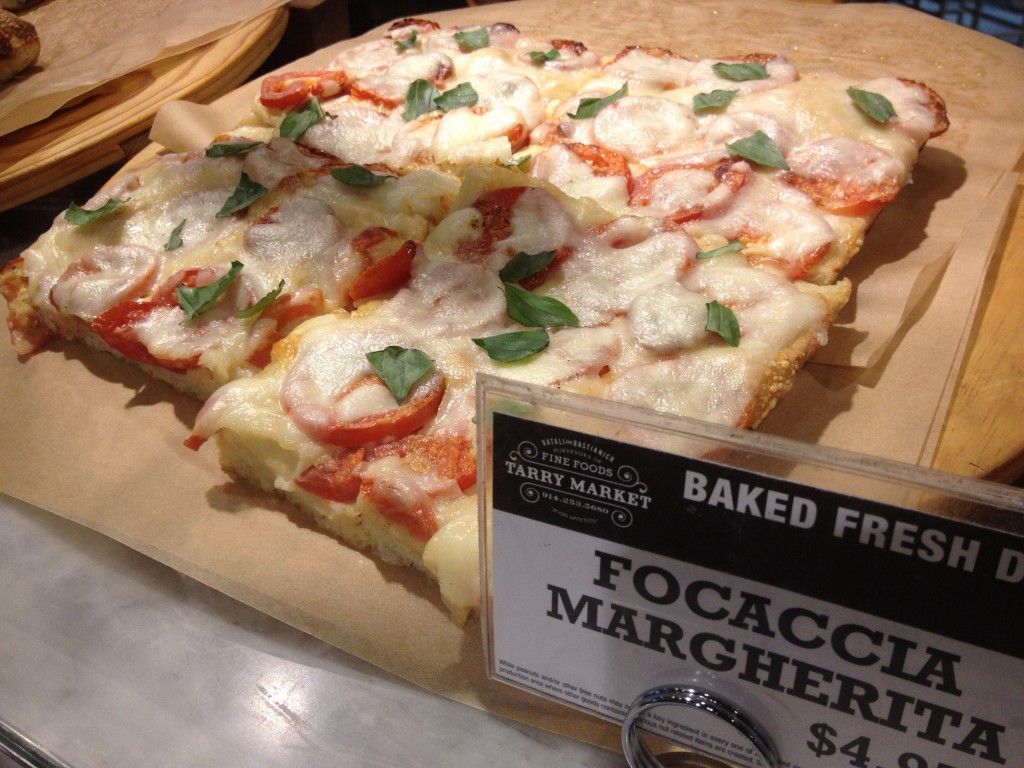 Walking alongside shimmering displays of meat and bread, I found some Calabrian chili sauce in a bottle shaped like a stick of dynamite, fuse and all.  An employee quickly came over to excitedly endorse the product and suggest using it in a tomato and onion salsa.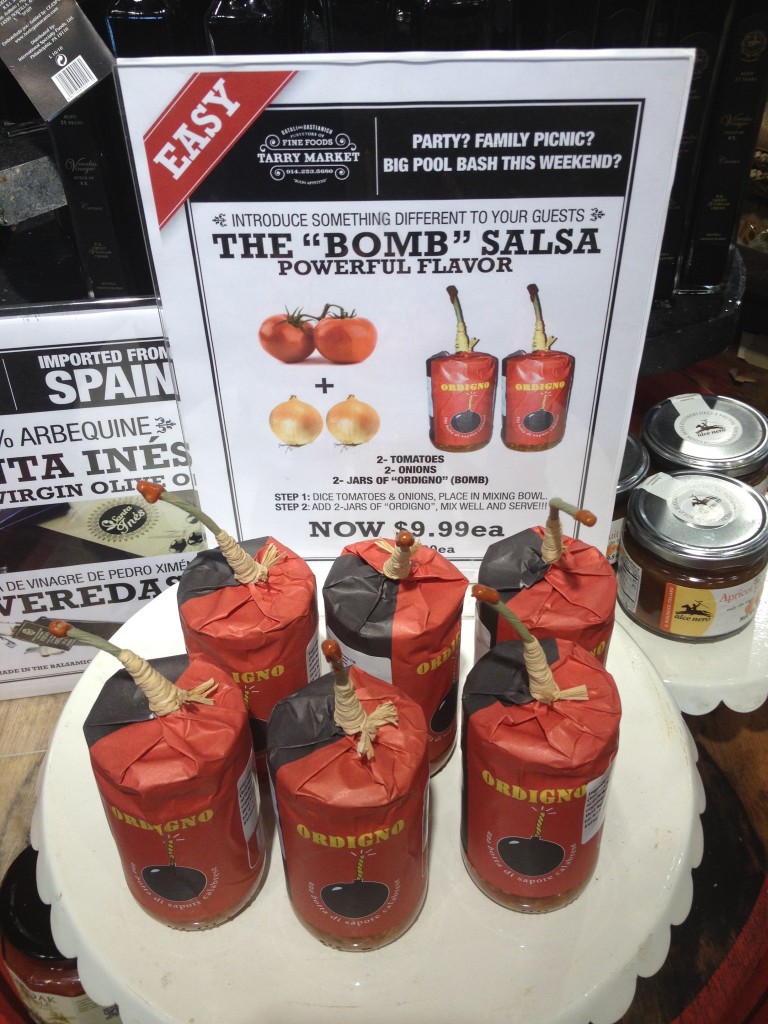 It was hard leaving the air conditioned confines of Tarry Market, but a torta featuring steak, chorizo and brisket from the El Charrito food truck beckoned from Stamford, mere miles away.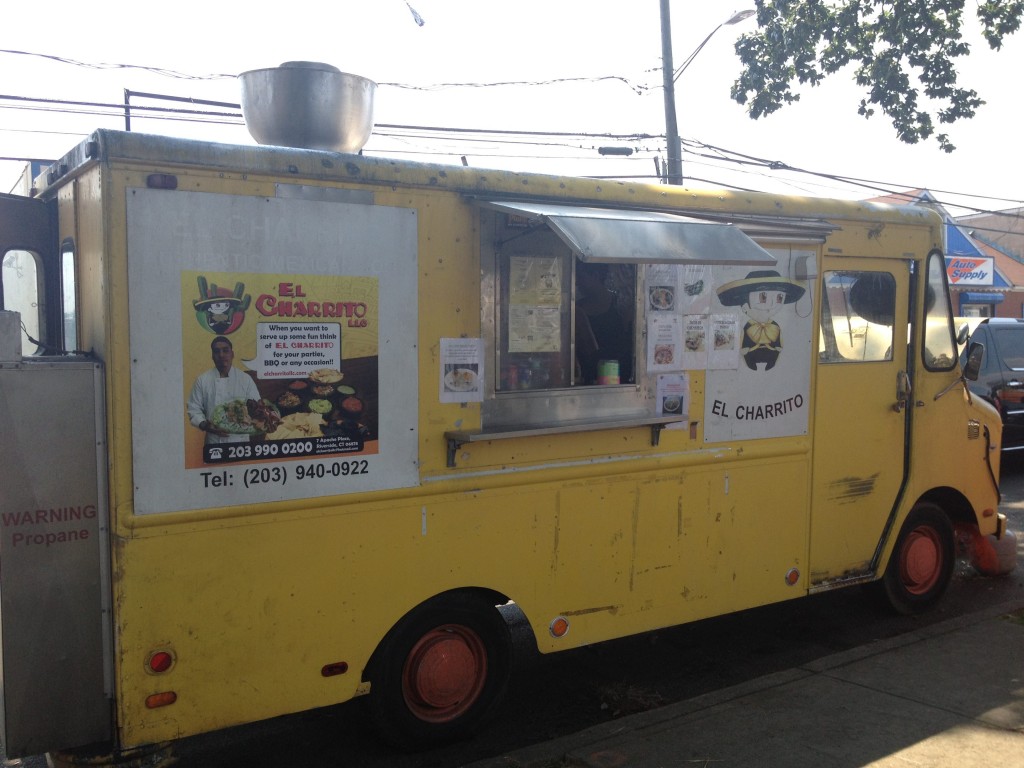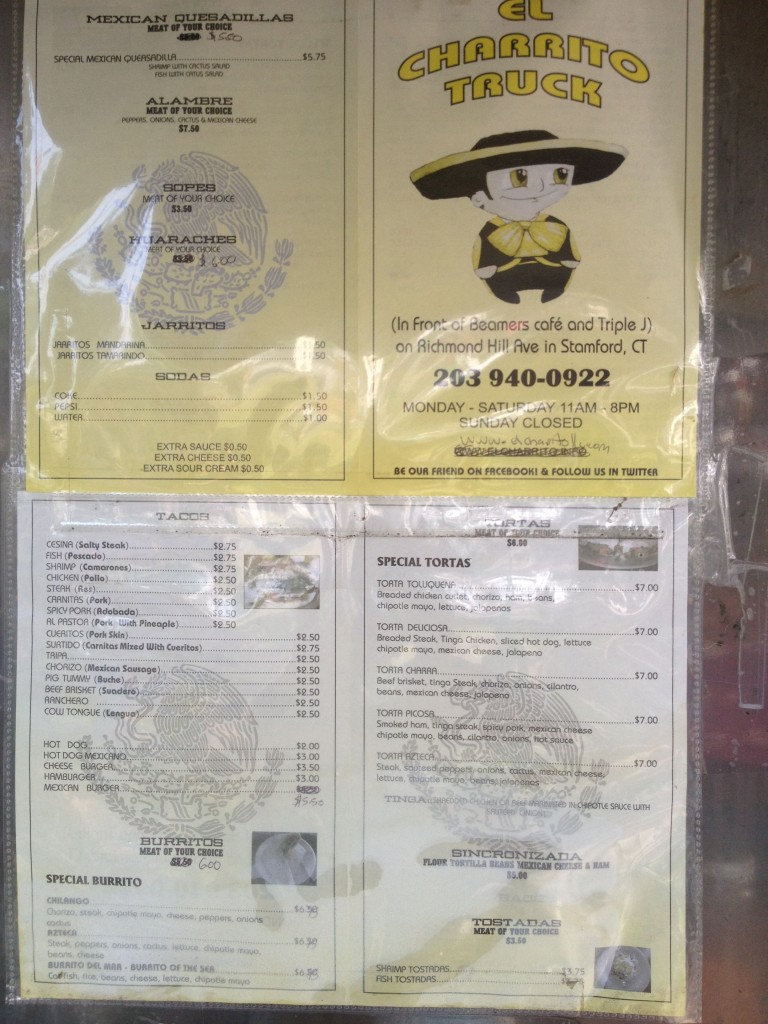 Parked on Richmond Hill Avenue alongside Hatch Field Park (and across from Sachs Plumbing Supplies), the El Charrito truck was sporting a 3-person deep line at 1pm on a Thursday in August.  A positive sign.  I arrived at the ordering window intoxicated by the thought of the sandwich glory that awaited and excitedly told the employee about our food tour; maybe our dedication would inspire the El Charrito cook to pile on some burnt ends or extra juicy steak.  Not quite.  I received a condescending laugh and another blank nod.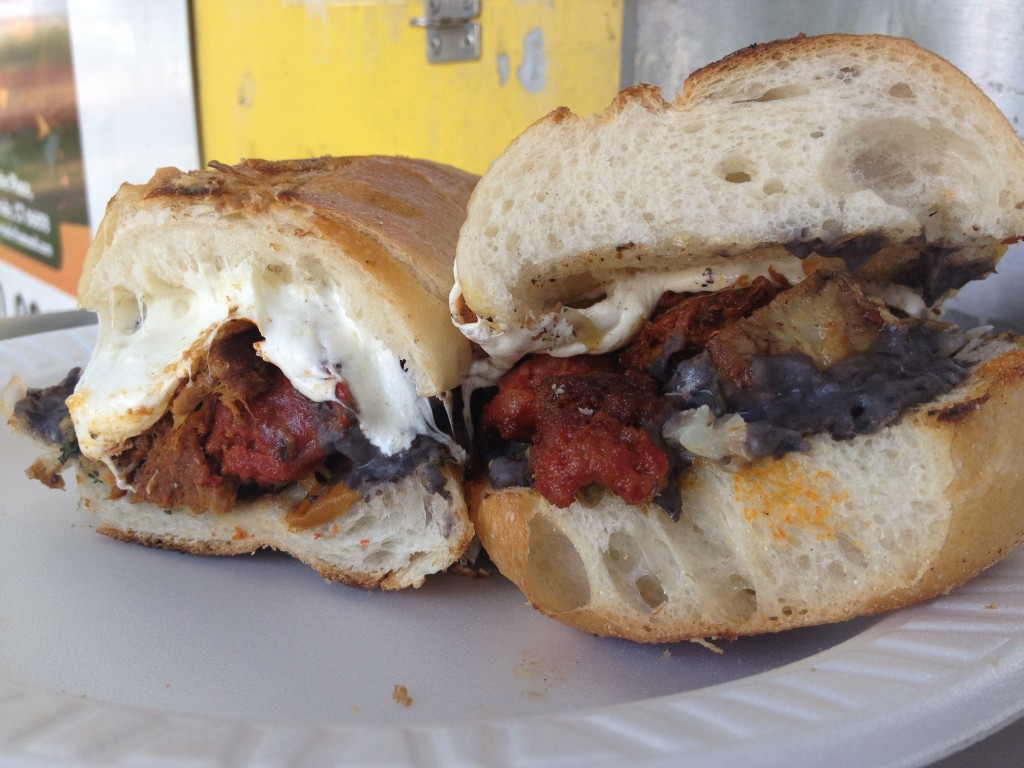 Unfazed, I received our sandwich with the hopefulness of a child who still believed in Santa Claus. Unfortunately it was more like the first time Dad dressed up as Santa but forgot the white beard.  Despite its impressive composition, the sandwich itself fell flat.  The over-toasted Italian bread shattered upon first bite without vegetables (lettuce or tomato) or mayo to soften it.  Melted queso blanco (like Polly-O mozzarella) and purple refried beans didn't offer enough salt or sharpness to counter the under-seasoned steak, over-stewed brisket and standard chorizo.  I kept eating, trying to will the sandwich to glory, but not even the grilled jalapeno could save it.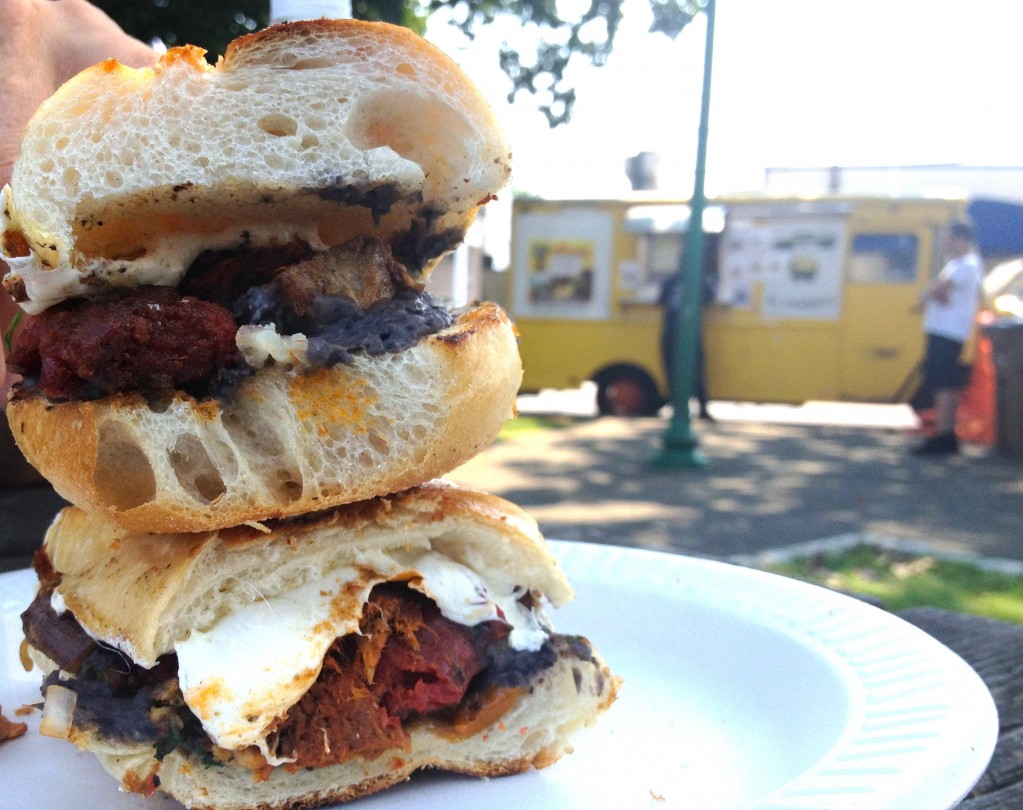 Fortunatley, we found the flavor and spice we were looking for at Colony Grill complements of their "hot oil" pie topped with sausage from De Yulio's Sausage right across the street.  Talk about a small carbon footprint.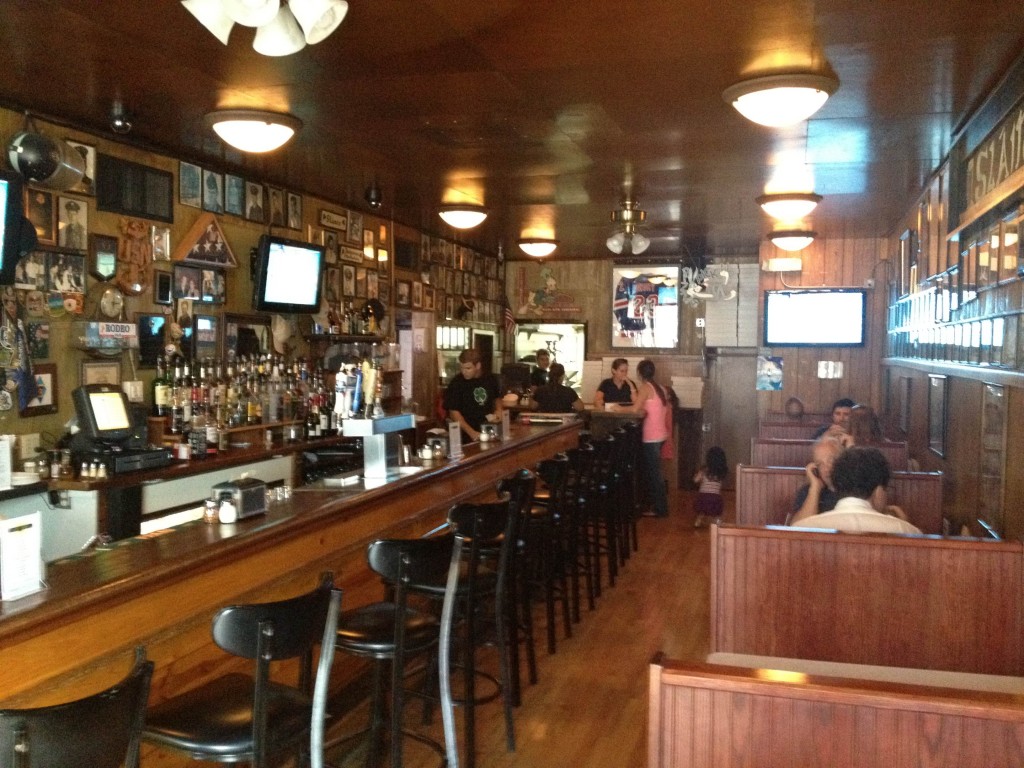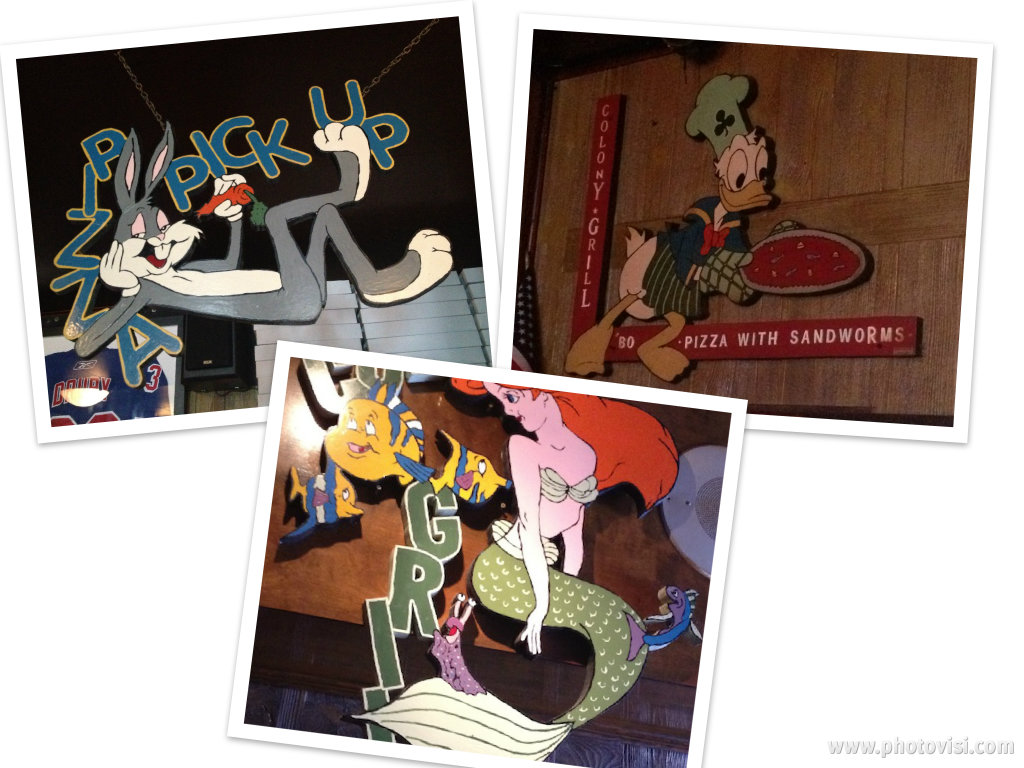 Colony Grill is a quintessential American tavern.  Lined with black and white photos of fallen heroes alongside flimsy wooden cut outs of Looney Tunes characters, its a family establishment with a bar where thin crust pizza has been served since 1935.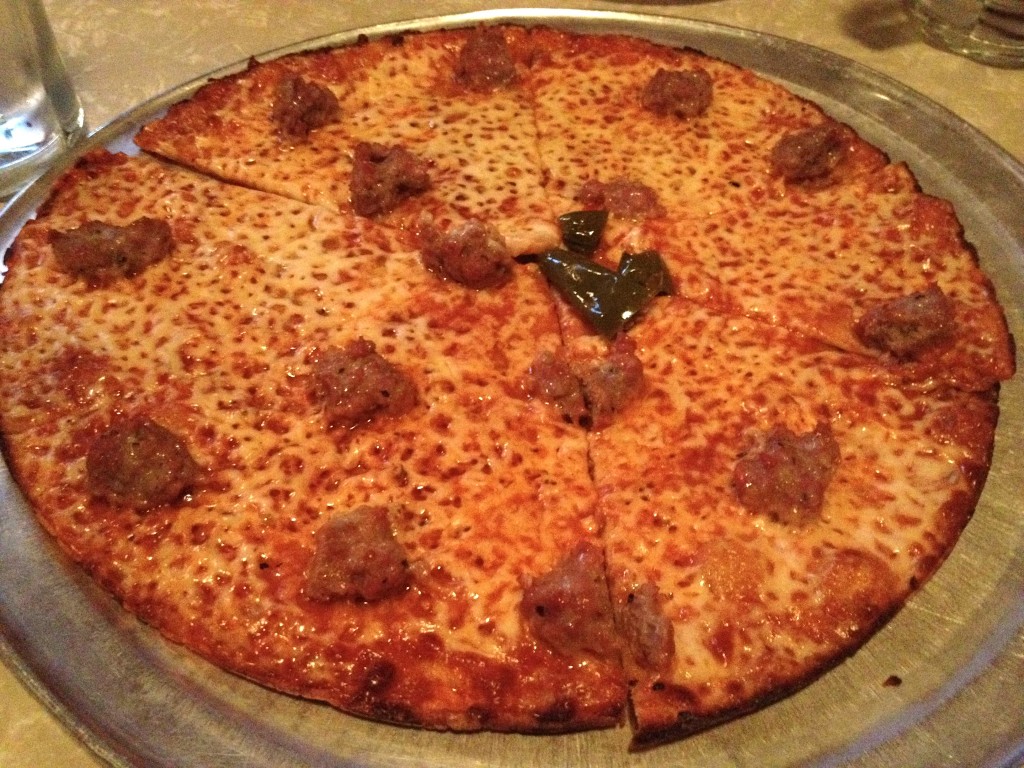 Despite a slightly undercooked center, the paper thin pizza offered a crisp and greasy end crust that dripped chili infused oil down your fingers and into your palm.  We left over a few slices but ended up picking off all the tender bits of sausage before throwing back our pints of Pabst Blue Ribbon and hitting the road for Fairfield, CT.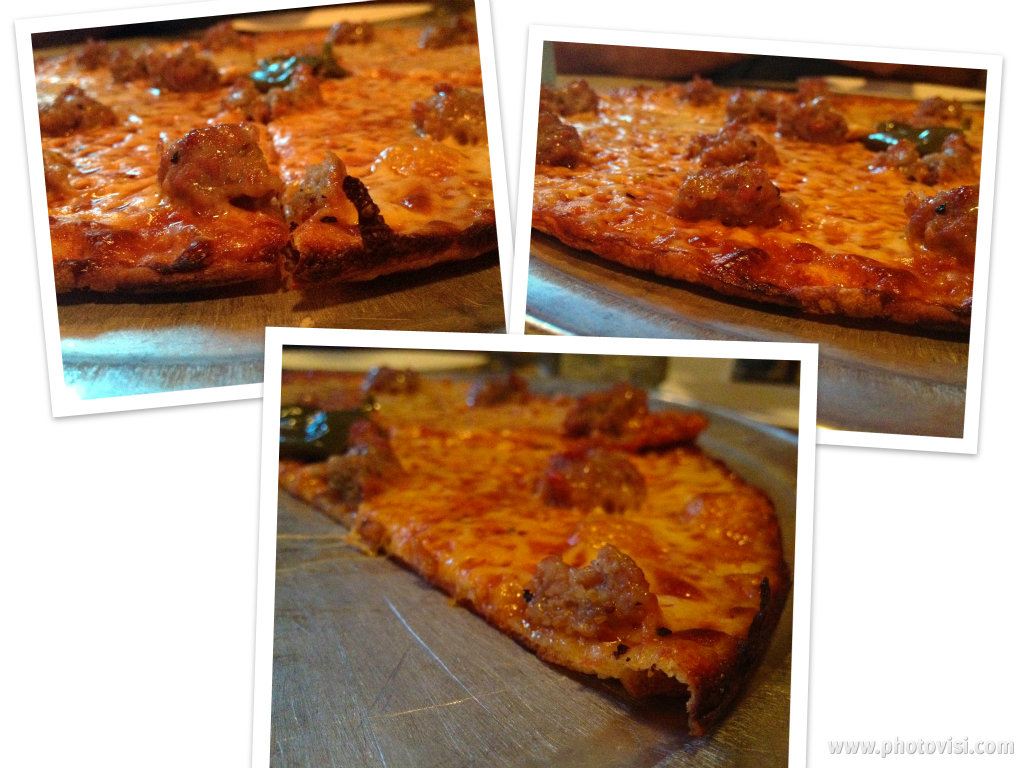 It was almost 3pm and Super Duper Weenie, which was 30 minutes away, closed at 4pm.  There was no way I was going to miss out on their most famous hot dog, "The New Englander," which features a split and butter grilled Hummel hot dog covered in sauerkraut, homemade relish, bacon, and chopped onions.  On "Diners, Drive-Ins and Dives" it made Guy Fieri ask chef and owner Gary Zemola, "Where has that been all my life?" And with the clock winding down, we arrived at Super Duper Weenie with time to spare.  All I could do was smile.  This place is pure Americana; the sign, the colorful building, the menu featuring classic dogs from all over the country. I knew it was going to hit the spot.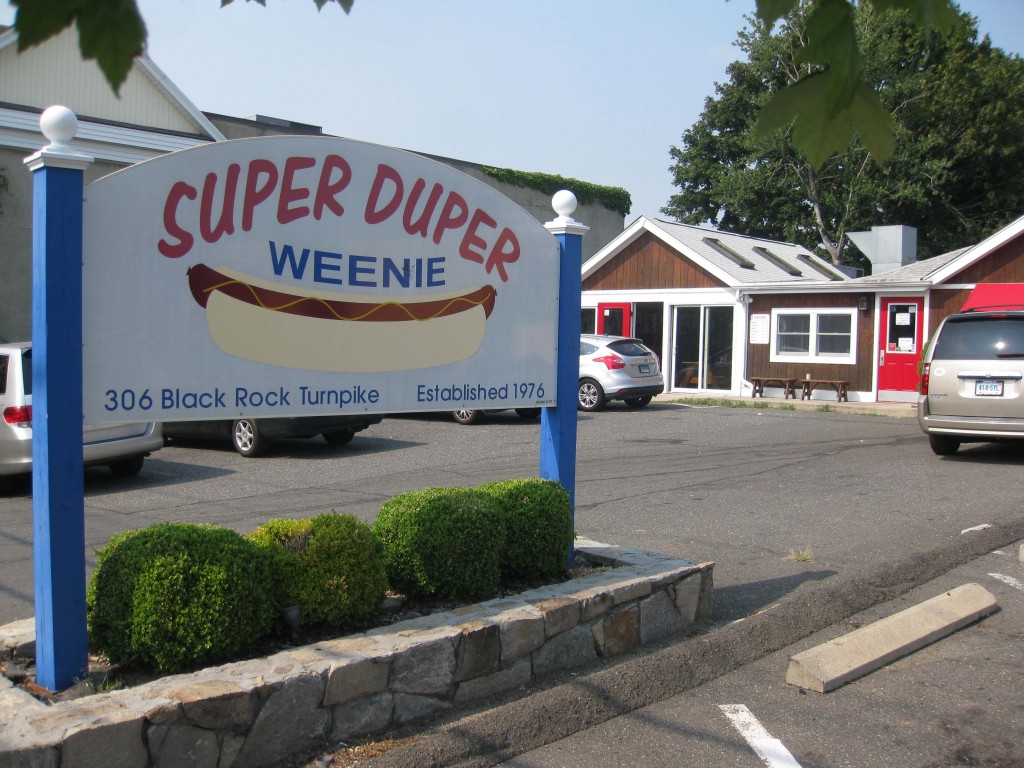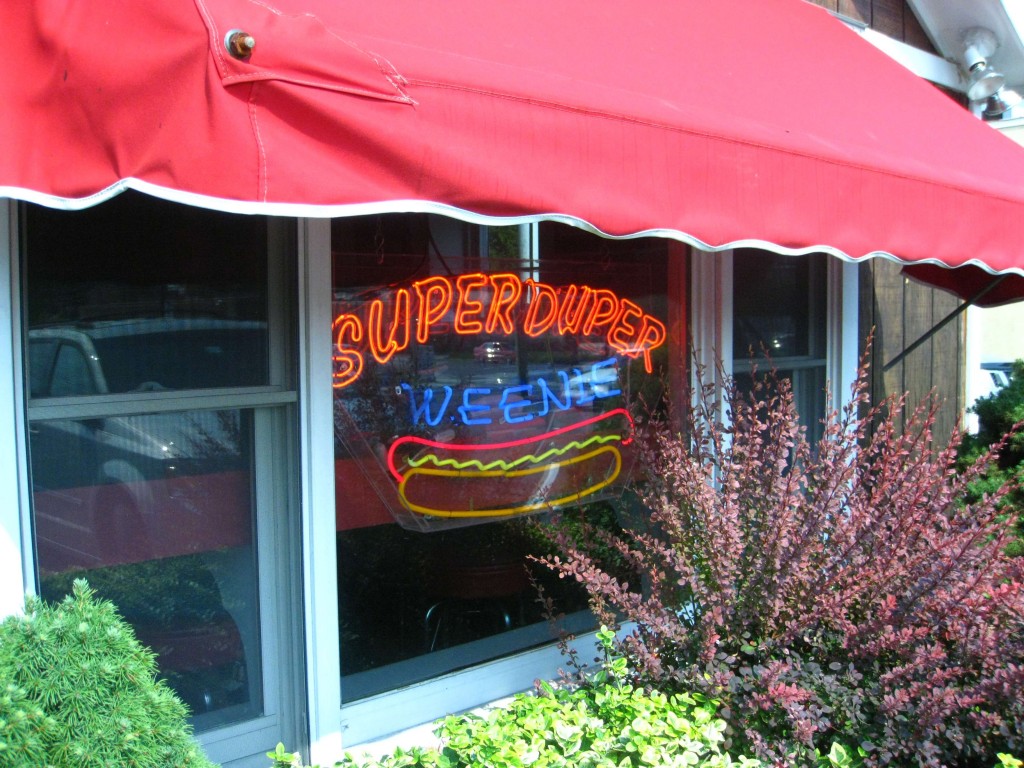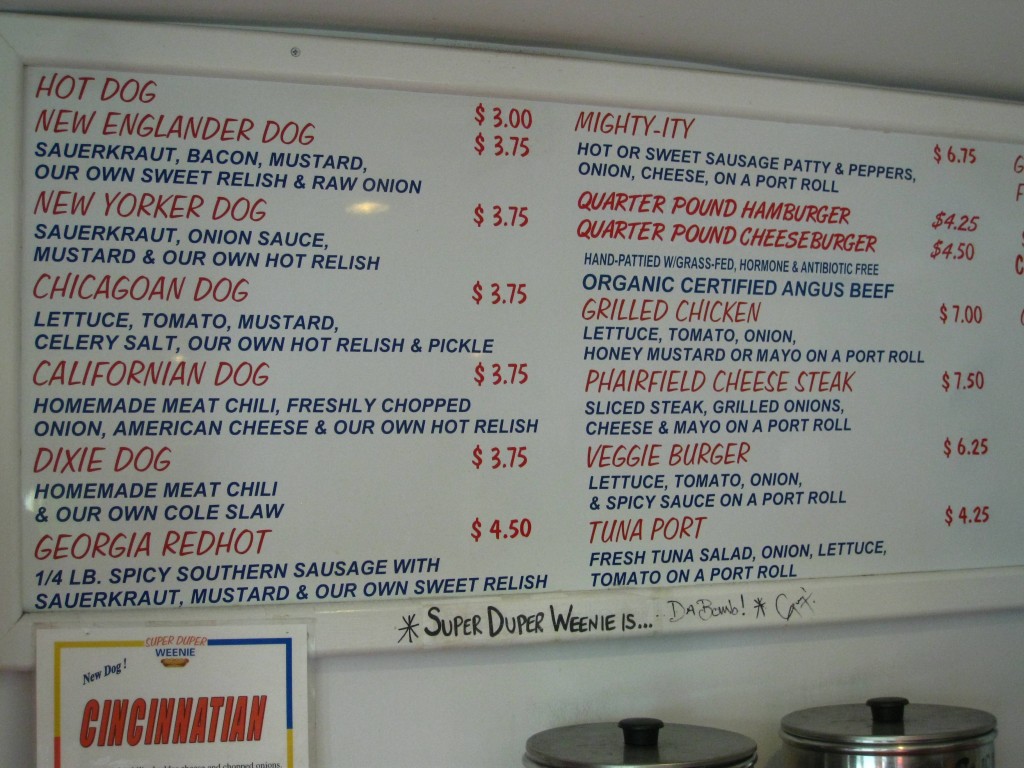 You would think a hot dog with as many toppings as The New Englander (below, front) would just be a mess, but all the elements added up to more than the sum of its parts.  The crispy bacon and the homemade sweet relish offered great texture and flavor.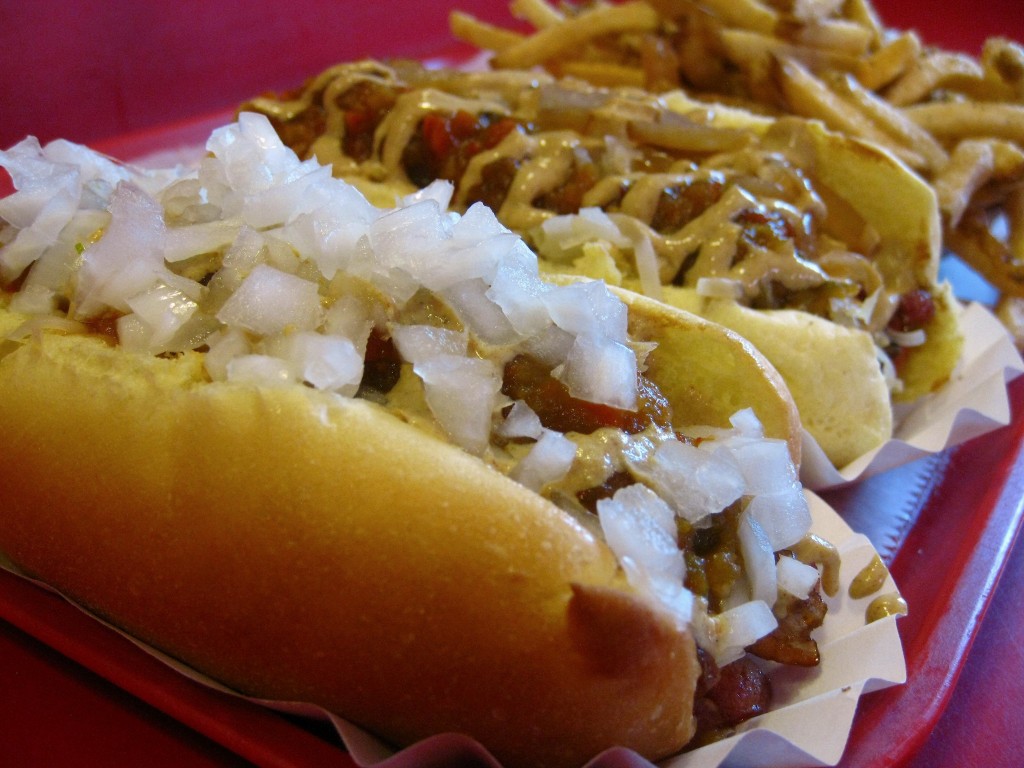 It's no surprise Zemola, a CIA-trained chef, earned national acclaim for what was once a simple roadside hot dog truck (the truck is still used for events and catering).  The hand cut, double-fried French fries and New York Dog (sauerkraut, onion sauce, mustard, & hot relish, below center) were also prime examples of fine American roadside craftsmanship.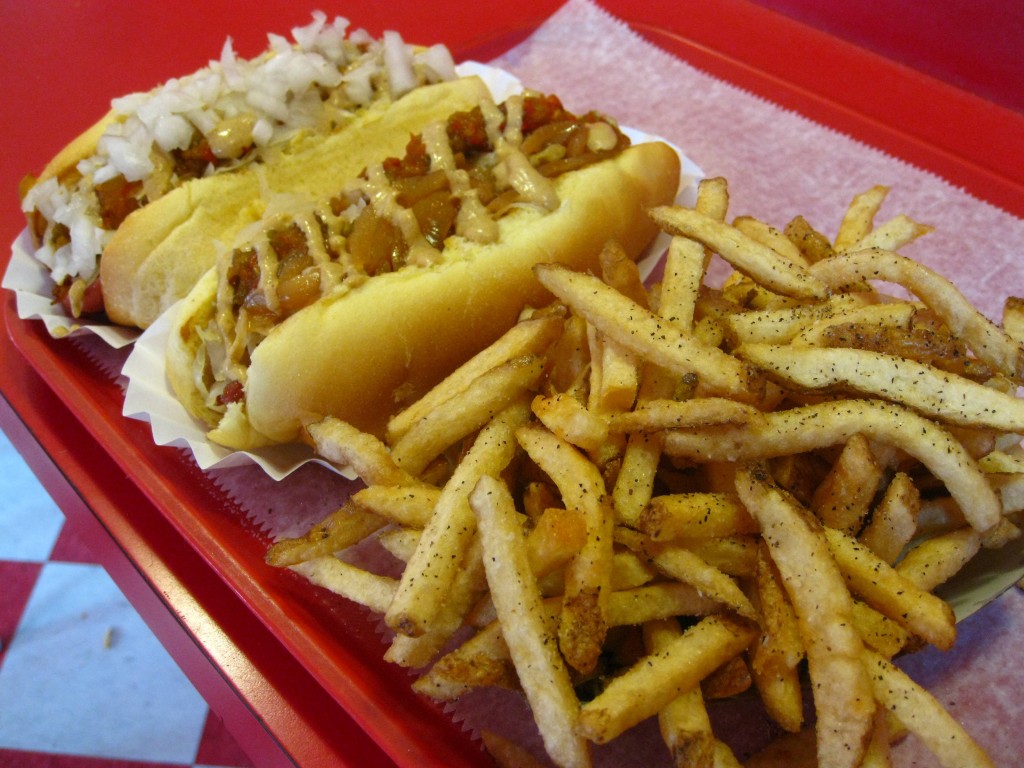 Adeena, whose nose for the perfect pairings never ceases to amaze me, made the call of the afternoon and ordered us a black and white milk shake to wash down the salt and fat.  I recommend you do the same.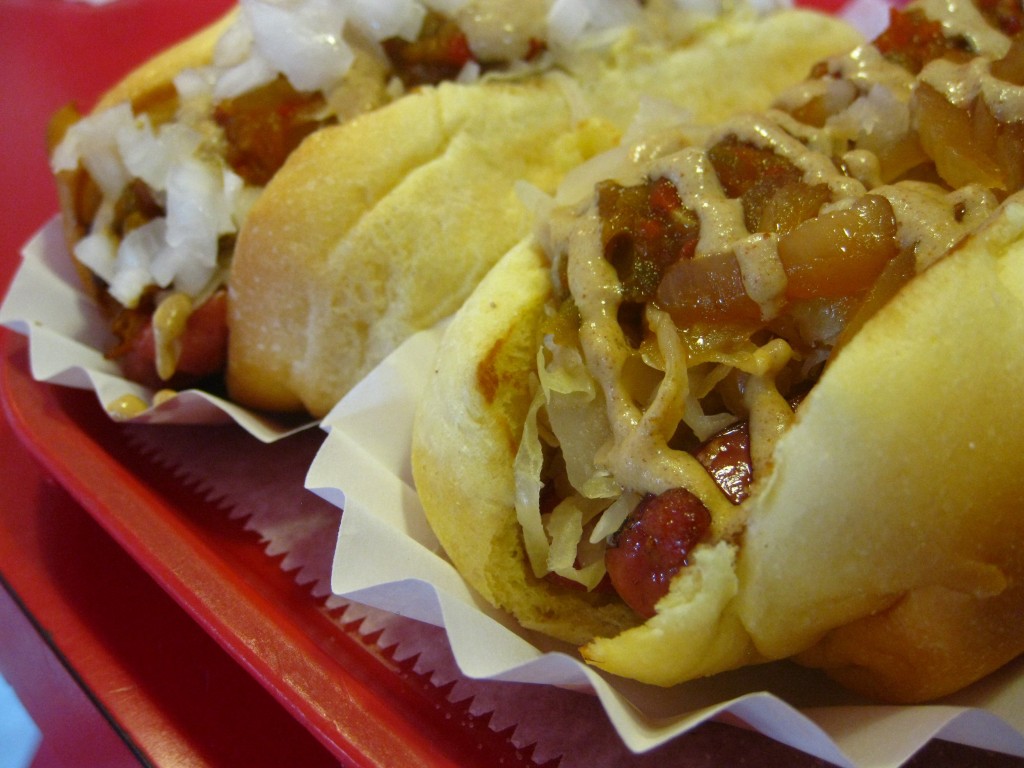 Chef Gary noticed me photographing our meal and I told him about our mission and the final stop that awaited us: Frank Pepe's in New Haven.  Finally someone who appreciated our mission! Gary smiled, nodded respectfully, grabbed a piece of paper, and jotted down his New Haven pizza rankings, in order: 1) Sally's fresh tomato pie, 2) Frank Pepe's clam pie and 3) Modern's Italian Combo. Even after learning about our day of eating, recommending three more stops didn't seem unreasonable to Gary. A man after my own heart.
Physically, we were full back at Colony Grill. But mentally, we were toughened.  Years of overeating, over-indulging and overestimating our stomach capacity had all led up to this final push to New Haven for the famous Frank Pepe's pizzeria.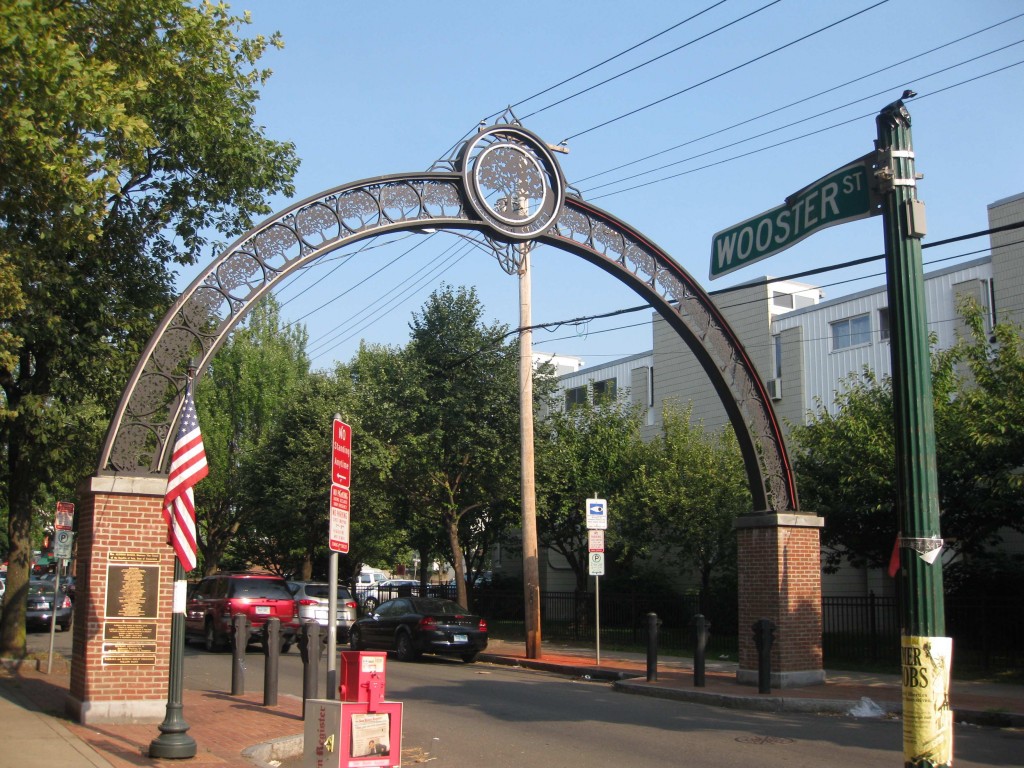 We turned onto Wooster Square, New Haven's Little Italy, parked, and waltzed right into Frank Pepe's, an establishment known for a wait that makes the Post Office line look like high speed internet.  Off to a good start.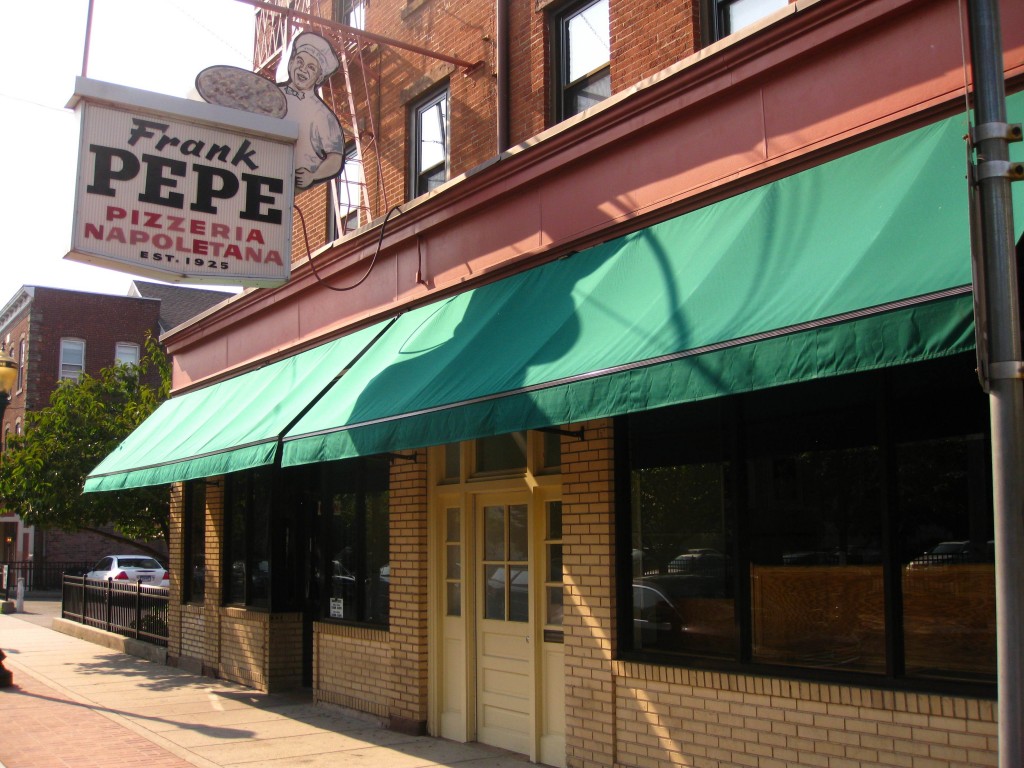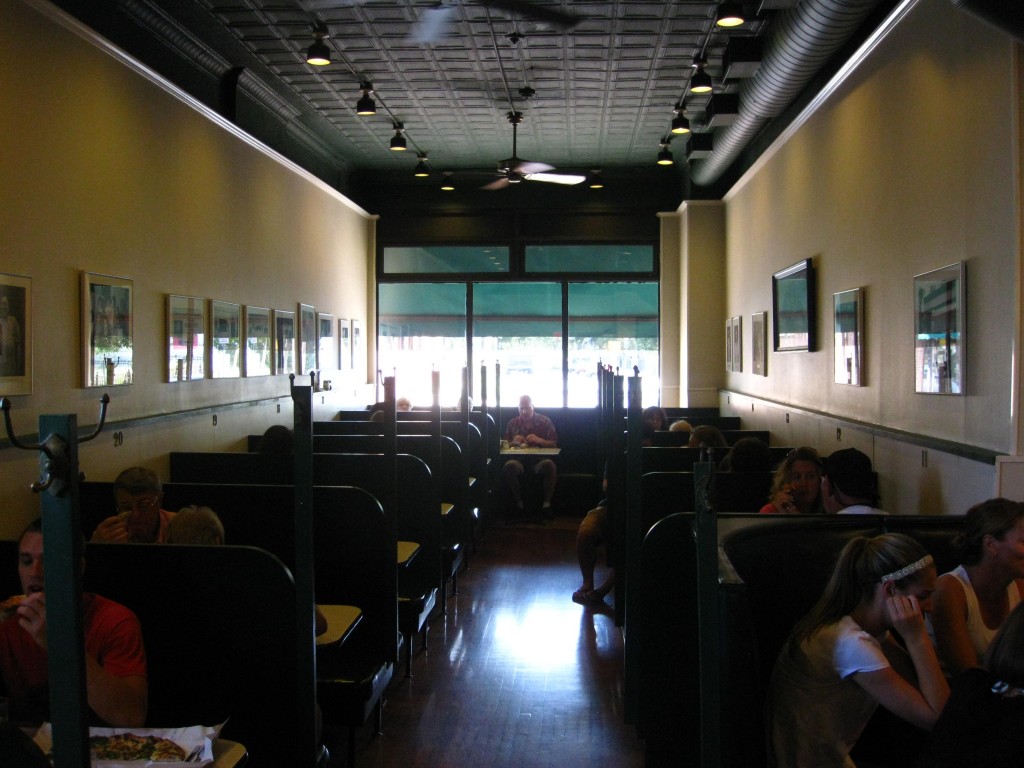 We were focused on two things: a plain pizza, the barometer of any pizza institution's abilities, and a white clam pie topped with fresh garlic, olive oil, oregano, and dusted with grated parmesan (no mozzarella).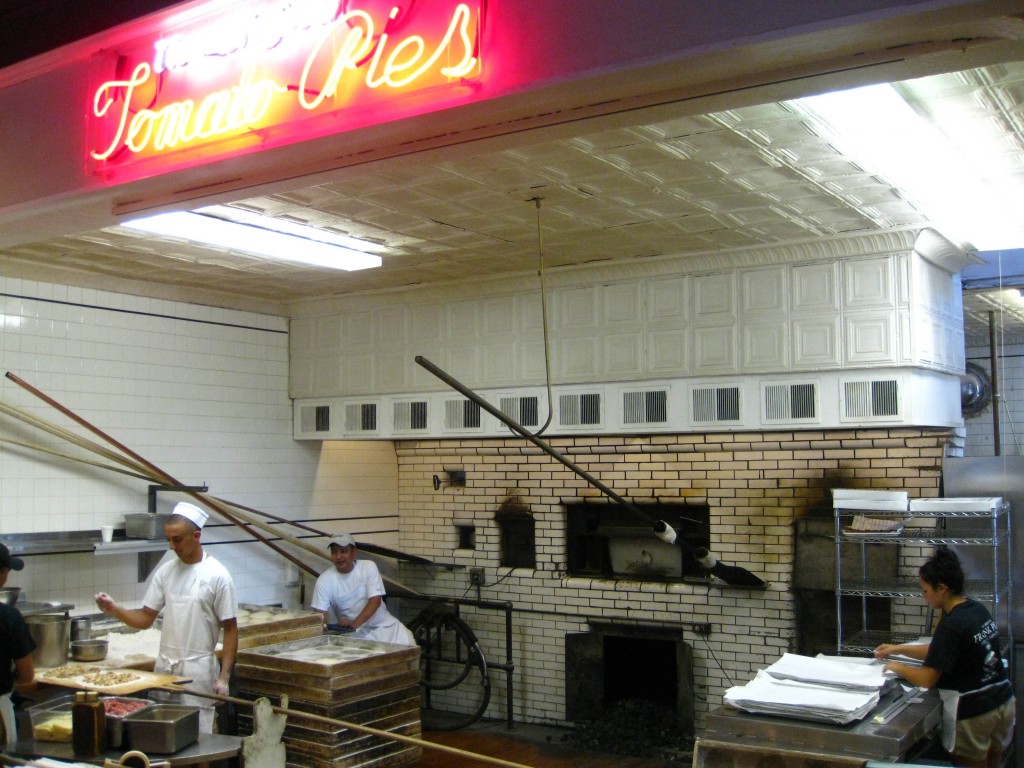 And like any well-calibrated coal oven (look how big that pizza peel is in front!), our pies arrived in mere minutes, each resting on a sheet of white paper, a long time signature at Pepe's. Even to this day, it's what they wrap take out pies in.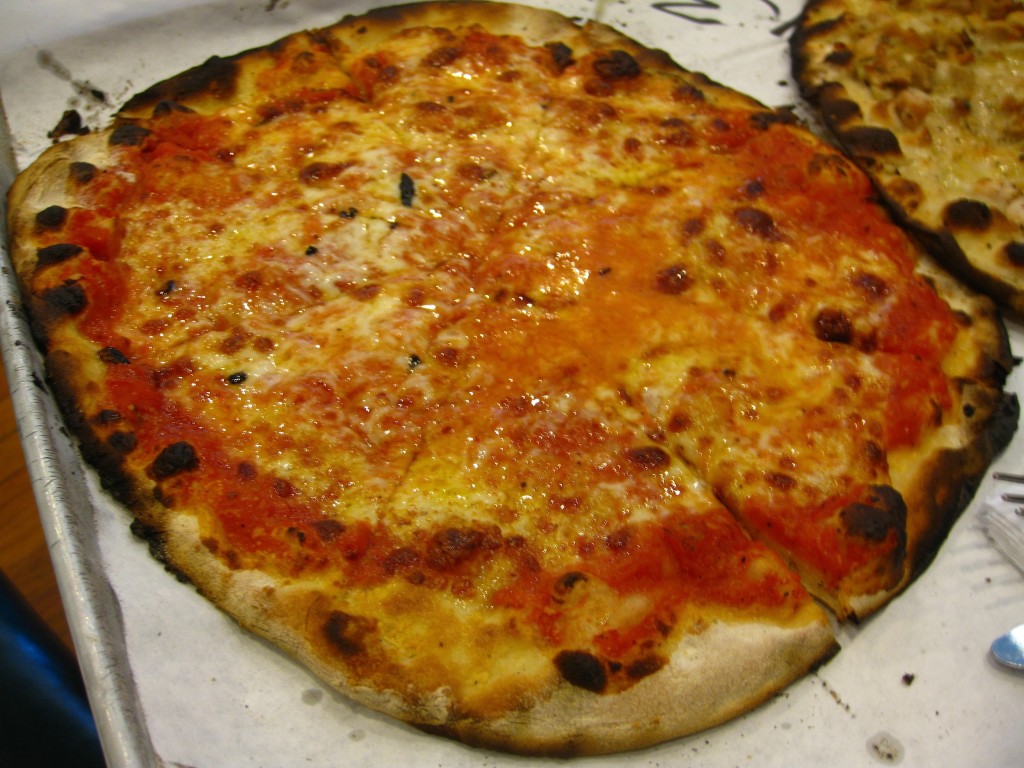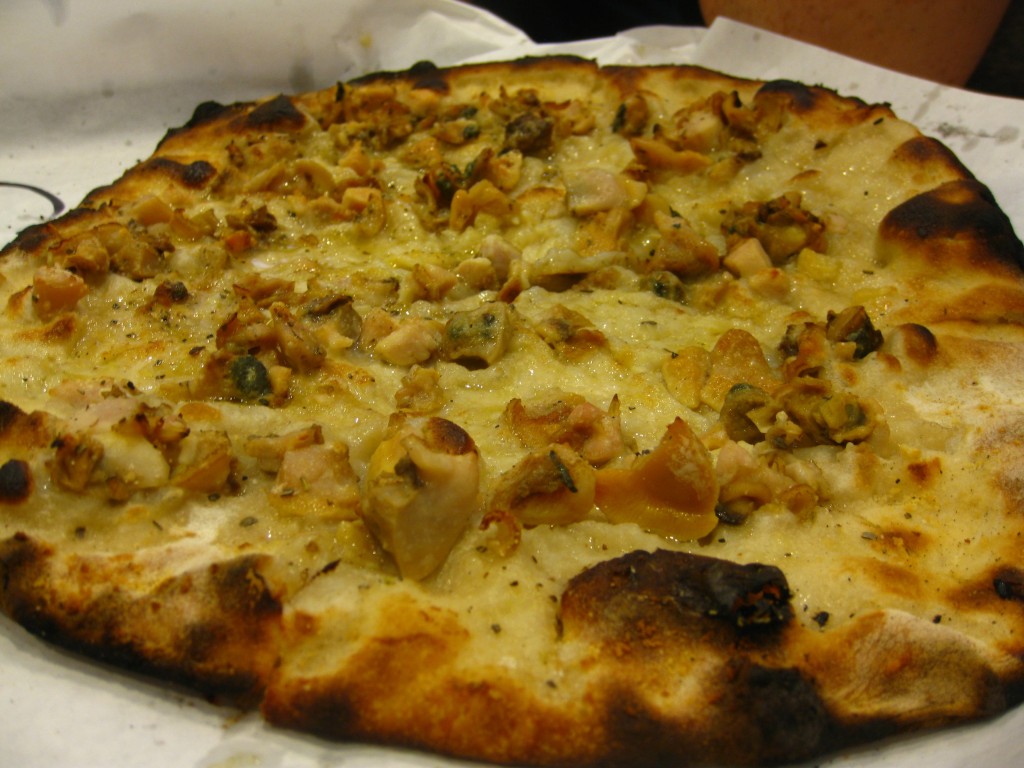 After five hours, six meals and eighty miles, the review of both pies was sadly a resounding "meh." The consensus was great crust – thin, crisp, nicely cooked – but ordinary toppings.  The plain pie needed salt, the clam pie needed the touch of a real chef to make it magical.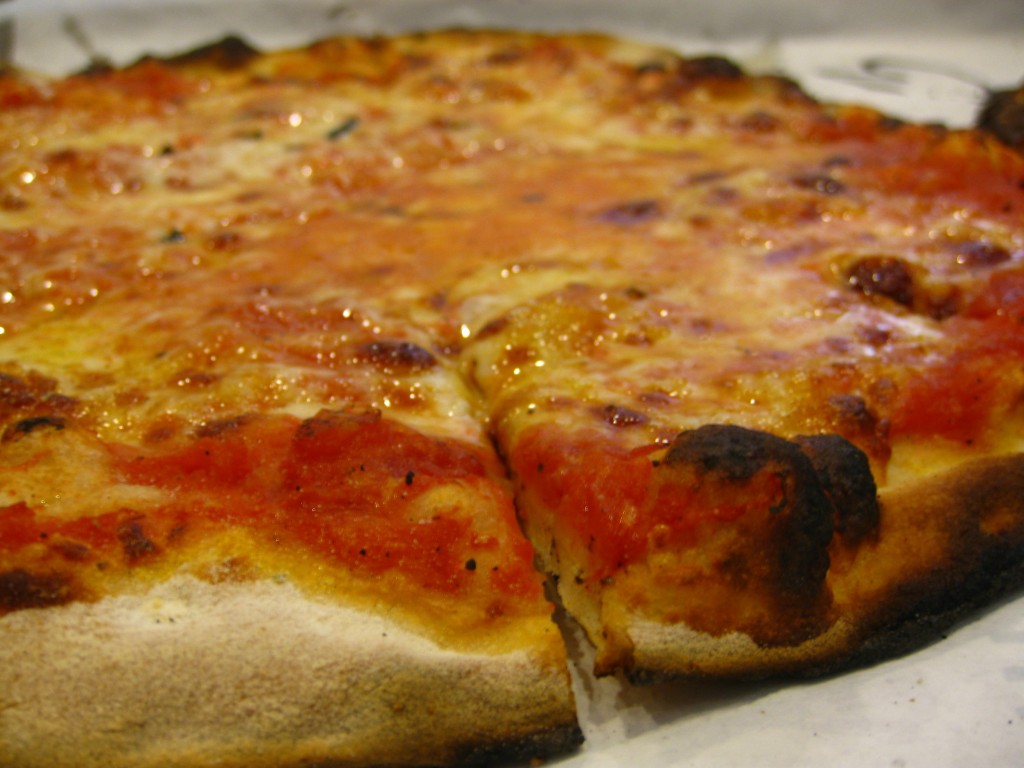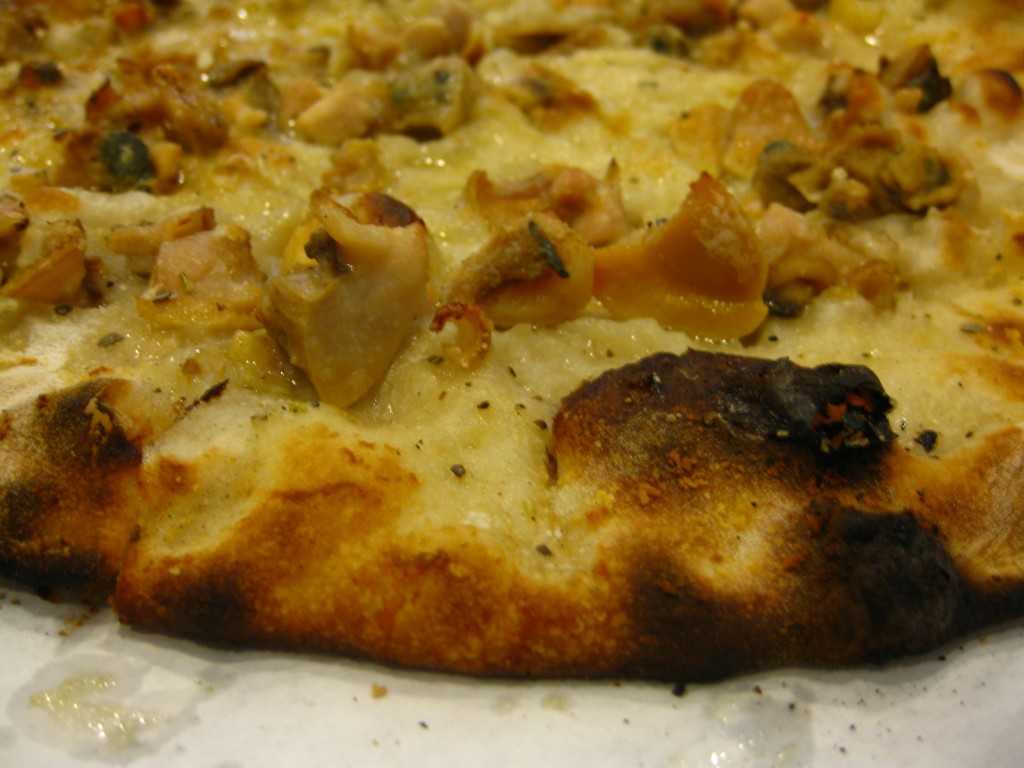 We were all disappointed, but not dejected. We passed on any more pizza and piled into the car.  It had been a glorious journey filled with highs and lows, but all was not lost.  The gas tank was half full and an entire city of food awaited us back in New York.  Pizza redemption was not far off.
To be continued….
Tortilleria Los Gemelos
167 Westchester Ave
Port Chester, NY 10573
914.934.0372
Kiosko Restaurant
220 Westchester Avenue
Port Chester, NY 10573
(914) 933-0155
Tarry Market
179 North Main Street
Port Chester, NY 10573
(914) 253-5680
El Charrito
Parked on Richmond Hill Avenue alongside Hatch Field Park (and across from Sachs Plumbing Supplies)
203.653.8182
Mon-Sat 11am-8pm
Closed Sunday
Colony Grill
172 Myrtle Ave
Stamford, CT 06902
(203) 359-2184
Super Duper Weenie
306 Black Rock Turnpike
Fairfield, CT 06824
(203) 334-3647
Mon-Thurs & Sun 11AM-4PM
Fri-Sat 11AM-8PM
Frank Pepe's
157 Wooster Street New Haven, CT 06511
(203) 865-5762