January 31, 2014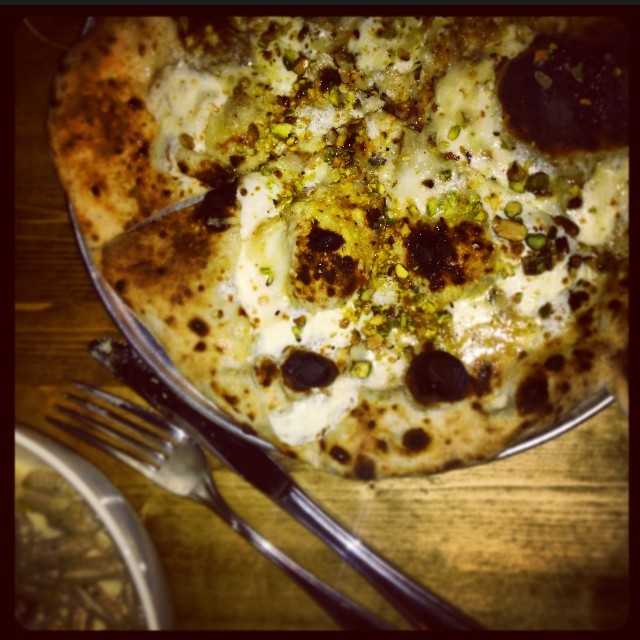 My lovely date and I emerged from the C train Clinton/Washington Street subway stop on to Fulton Street and walked one and a half blocks to "Emily," a cozy and friendly Neapolitan pizza restaurant owned by husband and wife Matt and Emily Hyland.    After training under Luca Arrigoni of Sottocasa (Boerum Hill), a disciple of Roberto Caporuscio of Keste Pizza (West Village), Matt helped open Brooklyn Central in Park Slope where Emily joined him there as general manager. When it came time for the two to embark on their own pizza adventure, Matt named his restaurant and his signature pizza after his wife. Brownie points for life.
With sturdy, light-colored wood tables, low lighting, a tall bar, and a diverse and affordable wine, beer and cocktail list, this is a great neighborhood spot or destination date spot (just a few blocks from Barclays Center, BAM and a quick cab ride from the new Royal Palms Shuffelboard Club in Gowanus).
Start with a kale salad ($9) dressed with shaved pecorino, dried cherries and sherry-thyme vinaigrette and the crispy Brussels sprouts ($9) with worcestershire, diced apple, black sesame and some mild chiles.  If you're feeling indulgent, order a generously portioned meat and cheese plate ($18) and make sure it includes the creamy Bleu alongside toasted pecans, dried cherries and sliced pear with honey.  If you're in the mood for red wine, the $34 bottle of Montepulciano d'Abruzzo Reserve is a slightly dry and very drinkable complement to most of the items I recommend.
Make sure to save room for pasta, bought fresh from Sfoglini, a local Brooklyn wholesale operation started by a former chef from Roberta's Pizza.  The cavatelli  with melted ricotta, poppy seed and lemon zest is Hyland's take on the Roman classic "cacio e pepe" and is a perfect prelude to his pizzas.  Make sure to keep the bowl on your table as the pizzas arrive because you'll want to dip the pizza crust in the leftover cream sauce that collects at the bottom.
Two pizzas for two people is an ideal order, just make sure one of them is the namesake "Emily" (pictured above, $19) featuring mildly funky tallegio cheese and creamy pillows of mozzarella (made fresh daily by Matt) topped with pistachios and honey.  Truffle spread is also listed as an ingredient but it didn't play much of a flavor role for us.  My lovely date and I also tried the "William" pizza ($12) topped with tomato sauce, the excellent mozzarella, olives, red onion, garlic, and fresh basil.  The sweet sauce and briny olives had a slightly overpowering effect but the mozzarella made it very easy to keep eating.  We left a few slices behind (Lovely date enjoyed the reheated pizza leftovers the next day) to save room for our gooey chocolate and marshmallow-filled S'mores calzone ($10), which like the rest of the evening at Emily – food, service and atmosphere –  was as comforting as you hope it would be on a brisk January evening in New York City.
919 Fulton Street b/t Clinton Ave & Waverly Ave

Brooklyn, NY 11238

347.844.9588

Open Sun-Monday 5-11PM,
Wed-Fri 5-11PM, Sat 5PM-12AM,

Closed Tuesdays