June 15, 2012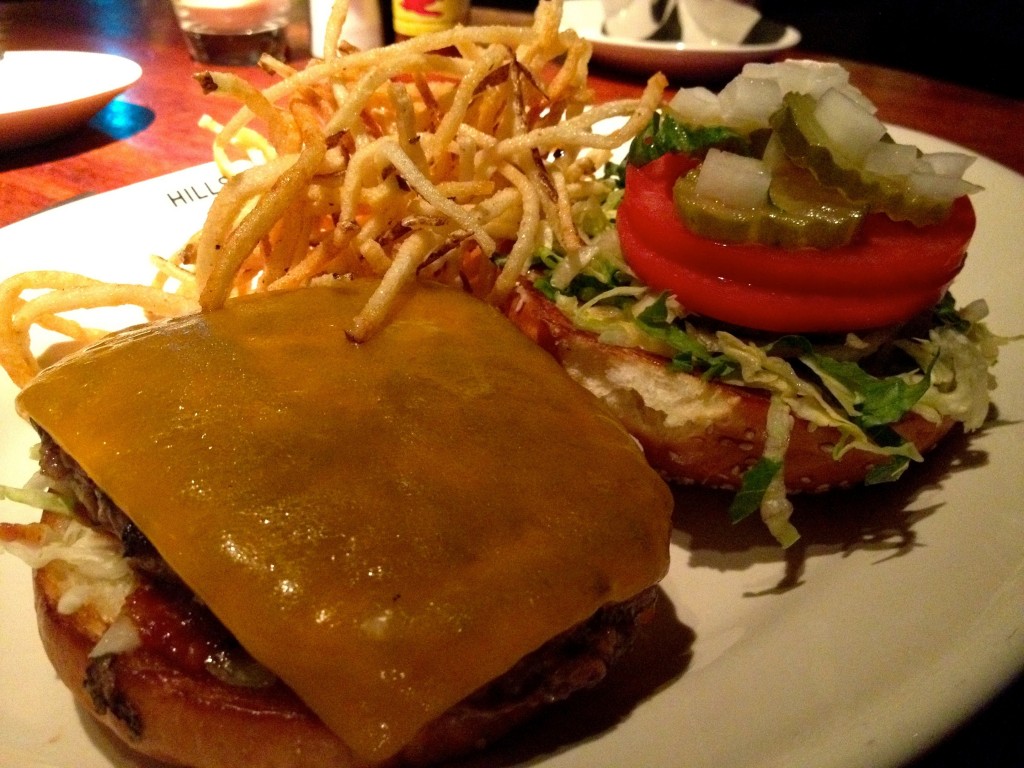 In case you missed it over the last few years, the restaurants formerly known as "Houston's" have been renamed "Hillstone" in Manhattan.  Some employees say it's branding. Others say it has to do with not wanting to list calories on the menu. Ultimately, they can call it "Tommy's of New Jersey" for all I care, just as long as they continue serving five items that always keep me coming back for more: spinach artichoke dip, the off-menu traditional salad with house vinaigrette, the cheeseburger, the ribs, and the warm five-nut brownie sundae. Last night, I ate three of those items between 9:30PM and 11:30PM. I advise you to follow my order, but I do not advise you to choose the same time frame if you have work at 9AM the next morning.
The massive cheeseburger, pricey at $18, is my favorite thing on the menu.  The burger patty itself – griddled and grilled – offers a dividing line between fancy and fast food flavors.  Sliced white cabbage and a dab of barbecue sauce rests beneath.  Above, mayo, mustard, shredded lettuce, always-fresh tomato, chopped onion, and pickle chips offer a flavor reminiscent of the Pacific Northwest's "goop" sauce.  The buttered and grilled brioche bun is sweet, squishy and just hefty enough to support the weight of the burger and toppings. The super thin fries, which used to be some of my all-time favorite, have been almost too thin of late, skewing more toward matchstick fries than shoestring. Either way, they're still delicious dipped in Hillstone's custom ketchup, sweetened with a bit of honey.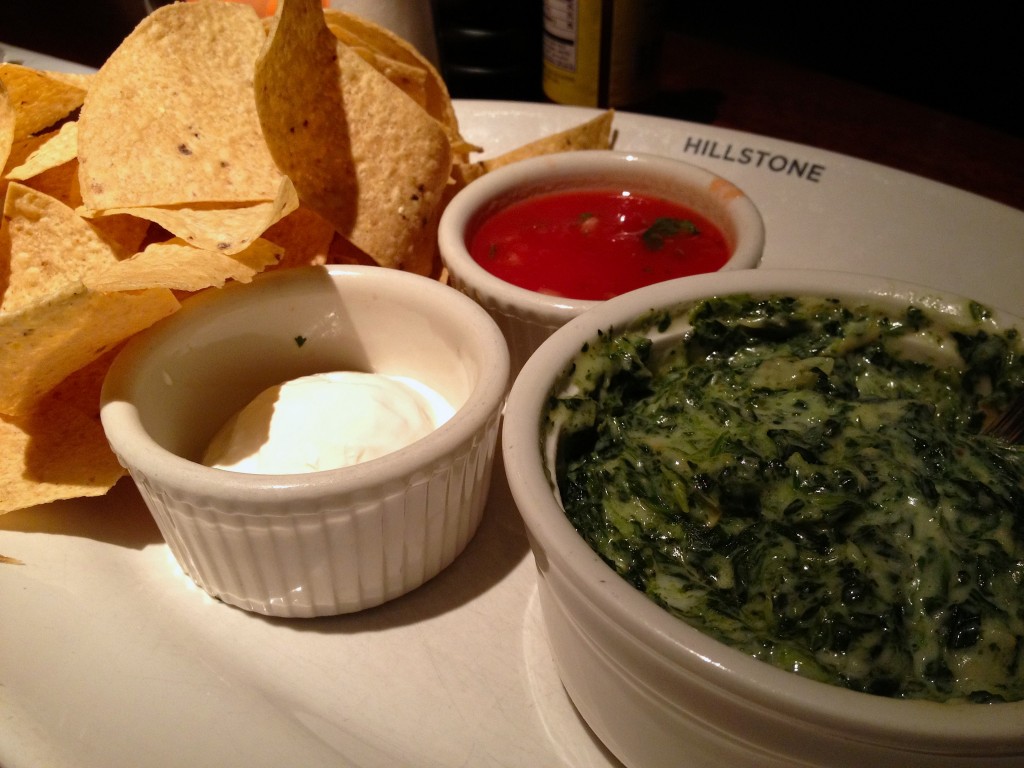 Spinach artichoke dip ($14) may be a standard bar snack, but when sober, it doesn't get better than Hillstone's version.  Mix up the molten concoction of Monterey Jack, parmigiana Reggiano, spinach, and bits of artichoke heart, scoop it up with a tortilla chip, and then spoon on sour cream and salsa, and indulge. If you run out of chips, ask for more, they're free.  You will end scraping the ramekin until nothing is left.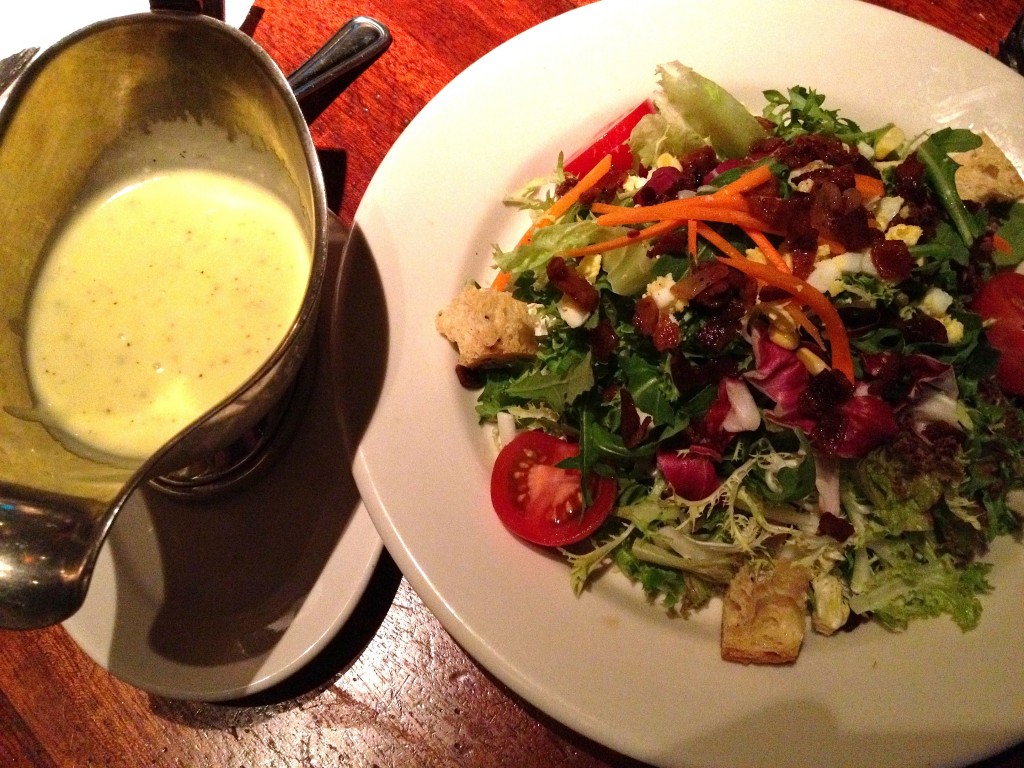 Salad, yes, salad. Before you chastise NYC Food Guy for promoting greens, be aware, this salad is topped with house made croutons, hard boiled egg and crispy bits of bacon.  It's called the "traditional salad" and it's no longer listed on the menu but you can still order it. Just make sure to get the yellow-tinted house vinaigrette, it's another bowl-scraper.
I would have crushed the warm 5-nut brownie sundae ($8), with it's scoop of Sedutto vanilla ice cream, pool of champagne custard, and espresso caramel drizzled throughout, but there's one thing whose name will never change: food coma. And I had achieved it.
Hillstone
153 E 53rd St near 3rd Ave 212.888.3828 // 378 Park Ave South b/t 26th & 27th St 212.689.1090
Houston's
630 Old Country Road Garden City, NY 11530 516.873.1454