October 31, 2011
Sweet Revenge, the West Village shop known for pairing wine with decadent cupcakes, may be in line for a community service award.  One week after Grey Dog Cafe closed its original Carmine Street location and left a void in hearty neighborhood breakfast options, Sweet Revenge plays hero and debuts a new breakfast menu today.  It will run weekdays from 7am-10:30am.  I was in the shop Sunday for a Sweet Revenge cupcake ($3.50) – peanut butter cake filled with chocolate ganache and topped with peanut butter fudge frosting – and found the kitchen previewing the new breakfast menu.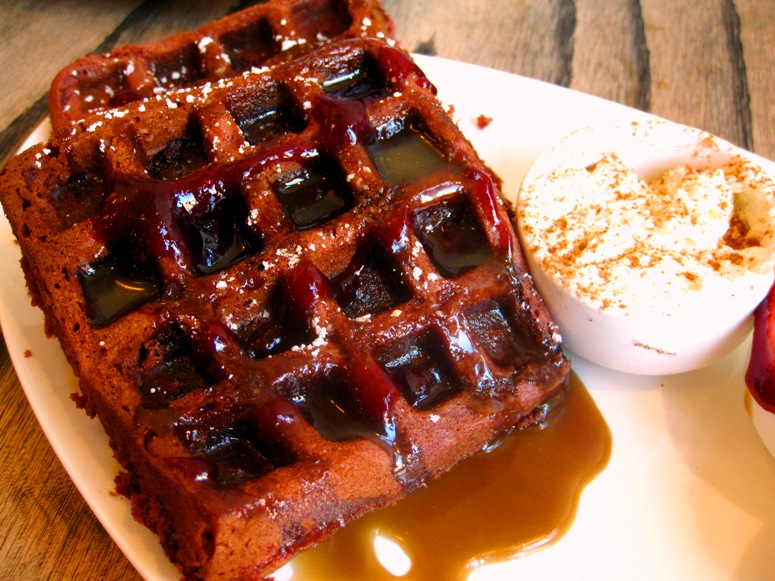 Looks can be deceiving, but the red velvet waffles ($11.95 for two) will get me out of bed in the morning.  Made with red velvet cupcake batter and infused with the subtle flavor of chocolate, each waffle is an airy cake, light but substantial enough to support fleur de sel (salty) caramel syrup, raspberry sauce and a decadent cream cheese-based whipped cream, all without becoming soggy.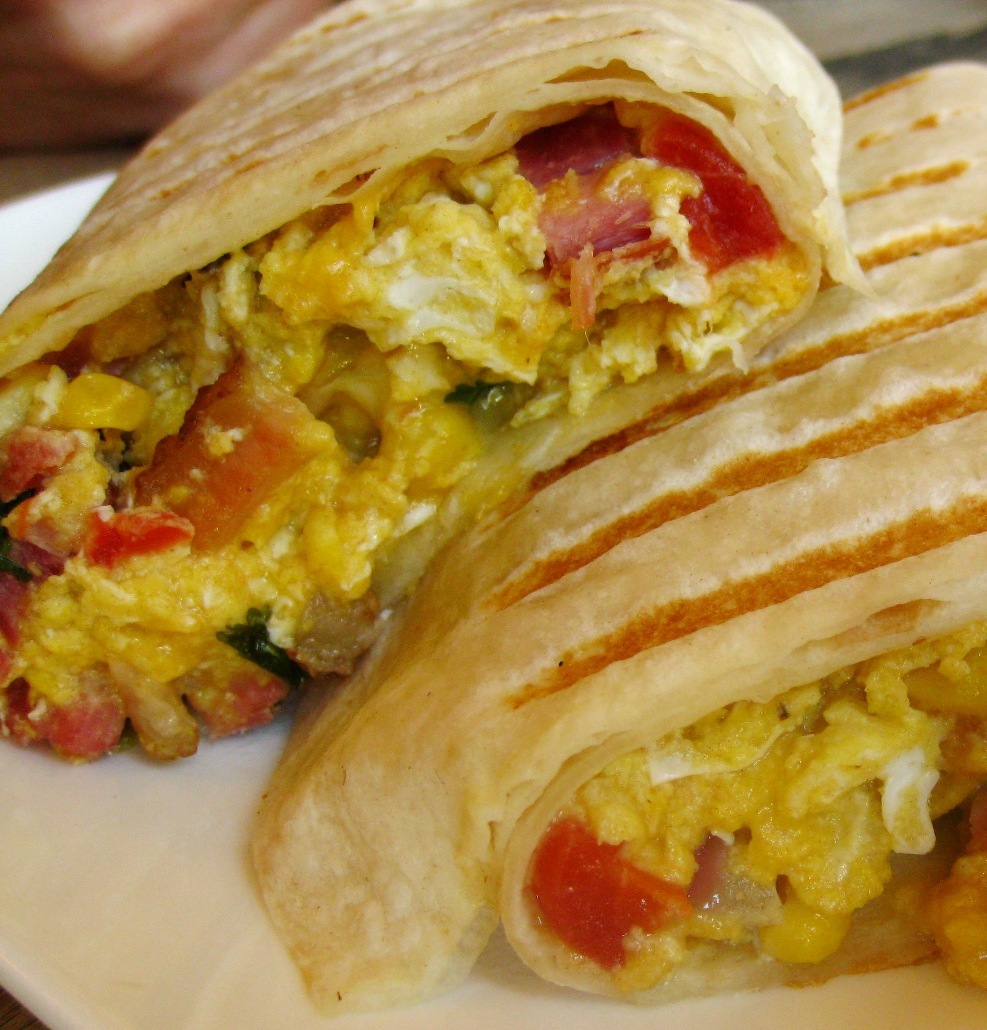 It's hard to put down the El Gigante Mornin' Burrito ($10.95 plus $1 for bacon, ham or sausage) once you pick it up. A flaky, pressed tortilla encloses creamy eggs scrambled with black beans, corn, tomato, roasted potatoes, and cheddar or Jarlsberg cheese. All meat options are from Faicco's and the bacon is smokey and thick-cut. Sides of smashed avocado with cilantro and Cholula hot sauce are welcome additions to every bite.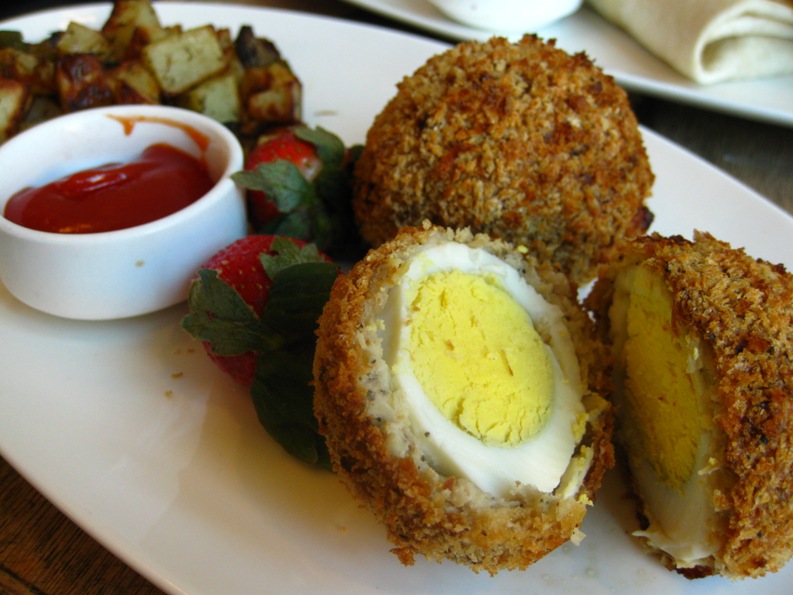 If you've read this site before, you know I value decadence. I wanted the Scotch egg ($11.95 for 2) to be poached, not hard boiled; wrapped in pork sausage, not chicken sausage; fried in panko bread crumb and black pepper batter, not baked.  That being said, all flavors were in balance and I was told by the owner – upon offering my fattening suggestions for improvement – that this Scotch egg is the genuine article. The home fries, coated with rosemary and mixed with sauteed green pepper, were commendable as they arrived crispy – a rarity for home fries – without request.  To her credit, Marlo Scott, the lovely, aforementioned owner, told me she was going to head over to Faicco's and see if pork sausage may be a better option for the Scotch Egg after all.  Community service at its finest.
Check out the rest of the new breakfast menu here.
Sweet Revenge LINK 62 Carmine St b/t Bedford St and Seventh Ave South New York, NY 10014 (212) 242-2240  Open Mon-Thurs 7am-11pm, Fri 7am-12:30am, Sat 11am-12:30am, Sun 11am-10pm  Breakfast menu served Mon-Fri 7am-10:30am, Brunch menu served Sat-Sun 11am-3pm