October 27, 2011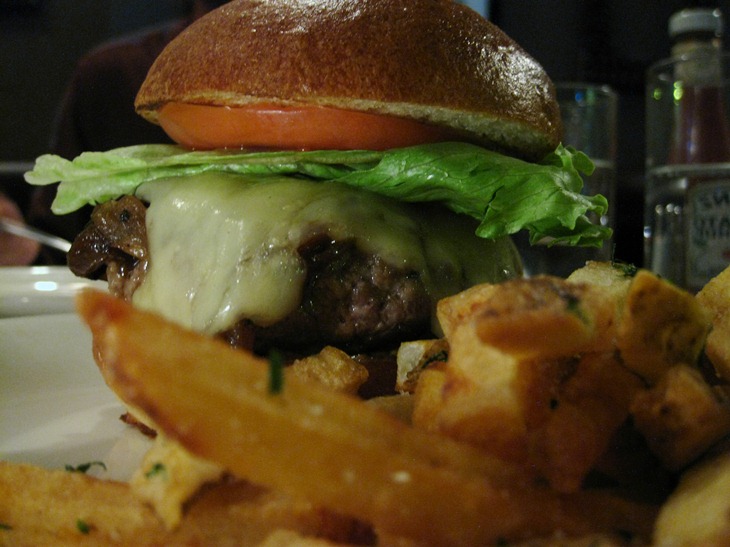 Eating on 10th Avenue near the Highline is never an easy decision. Do you go for broke on murderer's row with Del Posto, Morimoto or Colicchio and Sons? Do you grab slices with the club kids at Artichoke? Do you pay for overpriced, overhyped American food at Cookshop? What if you just want comfort food at good prices and atmosphere without pretension. It may seem impossible – unless you're dining at The Highliner – the new-ish restaurant in the former Empire Diner space. Staying true the diner spirit, Chef Phil Conlon, a friend who invited me for dinner at The Highliner one night last week, is offering his own menu of hearty classics; flavorful rib-sticking dishes with inventive twists and great value, with all entrees under $20.
The bone marrow and brisket burger ($16, above) with melted Swiss, caramelized onions, spicy mayo, romaine, and tomato on brioche, may be the most underrated over-the-top burger in Manhattan. All proportions are in balance; sharp Swiss, a dab of mayo and the right amount of onion pair with fresh vegetables to make the crumbly, melt-in-your-mouth burger feel almost guilt-free. The pillowy fries – crisp and addictive – quickly alleviate that.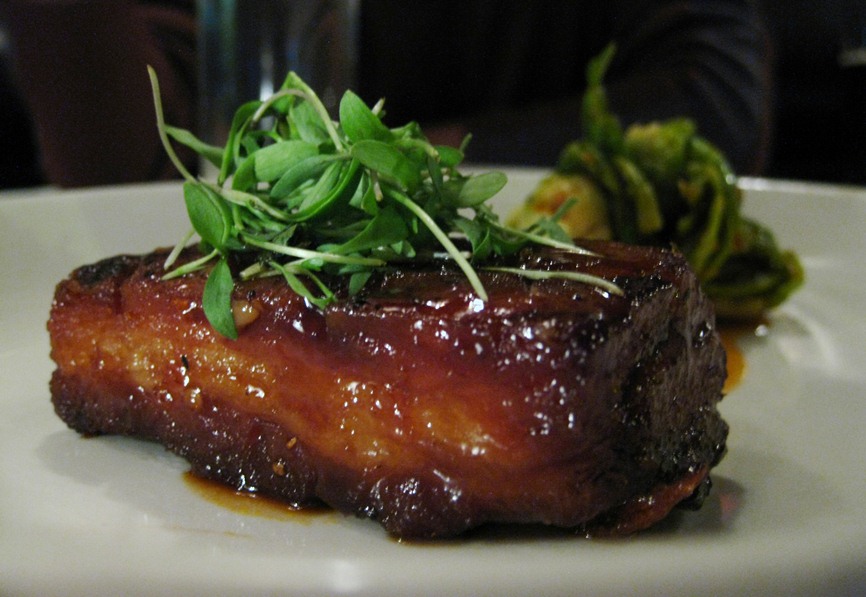 A generous slice of pork belly, crisp edges sandwiching layers of fat and tender pork, pairs well with a Brussels sprout kimchi. I received a preview of this dish which will soon be on the menu.
You can go right now for a Nicoise salad ($15) that would make Daniel Boloud blush; slice into the battered and fried poached egg to release a river of rich yolk over slices of rare tuna and a bed of lettuce, green beans, cherry tomatoes, fingerling potatoes, and pickled pepperoncini. The spicy peppers and tart dressing bring welcome acidity.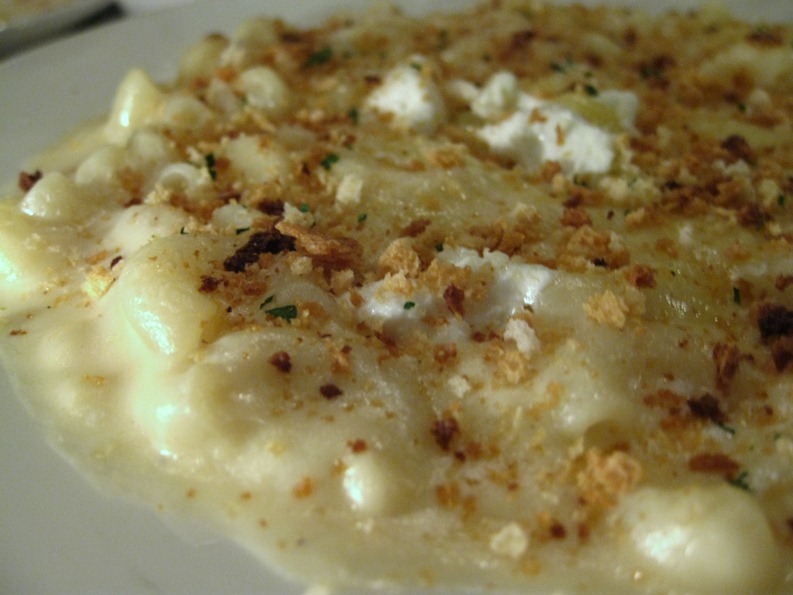 Mac and cheese ($13) features a triumvirate of cheeses: white American for goo-factor, Swiss for cheese strings stretching plate to fork and creamy goat for flavor. A dusting of bread crumbs and a trip under the broiler unites all forces into a loose yet soul-warming sauce.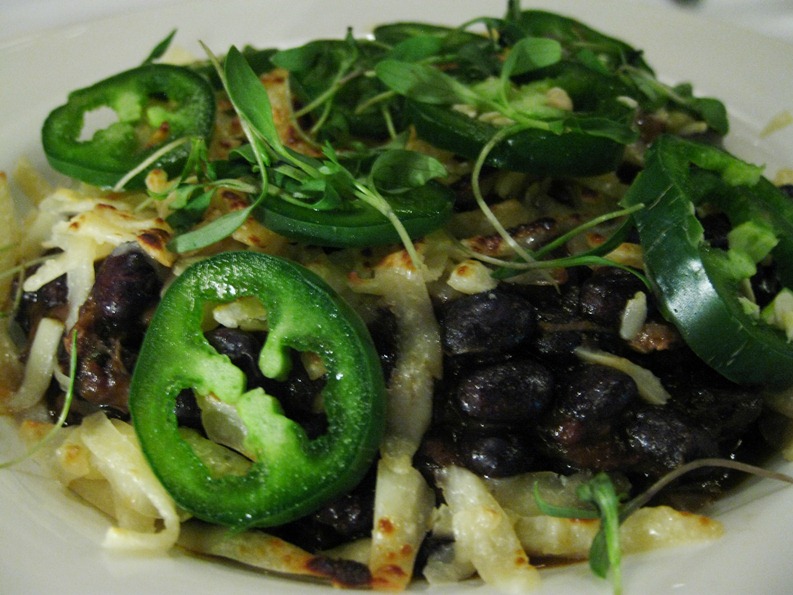 Another soon-to-appear special, oxtail black bean chili with smoked gouda and sliced fresh green jalapenos, is as satisfying as it is attractive. If you don't have a fireplace this winter, this dish will fill the void.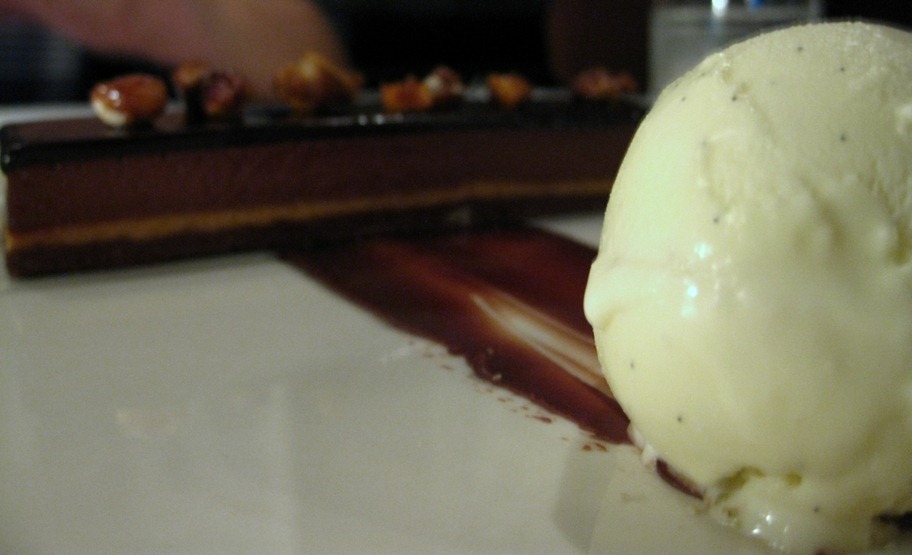 If there's room for dessert, don't miss the Highliner bar ($8); arguably the best value in the restaurant when equated with silence-inducing richness. Crisp, airy chocolate wafer provides the base for a sinful quartet of peanut butter mousse, Nutella mousse, chocolate ganache, and candied nuts. The scoop of vanilla bean ice cream may as well be parsley when compared to its neighbor's appeal.
A diverse menu of elevated yet affordable crowd pleasers plus breakfast all night? The Empire Diner may be gone, but thanks to Chef Conlon, its soul is not lost.
The Highliner Link 210 Tenth Ave at 22nd Street New York, NY 10011 (212) 206-6206 Open 8:30am-11pm Sun-Mon, 8:30am-12am Tues-Wed, 8:30am-2am Thurs-Sat.