September 29, 2011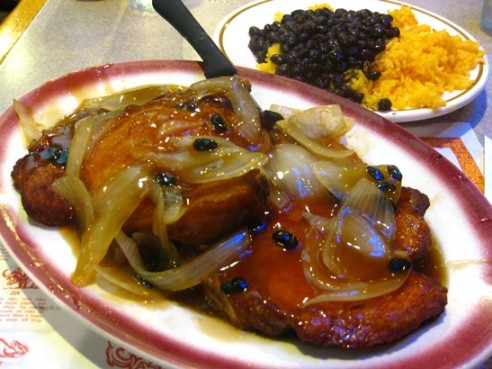 Sometimes after a particularly unsatisfying meal of small to large proportions, I begin to drift off – mentally, that is – to a place where I can forget about the mediocrity I recently ingested and look to the future to decide where I'm going to eat next. Not where I'll eat tomorrow or next week, but where I'll eat immediately after I leave the offending restaurant. Pizza is typically my solution in this situation, but last week, I was on the Upper West Side after 10pm on a Wednesday. That left nothing but Big Nick's and it would be plain masochistic to eat there before 4am, especially while sober.
As I turned onto Broadway from 79th street, I noticed La Caridad 78, the humble Chinese-Cuban restaurant both my uncle Steven and former NY Times restaurant critic Sam Sifton hold in high regard. Uncle Steven favors pepper steak and beef chow fun, strong performers on the greasy, starchy scale. Sifton has a carnal love for the fried pork chops in black bean sauce, which he is known to "murder" annually with fellow NY Times writer Michael Kimmelman.
Turns out there's a reason they commit murder together: one plate is filled with enough glistening, crisp-edge pork to feed three hungry people, especially if you consider the accompanying plate of yellow rice and black beans. Salty, juicy, and fatty, the pork chops certainly hit the spot. And while it's not the best food in Manhattan, for $14.40, it may be the most affordable feast. Would I be making a return trip for the pork chops next year? No. I departed with my leftovers and gave them to a homeless man on 72nd street. Satisfaction is one thing, gluttony is another.
La Caridad 78 2199 Broadway at 78th Street, New York, NY 10024 (212) 874-2780 Open 11:30am-12am Mon-Sat, 11:30am-10:30pm Sunday, Delivery Hours: 11:30am-11pm Mon-Sat, 11:30am-10pm Sunday