September 16, 2011
When a man has family, he has food. Last night, I was running late for dinner, a fairly frequent occurrence for me. I consider it an inherent trait – a skill, if you will – meant simply to increase my appetite for the meal to come. Fortunately, my brother Craig, aka Lil NYC Food Guy, arrived at The Cardinal early.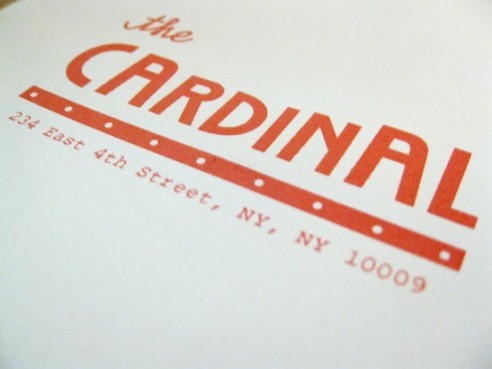 Curtis Brown, chef and owner, left the kitchen at Bubby's in Tribeca to open his own Southern joint. Only The Cardinal is much more than that. I happened to know that Chef Brown is from North Carolina and works miracles with a smoker. The fact that pepper bacon comes out of that smoker kind of makes him a hero.
Could this be the real BBQ restaurant the East Village needs? Like any experienced BBQ lover, I called ahead to see what was in stock. Disaster! Only two portions of brisket left. I hang up the phone to frantically call Craig and tell him to reserve the brisket, but I already have a text message. It's from Craig. "Ordered the brisket. Only two left." Now that's what family is for.
Craig brought his former college roommate Matt, a self-proclaimed fantasy sports expert who has invested money in seventeen different fantasy football leagues this season. He also likes food so much, a good bite makes him dance in his seat. He transfers it to his eyebrows in fine dining establishments.
We went all in. Every entree comes with two of the thirteen sides offered. We launched a well rounded, three-entree assault: Pork chops, pork and beef BBQ and fried chicken. We were unsure if six sides was really enough so we hesitantly settled on Mac and cheese, cole slaw, stewed greens, mashed potatoes, deep fried okra, and baked beans loaded with chunks of pork. My greatest fear is that I miss something life-changing at a fried chicken and BBQ restaurant.
Matt's eyebrows began to twich as the entrees approached. Two fatty, fried porkchops smothered in red eye gravy and topped with pepper bacon appeared ($16) and we fell into silence. I think they were magic, remaining crispy until Matt and I gnawed the final fatty bits off the bones.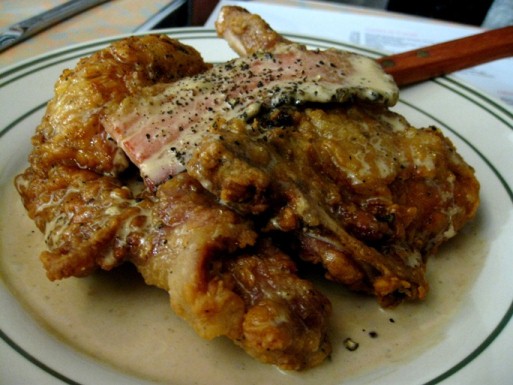 A BBQ platter ($21, choose 3 meats) followed and we each took a small bite of the two ribs, a slice each of the sausage, and a forkful each of pulled pork and brisket, pulled instead of sliced since it was the end of the night. We ate and eyed each other suspiciously. Could any of us be trusted to fairly divide the rest? The smokey, spicy ribs dipped in the ketchup-based sauce and the snappy sausage, garlicky and flecked with chili flakes, would put Guy Fieri at a loss for words. Would we have to order more?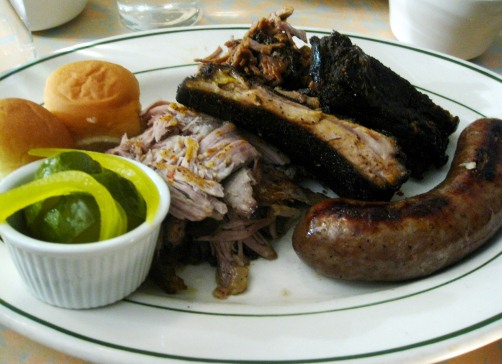 Calmer minds prevailed and we took our chances with the mixed fried chicken plate ($17). A thigh and drumstick flanked a breast so big it would make a plastic surgeon blush. The thin, pleasingly salty crust was crisp and almost greaseless. A fate that makes you happy for the chicken – maybe jealous – its dark meat hot and juicy, its white meat best when topped with honey and a shake of hot sauce. It might be the best in the city. When fresh, its so good, Charles Gabriel should be paranoid.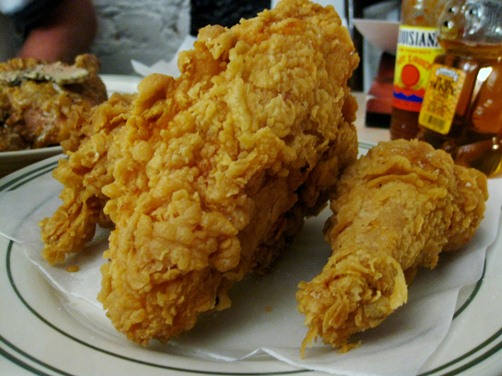 The mac and cheese is the chicken's perfect complement and craveworthy on its own. Melted cheese up top, a creamy sauce beneath and studded with exploding bits of cracked black pepper.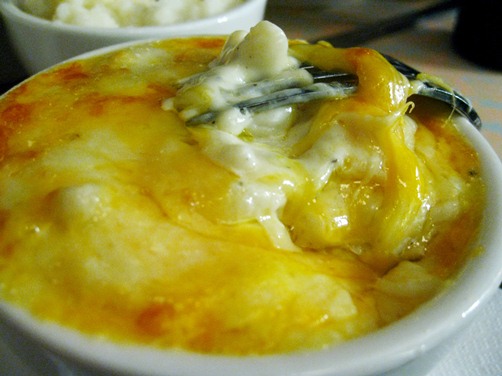 Okra receives a new look, lightly breaded and deep fried, and is best when dipped in the ketchup-based sauce and eaten immediately.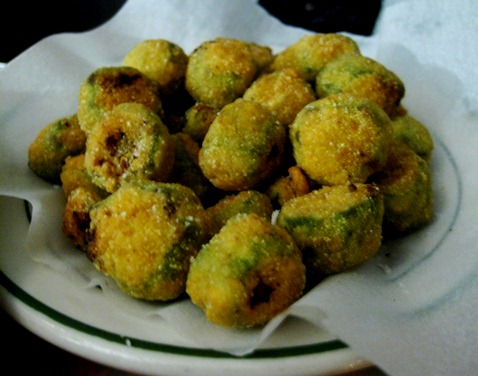 Craig and Matt liked the greens, tender with a lingering spice. And the beans, while Carolina sweet, featured even larger chunks of tender pork than expected. All the other sides faded in the glow of their surroundings.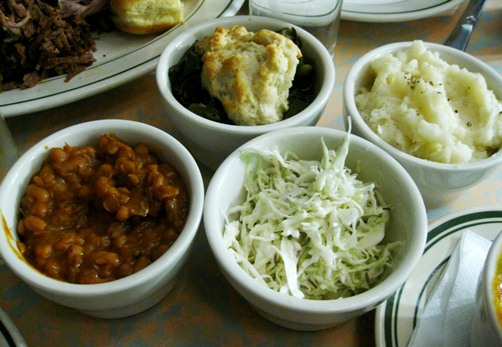 Dessert is one thing that never makes Matt dance and he launches into a dissertation on the one-dimensional nature of the Arizona Cardinals offense while Craig and I spoon at fresh pecan pie a la mode ($5), its crust thin and buttery, its filling sweet and crisp but unfortunately not warm.
Banana pudding ($5) sounded promising as it always does, but there's no banana or Nilla wafers beneath the surface. The thought of Sugar Sweet Sunshine's banana pudding crossed my mind. It's only a ten minute walk from The Cardinal, but at the speed our digestion was moving, it wouldn't be safe to run there before they close. After all, we care about our health.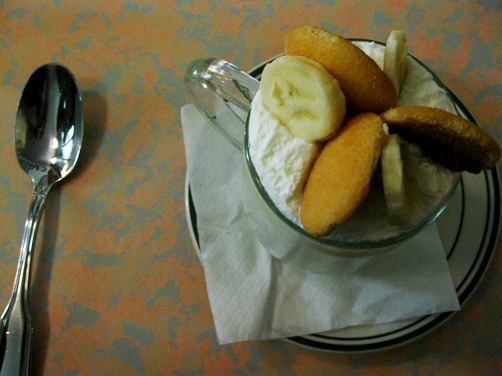 The Cardinal
234 East 4th Street b/t Ave A and Ave B
New York, NY 10009
(212) 995-8500
Sun 11AM-11PM
Mon-Thurs 6PM-Midnight
Fri 6PM-1AM
SAT 11AM-1AM
http://thecardinalnyc.com/
Open for Brunch Saturday and Sunday
Break in service between lunch and dinner Sat and Sun, call for details