September 12, 2011
I may have disappeared for a full year, but it was not without reason: I chose a job over my blog. But now I have a new employer and only one thing matters: NYC Food Guy is back!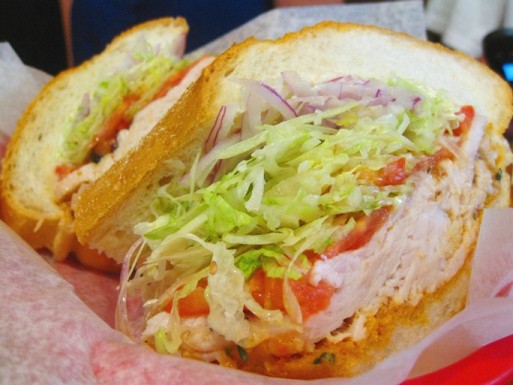 The quote in the title of this post belongs to my lovely 20-year old sister Melissa. She knows what she's talking about and she can eat, though you wouldn't know by looking at her. Melissa and I have honed her palate with pancakes at Clinton Street Baking Company, burgers at the Burger Joint and Sicilian pies at Adrienne's Pizza Bar. She used to be the girl who always ordered chicken fingers for dinner. Now she's disappointed that Americans are content with processed cold cuts. Mention Boar's Head and we applaud because it's better than what they're serving at Subway. These are sad statements about our turkey sandwich expectations. Torrisi brines their fresh turkey daily and tops it with thin, fresh veggies and a fiery eggplant-hot pepper sauce. A healthy dab of mayo ties it all together. Get the smaller version, on a squishy roll ($9), that way you don't have to share.
Torrisi Italian Specialties 250 Mulberry Street at Prince Street, New York, NY 10012 (212) 965-0955 http://www.piginahat.com/ Sandwiches only available from 11am-4pm. Torrisi's all-day sandwich operation, Parm, is opening next door in late September.