July 12, 2010
Through all my varied, sometimes indulgent, eating over the last three and a half years of NYC Food Guy's existence, the meals that left the most lasting impression – no matter the cuisine – were comprised of fresh, flavorful ingredients allowed to shine in their near natural form.  Fresh, as it turns out, leaves you feeling better than deep fried.  This is why I left Northern Spy Food Co. Saturday smiling and fully satisfied.
Mom and Dad were right about eating your vegetables.  A salad ($9) crowned with a handful of firm, creamy feta over mesclun dressed in a balanced shallot-Dijon vinaigrette was enhanced by the presence of thinly sliced red onion, crisp strips of red and yellow pepper and cucumbers marinated in a white wine, sherry, sugar and water mixture which added nice bursts of tart than sweet flavor.  It all comes together with a pleasing crunch, reminding us how great fresh vegetable make you feel.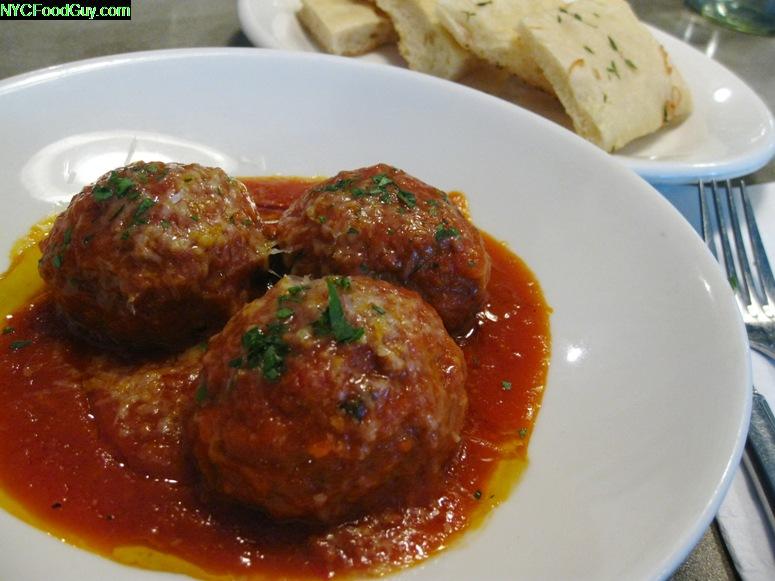 After enjoying the spicy pork meatballs at the Meatball Shop, I was looking forward to trying Northern Spy's all Heritage pork-leg version ($12/$17).  Three substantial pecorino-topped meatballs arrived in a shallow pool of delicate marinara pleasingly devoid of any chunks of garlic – it serves as both flavor and braising vehicle, ensuring a tender, crumbly meatball.  The overall flavor was intriguing, the bread crumbs within adding an addictive quality that led me to clean my plate – not with the dry and mainly flavorless caramelized shallot flatbread ($4) I ordered – but with my fork, finger and any spare bit of pork I could find in my bowl.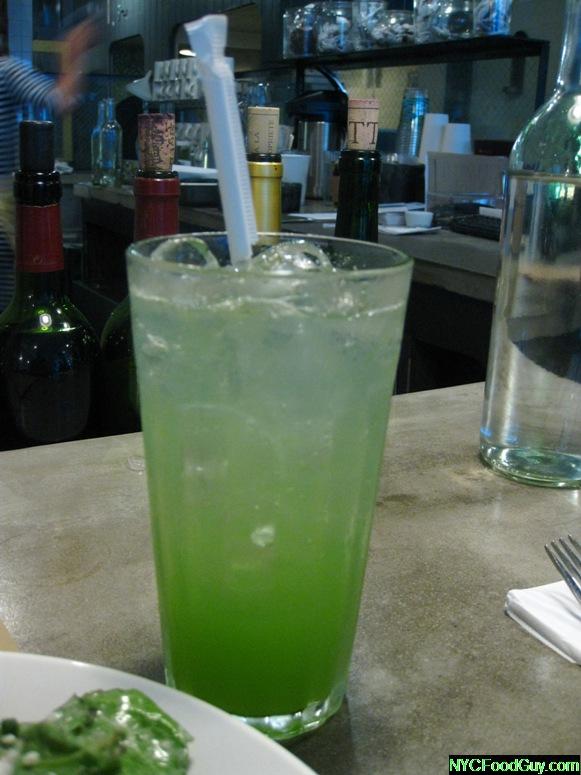 I washed it all down with a housemade selzter, an questionable concept for a man who loves few things more than a crisp bottle of plain Vintage.  The cucumber mint ($4) was subtly flavored despite its Slimer-esque hue, the mint mellowed by the cucumber.  Other seltzer options include plain ($1), lemon lime ($3), blueberry ($4), Fuji apple lemon ($4), and coffee seltzer ($3, plus $2 more for a vanilla float).  I was tempted to try another flavor but I'll save that for next time when I return for the famous chicken thigh, poached egg, chimichurri sandwich.
Northern Spy Food Co
Website
511 East 12th Street b/t Ave A & Ave B New York, NY 10009
Google Map
212-228-5100