April 23, 2010
Is there anything better than ice cream? Truly, is there any dessert that satisfies more consistently than ice cream? It's an iconic dessert; Two lovers sharing a milkshake is pure Americana.  A child with more ice cream on his or her face, shirt, hands, and pants than in their mouth is an image that defines childhood.  Any living, old school ice cream parlor should be cherished as historical landmarks.  That's why the "Flatcar" at 83-year old Hildebrandt's Ice Cream in Williston Park, Long Island is NYC Food Guy's favorite way to enjoy what is arguably America's purest dessert.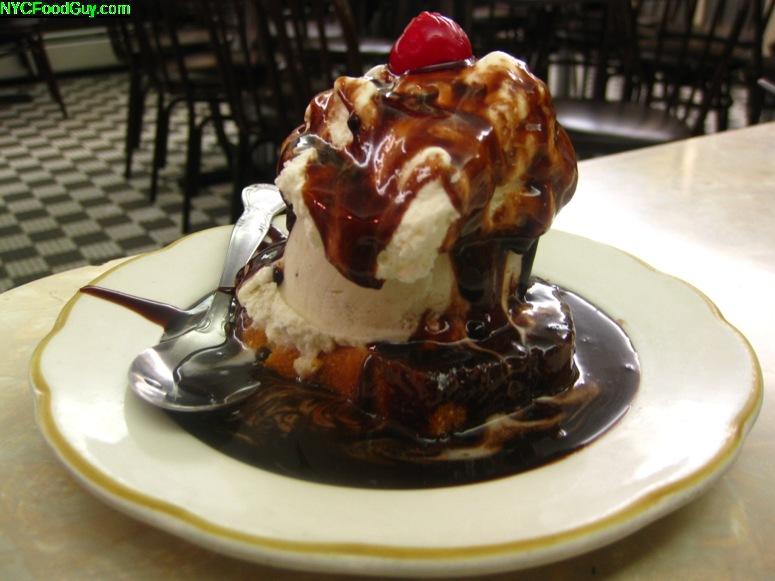 A "Flatcar" is a simple concept: A scoop of one of Hildebrandt's 13 home made ice cream flavors (banana, butter pecan, cappuccino chip, chocolate, chocolate chip, coffee, cookies and cream, maple walnut, mint chip, peach, strawberry, vanilla, vanilla fudge) is placed on a slice of Entenmann's All Butter Loaf (pound cake) and topped with whipped cream, a river of hot fudge and a bright red Maraschino cherry.  I always get banana ice cream.  And then I watch it disappear, generally in under five minutes.
If you're planning on eating at Hildebrandt's, order one of the tastiest classic grilled cheese and bacon sandwiches, an order of their circular, thin potato chip style French fries (demand well done) and an egg cream to wash it down.  Then prepare for the Flatcar.  Thank me later.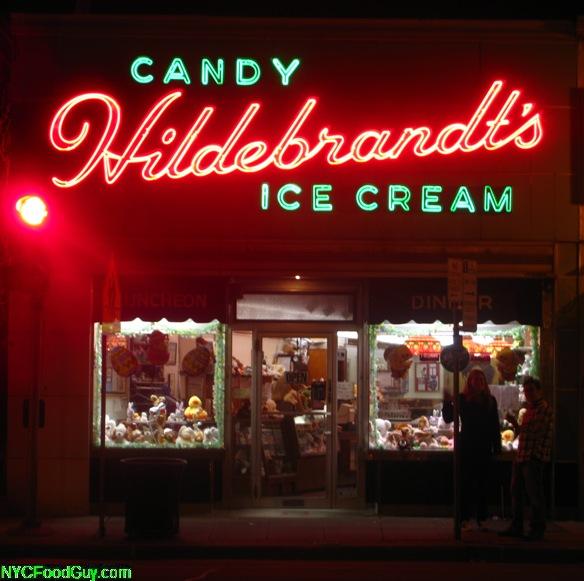 Hildebrandt's Ice Cream
84 Hillside Avenue (
Google Map
) Williston Park, NY 11596 516-741-0608 Closed Monday Tues-Thurs. 11AM-8:30PM Fri-Sat. 11AM-11PM Sun. 10AM-4PM
Website