April 12, 2010
If there's one thing in the food world that I feel secure assessing, it's burgers.  And when a James Beard Rising Star Chef of the Year Award winner begins offering just 30 burgers per night, starting at midnight, I can't help but get a little excited.  Well the bigger they are, the harder they fall and my expectations dropped like Tiger Woods' Q rating upon first bite of this burger.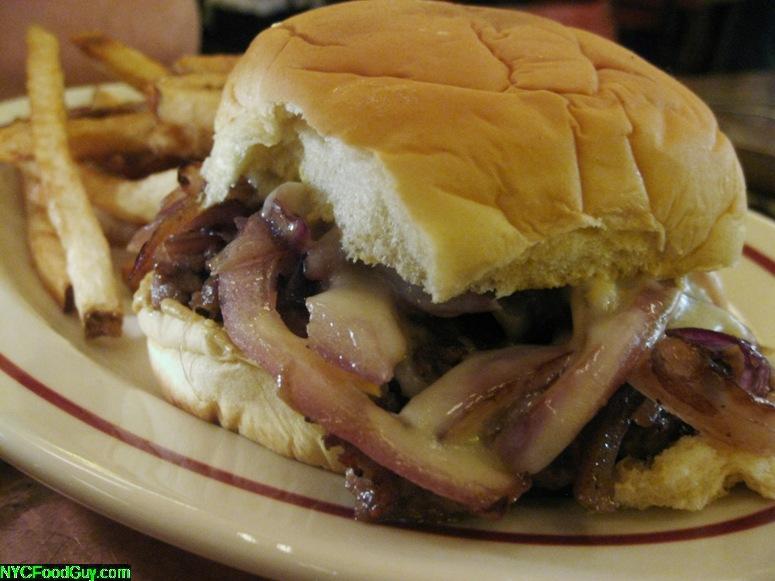 It's apparent that Nate Appleman is going for simplicity with his griddled burger (which can't be cooked to order) topped with horseradish cheese and chopped sauteed red onion all inside a squishy white bun.  This works for the fries, which are great.  But unlike the burgers at Burger Joint or Shake Shack, simplicity does not yield genius.
The mildly spicy horseradish cheese and the hastily chopped, sloppily portioned red onion dominate the flavor reducing the presence of the crisp yet juicy burger patty.  If this is the plan, perhaps adding some of the smokey bacon which shined on the Salsiccia breakfast pizza could elevate this burger.  Some may say it's too soon to "review" this newly introduced burger but when a celebrated chef creates a simple burger, how much leeway should we allow?
Pulino's Bar & Pizzeria 282 Bowery at Houston St. New York, NY 10012