March 19, 2010
Hecho en Dumbo is a two-week old Mexican restaurant nestled on Bowery between Great Jones Street & 4th Street. Their specialty is "antojitos" which loosely translate to "little cravings." And despite the entree-sized house specials, everything else is little and shareable.  While it's too soon to pass official judgment on Hecho en Dumbo, it's the perfect time to let you know what NYC Food Guy loved on his lone trip.  Read on to find out…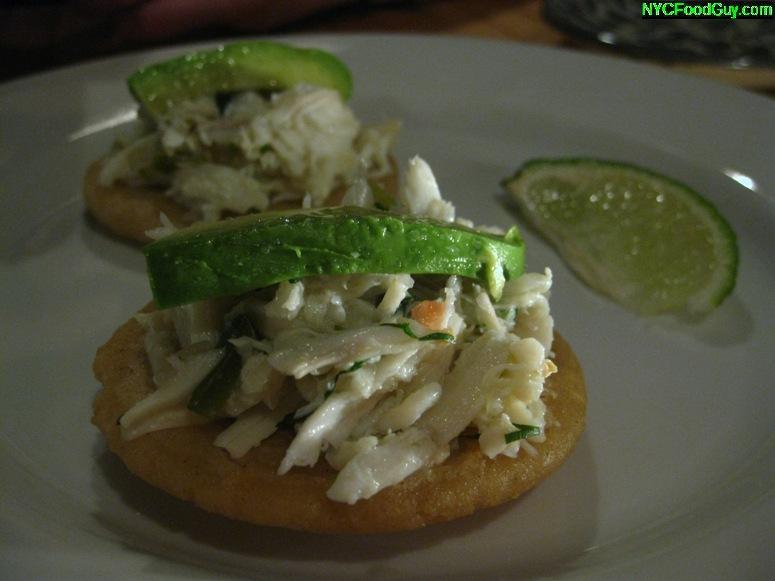 The "Dumbo" in Hecho en Dumbo, refers to the restaurant's former location in Brooklyn's Dumbo General Store.  Chef Danny Mena and his crew would take over the General Store's kitchen in the late afternoon and transform the shop into a Mexican fiesta reminiscent of Mena's hometown Mexico City.  Not having a space to call their own took its toll and fortunately for Manhattanites, the crew found a home on our new restaurant row, The Bowery.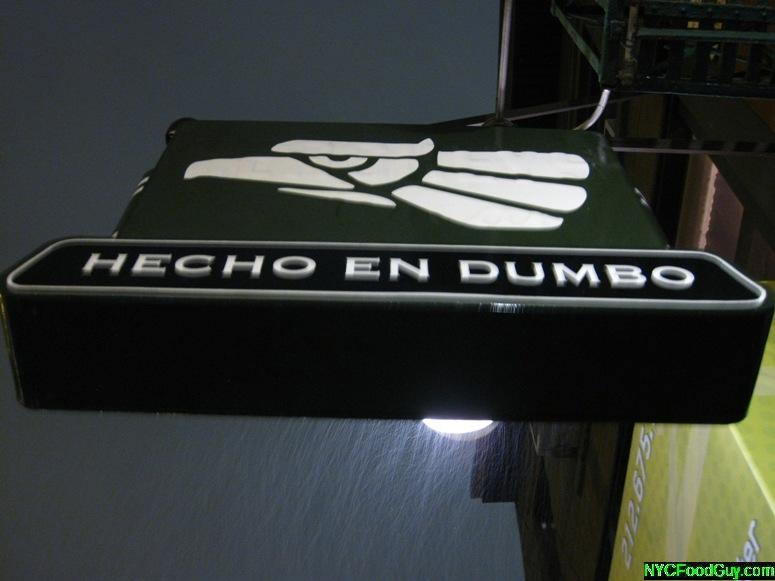 The no reservation, sit-down restaurant is dimly lit and minimally designed, with a dark front bar, wooden tables and brick walls.  The rear of the restaurant sports a bar right in the kitchen allowing diners to watch Mena and his crew skill up what they're calling "a rare selection of authentic Mexican antojitos and contemporary Mexico City cuisine."  Whatever they call it, NYC Food Guy happily welcomes it to the hood.
Agua de Orchata ($2.95)
I never thought I'd enjoy a rice-milk based, cinnamon flavored drink with my Mexican food, but I can thank the Red Hook Ball Fields for introducing me to the perfect complement to spicy street food.  Hecho en Dumbo's version (front right) is one of the best I've tried, offering a quiet sweetness and a subtle balance between creamy and light that satisfied in a way most other Horchatas can only dream of.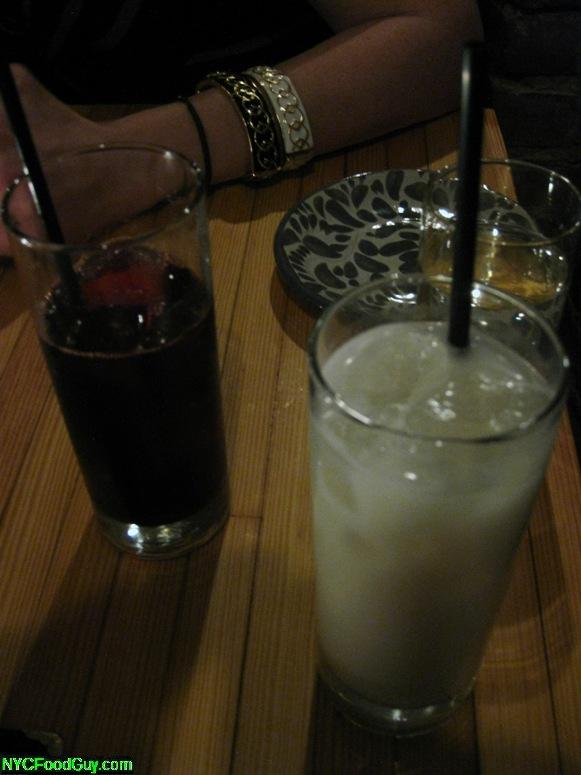 Picaditas de Jaiba ($7)
A duo of stone ground yellow corn masa medallions topped with shredded Dungeness crabmeat, ripe avocado and a drizzle of jalapeno oil
These two simply adorned treats (photo at top of review) arrived first and provided a bright start to the meal, offering fresh, delicate crab meat topped with a sliver of avocado glistening with just-spicy-enough jalapeno oil.  The crispy edges of the warm, yellow corn cakes provided a nice textural contrast to the tender crab meat while the soft, sweet center complemented it nicely.  A squeeze of the accompanying lime further enhanced.
Tacos (3 for $8-$9.50)
The best thing about Hecho en Dumbo is that they make it easy for indecisive eaters to get a taste of everything.  You can mix and match any of the four taco options on one plate.  And since the kitchen sold out of the Tacos de Costilla (all natural grilled beef short rib, $9.50), my decision was even easier.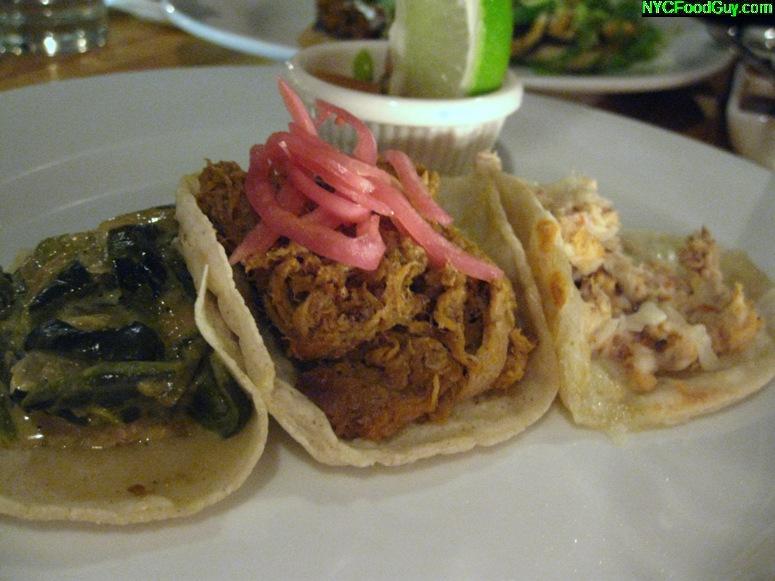 Tacos de Cochinita Pibil ($8)
Berkshire pork steamed in banana leaf with Yucatan spices and pickled red onion (above center)

Like Pampano Taqueria, Hecho en Dumbo's pulled pork tacos offer a nice acidity.  Unfortunately, the mushy pulled meat lacks any textural contrast against the soft tortilla.  And like Mercadito Cantina's delicious pickled red onions atop their pescado taco, Hencho's onions offer a subtle tang.
Tacos de Rajas Con Queso ($8)
Roasted Chile Poblano pepper with sauteed onion and melted queso Chihuahua (above left)

I was surprised how much I enjoyed this vegetarian taco.  But what can be bad if it has melted queso Chihuahua on top?  The peppers and onions were crisp and fresh and offered a little spice.
Tacos de Gobernador ($9.50)

House-smoked Atlantic swordfish with a tomato and onion fricassee gratineed with Oaxacan cheese and served on flour tortillas (above right)

My eating partner in crime Adeena had the line of the night upon tasting this taco, "Is this from Russ and Daughters around the corner?"  The intensely-smokey Atlantic swordfish tastes pretty close to a helping of whitefish salad from the nearby appetizing store.  Hecho's mushy swordfish suffered texturally from the soft flour tortilla.
Sopes ($8)
Sopes are awesome.  They're essentially crispy-edged fried corncakes and they're typically topped with refried beans, iceberg lettuce, tomato, quesa fresca, crema, and some sort of meat.  Hencho en Dumbo's version uses a black bean puree, subs in romaine lettuce, skips out on the tomato, and opts for crumbly, dry cotija cheese. Like the tacos, a sampler of the three sopes on the menu seemed like the wisest option.  My only issue is the romaine lettuce.  There was just too much of it on each sope, diluting from the overall flavor.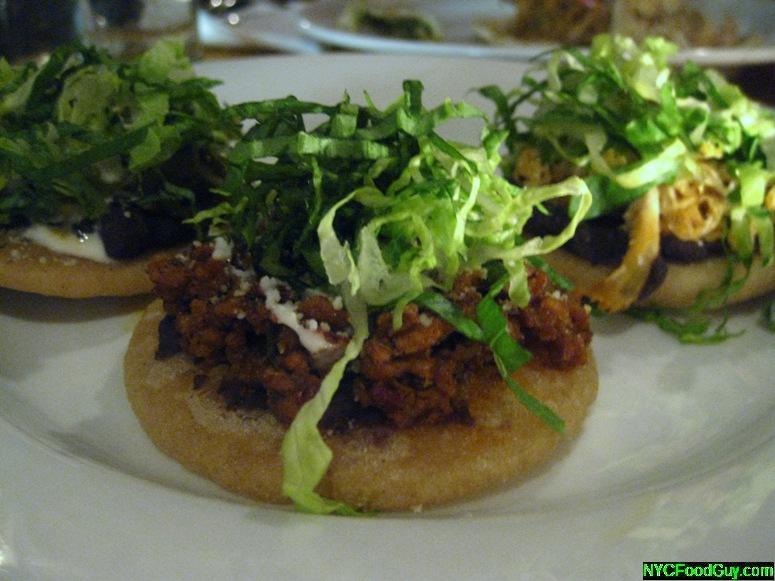 Sopes de Chorizo
House made, organic, spicy Mexican sausage (above center)

The most flavorful of the three sopes (and my usual meat choice when ordering sopes at the El Idolo Truck), the crisp-edged, slightly spicy chorizo balanced nicely against the sharp cheese.
Sopes de Pollo

Slow cooked, local, free-range chicken in a chili cream sauce (above right)

Like the taco de conchinita pibil and the taco de gobernador, this sope suffered from a lack of texture due to the pulled chicken meat and the soft center of the sope. Overall this sope was slightly bland but it was best enhanced by the chipotle salsa.
Sopes de Nopal
Blanched Mexican cactus in a Chile pulla cream sauce (above left)

My first taste of catcus was pleasing; crisp and fresh but a little underflavored.  A dash of salt enhanced this bland sope.
Why I'm Looking Forward to My Next Visit
Queso Fundido "a 'fusion' of melted Oaxaca Cheese and Queso Asadero served with warm flour tortillas and fresh house salsas," essentially cheese dip.
Burritas, or mini burritos, specifically the Burritas de Res wine-braised skirt steak stewed in fresh squeezed lime juice with caramelized onion
Hecho en Dumbo
354 Bowery between Great Jones Street & 4th Street New York, NY 10003 212-937-4245 Brunch 10:30AM-4PM Dinner 5:30PM-12AM Bar open for drinks after 12AM Open 7 days/week