March 11, 2010
One of the best barometer's of a restaurant's success is whether or not you want to return after your first meal.  KyoChon, one day away from its grand opening, did not pass this test.  The Korean fried chicken chain, which opened its first Manhattan location Tuesday, is still in soft opening, but after waiting an extra year to open–and then pushing back last Friday's launch–you would expect at least a semi-transcendent experience.  Not only did the famous double-fried chicken underwhelm, it wasn't even the best thing I tasted.  Read on for the full details…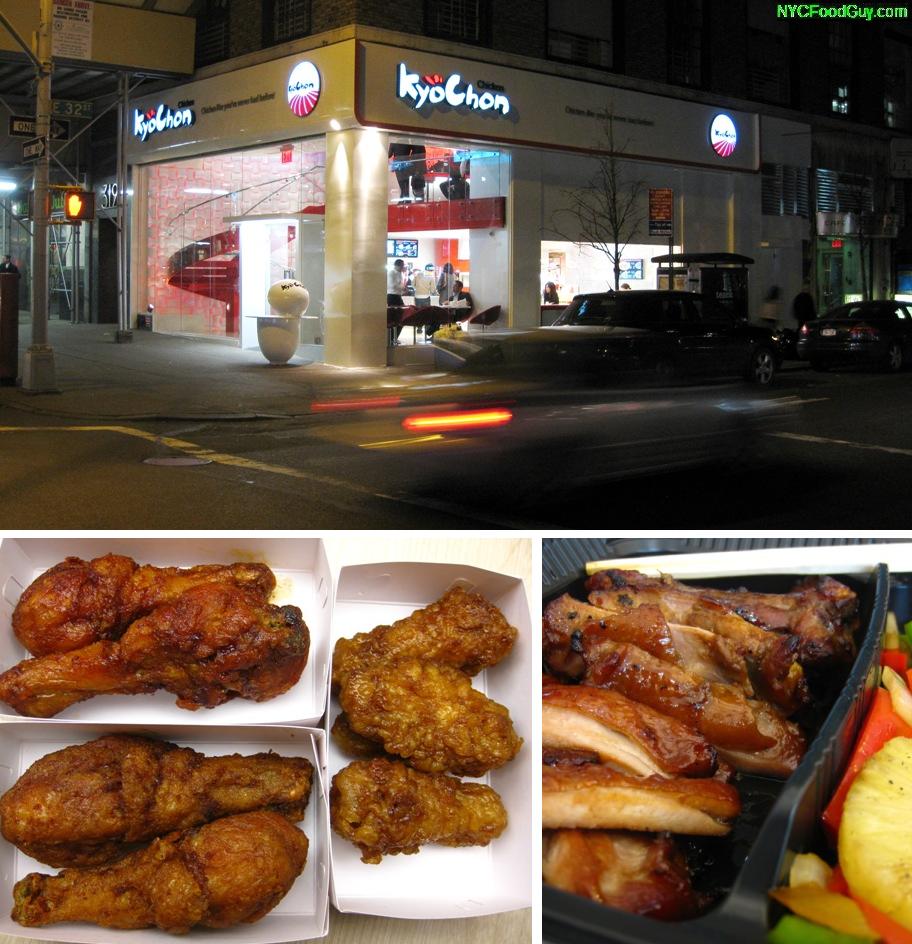 The Experience
What is this place? Call it a cultural gap if you want, I call it an identity crisis.  KyoChon is more like a dance club/bar that serves chicken rather than the take out/eat-in fried chicken operation it actually is.  Grating electro pop blares from the sound system throughout the overly modern space while your eyes cringe at the discombobulating visual experience washed in oppressively bright fluorescent lighting.  At least the lights are dimmer in the upstairs waitress-service restaurant area, where a larger menu is served along with wine and beer.  Slated to be open until 2AM nightly (last upstairs seating at 1:30AM, last order at 1:45am), I don't know if KyoChon will inspire late night munchies or the spins.  Despite this initial confusion, the staff, embarrassingly dressed in uniforms resembling a modern take on McDonald's in the 1980s, was very patient and helpful while I attempted to figure out what was going on.  Check out NY Mag's Grub Street post for the upstairs menu and a slideshow of the interior to see what I mean.  The photos below show the downstairs menu:
The Food
My initial plan was to get the "Sampler #4" featuring a taste of more or less everything on the KyoChon menu.  Unfortunately this is only served in the upstairs restaurant which last night desperately needed the cooling effect of air conditioning.  To compensate for this change of plan, I ordered chicken with all three of KyoChon's sauces: Hot & Sweet, Soy Garlic and Honey.  I went with an order of small drumsticks (2 for $5.99) for the Hot & Sweet and Soy Garlic and a small order of Honey wings ($5.99 for 4).
Ordinarily it will be a 10-15 minute wait for your chicken to arrive.  In an ideal world, your wings will be fresh out of their 2nd frying and arrive steaming and covered in hot grease.  I received my wings in under 5 minutes which means I caught the back of the batch and the lukewarm temperature of the wings validated this.  I chalked this up to pre-grand opening blues and forged ahead, starting with the Hot & Sweet drumsticks.
Whew! This is some pretty spicy stuff.  Very manageable for someone with a high tolerance for heat (think two steps below Mamoun's hot sauce), but incendiary for someone who doesn't like spicy.  The "sweet" made a brief appearance upon first taste but melted instantly in the face of the peppery, lingering heat.  Disappointingly one-note.
I reached for a Honey wing to cool things off and although they're quite sticky, they're not very sweet, bordering closely on flavorless.  They're also very small, a little disappointing considering the price tag.  The drumsticks were crispier than the wings, especially after sitting for a few minutes.
Certainly the signature Soy Garlic would redeem its brethren?  Not so much.  The "soy" aspect adds a definite sodium factor but the "garlic" was negligible.  Again, the wings uphold the ideal of crunchy outside, tender inside, but the lack of unique flavor prevents wings of this price point from ascending to any upper echelon.
Feeling unsatisfied, I asked one of the employees what her favorite dish at KyoChon is, hoping to find something positive to say about my experience.  Two women recommended the Grilled Chicken Steak (regular $11.99 for 2 pieces, large $14.99 for 4 pieces), a bone-in, skin-on chicken thigh, marinated then grilled and basted with a spicy, sweet soy barbecue sauce.  It's sliced and served with sauteed onion, red and green pepper, a slice of pineapple, and white rice.  The chicken is tender and mainly juicy, except for some crispier end pieces, and the best bites featured the fatty skin curling off the edges.  The sauce is fairly standard but like the "Hot & Sweet" wing sauce, sweetness gives way to heat but on a much milder level.  The "bone-in" aspect refers to two actual bone-in pieces which you eat like ribs.  The sweet, obviously canned pineapple did not enhance but the vegetables were fresh and crisp, a nice light foil to the fatty chicken skin.  It was tasty overall but like its fried predecessors, nothing worth traveling for and probably too healthy to motivate a late-night run.
There's a sauce station downstairs featuring four sauces: Jambalya, Garlic, Dijon Honey, and ketchup (ostensibly for the potato wedges).  I dipped each of my wings in the gloppy, seemingly mayo-based garlic sauce.  It did not enhance.
n.b. A massive oven with visible coiled bread warmers is dormant after 9PM.  It's purpose? Baking bread for KyoChon's sandwiches, the franchise's first attempt at Americanizing the menu.  The sandwiches will only be served at lunch and the bevy of sauce options ranging from Jambalya to Apple offer another opportunity for confusion.
Conclusion
Sadly, I think McDonald's, particularly in it's current "we're hip, we're healthy" incarnation, is the appropriate comparison because as Chris, the solo eater seated next to me said, "this is just fast food."  He was right, it underwhelmed the way a new fast food restaurant would: buzz and excitement surrounding the first branch's opening and then you're hit with high prices, high salt content and disappointing food.  That being said, this is still a novel experience for most people and if you can afford it, it's worth trying for the Hot & Sweet sauce alone because at least that will leave a lasting impression.
KyoChon
319 Fifth Ave. nr. 32nd St.

New York, NY 10016 (Google Map)

212-725-9292
Open 11AM-2AM Daily
Upstairs dining room: Last seating 1:30AM, last order 1:45AM