February 27, 2010
Meat and champagne on the sand, a Friday night only Miami Beach could pull off.  NYC Food Guy has the good fortune to find himself in the midst of the South Beach Wine & Food Festival and last night's BubbleQ was a carnivore's delight featuring endless Perrier-Jouet bubbly and meat galore from some serious chefs.  I tried around 18 of the featured 31 dishes and only four truly impressed, one of which is from a newly popular New York chef. Read on for the best bites…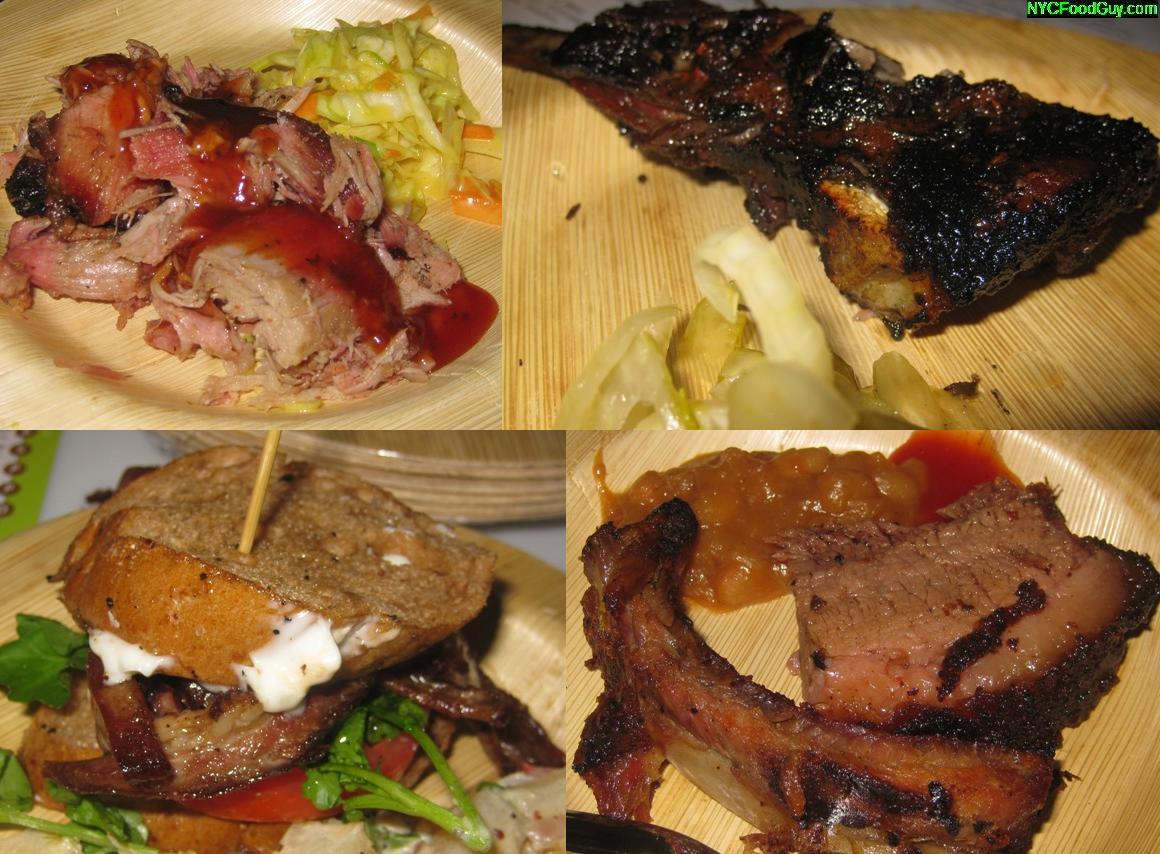 Pulled Pork – Chris Lilly, Big Bob Gibson's Bar-B-Q, Decatur, Alabama

This is the best pulled pork I've ever had, hands down.  I can say this confidently because I've actually eaten this Decatur, Alabama original twice before thanks to the Big Apple BBQ Block Party.  Lilly is the son-in-law of the owner of Big Bob Gibson's and he's the man who has helped make them famous worldwide by winning at least 8 championships at Memphis in May, one of the fiercest BBQ competitions in the United States.  Lilly smokes his pork butts for 16 hours before pulling them off the bone, dressing them in an apple-vinegar concoction and chopping and pulling them to shreds making it juicy and tender, leaving bits of chewy, smokey bark (pork skin, my favorite part).  It's dressed with Big Bob Gibson's sweet and slightly spicy BBQ sauce, making it the best bite of BBQ I've ever had.

Beef Brisket – Howie Kleinberg, Bulldog Barbecue, Miami, Florida

Most barbecue brisket I've eaten is served in long, thin strips with fat curling off in every direction.  It's rare to see brisket cut thick, like pork belly, fat intact between the tender meat and the crisp, sauce covered skin.  Howie Kleinberg's brisket is the exception and it was an ethereal experience, transporting me, for a moment, to a place where my mother's tender, beefy, and juicy brisket came out of an industrial smoker instead of a roast pan.  The former Top Chef Miami contestant who now owns his own joint, Bulldog Barbecue, in North Miami, also delivered burnt end baked beans which struck the perfect balance between spicy and sweet.  I would have enjoyed more brisket instead of the lone, dry rib Kleinberg offered, but I respect his ambition to offer three different dishes at an event where the voracious eaters would have been pleased with one.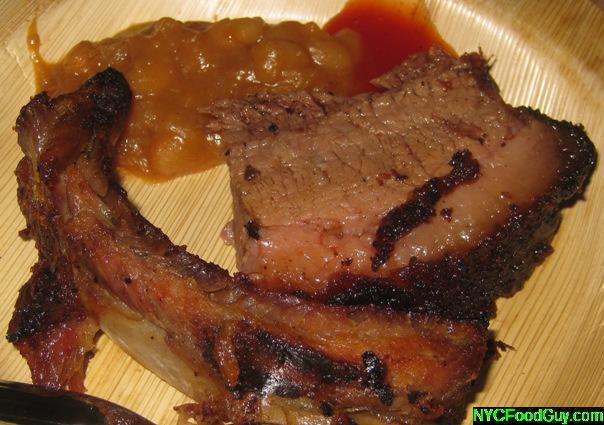 Lamb Belly BLT with Duke's Mayonnaise – Tim Love, Lonesome Dove Western Bistro, Ft. Worth, Texas
"The bacon craze has gone too far," writes Tim Love at The Daily Beast.  Well he's a man of his word and after tasting his lamb belly BLT (not pork belly, which appeared in at least 5 featured BubbleQ dishes), I'm a convert!  This is one seriously delicious sandwich.  Fatty, crisp strips of lamb belly sandwiched between Duke's mayonnaise, a juicy slice of tomato and some field greens.  The lamb's subtly sweet flavor and tender texture was a welcome break from the sinewy, salty bacon we've come to see on so many menus.  It combined with the creamy, slightly spicy Duke's mayonnaise to contrast and balance a layer of decadence against the bright, fresh vegetables.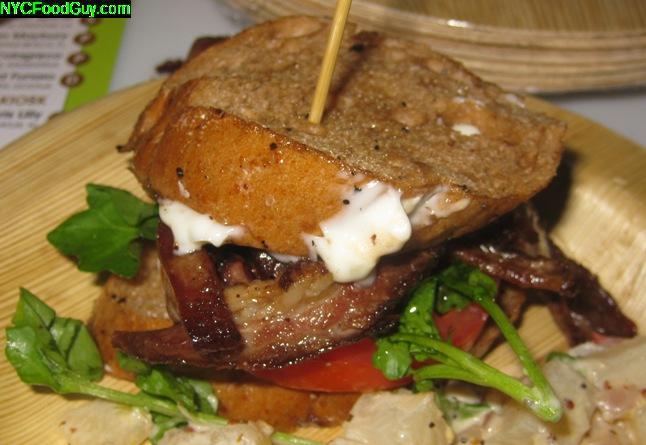 Lamb Rib with Calabrian Chiles and Pickled Fennel – Missy Robbins, A Voce, New York, NY
Missy Robbins' serving station was momentarily empty, save one plated lamb rib, as I pushed through the sea of guests scooping up all available food like they're preparing for the famine.  I hesitated to snag this solitary, seemingly outcast rib, thinking it must have been sitting there for a while for no one to notice it.  But the glisten of fat and char shimmering off the rib beckoned to me so I photographed it and dug in.  Wow.  If being wrong is always this delicious, I would make it a habit.  The sticky, smokey and flaky char melted away in the fire of the Calabrian Chiles, setting the backdrop for the star: tender, fatty and juicy fall-off-the-bone lamb meat.  I stopped in my tracks shoveling handfuls of delicately pickled, crisp fennel into my mouth to calm the Calabrian Chiles and then I immediately went back to the rib, gnawing on the knuckle, sucking off every bit of fat and meat until my entire right hand was covered in grease forcing me to give an awkward pound to someone I was being introduced to, someone intruding on my moment.  I'm now looking forward to trying Chef Robbins' Italian food at one of her two A Voce locations in Manhattan, one on the 3rd floor at Columbus Circle and another on Madison Ave and 26th Street.