February 15, 2010
It's me. Your sense of adventure.  The reason you moved to New York City.  I'm your craving for new experiences and I'm hungry! Starving!   No more excuses.  Just get off your ass and do it! NYC Food Guy is making it easy for you.  It's time to explore uncharted territory with your feet and your fork.  Go to Freda's at 109th Street and Columbus Avenue and eat Caribbean food. Spicy jerk chicken.  Tender, fall off the bone chicken stewed in a tangy brown sauce.  Yams which are more caramelized than candied (and may alone be worth the trip).  So read this review and quit wasting our time, feed me!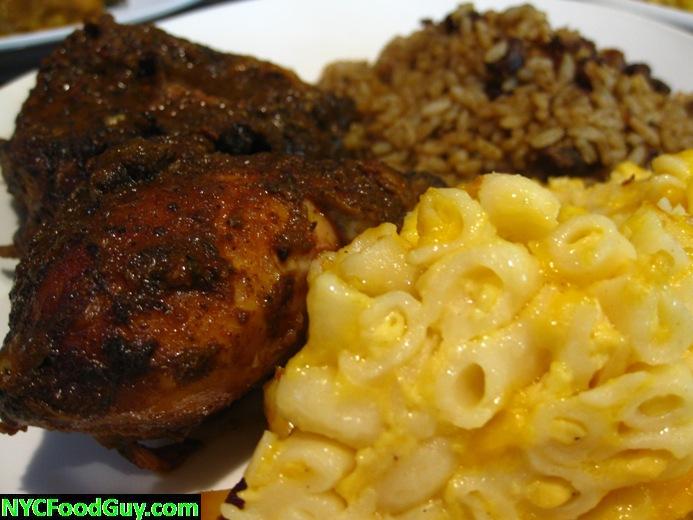 Thank you Dave Cook for leading me to Freda's by way of your site Eating In Translation.  Freda's Caribbean & Soul Cuisine is the type of restaurant every neighborhood needs: fairly priced with rib-sticking home cooking in an inviting setting. No entree is more than $12 and all include peas and rice plus choice of two sides.  It's a labor of love for owner Kai and his mother Ellie, both of whom call Freda's a second job, and who if asked, will put together a sampler meal of entrees and fresh vegetarian sides.  The passion is shared by Guyanese chef Elsie, who prepared my meal.  Elsie only works after 7pm on weekdays but is behind the stove all weekend.  I can't vouch for skills of Elsie's daytime fill-in so you may want to call ahead to see who's in the kitchen.
Start with the typically spicy jerk chicken ($7.99), a Caribbean staple.  The heat is manageable here, nowhere near "lip-numbing" as Kai promised, even with a dip in the concentrated, salty jerk gravy.  Watch out for little shards of bone as you pick the chicken apart.  The coconut-milk flavored rice and beans and the cheesy, casserole pan mac and cheese (which Kai intends to improve with a better cheese blend) both provide a little sweet to balance the jerk's heat.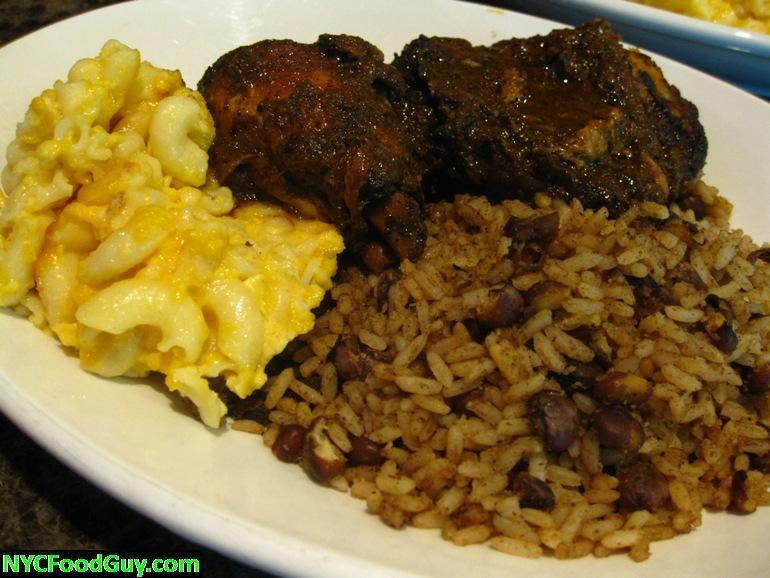 The milder brown stew chicken ($7.99) falls off the bone after simmering in its tangy, tomato-based sauce.  Make sure to request a side of brown stew gravy, a little dip of the chicken into this finger-licking sauce offers some welcome acidity.  Combine a gravy-covered bite of chicken with candied yams for one of the best bites of the meal.
Moist curry chicken ($7.99) provides flavor but not fire.  Chef Elsie and owner Kai recommended curry shrimp (which at $11.99 is the menu's 2nd most expensive item after $12.99 Red Snapper) for my next visit.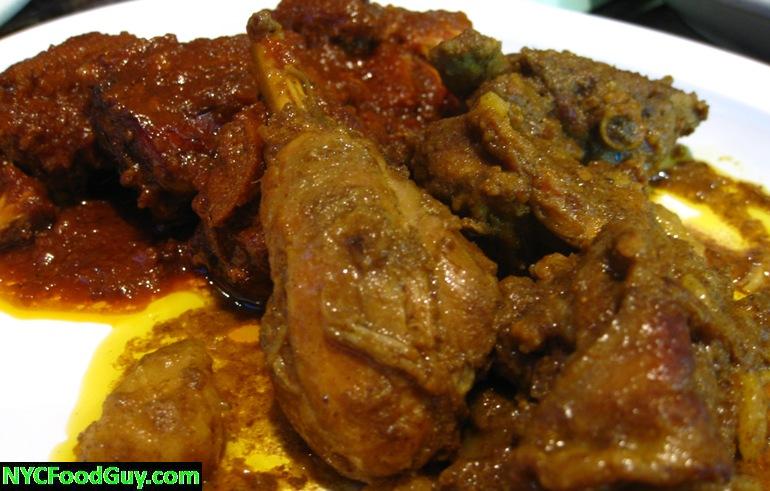 The all vegetarian sides ($2.50 each or $6.50 for a platter of 4) impressed.  Freda's version of the Trinidadian staple callalloo (below, left), featuring okra, spinach, coconut milk and garlic, is light, airy and sweet.  It paired well with the jerk and the brown stew chicken.  The earthiness of the clean-flavored, crisp collard greens (below, top) shined without the presence of meat.  Curry potatoes and chickpeas (below, right), like the curry chicken, provides moderate flavor without offering any heat.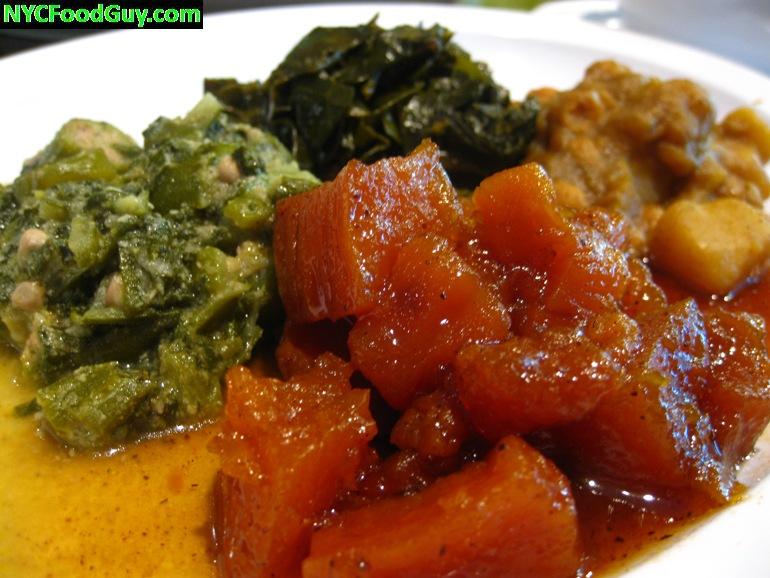 The true revelation are the candied yams (above, bottom) which are coated in a caramelized sauce of sugar, nutmeg and a little butter; the definition of "simply delicious."  The yams alone are reason to travel to Freda's. These are just as well-suited as a side to spicy, sauce-coated chicken as they are drizzled atop a scoop of vanilla ice cream or buried in a pie crust.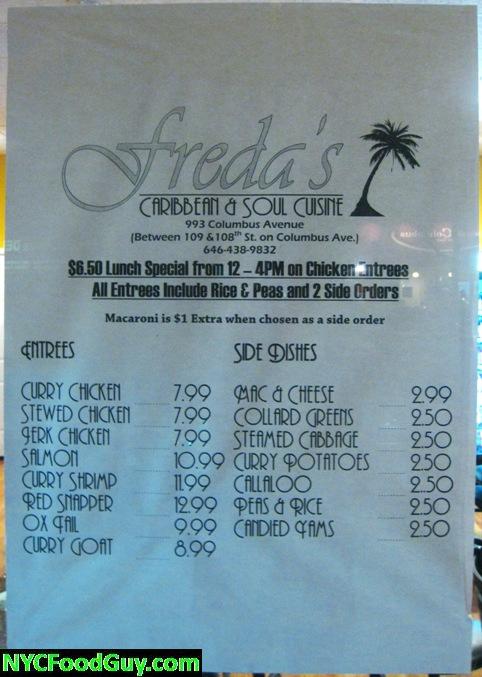 The restaurant's strength is Caribbean food so it's easy to forget the "soul cuisine" aspect of the restaurant's name.  That may be for the best since the soul food is a work in progress, particularly the fried chicken which is reportedly being honed.  Dessert was also easily overlooked, featuring slices of cake from Harlem's Make My Cake and small sweet potato pies from a company in New Jersey.  Get your sweet fix from the candied yams.
Freda's Caribbean & Soul Cuisine
993 Columbus Avenue at 109th Street New York, NY 10025 646-438-9832
[email protected]
11am-10pm Daily $10 minimum for delivery