January 15, 2010
The Executive Chef, Nick Anderer, he knows how to do it.  Dana, my waiter, he knows how to do it too.  Even the cute barista (yes, Maialino has actual baristas) knows how to do it, as the feathery heart she shaped into my cappuccino foam proves.  "It" is a microcosm of the Danny Meyer brand; great service and great food.  And after my first formal Meyer restaurant experience, NYC Food Guy can confirm that Meyer has done "it" again, improving on his soon to be globe-spanning success with his first Italian venture, Maialino.  My three dining companions and I put Anderer and his kitchen to the test, ordering a prodigious feast you have to see to believe…
It began with the wine "experience" our waiter Dana simplified for us neophyte winos, offering us tastes of his three recommendations.  We opted for a $40 bottle of Dipoli Merlot Fihl 2004 which was pleasingly balanced and vibrant — a mind-reading Merlot — providing acidity only when a dish needed it.
Few things are a more welcome precursor to a meal than a fresh, tempting bread basket.  Sourdough with beautiful hole structure, crunchy-crusted sesame seeded Italian bread, the famous, rosemary tinged pizza bianca, and thin, house-made cheddar bread sticks all from Sullivan Street Bakery, Granddaisy Bakery and Maialino's kitchen are a recipe for success and dangerous for stomach space.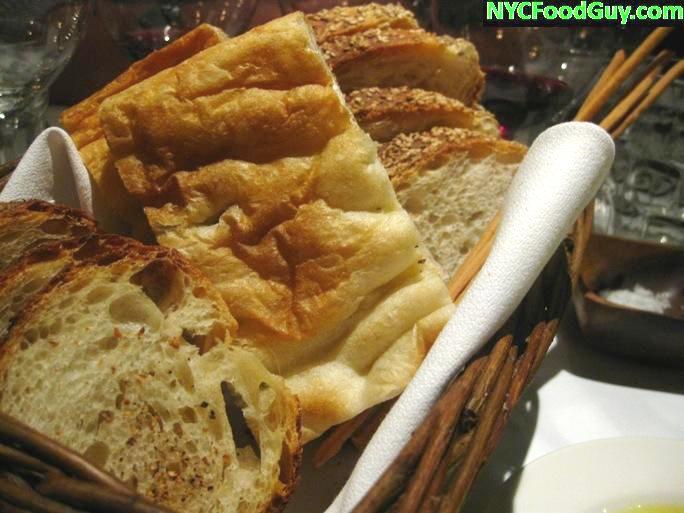 You'll need all the room you can supply to adequately conquer Maialino's three part menu:  Salumi and formaggi, small but shareable antipasti and primi, and carnivorous secondi.  Playing it smart among the first two sections is the key to getting the most out of your entrees.  Start with a Grande Selezione de Salumi ($32), a large plate covered with freshly sliced ribbons of well-sourced Italian meats.  Gently flavored Prosciutto di Parma and the porkier Prosciutto di San Daniele circle the large plate's outer rim, surrounding medium sized slices of fragrant, fennel laced Finocchiona, silky, pistachio studded Mortadella, tiny, peppery rounds of Cacciatorini, and medium-sized pieces of deceptively fiery Soppressata Piccante.  The  memorable final two sausage-like meats are locally sourced from Long Island City's Alps Provisions Company.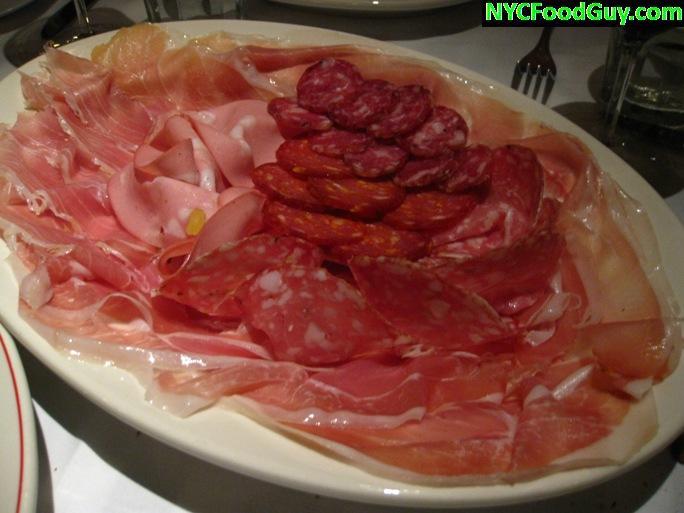 Finding out that the kitchen was out of Trippa alla Trasteverina (tripe with pecorino & mint, $13) helped narrow our choices from the Antipasti and Primi sections.  Animelle d'Abacchio (lamb sweetbreads, radicchio & walnuts, $13) were delicately fried and slightly sweet, complemented nicely by the candied walnuts and balanced by the brightly-dressed radicchio salad, but the small size of each fried morsel prevented the desired richness.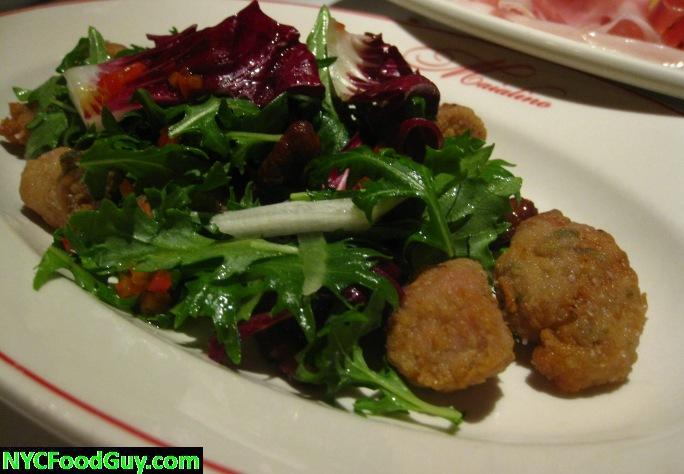 The Primi section literally led us to our first choice, the Bucatini all'Amatriciana (spicy tomato & guanciale, $16).  The first four pastas go from basic to complex, building off the simple Cacio e Pepe ($14) base to add guanciale to the Paccheri all Gricia ($15) then egg to the Spaghetti all Carbonara ($16) before we arrive, salivating, at the Bucatini. My desire for a taste of bacon-like pork jowl was sated by the shards of crispy pig, better than any bacon I've had, mingling with the thick strands of hollow, al dente bucatini and sharp cheese-laced tomato sauce.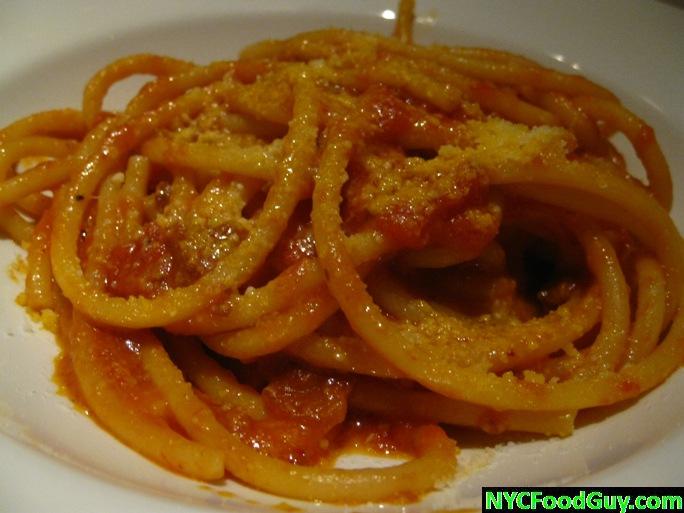 As much as I wanted the Malfatti di Maialino (suckling pig ragu and arugula, $17), our suckling pig quota would soon be more than satisfied.  Our replacement? The handwritten special Raviolo Al Uovo ($13).  A single ricotta and spinach-filled ravioli housing a single egg yolk, waiting in its just chewy enough ravioli skin to be released into a pool of shockingly tart brown butter laced with lemon.  A single creamy, decadent bite was enough for each of us.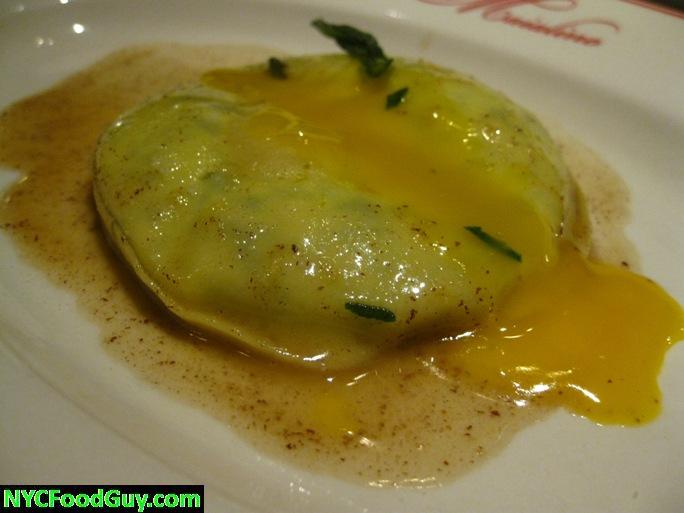 We pushed for one more primi and it turned out to be the most cohesive plate from that section. Delicate, flaky pieces of bread crumb-topped salt cod allowed the bright basil and chile-flake fired tomato sauce a chance to flare while thin strands of pasta rounded out the Bavette in Guazetto ($15).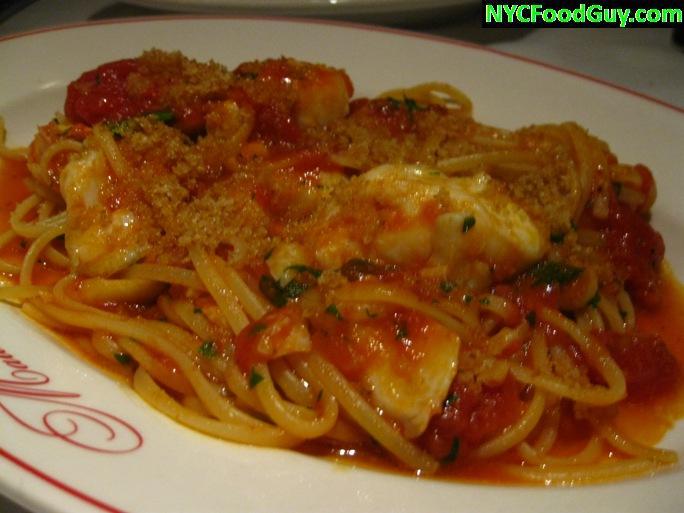 The unspoken beauty of a great restaurant experience is a kitchen and waitstaff's ability to manage an eater's time.  Our waiter Dana expertly portioned our appetites for the feast only he knew we'd encounter after ordering a triumvirate of entrees.  The namesake special Maialino Al Forno ($72, serves 2-3 and in our case 4), a suckling pork shoulder roasted 4 to 5 hours and covered in crispy, glistening skin arrived first, in its un-cut entirety, for our admiration more than inspection; the scent of fragrant rosemary wafted into my nostrils and my mouth-watered at the sight of the salt-covered pork butt.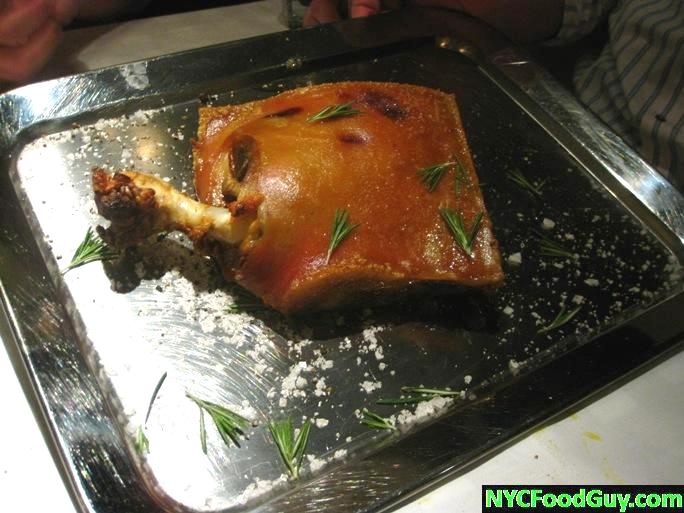 Moments later the sinfully decadent roast pork appeared.  Sliced into four massive strips, copious amounts of succulent suckling pig hide deceptively beneath sinful sheets of crisp pork skin so rich with melt-in-your-mouth fat they must be illegal in certain States.  A bed of potatoes rests in the plate juices and are integral, particularly the crispier pieces, at balancing the more succulent bites or pork.  The best bites featured the last few pieces of tender pork which had fully soaked in the salty, rosemary flavored juices.  Focus on the crackling first.  It's delicate and brittle when it first arrives, deceptively masking thick ribbons of fat just below its sparkling surface.  As the crackling cools it starts solidifying and becomes tougher to chew.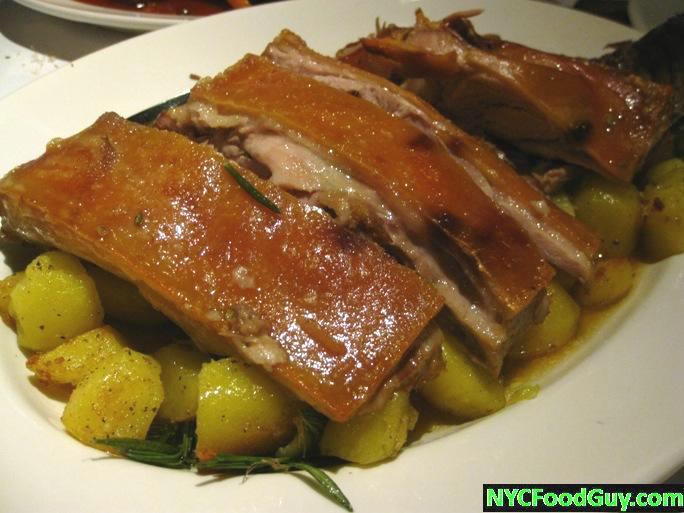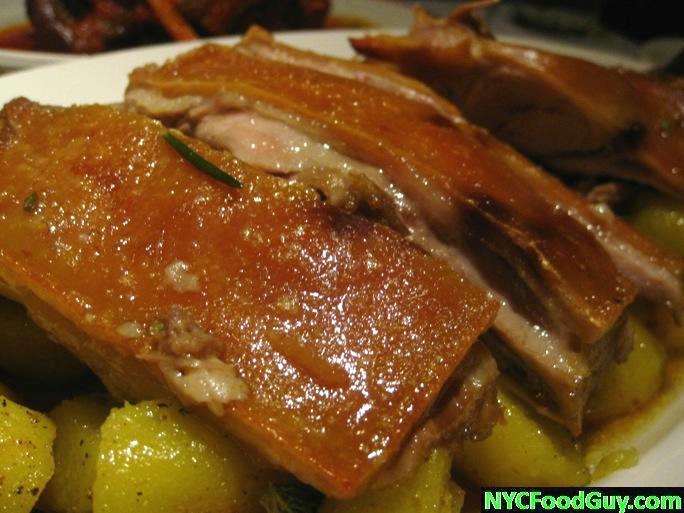 I'd never tried oxtail before but after being convinced of its status as short ribs more extravagant, bonier and fattier cousin, I felt more comfortable ordering the Coda all Vaccinara (oxtails, carrots & celery, $23).  Juicy and tender, the oxtails (tail of cattle) were slow cooked in the tomato sauce they were plated with, adding an addictive plate-licking heartiness to the sauce.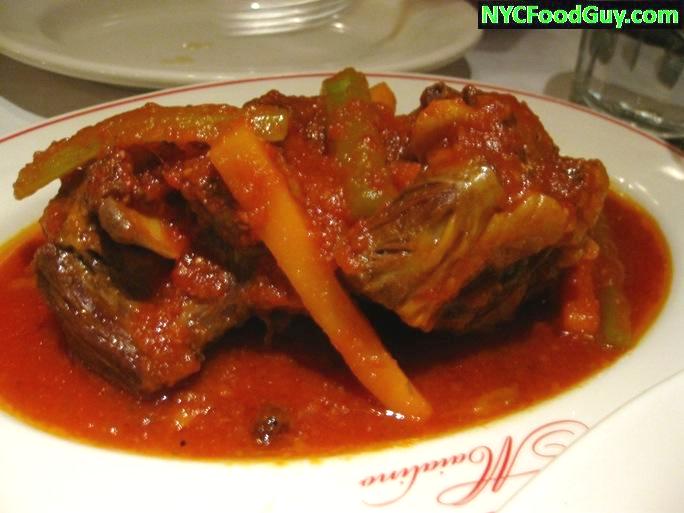 In an attempt to handicap my initial oxtail skepticism, I pushed for the Lombatina di Vitello (veal T-bone, sweet garlic and turnips, $32) and upon first taste of the tender, perfectly pink baby beef, my coercion was justified.  The light amount of seasoning on the just-charred-enough surface and amidst the buttery garlic and turnips allowed the quality of the meat to shine.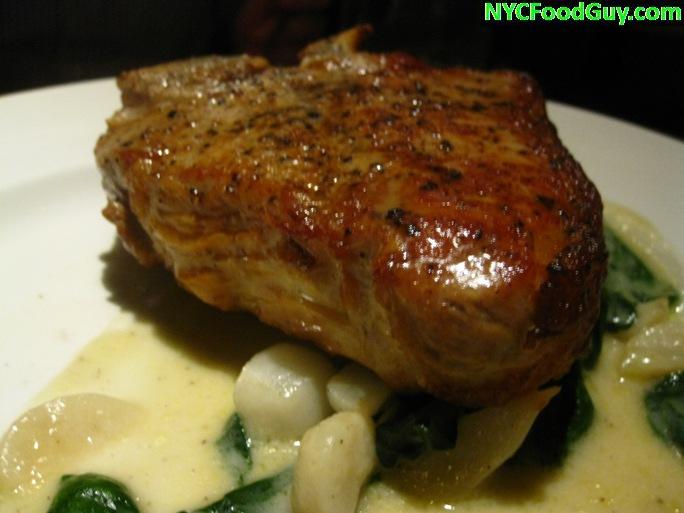 For me the tartness of a side special Cavolini e Pecorino (roasted Brussels sprouts, lemon, pecorino, $9) prevented the greens from providing the clean, healthful break I hoped they would.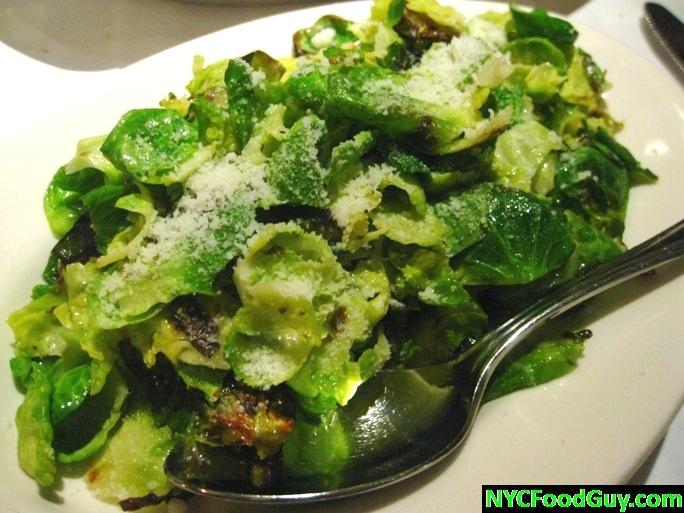 It was at this point that my status as a consistent over-eater helped the entire table reach a new plateau of fullness.  A cappuccino ($4.25), complements of San Francisco-based Four Barrel Coffee, was absolutely in order.  We learned from Dana that the bold flavor we could expect from our coffee is a credit to the fact that the beans (exclusive in New York to Maialino and for sale at the restaurant) are roasted a mere three days before brewing and expertly utilized by skillful baristas.  The espresso in my cappuccino was crisp, dark and boldly flavored. I'm curious to try the regular coffee.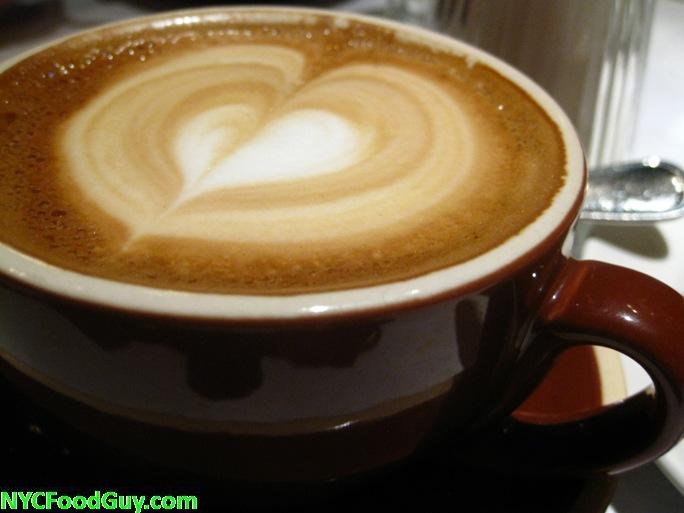 While the coffee's flavor impressed on its own, I didn't want it mingling with the pure, light creaminess of the Sformato di Ricotta. Forget what you know about panna cotta.  According to Chef Anderer, Maialino's take features "the tiniest bit of gelatin" binding the remaining ingredients to create what is the best vanilla pudding you'll ever taste.  The presence of honey coated caramelized figs seemed superfluous at first, offering a tart and chewy counter to the delicate custard.  But without the figs, we would have missed out on the presence of heavenly caramelized, burnt sugar mingling with the final spoonfuls of Sformato di Ricotta.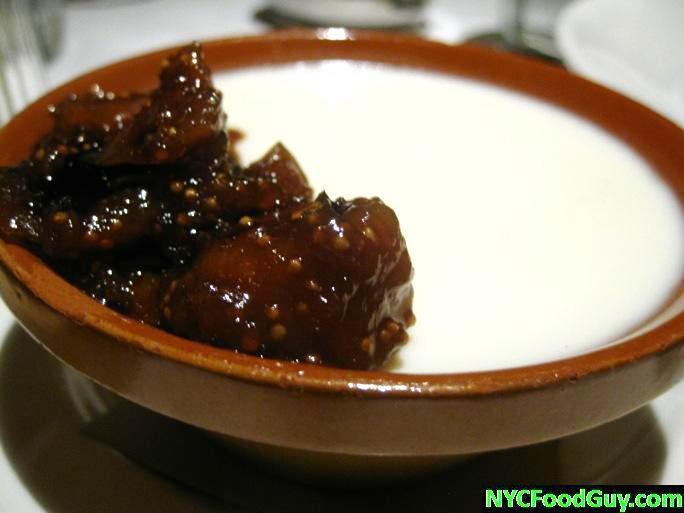 The house-made chocolate gelato Tartufo is rolled around brandied cherries and covered in chocolate shavings.  The clean quality of the gelato and the balance of light and creamy in the surrounding whipped cream helped this dish shine, particularly during the final, melted scoops when chocolate, cherry and cream mingled together.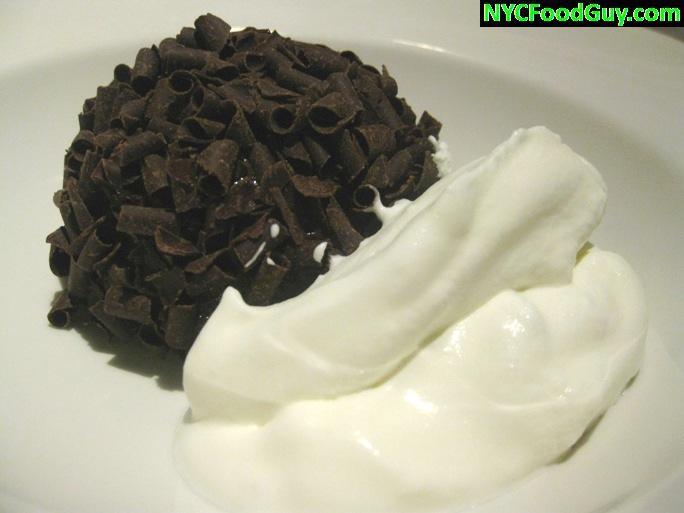 Nothing aids digestion better than a nice walk and I swooned as I rose from my chair for the first time in four hours to take a lap around the restaurant, bustling at 10:30PM on a Thursday.  I walked from the dining room through the cucina, enveloped by the salumi and antipasti counter on one side and the bread, dessert and coffee station on the other.  While inquiring further about the Four Barrels coffee, I noticed a dish filled with Panella alla Gricia (Guanciale Pecorino Roll, $1.50) the first item in the Cichetti section of the bar menu.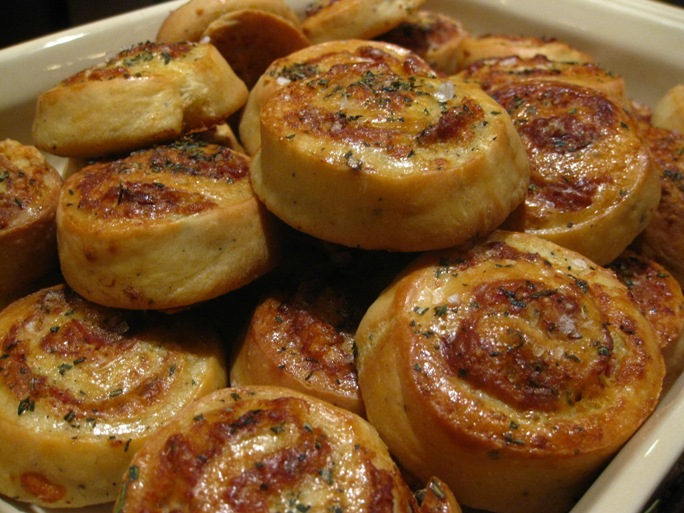 If I had an ounce of space left in my stomach, I may have considered indulging but now I have a reason to return for a drink at the loud, crowded bar area populated with stylish 30-somethings and hip tourists staying at the attached Gramercy Park Hotel.  Not exactly my scene but if there's a chance for panella alla gricia and sformato di ricotta, well you can set me up on the 7 train and I'd be happy as a hog — or should I say — a suckling pig.

Maialino
2 Lexington Ave., at 21st St. New York, 10010  212-777-2410
Official Website:
http://www.maialinonyc.com/
Hours:
Breakfast, Mon. – Fri. 7 -10 a.m. Lunch, Mon. – Fri. noon-2 p.m. Dinner, Sun. – Thurs. 5:30-10:30 p.m., Fri. & Sat. to 11 p.m.
Bar Maialino:
Open all day Mon. – Fri. 7 a.m. – 12 a.m., Sat. & Sun. 10 a.m. – 12 a.m.