January 4, 2010
If you like doughnuts at all, then you haven't lived until you've made the pilgrimage to Doughnut Plant, the holy land of sugar-coated fried dough in Manhattan's Lower East Side.  And like any cultish New York City institution, the lines can be long and the hours can be short but if you manage to secure the goods, all is forgiven thanks to the melt-in-your-mouth caress of doughnut bliss.  Read on for a taste of each doughnut below plus a surprise treat …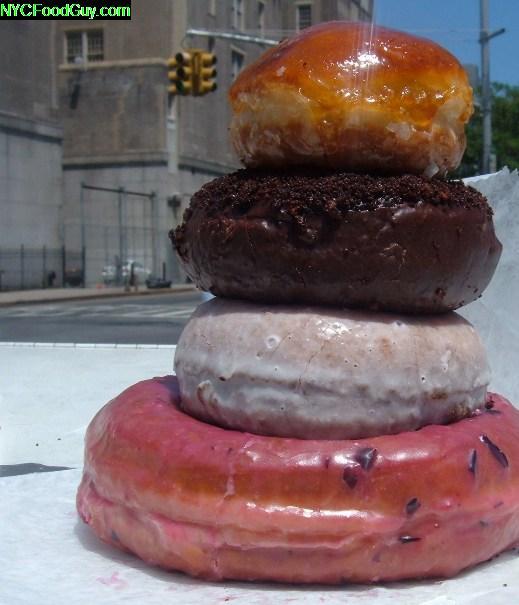 Blueberry Glazed $2.25
Doughnut plant breaks its desserts into two categories: Yeast doughnuts and cake doughnuts.  The yeast doughnuts are significantly larger and lighter than the smaller, dense cake doughnuts.  The Blueberry glazed is not as delicious as it is eye-catching but it certainly embodies an authentic, albeit sweet, blueberry flavor.  On other occasions I've tried the Peanut Butter Glazed Jelly-filled, the Banana Nut, and the Coconut Glazed Coconut Cream-filled. All are worth trying but the novelty and deliciousness of a coconut cream filled doughnut makes it my favorite yeast doughnut.

Tres Leches $2.00
I'll take the Doughnut Plant version of this traditional Latin American dessert over the original any day.  The sugary glaze surrounds a ring of vanilla cake and creamy vanilla custard.  As you bite into the doughnut, the glaze melts into the porous cake as the custard overtakes your taste buds.  If your motto is "the sweeter, the better," than this doughnut is for you.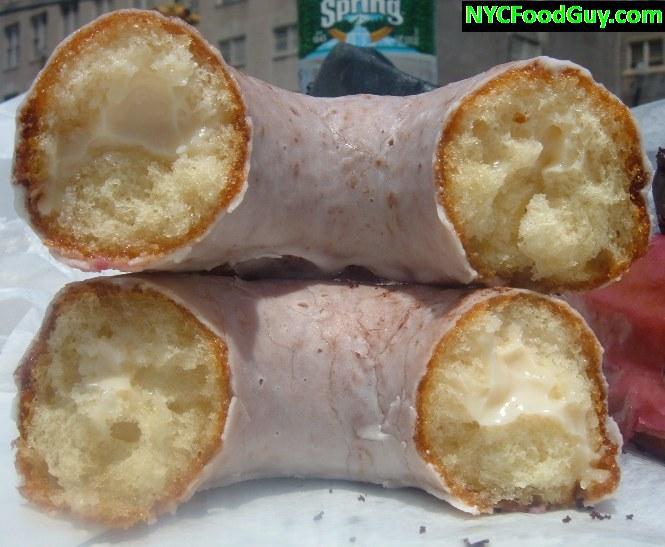 Blackout $2.25
A chocolate lover's delight, the Blackout cake doughnut features a chocolate fudge infused chocolate frosted chocolate cake topped with fudgey chocolate crumbs.  Wrap your mind around that.  Fortunately, the decadent inner fudge ring finds a balance with the just-sweet-enough frosting and crumbs satisfying chocolate cravings without overwhelming.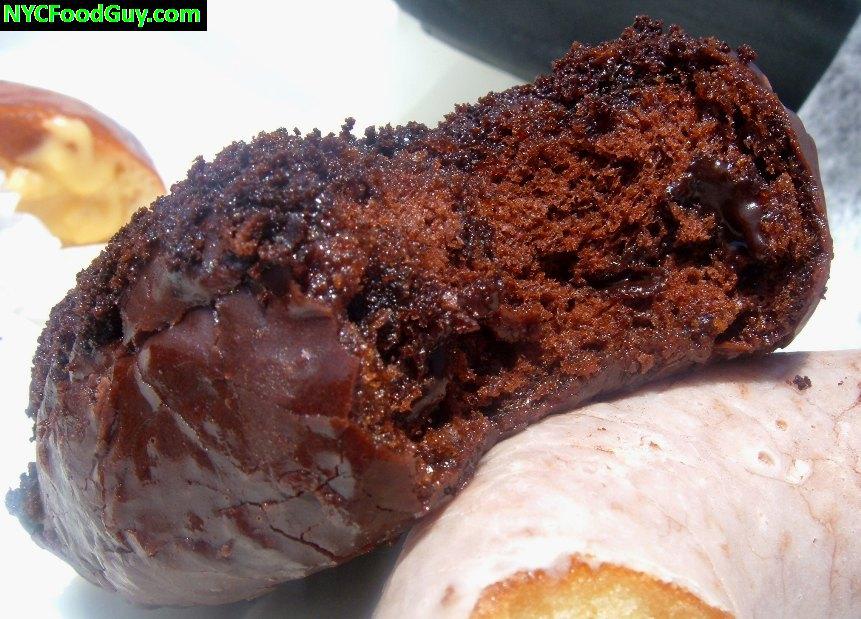 Creme Brulee $3.00
The sparkling (literally) crown jewel of the doughnut tower in my lead photo, the Creme Brulee doughnut is the perfect example of the innovative, gourmet approach Doughnut Plant takes with its desserts.  True to form, a crunchy, torched sugar surface crowns a light, mini yeast doughnut housing a well of sweet, thick custard.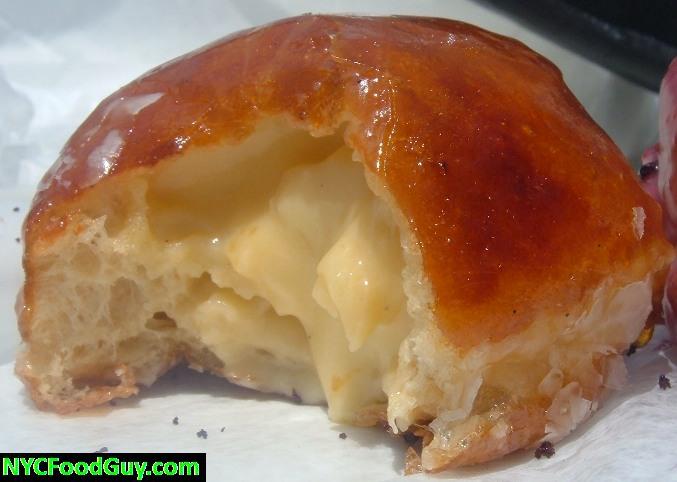 Carrot Cake $2.50
Here's a glimpse into the world of NYC Food Guy just to give you a taste of what it's like to be a guerilla food blogger.  I'm photographing a doughnut tower atop a newspaper stand on the corner outside Doughnut Plant.  A man wearing a black t-shirt with "Doughnut Plant" written across it in white walks by and does a double take.  He inquires as to exactly what I'm doing and asks me if I've tried the carrot cake doughnut.  Since I hadn't, just a few minutes later, the man returns with the treat itself.  Sometimes it's good to be the Food Guy.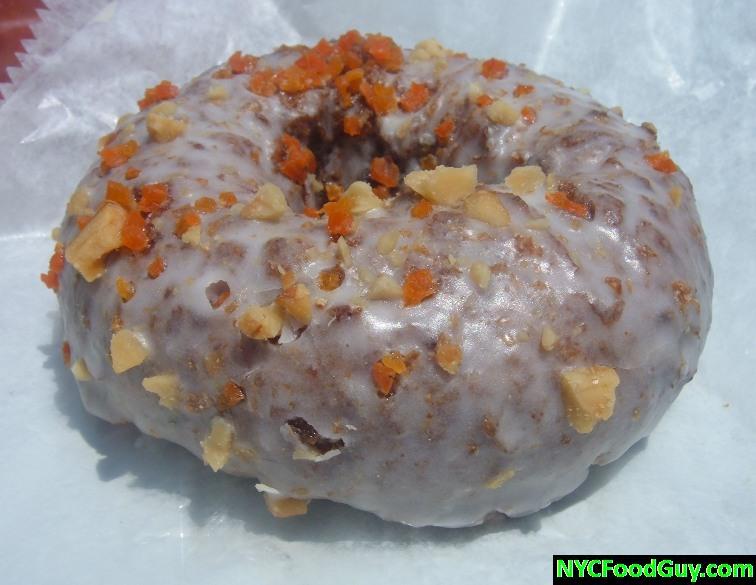 Bits of sweet carrot and crunchy walnut are studded in the outer glaze (similar to that of the Tres Leches) and the buttery inner cake.  And like the Tres Leches and Blackout doughnuts, the Carrot Cake is lined with an inner ring of sweet cream cheese frosting, cementing this doughnut's status as the reinvention of a true classic.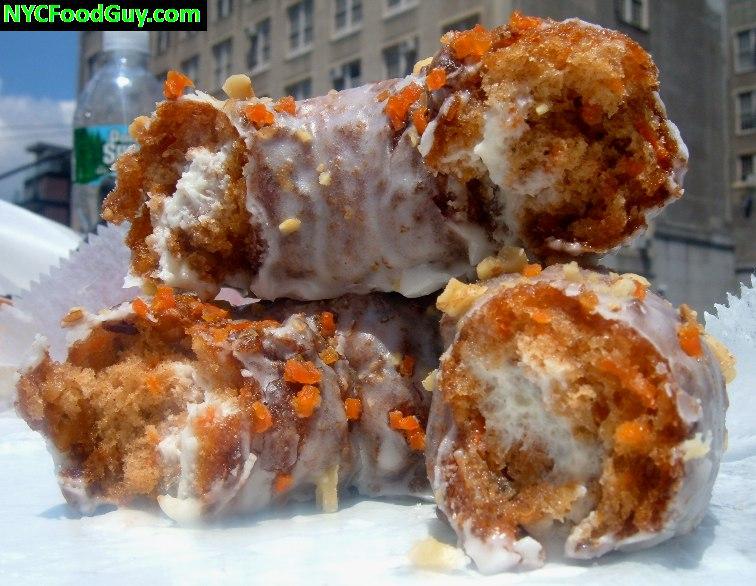 Doughnut Plant
379 Grand St. nr. Essex St. (
Google Map
)
New York, NY 10002 212-505-3700 Closed Monday Tues. – Sun. 6:30AM until doughnuts are sold out
Website:
http://doughnutplant.com/