November 30, 2009
If you love traveling to New York and want to get a little more out of it, take Carlos Beraza's lead and open a restaurant.  That's what the Mexico City native did, along with two friends, when they opened La Lucha two weeks ago on Avenue A between 9th and 10th Street.  Their business card says "La Lucha – Sacalo Del Ring," which loosely translates to "taking the fight out of the ring," and that's just what they accomplish.  La Lucha offers New Yorkers a real taste of downtown Mexico City, specifically the no frills taquerias where Mexicans excitedly eat and drink prior to attending Lucha Libre (Mexican wrestling) matches.  And it's more than just kitsch, because aside from a strict no burrito policy, and a menu named after famed luchadores and Lucha Libre moves, La Lucha is also a boutique for everything Lucha Libre.  I had the pleasure of experiencing this unique marriage of pop culture and street food the night they opened, and after a tiny taste, I can't wait to get back…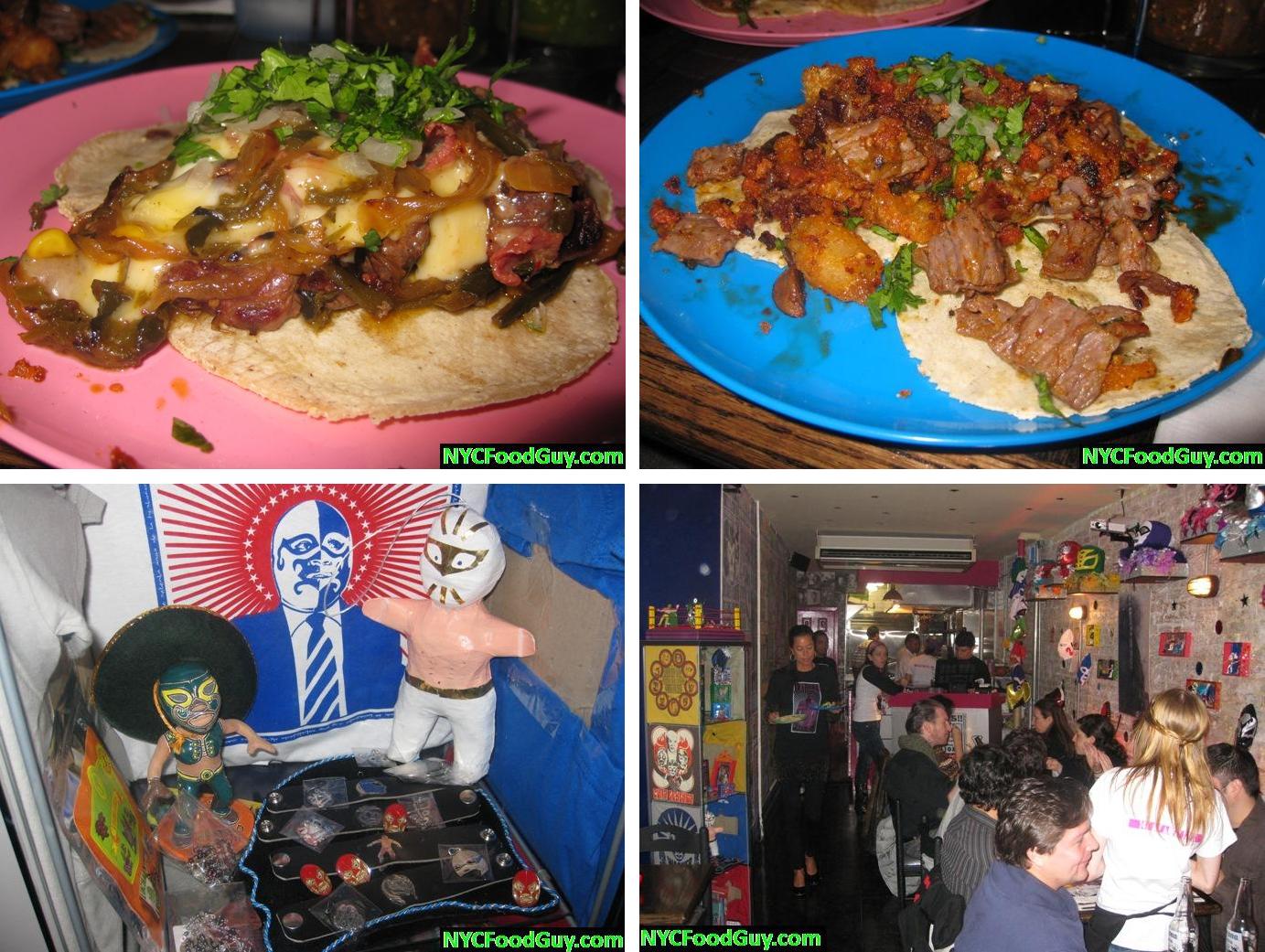 We started with a set of three tacos named after famed luchadore (fighter) Mil Mascaras ($12.00). Tender chunks of flavorful grilled steak (or chicken) mixed with grilled onions, peppers, corn, a healthy amount of white cheese, and curled shreds of deliciously salty bacon.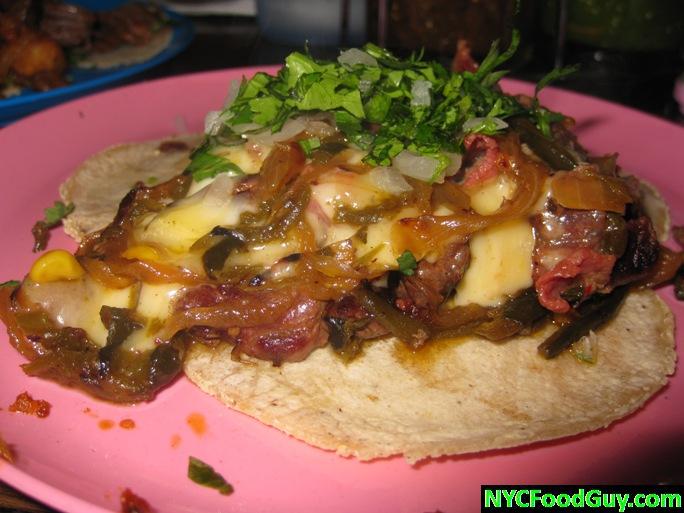 Divide the filling among the three tortillas or just go at it with a fork, either way, you're in for a treat.  These are some tasty tacos.  The molten cheese runs like a river through crags of juicy steak, caramelized onion and charred pepper offering a subtle heat balanced only by the bright cilantro.  Every few bites, a bacon explosion overtakes your taste buds and just as quickly melts away.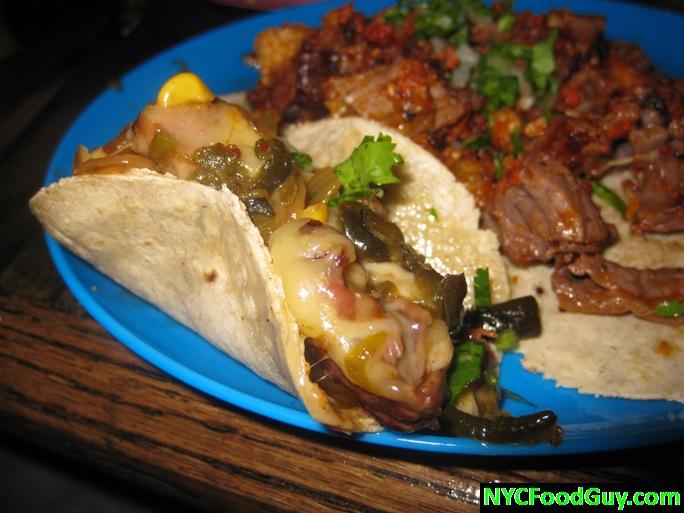 Our second set of three tacos pay homage to El Santo ($12.00), arguably the most revered of all luchadores in the history of the sport.  In his memory, salted chunks of steak mingle with crumbled chorizo and some of the most delicate and delicious chicarones (fried pork skin) I've ever tasted. The crispy, hollow curls of pork skin shatter upon first bite before dissolving into salty, porky goodness and melding with the beef and spicy chorizo.  While these tacos filled my salty/savory/fatty quota, I may opt for something from the a la carte menu on my next visit.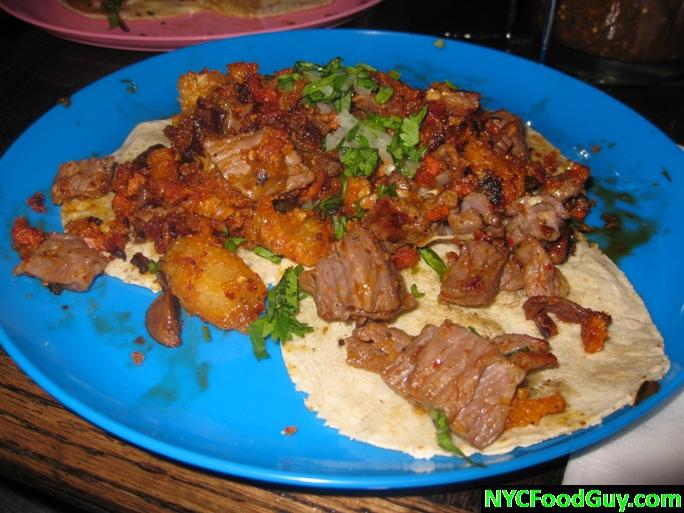 All tacos can be adorned with either a pasilla salsa (left) or salsa verde (right). The pasilla salsa took its smokey undertones from chipotle pepper mixed liberally with acidic tomatillo.  The heat of the serrano chile in the verde was overshadowed by a heavy dose of lime.  Neither truly enhanced our tacos.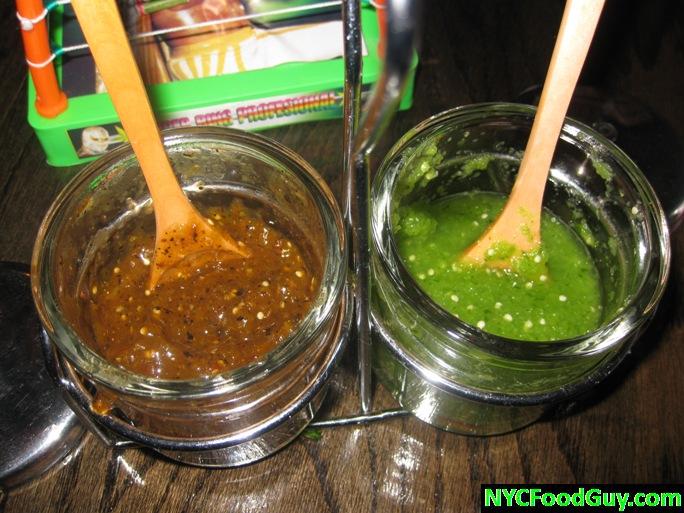 No meal is complete without dessert but if given the option, I'll pass on the meager plate of slightly caramelized sweet plantains ($3.00) served with sour, watery crema and a puddle of viscous caramel.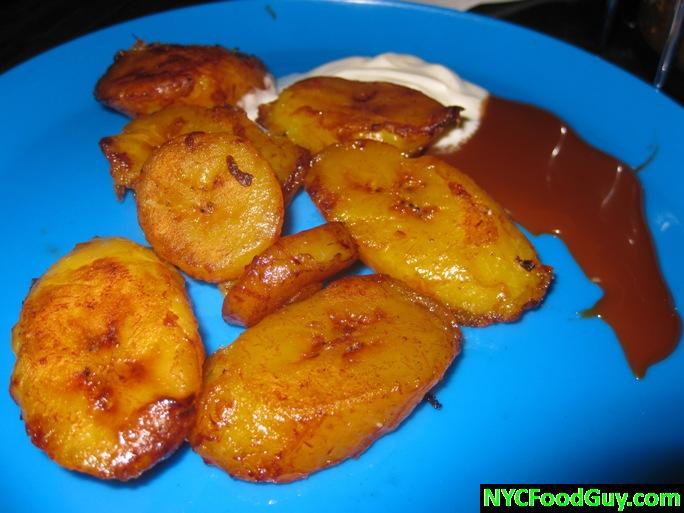 Unlike American wrestling where up-and-comers can hope to achieve Hulk Hogan's stardom via reality shows and movies like "No Holds Barred," and everyone's favorite, "Mr. Nanny," Lucha Libre is a serious part of Mexican pop culture.  El Santo, along with Blue Demon and Mil Mascaras, are not only three of the most celebrated luchadores in Mexican sports history, they're also folk legends.  What better way to celebrate their names and Lucha Libre lore than by naming every menu item after a luchadore or Lucha Libre move?  Check out the menu (Click to enlarge).
Your immersion in Lucha Libre continues even after you order.  Lucha Libre films play silently on a side wall while opposite, Lucha Libre mascaras (masks) and figurines loom overhead.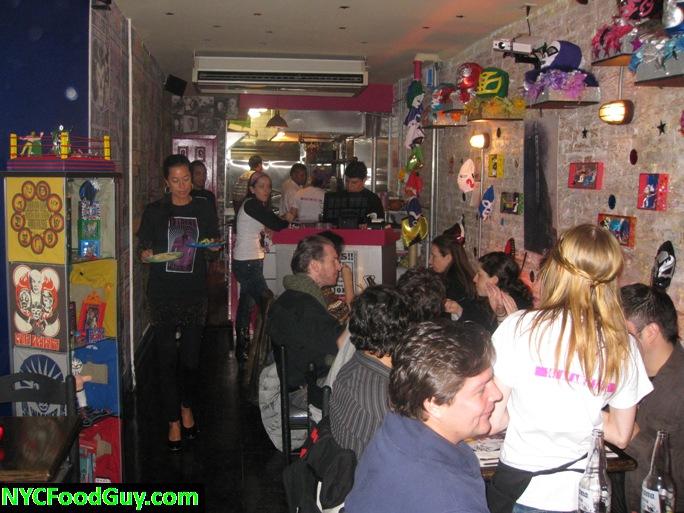 Upon completion of your meal, you'll be presented with a handmade mascaras pouch containing your check and a handful of Canel's Mexican chewing gum, all inside a mini Lucha ring.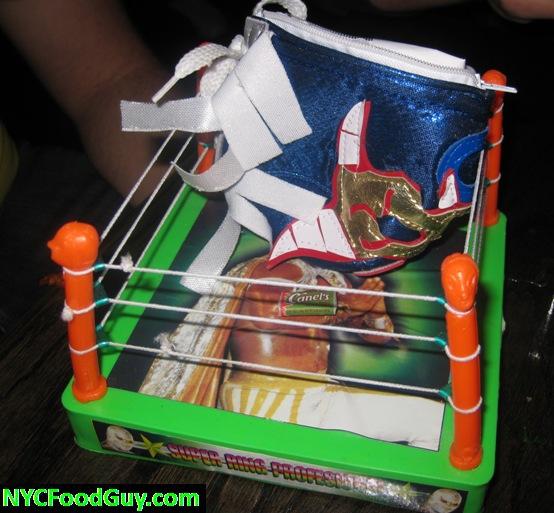 It all adds up to a festive atmosphere ideal for throwing back Coronas (it's BYOB for now, wine and beer license coming soon) and digging into messy plates of tacos.  But if you want to take some of it home, look no further than La Lucha's tiny boutique offering everything from Lucha Libre figures, key chains, pins, wallets, and some pretty badass t-shirts.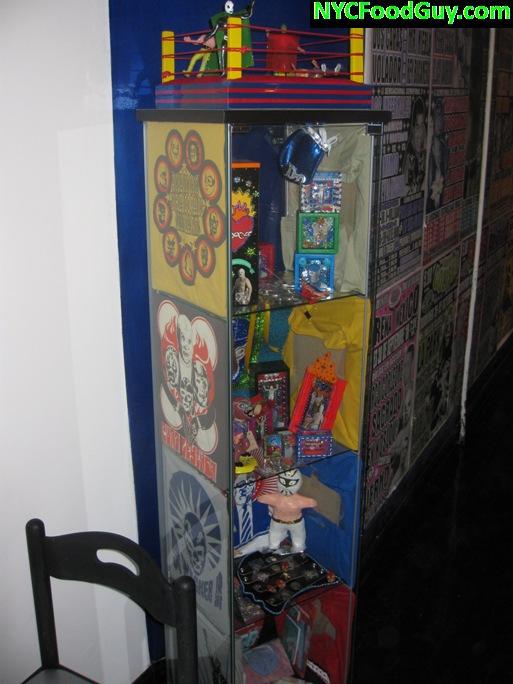 La Lucha
147 Avenue A b/t 9th & 10th Street New York, NY 10009 212-260-0235 Opening hours vary, call to confirm Closes most nights between 1AM & 1:30AM Currently BYOB but a wine & beer license is expected soon