November 16, 2009
You didn't think NYC Food Guy could stay away for this long, did you? I didn't either, but here we are, more than four months since the last review.  A complete change of schedule at my day job gave me a life beyond eating for the first time in three years and unfortunately the blog suffered.  Big time.  But I'm back for good, so let's get to the real reason you're here: My first taste of Szechuan cuisine, Cantonese Chinese food's bolder, spicier cousin, at newcomer Lan Sheng Szechuan Restaurant on 39th street b/t 5th & 6th Ave. Three people, thirteen dishes and one fiery eating adventure.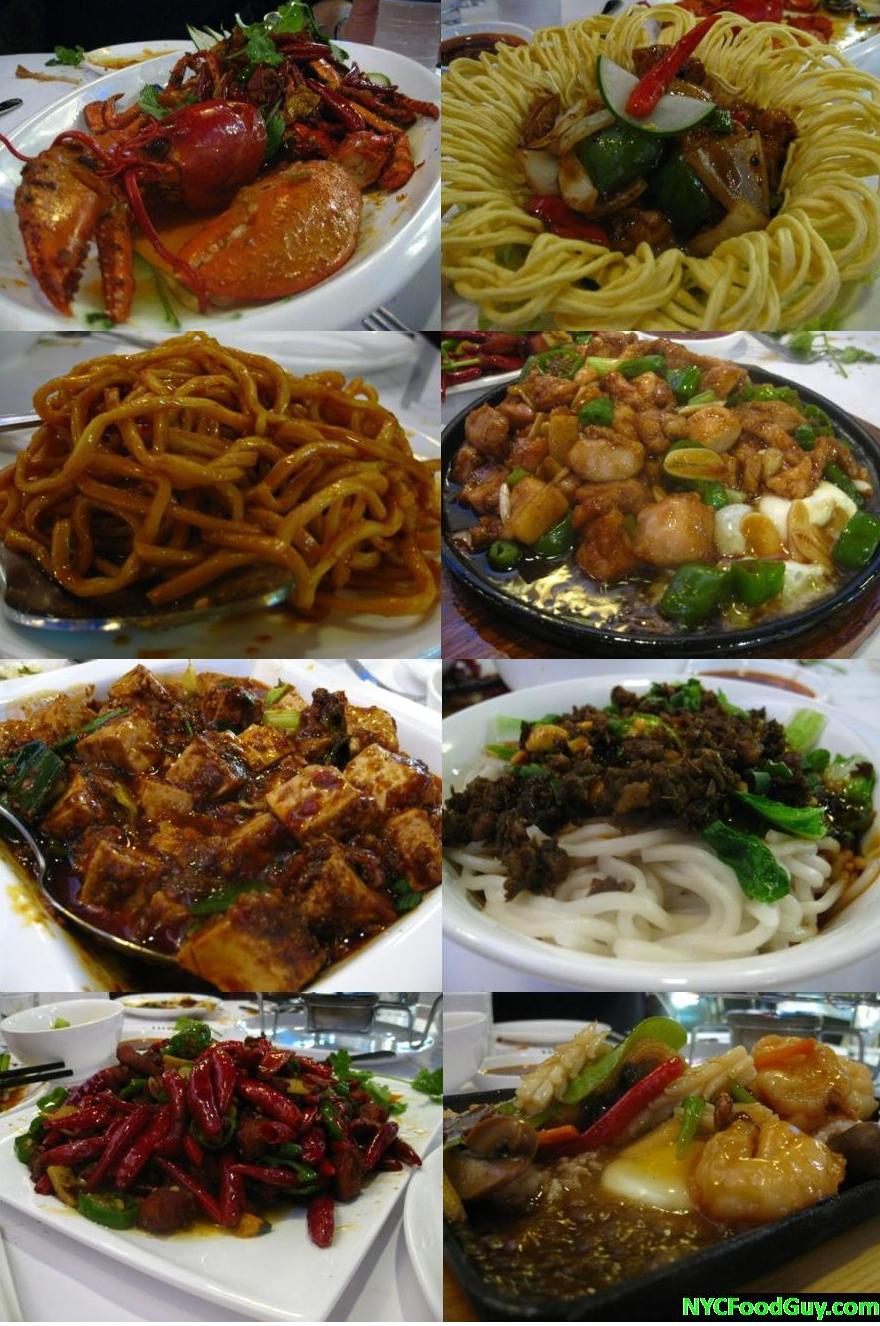 For this meal, my friend Steve invited me to a press dinner during Lan Sheng's opening weeks.  His friend Robert, a writer and respected Chinese food expert would lead our meal through a constant stream of the chef's finest dishes.  Since it was so early in the restaurant's existence, I omitted prices since they may have changed.  Certain aspects of the dishes, particularly regarding presentation, may have changed as well.  If you're confused, feel free to email me: [email protected]
The Favorites
Whole Lobster prepared Szechuan Style

In most Cantonese restaurants whole lobster is traditionally prepared in a ginger and scallion sauce.  Lan Sheng's fresh, succulent whole lobster was doused in garlic, anise, numbing Szechuan peppercorns and incendiary Szechuan peppers; shiny, bright red and daring you to bite into one.
While I mainly avoided the whole peppers, the bits of cloying garlic and peppercorn attached to the big chunks of briny lobster I peeled from the shell, were some of the best bites of Chinese seafood I've ever had. The simultaneously fragrant and fiery peppercorns offered a flavor my taste buds had never experienced.  Little did I know, it was just the introduction.
Ma Po Tofu

The plumes of fragrant steam billowing from this amalgam of tofu, ground pork, leeks, anise and Szechuan peppercorns invaded my nostrils causing little tears to form in the corners of my eyes. Part pleasure, part pain, the tears were a prelude to the revelatory dish of the day.  The combo of fire and fragrance were a credit to the peppercorns and anise, respectively.  At once spicy, numbing and sinus-clearing, I ignored my brain's fire warning and just kept eating the delicious chunks of tender tofu.  This dish will be a fixture in any future Szechuan meal I eat.
Dan Dan Noodles
Lan Sheng hit the mark on this classic Szechuan dish.  A chili oil based sauce featuring ground pork, Szechuan peppercorns and baby bok choy rests atop a nest of well-cooked noodles.  Upon mixing it all together, I found myself going back to these noodles until they were almost gone.  The complex flavor and numbing heat reminded me of the Ma Po Tofu.  This is another must order dish at any Szechuan meal.
Bird's Nest Scallops
The halved chunks of wok-cooked scallops in this dish were excellent.  Crispy around the edges and covered in caramelized, spicy black bean sauce; the scallops were addictive and caused us to rummage through the large chunks of pepper to find more bits of juicy seafood.  The large vegetable chunks are deceptively prevalent, there ended up being a lot more scallop in this dish than it appeared at first glance.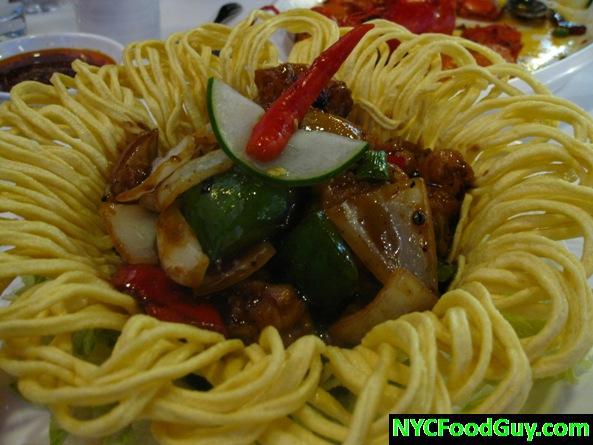 Sizzling Mixed Seafood Casserole with Crispy Rice Cake
"Be careful!" shouted our host Dexter as he carefully placed a covered skillet in the center of our crowded table.  The tiny stream of steam sneaking out the top of the dish erupted into a cloud as Dexter removed the cover and poured a brown sauce over the platter creating a splash and loud sizzle, turning heads at other tables and raising our eyebrows at the savory smell.  Fortunately the presentation didn't trump the dish.  The diverse textures of the juicy shrimp, tender vegetables and sweet, crispy rice were enhanced by a surprise fried egg resting at the bottom of the skillet.  The fresh ingredients and the delicate brown sauce all combined for a flavorful and surprisingly light dish.  Unfortunately, the fried egg cooked all the way through failing to release the textural pleasure of its yolk.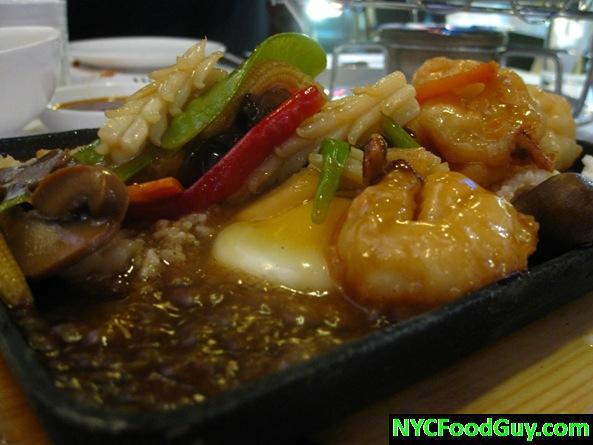 Sizzling Chicken Plate with Spicy Brown Sauce
While engrossed in note-writing with one hand and eating with the other I was surprised to look up and see another sizzling skillet on our table, this one topped with chunks of chicken, sliced green capsicum, thin shards of garlic, and another seemingly superfluous fried egg at the bottom.  Upon first bite, the flavor was undeniably garlic but it was balanced by the lightly sauteed chicken.  As Robert noted, if this dish had some chile peppers and peanuts it wouldn't be a far cry from the George Costanza favorite Kung Pao Chicken.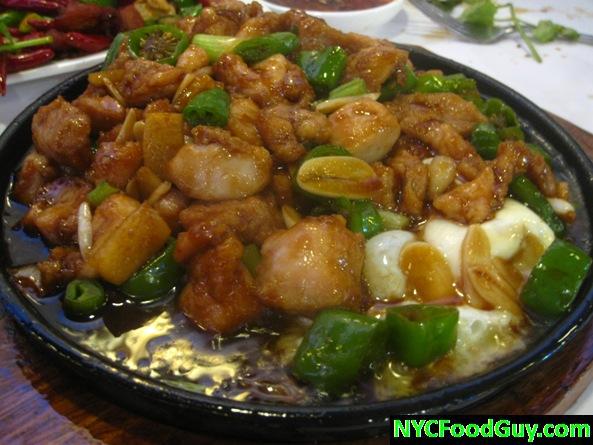 Stir Fried Chicken with Spicy Capsicum
Robert put it best when he called the visual presentation of this dish an "inanimate flame."  Fortunately, you as the eater, have the power to regulate how much heat you're willing to endure.  If you avoid the whole chili peppers and the spicy capsicum surrounding the crispy pieces of ginger and cayenne crusted chicken, you'll encounter heat of a more manageable variety.  I was disappointed by the one-note flavor of this dish.  It lacked the complexity seen in the Ma Po Tofu, the lobster and the Dan Dan noodles.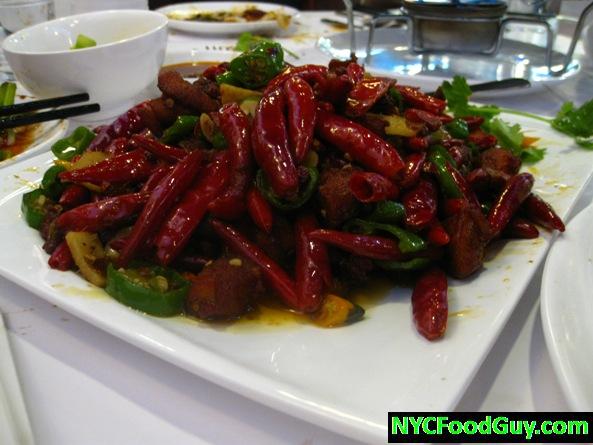 Braised Sizzling Whole Fish
I didn't realize how much of a central role sizzling platters played in Szechuan cuisine until this dish, which featured the most austere presentation of the three we tasted.  The tall silver receptacle more closely resembled an ornate ash tray (inset) than a cauldron filled with bubbling oil and delicious strips of fish clinging delicately to its fatty skin.  This dish was tasty albeit a tad oily.  Based on the conversation Robert had with our host Dexter, Lan Sheng is still tweaking this dish and may change the presentation to something less ostentatious.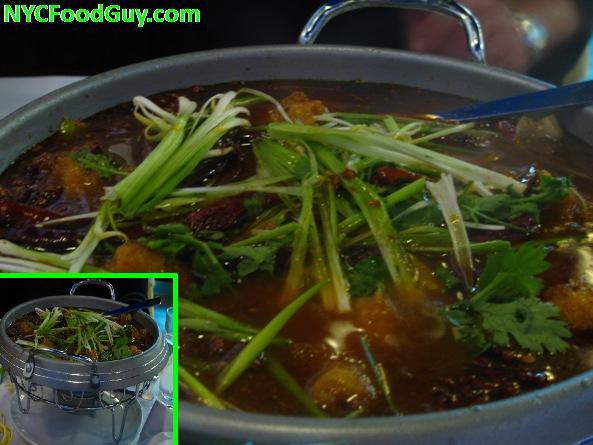 Golden and Silver Light Buns with Condensed Milk
We started our meal with a dish that would have made a perfect dessert.  Lan Sheng uses puff pastries instead of Chinese buns to create cakey pockets of dough light enough to complement the decadent, super-sweet condensed milk.  The "golden" and "silver" refer to fried and steamed, respectively.  I enjoyed the fried buns more than the steamed.  Surprising, I'm sure.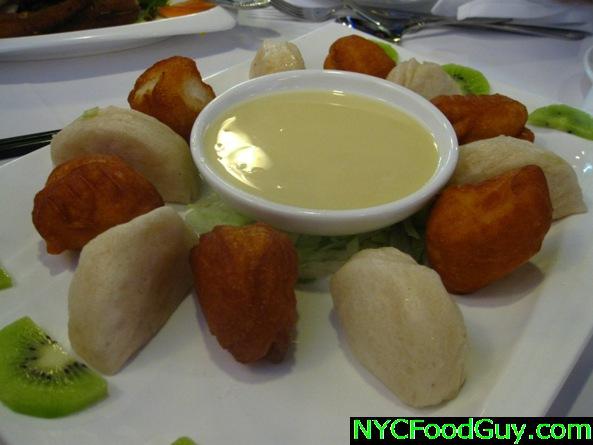 Dishes To Pass On Next Time
Cold Spicy Deep Fried Fish
One of the most rewarding aspects of writing this website has been the motivation to try everything that's put in front of me at a restaurant.  While tiny bones in the narrow strips of cold, fried fish provided a bit of a challenge to extract (most of that took place mid-bite), the overall flavor was pleasingly spicy.  I enjoyed this dish more than I thought I would but won't return to it next time out.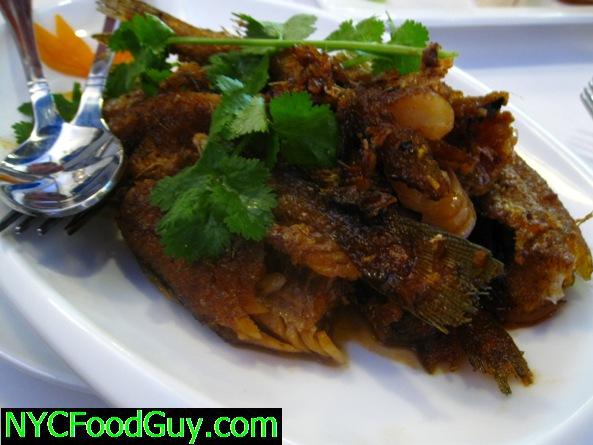 Whole Broccoli in Golden Broth
My sentiments weren't as rosy for this unfortunately-named dish.  A broth reminiscent of egg drop soup surrounds pieces of well-cooked broccoli.  It was all ladled into small bowls for us to enjoy.  While this would truly make a great dish on a cold winter day, the flavor paled in comparison to most of the other more boldly constructed dishes.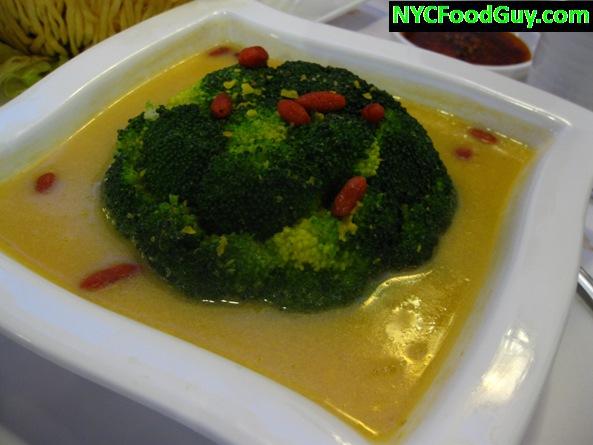 Dumplings: Whole Shrimp Har Gow & Crabmeat Xiao Long Bao (Shanghai Soup Dumplings)
The dumplings at Lan Sheng are well made and thoughtfully flavored but when it comes to a Szechuan meal, I'm looking for more flavor than you'll find in the dumpling department.  The whole shrimp dumplings (below) deliver on their name featuring juicy, fresh shrimp in very delicate skins.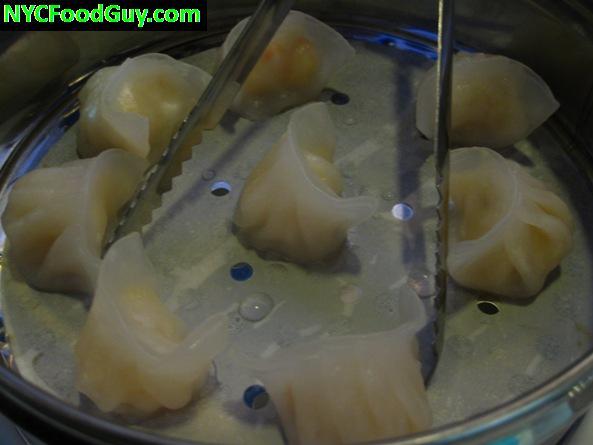 The crabmeat soup dumplings (not pictured) were equally meaty albeit a little fishier than the shrimp dumplings.  Robert chided me after witnessing me eat my soup dumpling whole.  The proper (and messy) way to eat a soup dumpling is to cradle it in your spoon, bite a tiny hole in the top, and literally suck the soup out of the dumpling until it's sufficiently drained AND THEN you eat it whole.
Lan Sheng Szechuan Restaurant
60 West 39th Street b/t 5th & 6th Ave (
Google Map
) New York, NY 10018 212-575-8899 Free Delivery
Kitchen Closes 9:30PM nightly BYOB currently, Liquor License on the way