July 13, 2009
There's finally a reason to remain in Midtown when the clock strikes 5PM on weekdays (and starting at 12PM weekends): the new "Southwest Porch" at 40th Street and 6th Avenue in Manhattan's Bryant Park. The venture combines Southwest Airlines, who's celebrating their first flights out of LaGuardia, with a menu from Tom Colicchio and his two partners in the 'wichcraft sandwich shops.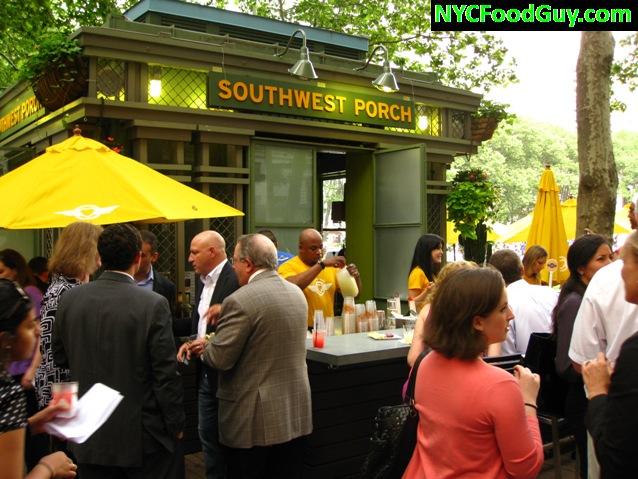 Sandwiches (2 for $9), cheese, cured meats, and cookies are all served on small plates intended for sharing while the drink menu features 3 mixology-quality cocktails ($9 each), a "Southwest Summer Ale" specially brewed by Blue Point beer, two beers from Six Point ($7/beer), and 2 types each of red and white wine ($8/glass).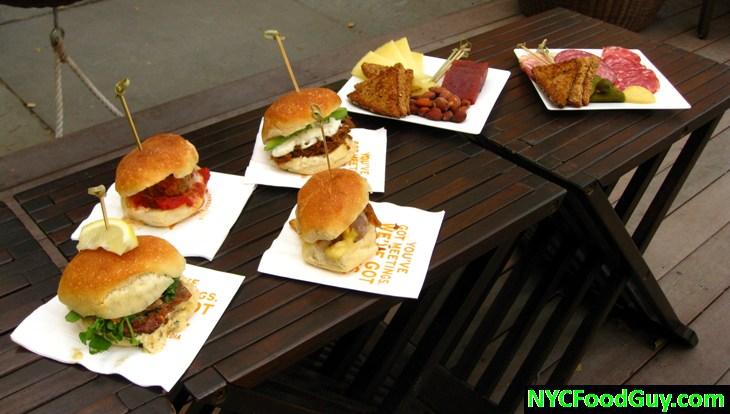 Surprising value and the backyard chic setting (pillowed Adirondack chairs, porch swings and couches) make it easy to forget you're a block from Times Square. Read on for food reviews and all the info on being a part of the summer fun at "The Southwest Porch."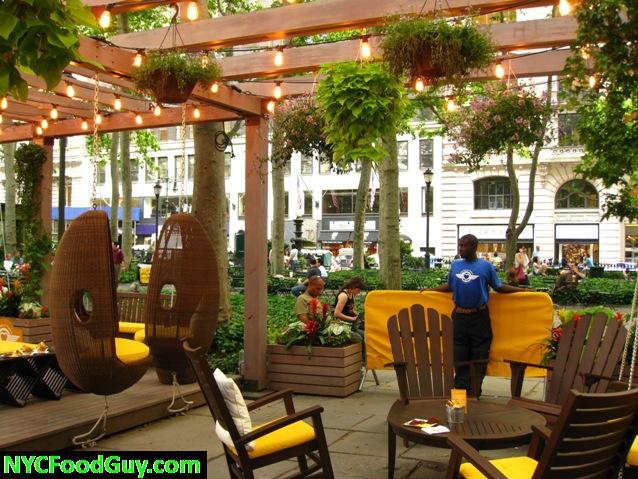 FOOD & DRINK MENUS
Although it doesn't say it on the menu (click to expand), Chef Sisha Ortuzar, who with Tom Colicchio created the menus at the Southwest Porch and 'wichcraft, told me that $9 will afford you two of the small yet filling sandwiches, each one served on delicious and fresh Sullivan Street Bakery rolls. The drinks are strong and well crafted. My favorite was the Vodka Watermelon (lemon vodka, fresh watermelon juice, lemon and a vodka infused watermelon ball). The Manhattan, featuring maraschino cherries macerated (soaked) in caramel bourbon syrup, is a serious whiskey drink. I didn't get a chance to try the Canton Ginger Margarita.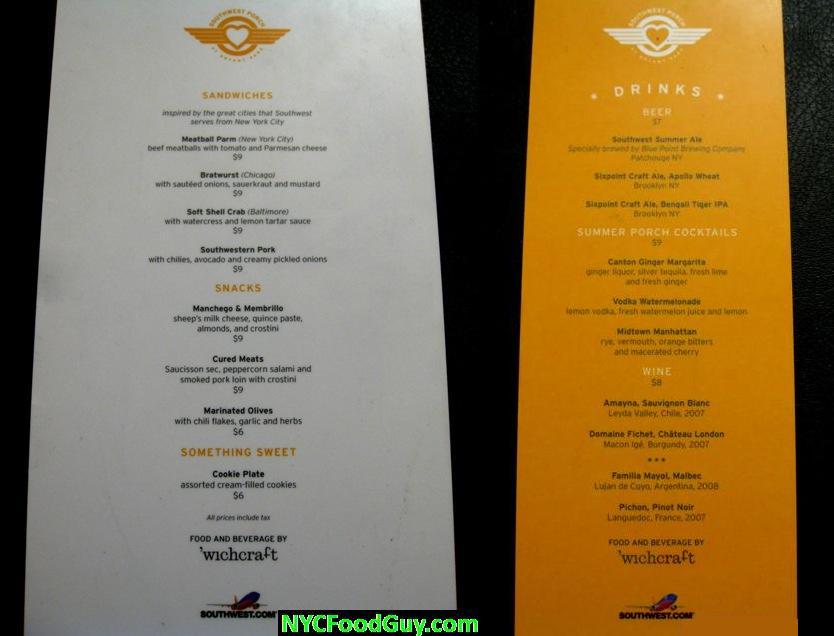 SANDWICHES
The four sandwiches on the menu highlight the partnership between Southwest Airlines and LaGuardia Airport. Chicago and Baltimore, Southwest's first two destinations from LGA, inspired the Bratwurst and Soft Shell Crab sandwiches, respectively. The Meatball Parm is an homage to New York while the Southwestern Pork honors Southwest's main hub in Dallas.
BRATWURST
Thank you Chicago for inspiring this creation, my favorite of the three sandwiches I tasted. The bratwurst is a credit to the inimitable Schaller & Weber. Sauerkraut and onion, found at the Greenmarket, are sauteed in butter before the entire sandwich is slathered with a sharp Dijon mustard.

MEATBALL PARM
My second favorite sandwich features a tender, airy meatball combines with tasty, sweet tomato sauce all topped with parmesan cream sauce. The chewy yet firm roll really enhanced the meatball parm.

SOUTHWESTERN PORK
Great in concept, poor in execution, thanks mainly to the overbearing creamy-ness of the sour cream, pickled onion and lime slaw. The pork itself is delicious; slow roasted for 12 hours, it's seasoned with ancho and chipotle Chile and cinnamon, providing a nice balance between spicy and sweet. The avocado alone would have been an apt topping for the standout pork.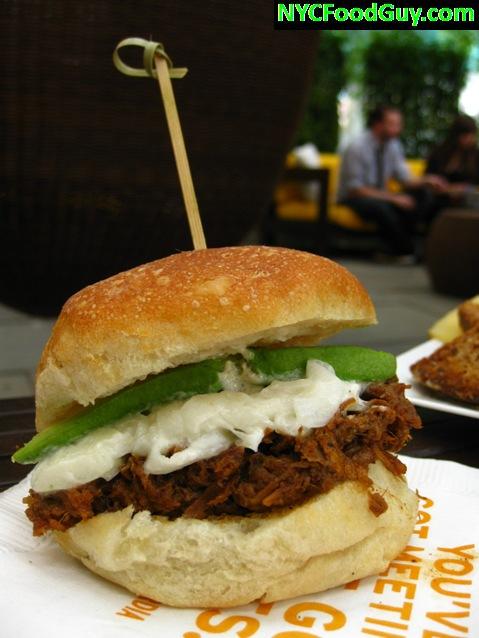 SOFT SHELL CRAB
Unfortunately I didn't get a chance to taste this good looking sandwich. Everyone who did had nothing but praise for the Old Bay and lemon seasoned soft shell crab topped with remoulade.

MANCHEGO & MEMBRILLO CHEESE PLATE
Sheep milk manchego, smoked Spanish almonds, membrillo (quince paste), and crostini from Pain D'Avignon round out this plate. I didn't get a chance to try this one either, it went fast.

CURED MEATS
The meat plate is comprised of Saucisson sec (French hard sausage), peppercorn salami from Schaller & Weber and smoked pork loin.

MARINATED OLIVES
I'm not really a fan of olives but on my quest to provide the world with as much food porn as possible, below you'll find olives with chili flakes, garlic and herbs.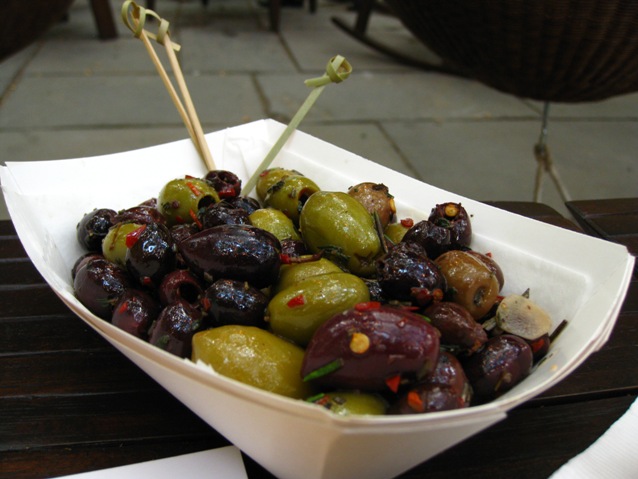 SWEETS
'wichcraft provides the dessert in the form of several "cream'wiches": Chocolate chip cookie with milk frosting, peanut butter with peanut butter frosting, and chocolate cookie with chocolate frosting. These buttery, decadent cookies went so fast I didn't even get a chance to snap a photo, but I did taste them and they are simply delicious.
ATMOSPHERE & HOURS OF OPERATION
The space itself is creatively planned and if you sit on one of the couches, lawn chairs, or swing chairs, you really feel separate from the rest of Bryant Park and its bustling surroundings.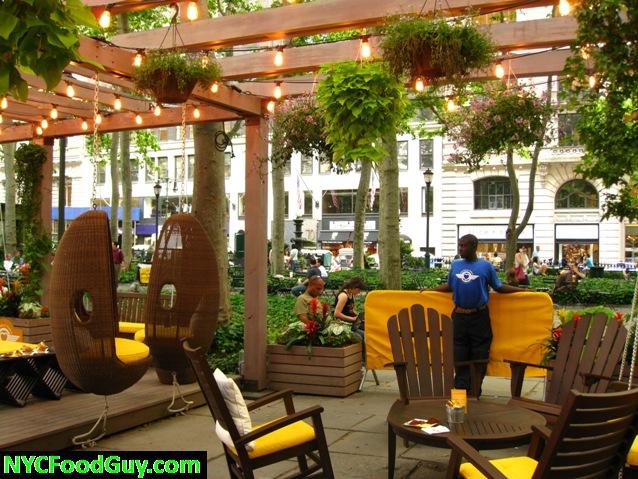 The hours of operation for the Southwest Porch are 12PM to 9PM Monday through Saturday and 12PM to 6PM Sunday. As of now, the Porch is closed on Saturdays and Sundays but that may change in the future.
SOUTHWEST PORCH
40th Street at 6th Avenue in Bryant Park Monday to Saturday 12PM – 9PM Sunday 12PM to 6PM Closed Saturday and Sunday