June 23, 2009
"I wish they did this four times a year," said my brother Craig as we watched Chris Lilly pull two shimmering pork butts from the smoker, some of the 3,000 pounds of pork cooked by the Big Bob Gibson Bar-B-Q crew at this year's Big Apple BBQ Block Party.  Lilly, 8-time Memphis In May Champion and co-creator of Big Bob Gibson's famous Bar-B-Q sauce, then proceeded to pull, chop and sauce the best pulled pork I've ever tasted.  Read on for the step-by-step pulled pork photos and a look at some other hits and misses at the 2009 Big Apple BBQ Block Party.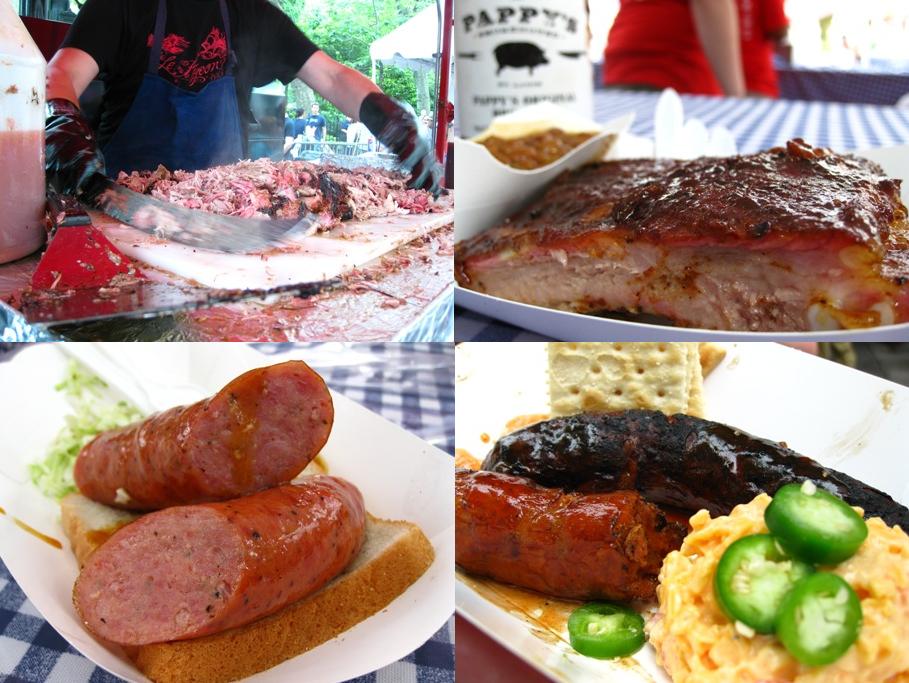 The Disappointments
Disclaimer: All the opinions within this post are written with the utmost respect for the art of barbecue and the pitmasters who took part in the Big Apple BBQ Block Party.   The barbecue they served in Manhattan, adjusted for the masses under imperfect conditions, may not be a fair representation of the delicacies served at each of the participants original establishments.
Ubon's "The Champion's Choice" Pulled Pork – Yazoo, MS
My friend Charlie recommended Ubon's after hearing it was the best pulled pork at the event.  His source had obviously not tasted Big Bob Gibson's.  The best part of Ubon's pulled pork was the bark, the dark shards of skin redolent of smokey deliciousness.  The pork itself was fatty, a bit tough and didn't have much flavor.  The thin sauce was flecked with black pepper but more tangy than spicy.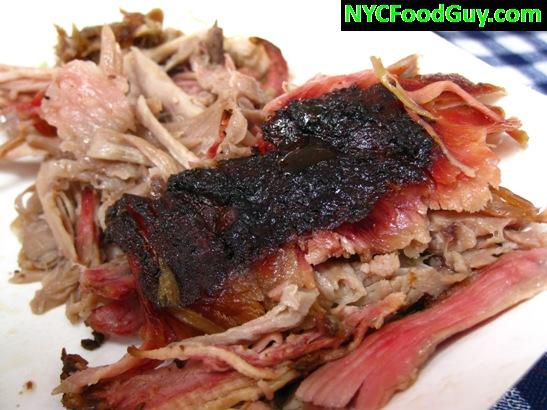 Pappy's Smokehouse St. Louis Style Ribs – St. Louis, MO
Our hopes rose as we watched Mike "Smokey" Emerson pull rack after rack of St. Louis spare ribs from a huge container.  Mr. Emerson, also known as "Pappy," cuts the knuckle off of the tough spare rib before coating each rack in a Memphis-style dry rub.  He mainly serves "loin back" or baby back ribs at his St. Louis smokehouse (link), but today he proudly brandished a rack of spare ribs and said "I wanted to give New York a taste of St. Louis."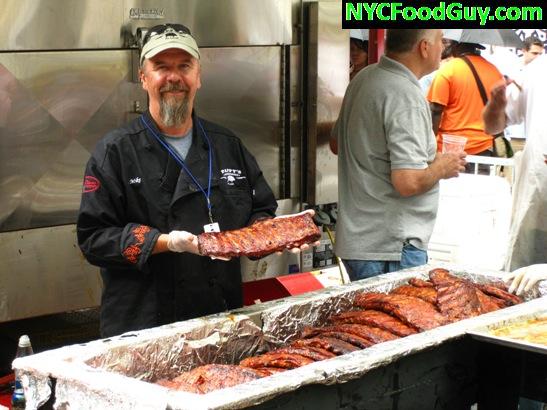 He should have stuck with the baby backs because the spare ribs weren't great.  The flavor of smoke was almost undetectable.  The ribs were as tough as you'd expect, not quite fall off the bone, and not even the sweet, thick sauce could save them.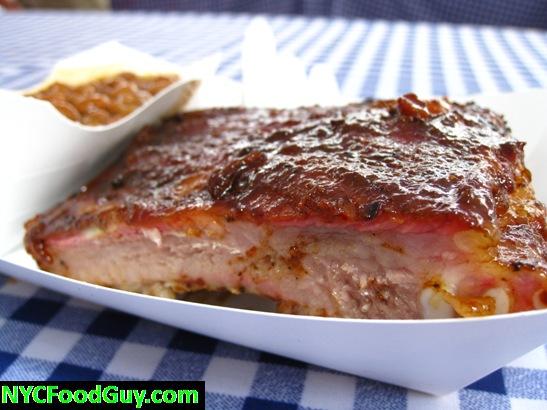 17th Street Bar & Grill Baby Back Ribs – Murphysboro, IL
After the spare rib disappointment at Pappy's, I was hoping for baby back rib enlightenment at 17th Street Bar & Grill, the baby of champion pitmaster Mike Mills, a consultant at Manhattan's Blue Smoke.  Unfortunately, transcendence was out of reach.  The ribs were dry, covered in a pasty mustard-based sauce and didn't fall off the bone.  A friend later scoffed at my choice of 17th Street saying they weren't very good in 2008 either.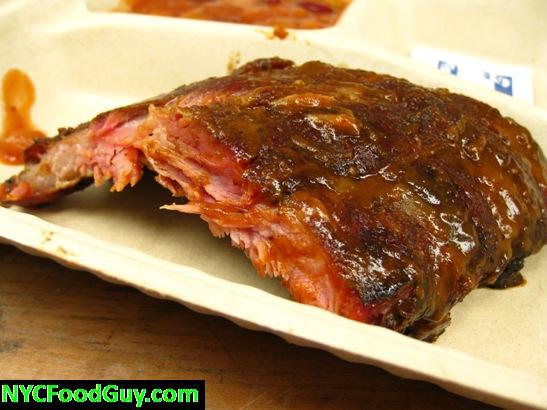 The Favorites
Jim 'N Nick's Bar-B-Q Homemade Smoked Sausage with Pimento Cheese & Saltines – Birmingham, AL
Cheese? Crackers? Sliced jalapeno? One might wonder how these accoutrement found their way onto any plate at the BABBP, but I'm certainly happy they did because they paired perfectly with the charred, spicy sausage from Jim 'N Nick's. The combo of spicy pork, creamy cheese, crispy crackers, and bright jalapenos was a flavor trip I'd love to take again.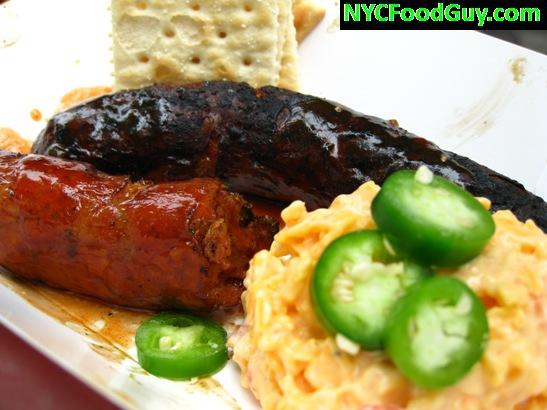 The Salt Lick BBQ Beef Brisket & Sausage – Driftwood, TX
If you're wondering why it says "brisket" above but you don't see any below, it's because the pink slices of fatty meat are so delicious, Salt Lick ran out by 3PM on the first day of the BABBP.  Lucky for Craig and me they still had some of their juicy, garlicky and slightly spicy sausage.  Sweet sauce covered an outer skin with just the right amount of snap.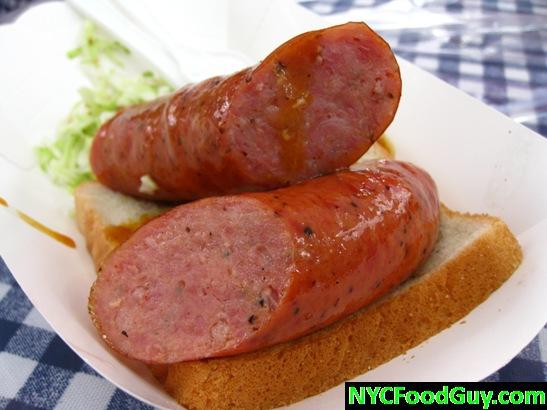 Big Bob Gibson's Bar-B-Q Pulled Pork Shoulder – Decatur, AL
Wow.  Just wow.  If ever there was a moment I was happy to have written a year's worth of posts to get from the 2008 BABBP to now, it was when Don & Carol McLemore, owners of Big Bob Gibson, offered us the chance to stand directly in front of the raised cutting board upon which the best pork shoulder ever was being pulled.  Let's see how it all comes together….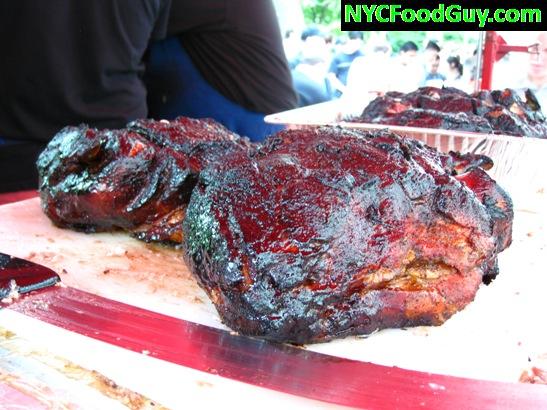 Step 1. Remove the bone and pull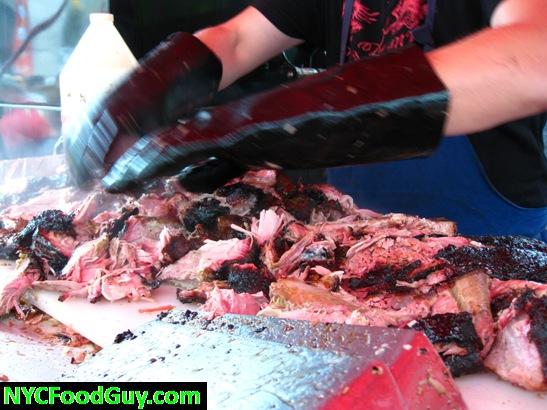 Step 2. Chop the Pulled Pork with a Huge Knife

Step 3. Drench Pork in Apple Juice-based liquid

Step 4. Look at all that delicious pulled pork