May 8, 2009
I've already done a comprehensive round up of cheap late night eats all over Manhattan but now it's time to focus on the East Village, arguably Manhattan's finest neighborhood for eating after midnight. Read on for the final word on Artichoke Pizza, plus the best slice if you don't want to brave Artichoke's line.  We'll find a great place to take a mid-night break from the booze and we'll also discover why heading to Murray Hill at 4AM without a booty call, is actually a smart move.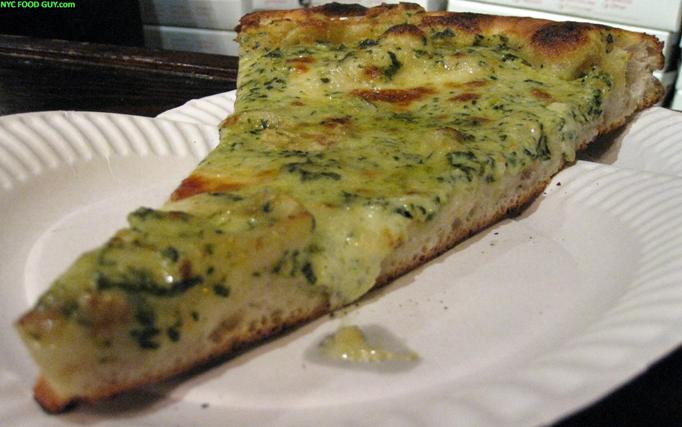 What to Eat Instead of Artichoke Pizza
Muzzarella Pizza
221 Avenue A near 14th Street New York, NY 10009 212-614-0905 Open until 4AM most Thursdays & every Friday & Saturday
This closet-sized pizza shop makes it's bread and butter off the Avenue A late night bar crowd so be prepared for a small line and a potential shortage of variety the later it gets. If you do happen to have your pick, the best best is a palate-cleansing plain slice ($2.50) and NYC Food Guy's favorite the "lasagna" ($3.50, below).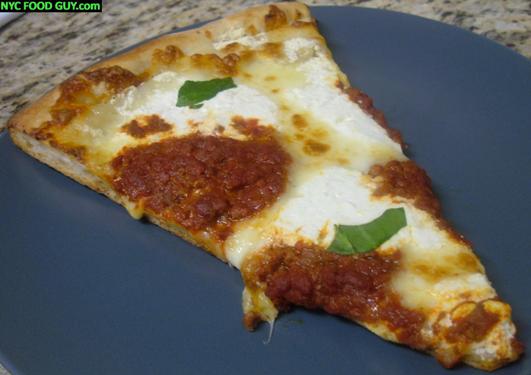 It has nothing to do with pasta and everything to do with the combo of creamy ricotta, salty mozzarella and hearty meat sauce. Muzzarella's crust is always chewy, crisp and airy, a result of being cooked on top of a pizza pan in the oven. What the crust lacks, however, is that hint of sweetness that prevents a good crust from being great.
Where to Build A Base Before Midnight
Dumpling Man
100 Saint Marks Pl # B b/t Avenue A & 1st Ave.
New York, NY 10009 (
Google Map
)
(212) 505-2121 Open until 12:30AM Friday & Saturday
Website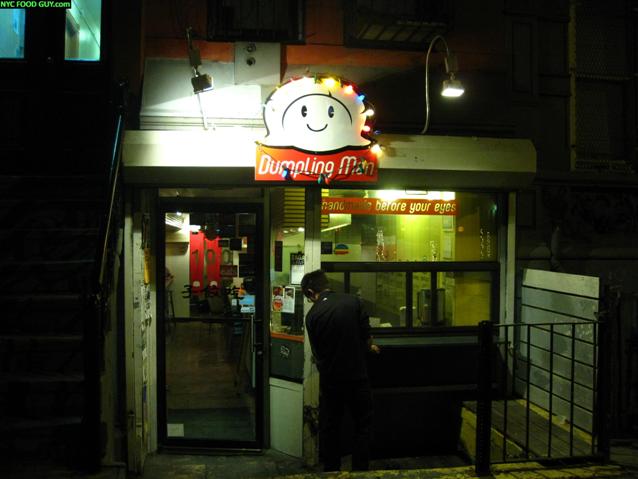 If the 12:30AM close time Friday & Saturday qualifies this hand made dumpling spot for late night status then it's worth taking a break from the bars for a few chicken or pork dumplings.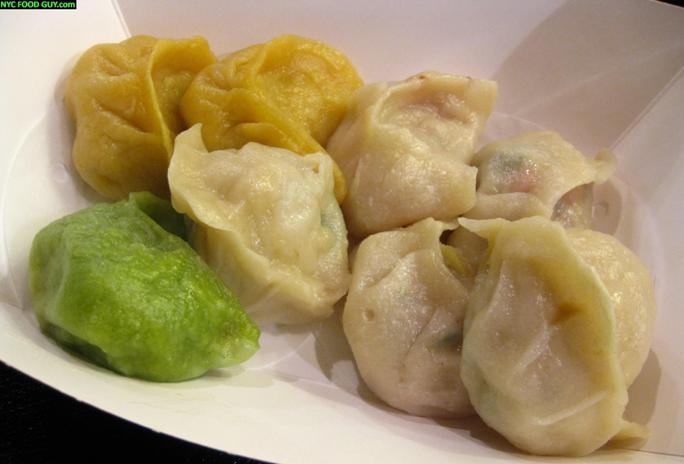 The slighlty spicy chicken (one for $0.90, 6 for $5.95, 10 for $7.95) and scallion-filled pork ($0.80, $4.50, $6.95) dumplings easily trump the mundane shrimp & corn ($0.99, $5.50, $8.95) dumpling and the mealy green-skinned vegetable ($0.90, $5.95, $7.95) version.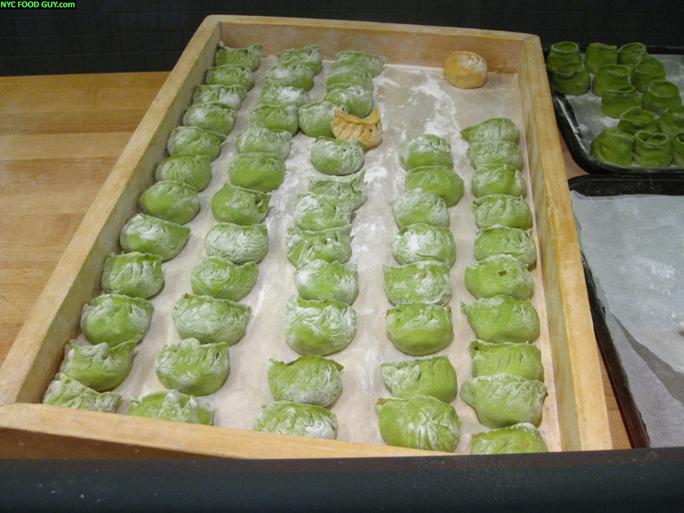 Pass on straight soy sauce and opt for the vinegar infused house version. Beware the Sirracha, a little drop goes a long way.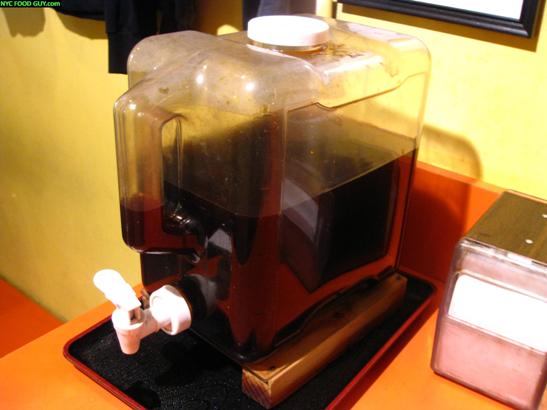 There are also several special sauces (an employee told me the "Asian tahini" and "hot monster" are very oily, while the "green curry" and cucumber-based "cool monster" are better options) and desserts on the menu, but in the spirit of keeping things delicious and affordable, I stuck with the dumplings and saved my space for our next stop in the late night eating arena.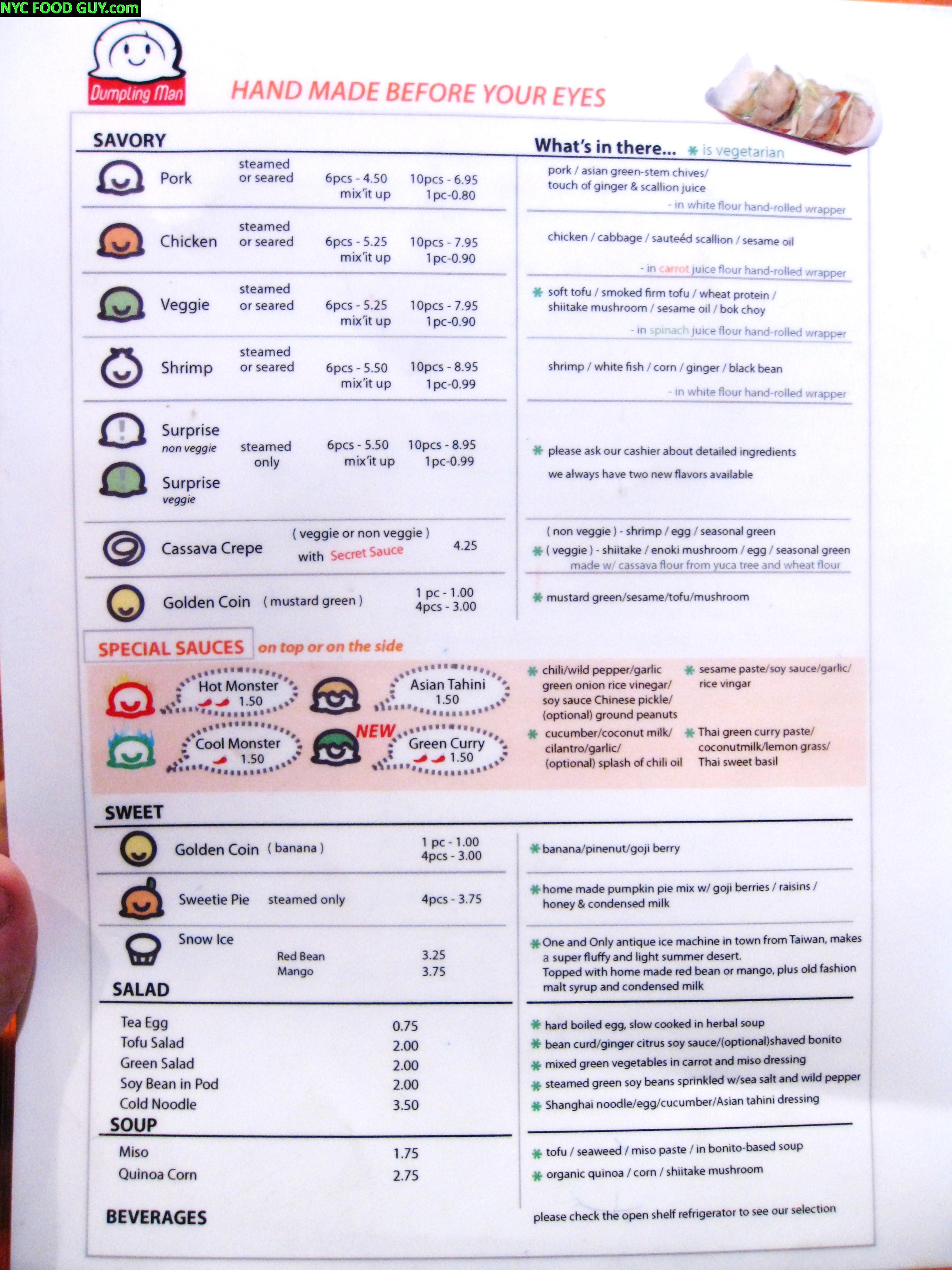 The Out of Bounds 24-Hour Exception
Sarge's Deli
548 3rd Ave. near 36th Street New York, NY 10016 (
Google Map
)
212-679-0442 Open 24 hours
Sarge's Deli landed on this East Village list solely due to its 24-hour status and the great value its $12 hot pastrami sandwich offers. The hot, fatty, machine-sliced pastrami isn't the best in the city (Katz's Deli anybody?) because it's a little underspiced, but for this price, you really can't go wrong.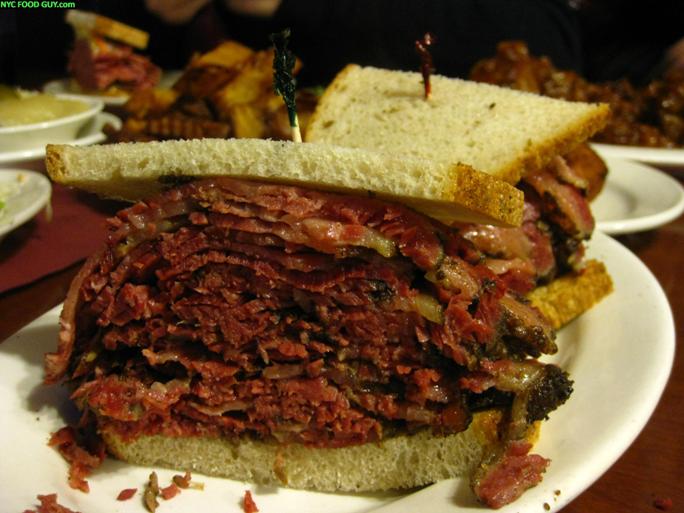 Two people can comfortably share any of Sarge's sandwiches, including the $14.50 corned beef and pastrami combo with Russian dressing and cole slaw.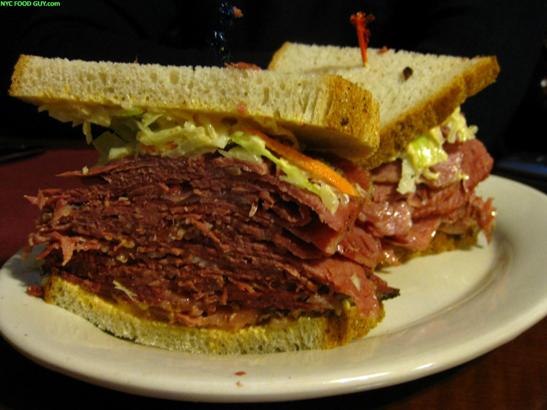 One order of thick, crinkle cut fries ($4.95, make sure to ask for them well done) will also suit a party of two.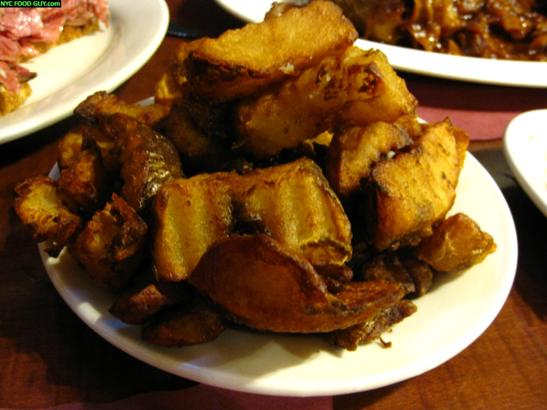 And don't feel like you have to eat everything in front of you, ask for some extra slices of rye and watch one half of a leftover sandwich become a totally new sandwich for the next day's lunch.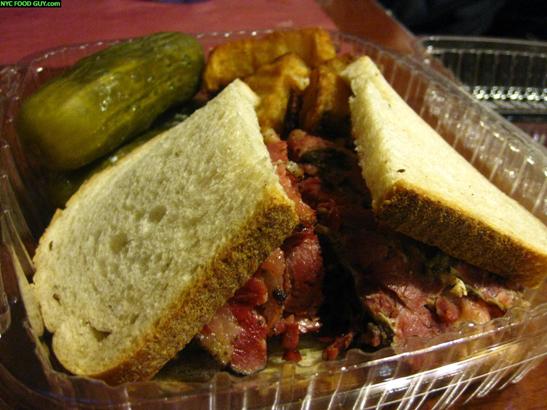 If you haven't received your complementary pickles and sweet, crispy cole slaw at the start of your meal, credit it to the sometimes harried service and just ask.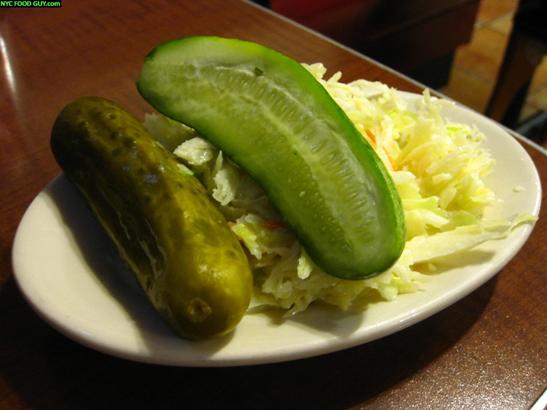 Every meal should end with something sweet and if you're not asleep in your booth at this point, the cinnamon-dusted vanilla rice pudding ($3.95) is always a great option.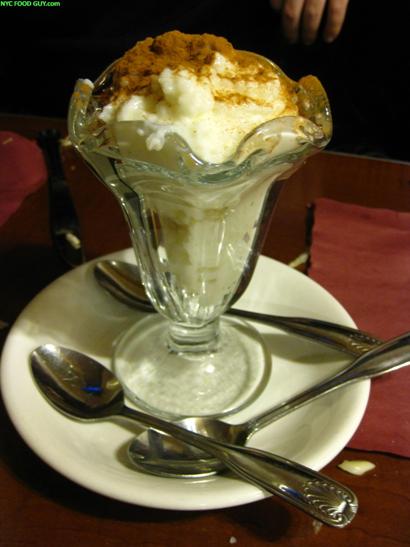 Is Artichoke Really Worth the Wait?
Artichoke Basille's Pizza & Brewery
328 E. 14th St., b/t 1st & 2nd Ave New York, NY 10003
212-228-2004 Inconsistent Hours: Open at noon, close around 5AM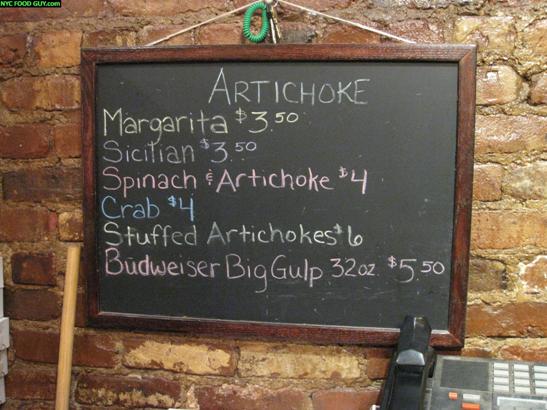 I won't wait in line for Artichoke but when things are calm in the closet-sized pizza shop, it's hard to pass on what's truly the East Village's best slice. Cubed and shredded mozzarella, a ton of grated Parmesan (before and after cooking), fresh basil, and bright tomato sauce are enough to make up for an inconsistent, generally flavorless and typically burnt crust. The Sicilian slice's size makes its $3.50 price tag hard to swallow, but its slightly airy, buttery crust makes it Artichoke's best slice. The best value may be the massive $5.50 styrofoam container of beer, which Artichoke generously fills to the very top.
The infamous spinach and artichoke slice ($4) has helped put Artichoke on the map, but don't forget that Artichoke initially billed itself as the Manhattan DiFara's, the Midwood, Brooklyn home of the legendary pizziola Dom Demarco.  The salty, sloppy slice may be unique and gimmicky, but it's definitely my third choice after the Sicilian and margherita.
The rich sauce atop the spinach and artichoke slice is the perfect recipe for instant food coma.  The margherita slice ($3.50) surprisingly strikes a balance between the soupy cheese and sauce which seems to be Artichoke's trademark.  It's a wonder more doesn't end up on our shirts than in our stomach.  The margherita is the best value on any slice at Artichoke as you can see from the scale above.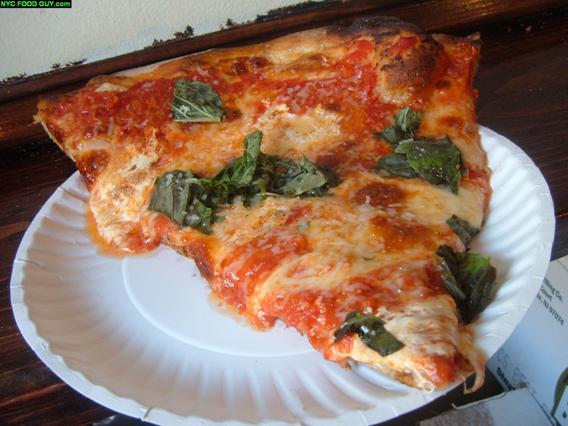 If the spinach and artichoke slice wasn't unique enough, hand it to the boys at Artichoke to offer a crab slice ($4).  A creamy crab-based sauce coats the surface of the crust and is dotted with pools of melted mozzarella and tiny shards of crab meat.  Hints of spicy black pepper cut through the mild fishy flavor of the sauce.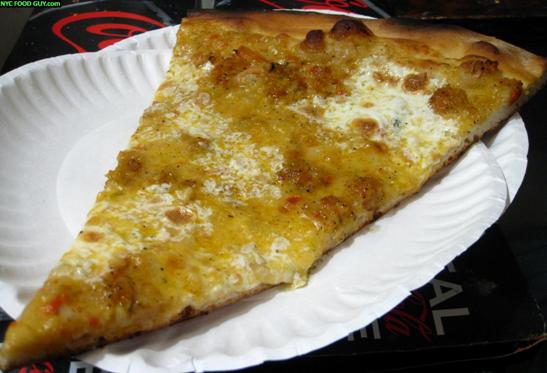 As much as I admittedly wanted to dislike this slice, I actually enjoyed it.  What I can't understand is who would want to eat crab chowder on their pizza at 4AM?  It sounds like a recipe for disaster.  NYC Food Guy will be sticking with the margherita and Sicilian. …  If there's no line.